The 250's have had their fun, let's break down the 450's.

The 250's have had their fun, let's break down the 450's.
Photos by James Lissimore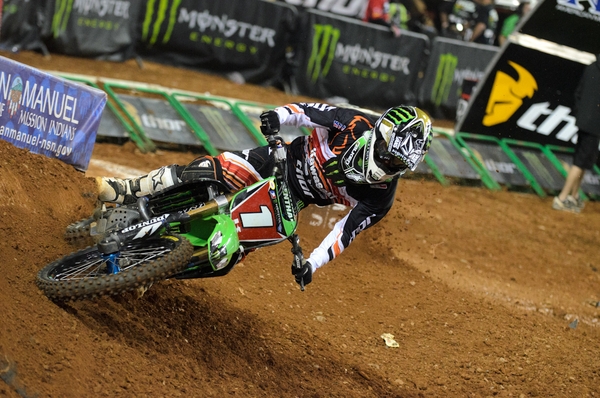 1st Ryan Villopoto Best Finish: 1st (nine times) Worst Finish: DNQ (injury)
We thought that RV was the odds on favorite to defend his title but I don't think anyone thought he'd be this good. His opening round domination of the world's best riders should have been a clue. Also, how come when everyone around him was getting hurt, he wasn't having those big crashes like the others? That's because of his preparation, his training and probably a little good luck. Before exiting due to his own silly little fall, Ryan was unstoppable and you got the sense that he was never in danger of losing this thing even with Ryan Dungey a scant few points behind him when he himself was injured. Even though he'll miss the outdoors this year, until someone beats him straight-up, I think he's got the crown of The Best Rider in the World.
Swizzle- How silly do I look with my pre-season concerns that the dominant RV of 2011 may not be focused and/or motivated in 2012? Regardless of the front-runner injuries RV was clearly every bit as motivated as he was last season and that's great to see. The little ball of hate looks to be part of the elite sect who doesn't rest on his accomplishments but pushes on to exclamate his dominance. It's a bummer that his ACL went in Seattle but I think the little break he gets due to that injury is just what he needs to reinvigorate that hate.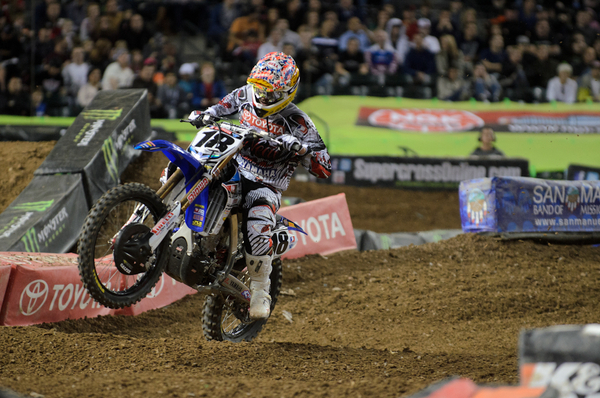 2nd Davi Millsaps Best Finish: 2nd Worst Finish: 16th
One of only two riders to finish every main event this year, Millsaps was a real force throughout the year. Yeah, you can say he only got second because of injuries to the top guys and judging by the domination of Dungey after he got back from injuries, that may be true. But here's the thing, you've got to go to the races and watch Davi to see that he had a hell of a season. Jumping things that others wouldn't or couldn't, setting fast times and working through the pack were all things that he did. Great job for him and this puts him back in the running for guys who aren't done.
Swizzle- Davi Millsaps is the feel good story of the season. He seems happier than ever and was able to ride through a not-quite-ready knee in the beginning of the series to be solid through to the end. He was a beacon of light for the JGR team while the JS experiment was unraveling halfway through the series. Davi is a good fit with JGR as long as he operates on a 1-year deal basis. Davi has shown, he kid of needs that dangled carrot in front of his nose to perform at his best, so why risk jacking up that mojo with a multi-year deal?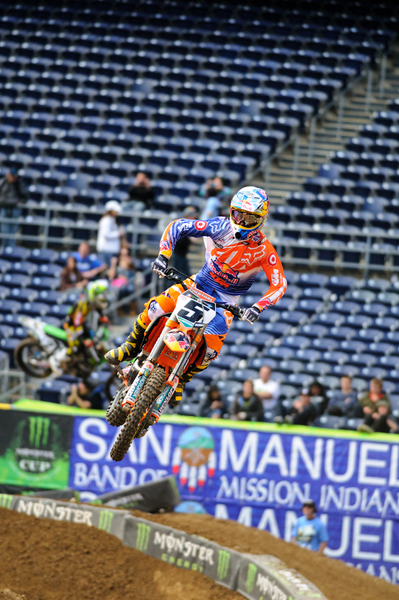 3rd Ryan Dungey Best Finish: 1st (four times) Worst Finish: 6th
Well I have to admit I missed the mark on this one. It's not that I didn't think highly of Dungey as a rider, it's that I thought his team would have trouble with an all-new bike in an all-new class of field. Seeing as how they won the second race on the thing, I'd say the KTM guys have it figured out! What was remarkable was how nothing really changed with Ryan on the KTM vs the Suzuki. He was the same guy out there whereas he probably could be more aggressive out there but he's got speed and fitness which will always be his strong suit. He didn't start crashing more or riding on the edge more with the new bike. When he realized that his bike wasn't on point in the whoops in San Diego, he simply went the speed he could go. Smart thinking and that's why he'll be a title contender in whatever class for the next five or six years.
Swizzle- Did anyone predict 4 wins for Ryan Dungey on a brand new team, brand new bike and manufactured by KTM no less? I mean, this is the brand which broke in half on Ping (to be fair any bike may have broken in half due to that impact), pushed MC into retirement due to failure to meet commitments made when they signed him to create a new bike and argued for years that a link was unnecessary, only to finally fold and introduce it on the 350 and now the 450. Even with his injury and missed races, 2012 turned out to be a huge success and puts RD5 much further ahead than just about anyone could have anticipated in the pre-season.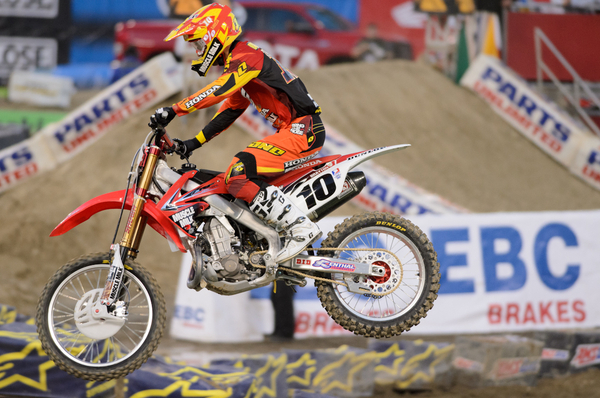 4th Justin Brayton Best Finish: 2nd Worst Finish: DNQ
Brayton was good this season and did indeed take a step up from where he was last year and that's a good thing. The puzzling thing is why he didn't take a bigger step because around the halfway point, there were many including myself who thought JB was going to straight up beat RV and win a race. He sort of went out with a whimper after that but again, overall he did ride better this year. Coming from humble beginnings where he got better each year by just a bit, Justin's now reached a point where getting better by just a bit is super-duper hard. Major props to Brayton for toughing out and racing after that leg injury at San Diego. I know for a fact that he really earned his teams respect from that effort.
Swizzle- JB10 pulled down 4th but I really think it was an underachievement for Justin. Yeah, he had a serious crash which he was a monster for riding through and later when Dungey disappeared from the series, Justin stepped it up and established himself, for two rounds, as the guy wanting to challenge RV. Unfortunately Justin's reign of terror came to a halt after those two rounds and ripped 3rd place in season points from him by a single point. In my preseason article I noted that unless Justin had a banner season, this ride on the Factory Honda would be one and done. Although the season wasn't what it could have been, I think Justin may still be able to retain his ride due to Honda signing that other Justin who no doubt brought a hefty price tag. Perhaps JB10's price-tag will fit in better as 2nd rider than say Trey Canard's whose deal is up in 2012.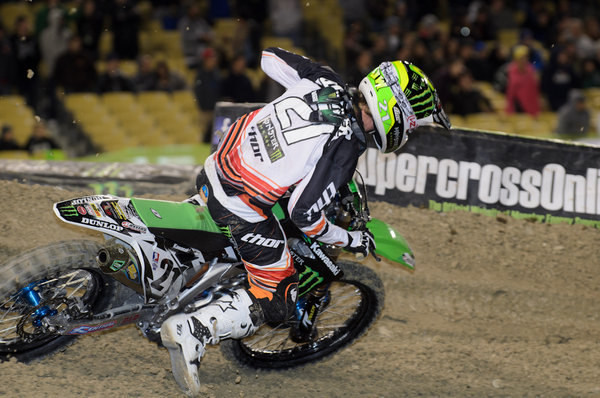 5th Jake Weimer Best Finish: 2nd Worst Finish: DNQ
So many "Worst Finishes: DNQ" this season and last and it just goes to show you how hard even something as simple as qualifying can be. Weimer rode amazing at A1, great at Phoenix and you thought he'd really be that "next" guy but he couldn't sustain it. Again, no one really could so it's not like I'm coming down on him. Weimer's got the bike, the trainer, the work ethic to be successful and really for a first year in supercross getting five podiums is pretty good. He just has to stop wrecking himself and ending up way back. That's a little easier to figure out than how to go fast which he already knows.
Swizzle- Technically his 2nd season but realistically his first, I think 2012 was a solid effort for Jake and one where he learned a lot. In the beginning he was kind of a punching bag at times and as we saw in SLC, he had learned a thing or two and wasn't going to leave anything to chance. He's gotta work on making those bad finishes a little less terrible. In other words, yup, consistency needs to improve. The toolkit is there, he just needs to make sure it is used more efficiently.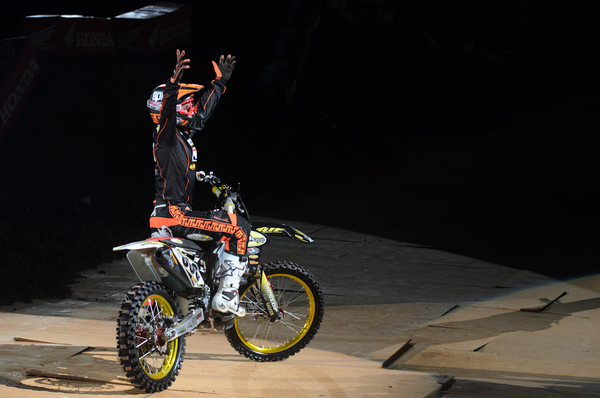 6th Mike Alessi Best Finish: 4th Worst Finish: 16th
The other guy besides Millsaps to finish every race was the #800 and he was good this year. Not great- I think he left some podiums on the table- but for Mike, it was a good season. He showed that you can be more than competitive without a factory bike and I feel like a broken record in typing this but he also wasn't able to sustain a level of excellence throughout the season. Although to be fair to Mike, he had at least two mechanicals with his bike that held him back. If I'm Mike, I'm happy with my supercross season but I'm also thinking about the few races where I could have made it on the box. Oh and he was way, way better in the whoops this year.
Swizzle-6th for Alessi is his best season finish ever and who would have thunk it would come on a Moto Concepts Racing machine? Where do I find a dealer for those? They sure can pull starts. Mike finished the season and was one of only 3 guys to make every main. Impressive.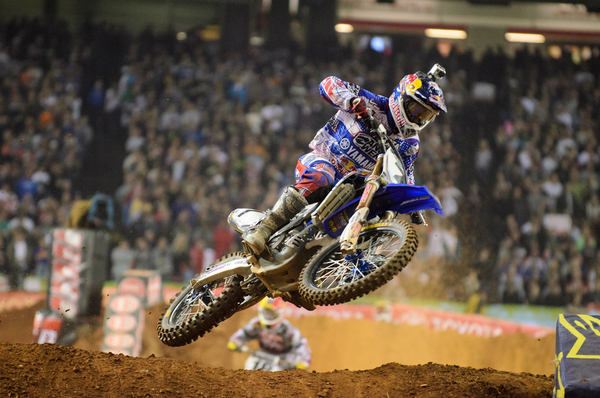 7th James Stewart Best Finish: 1st Worst Finish: DNQ (injury)
What are ya going to say about this guy that hasn't been said already? It didn't work out but it was indeed weird that he dominated, yes I said dominated, Oakland and Daytona for his two wins and then, in the other nine races he raced, could only make the podium three times? Fast in practice, fast in the heats- Stewie couldn't do it in the mains and he got so frustrated with everything he got out of his two and a half years left on his JGR deal and went to Suzuki. Needless to say, the 2013 supercross series is very, very, very, big for James Stewart and his legacy.
Swizzle-Who remembers all that positive spin on JS7 joining JGR coming into the season? It seemed, from all the bubbly talk about how excited the team and James were, that this James Stewart was going to be dominant. It was so thick, it seemed almost like a foregone conclusion. It took only one round to see the impressive resources available to the JGR crew may not even be enough to overcome JS7's issues with the bike. First it was trying a competing tire brand in practice, then in the race James was getting buck-wild and it didn't look good. In the end, it seems crazy to say but the 2011 team break-up resulted in a better season on paper than 2012. The 2012 team may have mutually parted ways but it was a much bigger failure than last years team absolving.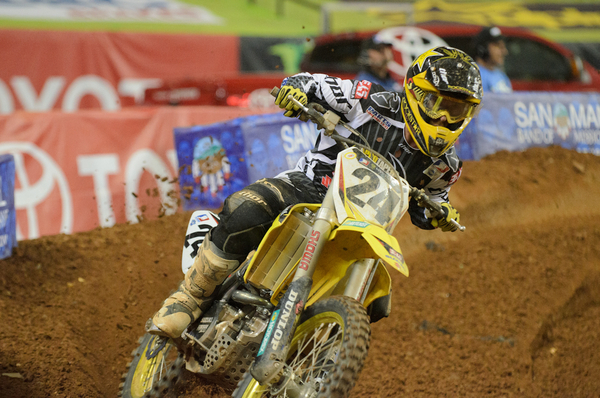 8th Brett Metcalfe Best Finish: 4th Worst Finish: 20th (injury)
I thought Brett would do better this year. Suzuki thought Brett would do better this year and I know Brett thought he'd do better this year. Especially after the injuries hit, he wasn't able to step up a bit and grab a podium- in fact he got worse as the year went on. Maybe the fact that he's going to be a dad and his wife wasn't around at the races was bothering him? It also seemed that every time I spoke to him, he was talking about getting his bike better. But that's a familiar refrain of guys who are struggling- that it's the bike's issues- but then again, sometimes it really is the bike! The positive for Metty is that he's healthy going into his true strength, the outdoors.
Swizzle- Brett's season started off consistently though unspectacularly and took a downward turn in Toronto. Bike problems and rumors of unhappiness with the bike don't do anything to help confidence.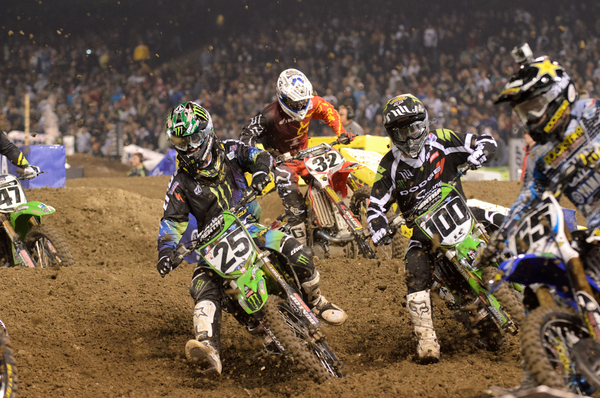 9th Broc Tickle Best Finish: 6th Worst Finish: DNQ
Oh typing his evaluation of Tickle had to really be tough for Swizzle. I can feel the tears on this Word doc. Anyways, Tickle did about what I thought he would do, be right around the top ten with a good finish here and there. I definitely thought that the guy beneath him would beat him especially seeing as how it's Broc's first year as a 450 guy. I think Broc did what many thought he would do and is it enough for Mitch Payton to sign him on again for another year of 450's? I doubt it but this showing has to get a top level team interested in him methinks.
Swizzle- Tough series for Broc. He was fighting comfort on Saturday nights all season and really never rode to his potential. In my opinion, it came down to never feeling like he was meant to be racing with the big boys. He was forced out of the SX2 class and I think he was too passive with his racing, not wanting to step on toes or assert himself. It didn't help him and I really hope to see him step up the aggression and urgency next season. I gotta think the pressure of being the first full season 450 effort for PC ever had affect too. The bottomline is, there are no excuses. Broc needs to make it happen and 2013 needs to be markedly better.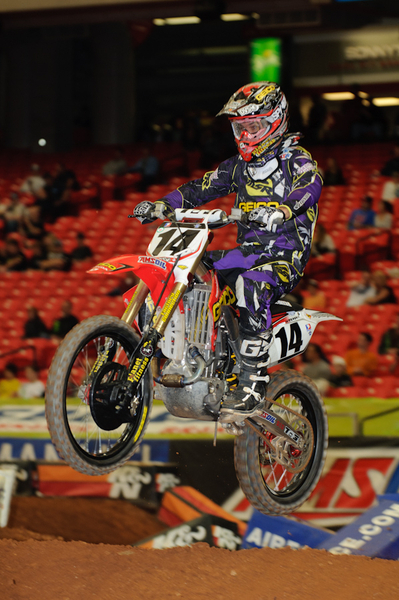 10th Kevin Windham Best Finish: 3rd Worst Finish: DNQ (injury)
Windham got on the box a couple of times and was close to getting a win when he got injured- shocking I know. Windham started slow (like he usually does) but started picking it up as the season went on. Kevin's gone two years now without a win and you have to wonder if he can get another one before he calls it a career in 2014. Making 200 main events is also a nice milestone for KW but I would bet that his goal is to grab some more wins before it's all said and done.
Swizzle- The consummate fan-favorite hit the ground HARD while putting in his most impressive ride of the series. Sadly, it became his last ride of the season too; much like another top rider had done a few weeks earlier. Brutal.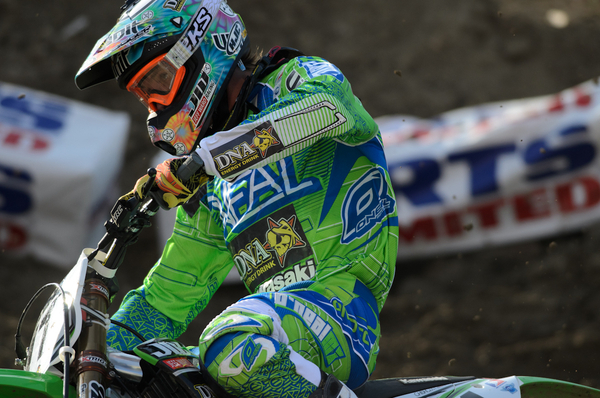 11th Kyle Chisholm Best Finish: 8th Worst Finish: 20th (crash)
Kyle's a good friend of mine (like others on this list) but if the column is called "An Honest Look…" then I have to be honest. I thought he'd be better, I really did. I do some raceday work for X-Brand goggles and we were this close to a deal for Brayton to wear the goggles this 2012 season. We were in talks with Chisholm also and when we lost Brayton at the last minute, I honestly thought that from a goggle perspective, there wasn't that much difference from Chisholm to Brayton- that's how high I held Kyle up. But on the Kawasaki, with a late start from his team, Chiz's results never really improved from last year. He works hard, does the right things and I know that he was battling an arm injury the last little bit of the series but an 11th in points is not where he (or I) thought he'd be at the end of the series. Let's hope the outdoors goes better for him.
Swizzle- I expected Chizz to be a lot better this season. I'll be honest, I thought if he was as good as he was on the Yamaha, he would be better on the Kawi. Two things made that assumption go belly-up. First, Kyle's a bigger guy so he fits in the category of "guys who make the Yamaha work", secondly, Kyle's been dealing with various physical issues that have made it hard for him to prepare properly and ride to his potential. Hopefully Kyle can have a safe outdoor series and get totally healthy before SX 2013 kicks-off so we can see all that potential. It's in there.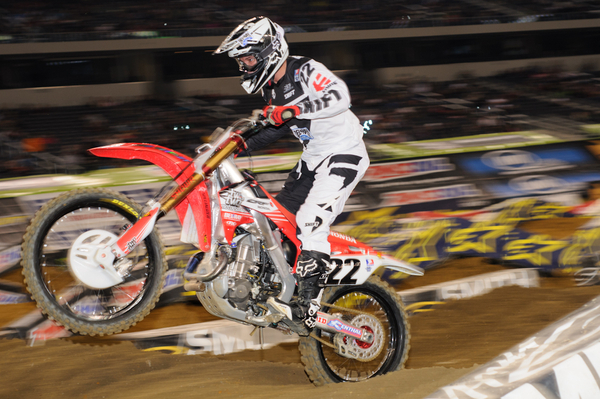 12th Chad Reed Best Finish: 1st Worst Finish: 20th (injury)
Reed was really hitting his stride when he got injured and even RV told me that he considered Chad his main competition before he got hurt. Reed was only off the podium one time in six races before getting hurt and looked to be even better than he was last year when he took another step up. As he ages, he gets better and better it appears. Too bad like so many others, he got hurt.
Swizzle- I'm still pissed off at Dallas. If I had to pick one point in the season when the wind was taken from my lungs, it was when Chad augured himself in Dallas. I wrote it in Swizorner at the time and stand behind it, before he crashed, Chad looked the best he ever has in Supercross. All season, Chad was the only competitor to give RV an honest run, head to head and when he went down, it seemed inevitable that RV was going to walk away with the crown. And he did. It will be remembered as one of the great travesties of the sport if 2013 doesn't see the same confidence level from Reed to keep the pressure on RV like he did in 2012 before lap 6 in Dallas.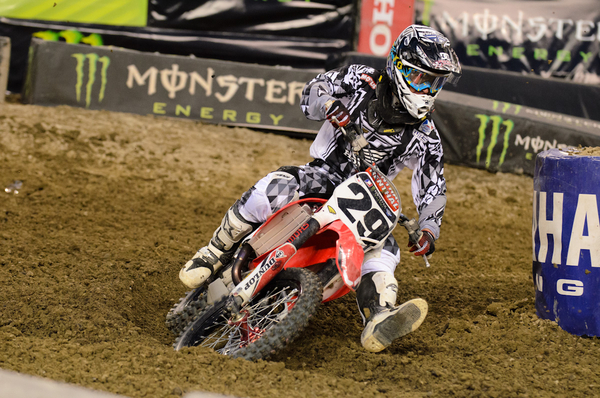 13th Andrew Short Best Finish: 1st Worst Finish: DNQ (injury)
Andrew Short was supposed to return to prominence this year back on the Honda but injury and team sponsorship problems cut into his season. We never really saw what he could do before the injury happened. He finished fifth one race but like the other guys around him, he couldn't grab that brass ring of "best of the rest". But in the end, he rode great at Seattle and grabbed his first win of his career in the 450 class so that's a shining moment for him. Does the fact he won make it his best year ever? I don't know, you'd have to ask him but his season grade is an incomplete to me.
Swizzle- Andrew Short won a 450 main. Really, what else matters? That win in and of itself make the other struggles of the season, moot. Getting lambasted by Weston Peick in SD and having a title sponsor flake-out, pale in comparison. That win is in the record books for all time and it was unique. I mean, how many times have you ever seen the industry as a whole display such support for a main event winner before? That's right, never.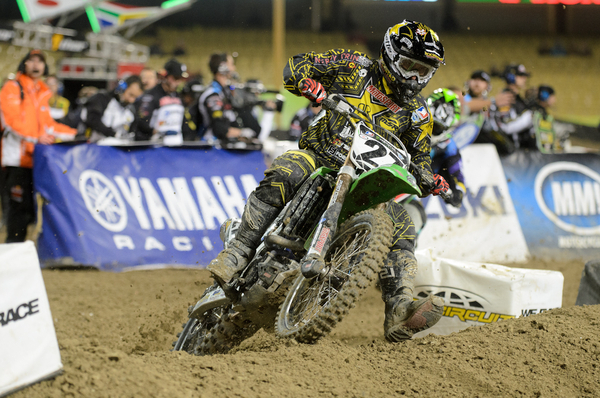 14th Nick Wey Best Finish: 10th Worst Finish: DNQ
In what was probably his worst season in a while, Wey battled injury and a back injury throughout the season. I thought he'd do better back on the Kawasaki but it didn't happen for one reason or another. He was one of those guys that you thought would move up from injuries to other guys but instead he seemed to stay where he was. A vet of the series, Wey will be back and fighting in 2013 and maybe taking the outdoors off will help him next year.
Swizzle- When the Nyk goes from DNQ to an 18th place finish to start the season, you know one thing is going on. A lot of testing. I was pumped on the thought of Nick getting back on a green bike, sporting Mafia brand threads no less but the season was a struggle and adding insult to injury Nick had a pretty gnarly crash that sent a handlebar through his abdominal wall in Indy. Being the beast he is, he came back 3 weeks later to finish the season. The sport to a giant step up this season and many riders were taken by surprise and left reeling till the end. I think Nick will be better prepared and stronger in 2013.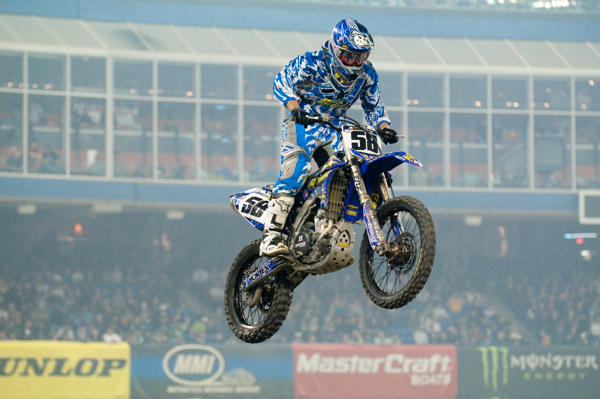 15th Weston Peick Best Finish: 14th Worst Finish: DNQ
Peick had an interesting series where he was a privateer Kawasaki rider, picked up a Star Yamaha ride for one race, went back down to his Kawasaki and then back to the Yamaha guys. Besides all that, he probably had his best series ever and even though guys were hurt if you were at the races you could see that he, like Millsaps, was a better rider than ever before. I know there is a stigma with Weston among some teams where he seems to have a thing where he voices his displeasure after he leaves and some guys are afraid of picking him up because of that. No matter what though, his results speak for themselves.
Swizzle- Weston had a decent enough series. After bouncing around on a few brands and teams, he finished the season with the Star Yamaha team. This year was tough and for Weston to end up 15th in points is a legit credential to put in the resume.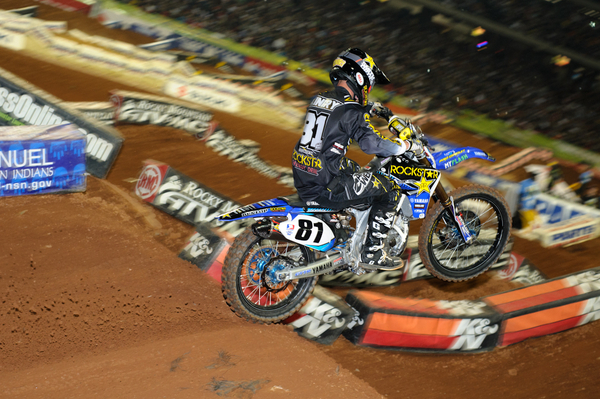 16th Bobby Kiniry Best Finish: 6th Worst Finish: DNQ
A fill-in for Ryan Morais, Bobby had his best ever 450 supercross season as he showed some good speed and more importantly, gave the team and the bike solid rides all year. He's not flashy, may not post the fastest lap times but he's there, he's in the main event and he'll give you an honest twenty laps. There's no drama with Kiniry, he shows up on time, works hard and I hope this sx season has given him options for next year to be here full-time.
Swizzle- Robert is the rider most likely to steal the "feel good story" of the year for me. This old dog came in late and was solid throughout. Add to the formula that he's a smaller guy on the Yamaha and he is over-achiever of the year.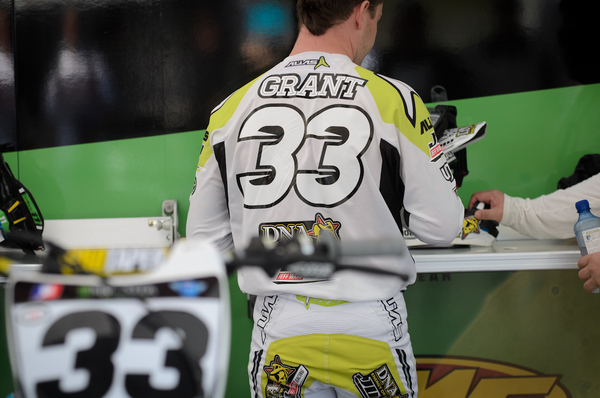 17th Josh Grant Best Finish: 2nd Worst Finish: DNQ
Grant's been hurt for close to two years now and that 2009 season for JGR Yamaha seems like a long time ago. Josh still has some talent and can still ride a bike no doubt about it. His second place at New Orleans was one of the most surprising rides of the year and a reason why you always hold out hope for JG. Sometimes he was terrible and then other times, there was New Orleans. It's got to be tough to be in his shoes and constantly be coming back from injuries. He managed a nice run at the end of the season and if it means he has to settle for an "ok" race instead of going balls-out and crashing, he should do it. At least until he can get back to his old level.
Swizzle-JG came into the season recovering from injury again and missed a bunch of races due to additional injury. He came back and eventually pulled down that awesome 2nd place ride in #NOLA but more importantly, he looks to be healing up. Hopefully Josh, like teammate Chizz, can get through the outdoors unscathed and come in fresh and healthy for 2013.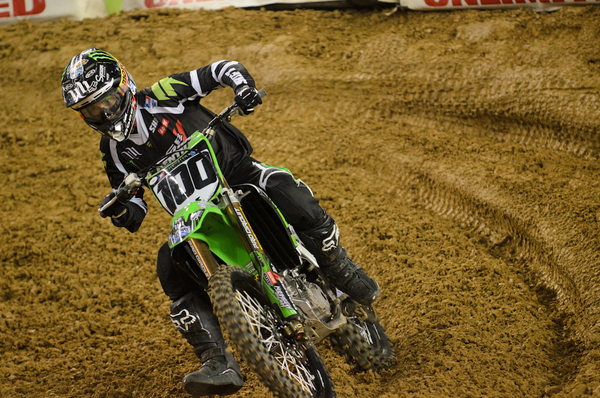 18th Josh Hansen Best Finish: 5th Worst Finish: DNQ
Hansen wasn't that good this year but also wasn't that bad. When he did well he mostly went unnoticed and worked his way quietly through the pack. When he did bad, it wasn't a spectacular flame-out cartwheel while running up near the front like people thought it would be. There was more flash expected of him for sure but then again, just making it through the season without drama would have been a success but he couldn't do it. From cutting the track and getting black-flagged at Daytona, Josh just can't help himself out. He's self-destructive and loves creating drama and that comes from his friends, not me. All in all, I'm not sure he did what he was supposed to do but then again, he also didn't do what he was expected to do in a good way if that makes any sense whatsoever.
Swizzle- I think Matthes, JT$ and Weege put it best about Josh in the season review podcast. We all expected inconsistency and flashes of brilliance but ultimately got generally consistently average rides. Injury ended his season early and from there Watson probably wishes he had just stayed home as the fill-ins, shall we say, struggled.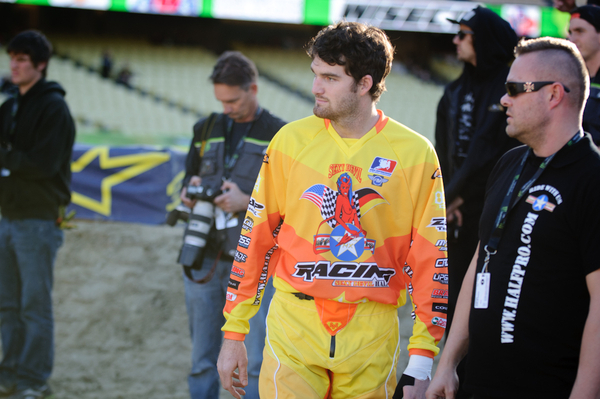 19th Matt Goerke Best Finish: 9th Worst Finish:DNQ
We just had to run this photo once again of Matt in his Sexy Devil gear before he joined BBMX. Anyways, "Beef" was yet again another fill-in guy and really, the BTOSports.com team was lucky to have him as "real" riders Jason Thomas and Jimmy Albertson underperformed this year. Matt was picked up at round three and failed to make the first couple of mains. After that he was a rock only missing one when he crashed out. Georke's supercross skills were much improved over years past and really, he did a great job just jumping from a privateer Kawasaki to the Suzuki of his team. Again, if you're the team, you're thanking Baby Jesus in a tuxedo t-shirt that you picked up Matt for Michael Byrne's spot.
Swizzle-The rock of the BTO Sports/BBMX team in 2012. Still all I can think of is "bowl turn".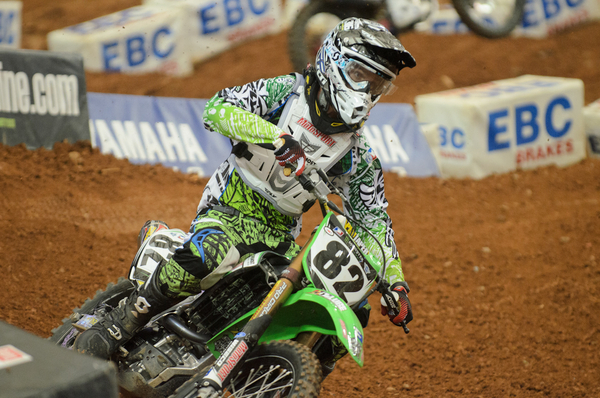 20th Justin Sipes Best Finish:11th Worst Finish: DNQ
Ryan Sipes' younger brother doesn't have a lot of flash about him on or off the track (just look at the lovely white chest pro and Leatt he ran all year) but he's got some skills and did about as good of a job as a fill-in as you can expect for the Ti-Lube team. Sipes never really stuck out a bunch but he got the job done and this was a career year for him.
Swizzle- Pooh's got some serious restraint in tenuous situations. Still surprised he didn't body slam Jake after that takeout in SD which kept him from the main. Pooh did a much better job as a fill-in rider than any of the fill-ins for H&H. Just sayin.