We're here to present to you the best supercross racers ever. Here's the list to end all lists as Weege and I offer up our thoughts.
We're here to present to you the best supercross racers ever. Here's the list to end all lists as Weege and I offer up our thoughts.
By Steve Matthes and Jason Weigandt
With the opening round of supercross fast approaching, it's time to get geared up for the season in every which way. With Racer X counting down the top 30 supercrossers of all-time (a list I'd like to point out is under protest by myself and despite no one seeming to care, keep checking here for a rant blog about how everyone else there is high and drunk) I took a look at the top ten career-sx win list and how the riders stack up for percentages of wins and percentages of podiums.
Below are the results and some comments on them from Jason Weigandt and myself.
Let's just break this right away for the people that don't want the pomp and circumstance of it all.
All Time SX WIns
1 JEREMY MCGRATH 72
2 RICKY CARMICHAEL 48
3 JAMES STEWART 44
4 CHAD REED 41
5 RICKY JOHNSON 28
6 BOB HANNAH 27
7. RYAN VILLOPOTO 24
8 JEFF WARD 20
9 DAMON BRADSHAW 19
10 KEVIN WINDHAM 18
All-Time SX Win Percentage (the percentage of time a rider won the race when he started a main event)
1- James Stewart 50%
2- Jeremy McGrath 42%
3- Ricky Carmichael and Ryan Villopoto 41%
5- Bob Hannah 32%
All-Time SX Podium Percentage (the percentage of time a rider made the podium when he started a main event)
1- Chad Reed 80%
2- Ricky Carmichael 75%
3- James Stewart 74%
4- Ryan Dungey 71%
5- Jean Michel Bayle 69%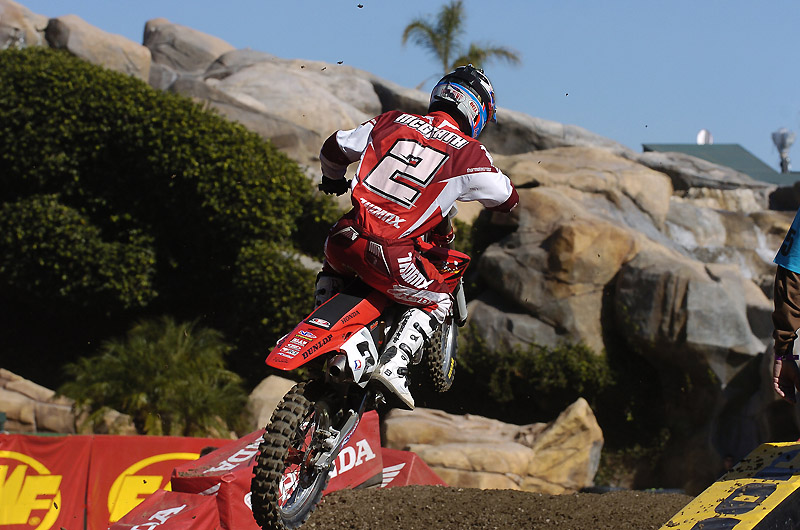 He's not nicknamed The King of Supercross for nothing. McGrath stands head and shoulders above everyone else. Photo by C Stone
Let's talk these guys down in order of number of supercross main event wins starting with…
1-Jeremy McGrath 72 wins 111 podiums 173 races 42% Winning Percentage 64% Podium Percentage
Weege: The sheer numbers, regardless of percentage are crazy. Yeah, some of these other guys are able to match up to The King percentage-wise, but you have to keep something in mind. First, Jeremy didn't miss races, ever. I mean, he started his full-time career in 1993 and ran out the string all the way until 2002 without ever missing a race with injury as far as I can tell. So he's racing on his best days and his worst, and well into his 30s, and still pulling down these kinds of numbers. I'll explain further below.
Matthes: He's the King of Supercross for a reason and this says it all. He's not the top win percentage and he's not the top podium percentage but he is indeed, by far, the top supercross rider of all-time. And as well, MC came in and just blew the doors off Bradshaw, Stanton and everyone else with his "keep it low" jumping style and soon, all of the old guard was retired. I can remember working for rider after rider that would either get passed by MC or be lapped by MC and he'd be four feet lower than them in the air. He changed the game and was the first "superstar" of the sport as in, someone that appealed to people who knew nothing about supercross.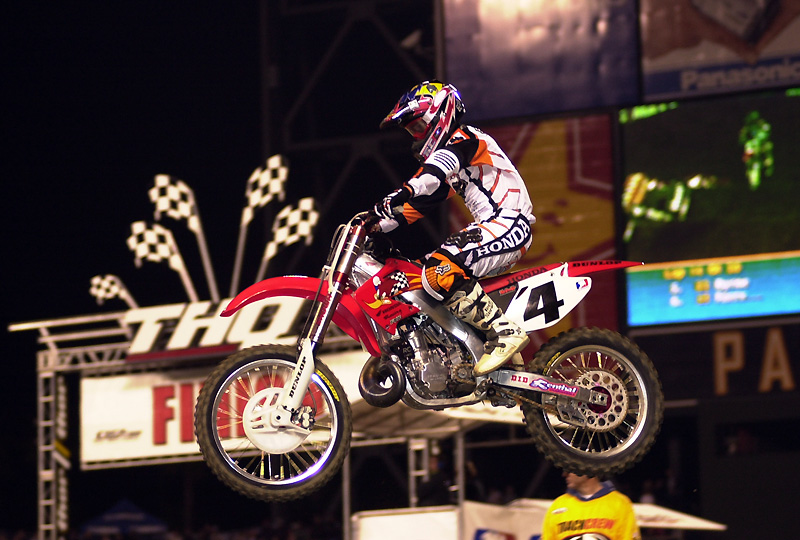 RC packed it in pretty early by todays standards and there's no doubt he left some wins on the table. Photo by C Stone
2-Ricky Carmichael 48 wins 87 podiums 115 races 41% WP 75% PP
Weege: I don't think many would say that RC had a better supercross career than MC. Ah but look at those percentages! About even with McGrath in wins and ahead in podiums. But here's the catch: RC won the 2006 title and said "See ya." Raced half the races in '07 and then retired. Imagine if MC had won the 2000 title, then said "See ya'" and raced half of 2001. McGrath only won two races in the final 2001-2002 swing. Those last two years drove his percentages down. It's not fair to penalize McGrath just because he stayed out there an extra few years (where he still finished second and third in the championship—he wasn't a loser by any means). Still, I must mention that MC probably would have continued winning races and titles if RC wasn't the one who single-handedly took him down. But if I don't mention that MC was already old by then Steve will come to my house with a machine gun.
Matthes: You can't use the argument that RC was better than MC because RC beat MC- it's a natural order of life. The young kid coming up and beating the master. Should we have lined up Hannah in '02 and seen what he could do? What about the beat-down that MC gave RC for two years? And with that, I've just given you readers a look into the Racer X conference call about the top 30 SX racers of all-time. There's the record books and there's the eye test right? Anyways, I have to admit that I was surprised adding these numbers up that RC's win percentage was that close to MC (only 1%!) and although his win total is two years away (at least) from matching MC, statistically speaking, he was indeed on pace to match MC's record had he kept going. But the guy beneath this would have something to say about that.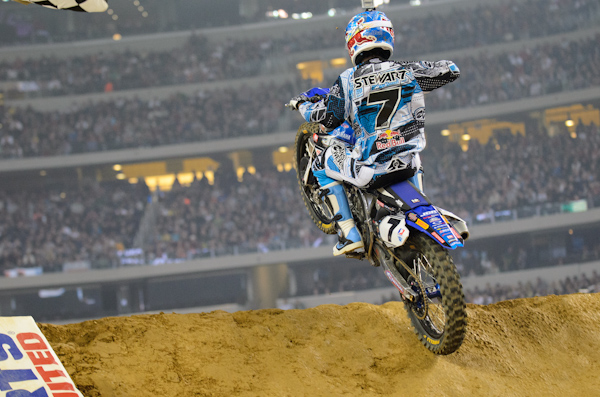 Seems most people love him or hate him but there's no denying you can't stop watching. Photo by Lissimore
3-James Stewart 44 wins 65 podiums 88 races 50%WP 74% PP
Weege: What do they say about Stewart? Win or crash? Checkers or wreckers? Well look at that–50 percent! Does that not hit the nail on the head? Half the time Stew lines up, he wins. The other half—hey, I bet it's safe to say even those podium finishes where he didn't have a win also included a crash.
This is my point when comparing Stewart or Carmichael to McGrath. Stewart has a better percentage in each category. But guess what? Your percentage doesn't go down when you don't race. With Stewart, he will hang it out enough to win, but if he doesn't he could get hurt, and then miss the next race or races. McGrath won races at a crazy clip whilealso riding within his limits enough to never miss time with an injury. I still say that means something.
But I can't end this without just saying that winning half of the supercross races you've ever been in is gnarly. That's not like hitting .500 in baseball, that's like hitting a HOME RUN in half of your at bats.
Matthes: Like I said, there are the record books and there's the eye test and I prefer to use a combination of both. And Stewart passes the eye test in each and every way possible. Like MC, he raised the bar in supercross with innovative techniques and right now, to this day, he'll jump something that no one else will and with the talent that's on the line, that's amazing. There are the haters out there that will point out his crashes and injuries and that's why, in my eyes, MC would still out-rank him on my own personal list. But like McGrath, Stewart's untouchable indoors if he's on it and I just never felt that way about Carmichael when it came to SX (outdoors? That's another story and another column) and you just have to be there to see James ride supercross, it will take your breath away good AND bad. Grab the popcorn.
And by the way, he's got 27 less races and only four less wins than RC, the stats are there if you don't want to do the eye test.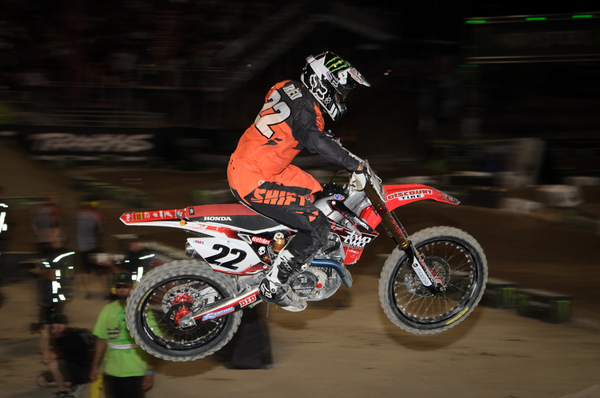 EIGHTY PERCENT PODIUMS in his SX career! Wow! Photo by Lissimore
4-Chad Reed 41 wins 119 podiums 148 races 29% WP 80% PP
Weege: Eighty-freaking percent! Damn. Although you could also mark Reed down for the fact that he only turned 42 of those 114 podiums into wins. In other words, 63 percent of the time Reed finished on the podium, someone else beat him. In contrast, that only happened to MC about 43 percent of the time. More than half of McGrath's podiums were wins!
But I like how these numbers so clearly reflect the rider's career. Would you not expect Stewart to have the most eye-popping win percentage, and Reed to have the most eye-popping podium number?
Matthes: Weege is right, this is perfect for Reed. A two-time supercross champion and someone that gets on the box 80% of the time is pretty amazing. We've said it time and time again with Reed, he's got the ability to get beat bad one week and it doesn't affect him mentally. He believes that he can win that very next week whether it's Carmichael or Stewart and he can raise his game to do it. A very aggressive rider who's very smart on the track, Reed is a hair off the MC/Stewie/RC trio in my mind but just a hair. And yes, I do feel bad about this. 80%!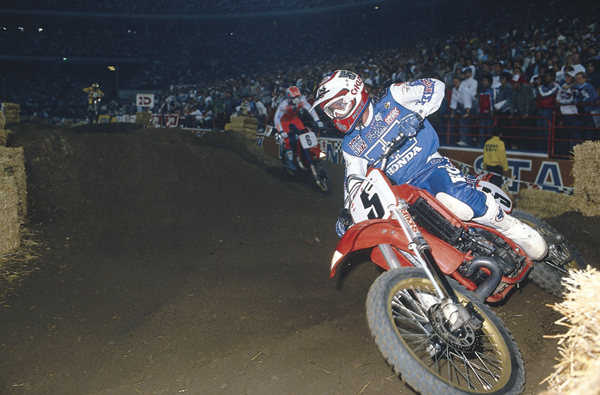 Johnson probably left another 15 wins on the table with his injury, maybe more.
5-Rick Johnson 28 wins 51 podiums 97 races 28% WP 52% PP
Weege: It gets hard to compare across eras, because dominance in 1980s terms wasn't the same as it was post-McGrath. In RJ's day, if you won half the races, you were on fire. After McGrath, if you don't win at least half, you're barely even considered a worthy champion (just ask the people that poo-poo Ryan Dungey).
And let me throw two more things at you in regards to RJ: First, he raced all of '90 and part of '91 on a trashed wrist, so that trashed his percentages. Second, he didn't have the luxury of 125 supercross at the beginning of his career. In RJ's day, you just lined up against the best in the world, on a 250, when you were 16, without any experience. So, yeah, you're probably not going to be racking up wins and podiums right off the bat. MC was 21-years-old and a veteran of three years of full-time 125 Supercross before he moved up full-time.
Matthes: In 1969 baseball lowered the pitcher's mound in order to help out the hitters and a lot of stats are skewered because they were so much in favor of the pitcher pre-1969. We almost need to do that in supercross and I would say that Johnson was in the older era before tracks became gnarly (certainly when you watch the older races, and I have watched hundreds of hours of them you can see that it wasn't until 1989 that they got a little nuts) and guys had supercross tracks to practice on as well suspension guys started specializing in how to make the bike better. As it was, RJ was the man early on and you could watch him in the old tapes and see how groundbreaking he was. He was way more aggressive and a LOT better in the whoops than anyone else.
Johnson gets the short end of the stick as everyone else zooms past him and think about this, he had won dominated the first five races in '89, barely lost the sixth and then poof, never won another sx race after that due to his wrist injury. He was at his peak and got robbed of having better stats but like MC and Stewart, he was on another level and an innovator out there. Long live Too Hip.
6-Bob Hannah 27 wins 42 podiums 84 races 32% WP 50% PP
Weege: Hannah suffers even worse than RJ and MC for career longevity. Had his water skiing incident been a career-ender in 1979, I bet his numbers would have been much higher. Instead, he mixed in some inconsistent results on the back end, like a struggle with Yamaha in '82, and up and down years with Honda. That hurts the numbers.
Matthes: The Hurricane wasn't pretty to watch but he had balls the size of an elephant and could hold on with the best of him. Weege correctly brings up his broken leg at Yamaha as costing him a year of racing but in my mind, his Honda years were even more impressive because in talking to guys that were around back then like Bob Oliver and Dave Osterman, Hannah was THE best rider in '83 and '84 but couldn't stay healthy.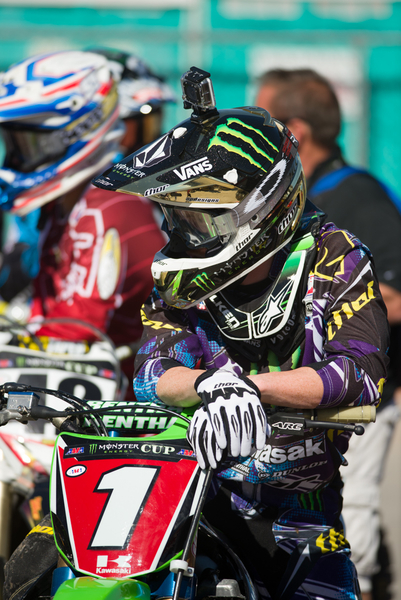 Villopoto's climbing up pretty fast. Photo by Lissimore
7-Ryan Villopoto 24 wins 37 podiums 58 races 41% WP 63% PP
Weege: This dude is on the rise. I bet these numbers, especially the podiums, keep going up. Plus, I'm going to say right now that RV is doing it in front of some gnarly comp. Yeah, RC took on McGrath (when McGrath was old, I get it, Steve) and Stewart had to take on RC in his prime. But Villo is hanging up these kinds of numbers while the likes of Stewart and Reed are still plenty capable. It's impressive.
Matthes: RV's not particularly flashy but he wins. Indoors, outdoors, it doesn't matter. Much like RC, it took RV a season to figure it out, he had some crashes, an illness in that first 450 year but by the end he took a couple of wins and it was on from there. He's going to blow past Hannah and Johnson here in 2013 (barring disaster) and into fifth all-time. He's got time to really get up there but I don't think he sticks around long enough to make it happen. This isn't a guy that looks at the record books and cares where he is.
8-Jeff Ward 20 wins 68 podiums 160 races 12% WP 42% PP
Weege: Wardy used to be the podium master—he would totally trump his ability to get titles through seconds and thirds against RJ's win-at-all-costs mantra. Note that Ward's seven AMA National Titles is right up there, but his win numbers aren't quite as impressive.
Ward, also, ran out the string. He rode for a LONG time even by today's standards, let alone by 1980s/1990s standards that claimed you were an old man by age 24. Again, he wasn't exactly pulling down wins and podiums in 1991 and 1992 like he was in his prime.
Matthes: Ward's a lot like Reed, he's got the titles and wins but he was never THE guy that smoked everyone. He had R.J, Glover, O'Show at different times but his strength is that was those guys came and went, he was still right there. Heck, he even won a supercross in his very last year and how many people can say that?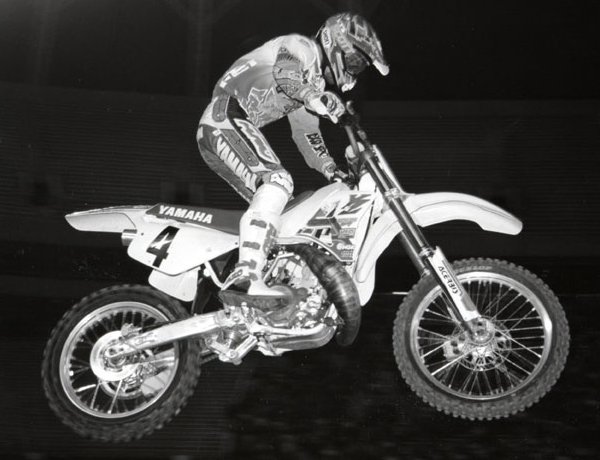 The Beast from the East came in, kicked ass and then left.
9-Damon Bradshaw 19 wins 37 podiums 95 races 20% WP 38% PP
Weege: I don't even like to write about Bradshaw because it just sticks in my craw how good he was, or should have been, or however you want to say it. He just totally should have been right up there with anyone, ever. Face on the moto Mt. Rushmore. I still don't understand what happened and I'll still think about it at least 272,485 times before I die.
Matthes: Damon is the man, he was a lot like Stewart now where he won or crashed but looking at his stats, I thought they'd be a little higher to be honest. I thought he was a little more crash or win than the numbers show. Still Damon was one of those guys that you had to watch and came in like a tsunami at a young age and then he washed away as quickly. What could have been?
By the way, his comeback stats after a two years off were 28 total races, 0 wins and 4 podiums in '96 and '97. If he hadn't come back, his win percentage would be 41% which would place him with RC and MC so the lesson is, don't come back after retiring if you care about your legacy. Ask Barnett, Kiedrowski and about a hundred other dudes. It just never works out.
10-Kevin Windham 18 wins 74 podiums 204 races .08% WP 36% PP
Weege: Windham and Ward, I'd say, had a very small window of time when the world felt "He is the best supercross rider in the world." The other eight dudes in this top ten have spent large chunks of time in such regard. Ward was simply up against the spectacular RJ most of the time, he always just the yin to the yang (and, Reed would have been the same way, but Stewart missed enough races for Chad to have some large windows to cruise through. Dude was partying harder than training in '08 and was still crushing it. Wardy had RJ there every darned week from '86-'89) . Windham was more up and down than Ward—larger chunks of time away from contending for wins. But I will say this: Everyone loves Windham because he's been around forever, and he's an awesome dude. But you know what? He was still a bad-ass racer. Top ten in anything all-time is serious goods.
Matthes: There's a lot of riders that you can say they would have more wins if so-and-so had happened and it's all bench racing at its finest. But there's NO DOUBT that Windham would have so more titles, wins and money in the bank if Ricky Carmichael had taken up tennis and not dirt bike racing. Windham's tenth all time in supercross wins and that's awesome for sure but sweet jesus he'd be right up there in the Mount Rushmore of moto had RC not beat him so much.
Notables:
Ryan Dungey 11 wins 35 podiums 49 races 22% WP 71% PP
Weege: Dunge could be right there by the time he's done. I really only see him getting better, and staying at that level, for a long time.
Matthes: I see the podium percentage getting up there in the Reed range but wins? I'm not sure that indoors he can get that many against RV and Stewart.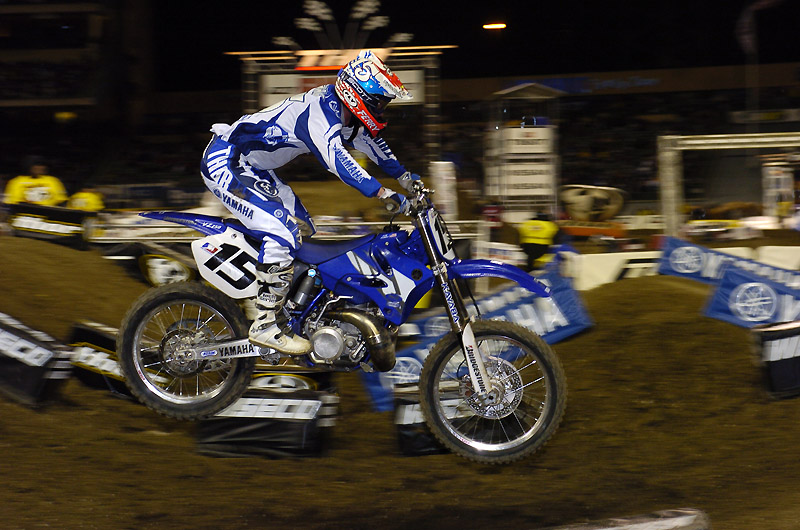 So close to getting on this list. Well, not really but it is an opportunity for me to run a shot of him. Photo by C Stone
Tim Ferry 0 wins 20 podiums 130 races 15% 0% WP 15% PP
Weege: Steve, can you run the numbers all-time on Summercross?
Matthes: No problem Weege, they indicate a 100% win rate for Ferry.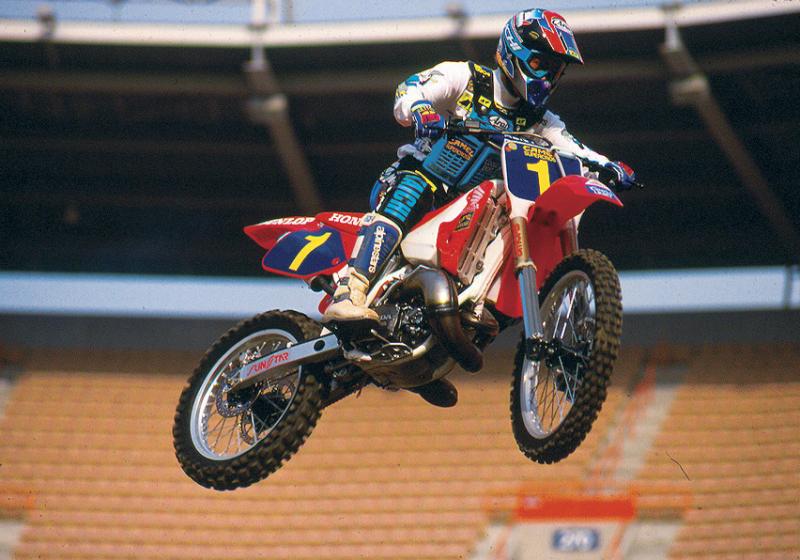 The JMB was one of the best supercross racers ever by his stats and by his technique.
Jean Michel Bayle 16 wins 38 podiums 55 races 13% WP 69% PP
Weege: For sure, JMB's 69 percentage on the podium is awesome, and I think he's the rare case where he suffered from having a career that's too short, wheras Jeff Ward's numbers suffered from being so long. I know JMB says he applied himself fully to his 1992 title defense, but he didn't always seem like his heart was in it.
I think Bayle's entire approach to racing was different. Dudes like MC, RC and Stew were hell-bent on winning everything in sight. Every Saturday night, they wanted to show the world and their competition that they were the best. They wanted to assault the record book. Bayle seemed to take a big-picture approach, even bigger than consistent guys like Reed. Like, sometimes maybe he would go down in turn one, or get a bad start, and just get whatever he got. Or maybe Bradshaw was going nuts one night, and he just let him go for safeties' sake. He knew he'd win the next one. I'm not sure anyone could tell, at any time, what Bayle was really thinking or trying to do. Skill wise, he probably could have won every race he ever entered. He was on a completely different wavelength than anyone at this level.
Matthes: As you have just read, the old dudes don't match up to the new guys in the stats department because they just didn't dominate as much back then. There was too much parity in the sport. Except that is when it comes to Bayle's podium percentage. He's fifth all-time, 1% behind Dungey and that shows his greatness. He didn't always win but the number of times on the podium indicates that the Frenchman was very special in supercross. Plus he basically invented dragging his rear brake and attacking the whoops in a higher gear. Bonus points for that.