Think of this as an introduction to a name you will soon be creating VitalMX threads about.
Think of this as an introduction to a name you will soon be creating VitalMX threads about.
Lead photo: Rob Koy
Photos by: THE James Lissimore
As you know, we were at Tim Ferry's two weeks ago and the scene was bustling with moto in every direction. I knew Timmy had been working with a new name in amateur racing, to me anyway, in RJ Hampshire. I hadn't heard this name before but when I began hearing his name, he seemed to be killing it so I was quite interested in having a look at him. He's the real deal. I was very impressed watching his speed. I grabbed him near the end of the day for a quick Q&A to give people an idea of who he his, where he came from and what he see's in his future. This is a very efficient sub-5 minute interview, folks.
Swizcore- Give me some background info on you RJ.
RJ- Well I'm seventeen years old, from Hudson Florida. I started training here with Timmy about a month and a half ago. I just kinda had a breakout at the Amateur Nationals, so I'm pretty pumped on that. I've been riding since I was about four, and since the breakout I've just been riding and having a blast out here at the Ferry compound.
Was this the first year you did any big amateur Nationals? I hadn't heard of you before the RC Amateur SX and it seemed like you came out of nowhere.
No, I've been racing them but like I said this was the first breakout I had. I won my first big bike championship at Mini'O's just last year in the B class and I wasn't sure if I was going to step up to A but we figured if you wanna be the best, you gotta beat the best. So we moved up to A class, started training with Timmy and it's been going great. I feel like I've dropped more time than the average kid can do in a few months and I'm at that speed right now so I'll just continue to get better and progress everyday.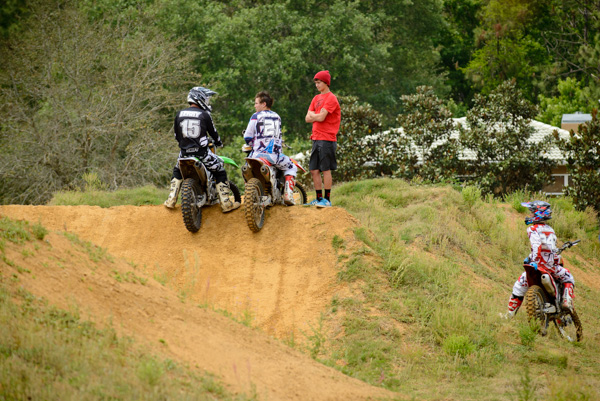 RJ soaking up some more Red Dog knowledge during a riding session.
So are you planning on staying in the A class through all of 2013, then move to Pro racing for 2014 or stick with A class till you get more support?
It's kind of up in the air right now. I've got a good support system behind me with Kevin Keen at Carport Empire, he's already helped me so much. He says he'll be behind me for the Nationals but we're not ready for that yet. You know I wanna go there and be able to run top 10, so I for sure won't be there for the beginning but I may try to hit some after Loretta's. We'll just have to see how we do at Loretta's.
So what's your schedule for the rest of this year, the plan in place now?
For sure Loretta's. I'm going there to get Championships and nothing else. I know I belong there, out front, so that's what we're going there for now. I'm not going to be satisfied unless I come out of there with a Championship.
There's been a lot of talk about Shane McElrath with his TLD ride and how impressive he has been, sort of coming out of nowhere also, last year; have you been lined up with him at all in your career?
Yeah, he was out there at all the Nationals as well and he goes great but I surprised a lot of people… I'll just say that. I won a couple Championships and I passed him a couple moto's. I have a lot of respect for Shane and Cooper and all those guys so, it's huge getting a win out there, so I'm really pumped on all that.
Do you feel your strength is more the 250 or 450 at this point?
Well right now the 450 for sure but for Loretta's we're going to have a strong 250 motor. Todd at TLR is going to build me a sick 250 so we'll be ready for sure.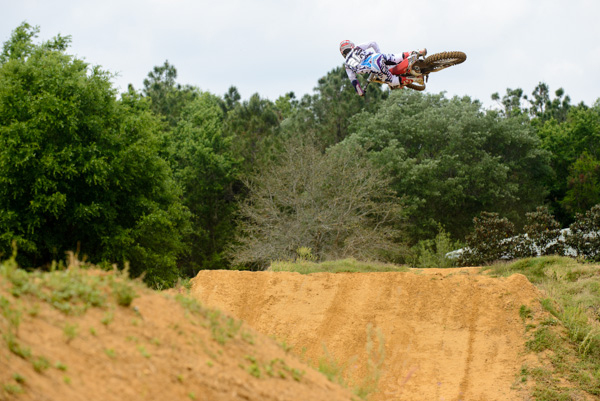 RJ is not going to be happy without some LL's titles this year.
Who do you want to thank, who's been helping you out thus far?
Of course the Lord Jesus Christ who keeps me safe, my Mom, my Dad; I couldn't be here without them. Kevin at CarPort Empire, he's been helping me out so much, Factory Connection, Todd at TLR, Stellar MX, Road and Dirt, Hinson, Alias, BTO Sports, Atlantic Powder Coating and of course, Tim Ferry. Everyone behind me, thank you, I couldn't be here without you guys.