It's Rick Johnson at his final national ever
It's Rick Johnson at his final national ever
Hi everyone, from the late 80s through the mid 90s I was a contributing photographer for Hi-Torque Publications (MXA and Dirt Bike magazine). The photos that you see here were never published and have been stored as 35mm slides for the last 15-20 years. A month or so ago, I finally got around to purchasing a quality scanner and the journey began, going through these images has been a revelation, as I haven't looked at any of them since I put them away and had only seen them as tiny little 35mm slides. Scanning them, then seeing the images on a computer screen has been like seeing them for the first time, they stir up lots of great memories, and bring back a great era for motocross, lots of bright color, big characters and of course, some true legends of the sport.I hope you enjoy viewing them as much as I have-Mike Sweeney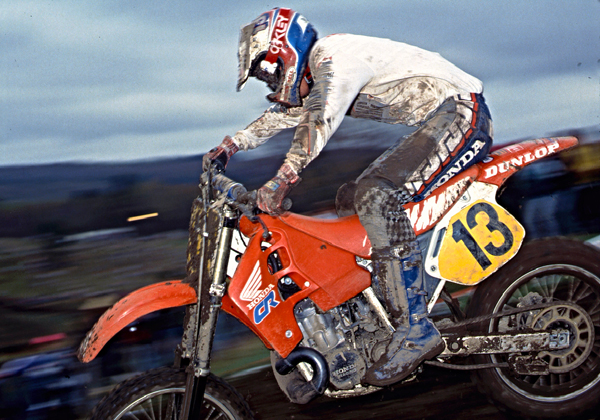 Sweeney- "Final lap. In 1990 the last national of the season was the 125/500 national at Unadilla. Going into the race I had a pretty good idea that the race would be RJ's last. The day was overcast and cool and by the time the last 500 moto went off the line it was getting pretty dark. I was intent on capturing a good image of Rick as he circled the track, especially on his final lap. It was getting too dark to use the long lens as I was shooting with 50 ASA film so I went to a short lens with a flash fill to make the colors pop and also to help stop the action. I found a good spot at the drop in to Gravity Cavity and captured a bunch of good images of the riders. Luckily RJ went by on the last lap and just the right distance and I was able to catch him as you see here. The last lap of a great career."
Rick Johnson– "Although Mike may have thought it was my last national ever, I didn't think that! (Laughs) I had a couple of things on the table as far as options. One was I had tested for Toyota in the stadium trucks and they offered me a job but when I was originally going to sign with them, I wanted to end up in Indy Cars. I didn't want to stay in off-road. I thought that if my wrist doesn't get any better it was going to be my last go-around but I didn't want to say "I'm retiring". But what transpired after this race was some sense of false hope. I went to Japan for the supercross and my wrist hurt bad. I got second behind Bayle but didn't have anything for him. I was like, "My hands getting better" and I was taking some stuff to help it out.
I went to Bercy, won a night there and did good at some other races. But these tracks weren't hard packed and abrasive, they weren't like a real supercross which is what hurt my wrist. I thought I was coming around but it was really the looser surface that was helping me. Real supercross is jarring, it's braking, it's impact and it's a lot more pushing than pulling if that makes sense.
I went 2-1 on this day on the 500. I beat Jeff (Stanton) and he might have tipped over but I beat him fair and square. In this race, because points were settled, I was probably the only guy trying hard! I'm just being honest, it was the last moto of the year and it wasn't going to affect anything. I did have a moto win bonus, I was going for that. Wardy-who won the title this year- Stanton and those guys probably wanted to get it over with and didn't put the effort in that I did. Maybe they did, who knows?
I just remember Stanton sort of shutting off and maybe if you asked him if he did, maybe he thought I deserved it or something. But I don't want to make it sound like he let me by or anything like that though. I'm going to be real about what happened, I was 85% or something, I wasn't the real me.
It was muddy this day I remember that. I was getting beat up bad by the 500 roost so I wore a chest protector most of the time. I wore it under my jersey so that mud wouldn't stick to it and make it heavy. I ran a half-shirt because you know, they were cool back then (laughs). By the second moto it was real tough mud, it wasn't terrible but it stuck to everything. The bike didn't handle very well with the mud at all.
I had a love/hate thing with Unadilla. The first time I went there, I hated the place and it scared me. I went there it was foggy, the Euros were there for the Trans-USA and I was on the lovely 1981 Yamaha- what a marvelous machine. The thing was low to the ground and with the ruts my feet were flying off. I sucked the first time I was there. I came back in '82 and was better and then did the Carlsbad USGP until 1988 when I went back for the USGP and won. And again in 1989 I won with my hand that was hurt and I beat JMB. I was in great physical shape at that point and that kind of track, like I said, my hand was ok.
I guess it's cool to win your last ever national. It was overshadowed because I didn't win the title. For me it was a feather in my cap that no one can take away from me. It's more for me than anyone else, you calling me is probably the most accolades I've ever gotten for it! Everyone else is thinking, you won a race- big deal (laughs)."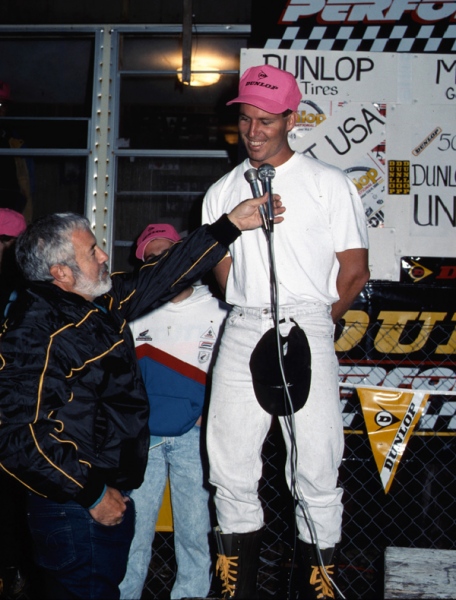 Matthes- "Here's RJ on the podium accepting his award for winning the national and oh yeah, nice boots Rick. Were those in the Life's a Beach catalog? As one of the most stylish riders in the history of the sport (yes I said history) I'm surprised at his choice of footwear here. Nevertheless, Rick was being kind in saying that maybe Stanton let him win or whatever because as the Cycle News from this race reports, Stanton was 26 points behind Jeff Ward for the title going into this race and had to go 1-1.
According to CN, Stanton passed RJ on the first lap while Rick kept him close and about 20 minutes in made a pass for the lead. Unfortunately for Johnson he got passed back and then fell which gave Stanton the breathing room he needed to win the moto. It also goes on to say that Stanton lapped fifth place in this moto. Yikes!
In the second moto Johnson and Stanton again jetted out front and took off this time Johnson was in the lead. Stanton passed Rick when RJ crashed but then Jeff went down right after that. Johnson retook the lead and held onto it for good the rest of the way for his last-ever national win in his last-ever national race.
Although Johnson would come back in 1991 for the first few supercrosses he would retire shortly into the year (we'll forget all about Rick switching to some ugly Thor gear for the '91 season also) making 1990 his last attempt at a full season. And so, a little more than a year after being the undisputed, without-a-doubt, no brainer fastest motocrosser rider in the world, he was done. The wrist injury suffered in March of 1989 was a decisive turning point for Johnson. He was never the same afterward but on this day at Unadilla, he was close."