Some key people talk about the races at Indy
Some key people talk about the races at Indy
Ryan Villopoto
That's the kind of rides that really mean something. Fell down the first turn, I don't know what happened, but that was good.
Kenny flinched and then the guys on the inside beat him, kind of pinched him off. He came into me and then just laid me over. When I got up it was kind of, not nice, but nice to see that the guy in 2nd was down with me. We worked our way up and then he went down again. The track was gnarly.
You got to feel good about the ride. I'm sure you had some sketchy moments but…
I had some sketchy moments but I rode good so I'm happy with that and happy with obviously the finish and where we're at.
What was the biggest factor of the track – the ruts, the whoops, the jumps?
Probably the ruts, the ruts in the whoops.
Practice today. Were you worried? What was going on? What was happening?
Go back and check the stats Matthes. I was 8th last year in practice. So I bettered myself today with a 6th.
So no worries over here?
No.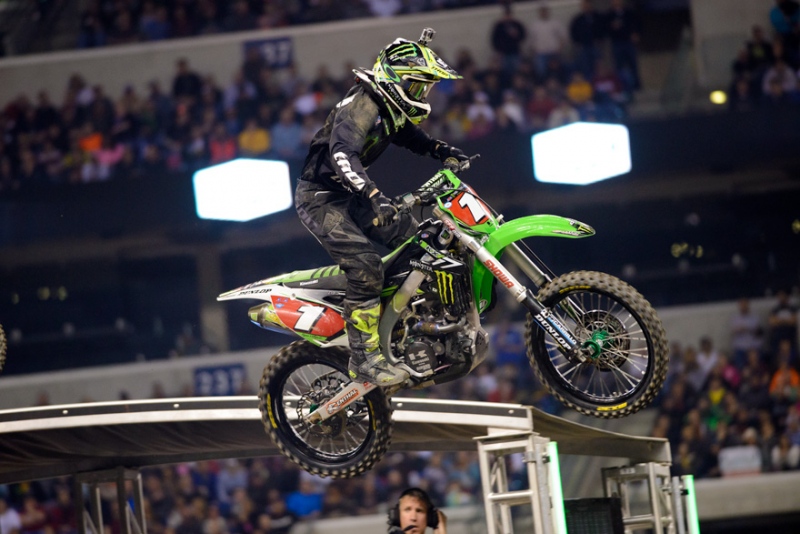 Villopoto came from 20th place to 4th in a very nice ride. Lissimore photo
****
Adam Cianciarulo
Terrific job, second win of the season. Nice job on putting that quad in the back pocket, just like Stew would do, and sneakily pulling it out.
I really didn't have it. I wasn't looking at it at all. Even throughout practice I never even thought of it but obviously it was really soft in practice so there wasn't much you could do. Just kept overshooting over the table in the heat race and this last lap I just said F it and went for it. They actually packed it in more for the main and it was better for me. I'm surprised actually I'm the only one that did it, but it's pretty cool. You got James Stewart out there, everybody, and I was the only one to do it. I want to say that's almost as equal as winning the race, is doing the quad. That definitely helped me because I was quite a bit slower than Martin in those whoops before the wall, so that helped me.
Just like a little bit like Atlanta Davalos rode great and then just made a mistake. After that you made a mistake in the turn and dropped it. You were probably freaking out
My whole game plan with Martin… Obviously he's so fast, he's unbelievable. Right now to be honest with you I feel like I'm getting closer but I do not have that speed right now. I'm the first one to tell you I'm not going to ride over my head and put myself on the ground to try to go that pace. If I put perfect laps together I can stay there, but definitely nothing too much faster than that. Just try to keep it close to him, put the pressure on, so he could see me there out of the corner of his eye the whole time. He made that mistake. I don't know what happened, but I got the lead, had a big lead, was super pumped, just riding smart. And then the corner before the lane he went down my back end just plopped up on the rut and I spun it out. I was able to get up super fast and those guys were right behind me again. So just actually had to pull away a little bit. My fitness feels great. It felt decent at Dallas and at Atlanta. It's been awesome. I couldn't be more pumped. You don't have to worry about the fitness part at all. I know I'm one of the strongest guys on the last five laps, so I'm very happy with that. I definitely think that will benefit me in Daytona.
Track looked like Bagdad there. It was pretty gnarly. 450 guys were struggling too but even in your main it was breaking down.
It probably honestly would have been easier if there were IEDs instead of the whoops. It was like an endurocross out there. You could see it even in the 450 main; it wasn't even really like racing. Everybody's just focused on the track and if you got passed it's like, you weren't focused on the other guys. Just a smart race. Super sketchy once I got the lead. I was all over the place. But hey, I'm a rookie, I won, I don't care.
****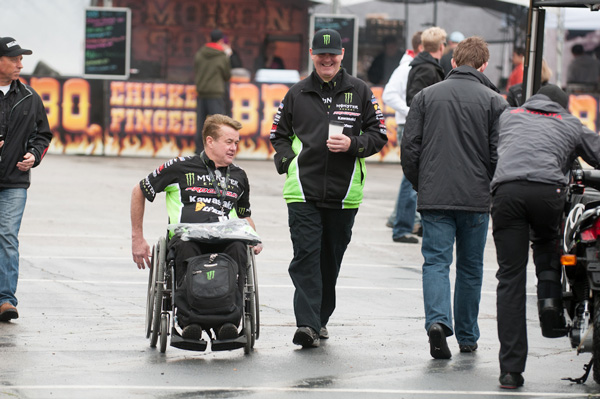 Mitch Payton's team is on a roll on the east coast. Lissimore photo
Mitch Payton
East coast is going well for you. Tonight 1-2 again. Blake with a bad start. I guess if there's one thing, you really got to work with Blake on the starts, but otherwise a good night.
Bones was out with him this week too and truthfully thought he was going to get a good start, because he said his starts this week were really good. So that was kind of a bummer that he got such a bad start, put him in the back again. But he caught up to 5th. I'm pumped on it, I know that's good because the way the track was. I just know he can do better if he starts up there, so that sucks.
Martin too, again had the speed to win. Great job getting his first win last week but again he could have won tonight just a small mistake.
Actually I was sitting behind where he crashed, and they turned that corner, right where Adam crashed, and when they jump off that thing it was down to the concrete. And he caught the concrete and it just slipped sideways and aimed him right at the hay bales. He said he just didn't even know it was coming.
If it's going to happen to anybody it'll happen to Martin Davalos I guess.
But truthfully he got back up, he rode pretty good. He was a little bit winded when he got up because he was fighting that thing a little bit getting it back on the track, and then I think he kind of tightened up a little bit. And then he almost had another one at the end of the rhythm lane later on and almost crashed down there. For him, that was a good salvage and really stoked he got 2nd out of that, so that was awesome.
Did you watch the 450 main?
Unbelievable. I thought our guys, like, "we suck." Everybody was just… in the whoops, you got to go faster. And then I watched the 450 guys and they were saying it looked like Dungey was tip-toeing through them, like he was taking his time, but he won. It was really charging the track on the couple of places that you could and then leaving that section alone and just surviving.
Alan (Adam's dad) Cianciarulo, not happy with the win.
Not happy with the whoops, no he wasn't.
Well great job. Pro Circuit, East Coast you're much better. You got to be happy and feeling good about that. You got one of these guys probably going to win the title.
I'm really stoked actually with all three of them. I know Blake's had a couple bad races but I know he'll be up there. And Adam's riding insanely good, above what I expected which is awesome. I think Martin is doing what everyone really wanted and expected. So really stoked for all three of them and I know it's a long way to go so I'm not going to get too cuckoo about it, but I'm really pumped on that. I do want to say that you guys said that we won four in a row but really Dean won the race right before Justin so that would have been four different winners. Dean, Hill, Martin, Adam.
It was three first-time winners in a row but it was actually four Pro Circuit wins in a row. And now it's five and now you're back on top. This is like 1991 with Swink and McGrath all over.
I love it. I'm pumped on the guys. They're riding so good. Pumped with what the guys are doing at the shop. Bones with the suspension and the engines are good. Their starts are awesome. With last year the way it was, but really it's the same guys and the bikes have improved, but it's just they're not all beat up and hurt.
People wrote this team off.
I know they did. And they loved every second of it.
And Thomas Covington today looked really good in his GP I guess, so that might be another guy you might have for Nationals.
I know. We sent him a little Snapchat and he said "I can't believe you didn't think I could." Really that over-exceeded what I thought, which I'm super pumped.