Bendgen Discusses the East.
Bendgen Discusses the East.
Photos: Simon Cudby
Disclaimer: What you are about to read may shock you and leave you in awe. Just kidding of course. What you are about to read is what I (Troy Bendgen) saw during the East Region this season. I went to one race in Indianapolis. I may not have the scoops that my boss Matthes has, but I do have a keen eye. Here's what I thought of the East Region in 2015.
I have broken it down to the top fifteen in the standings: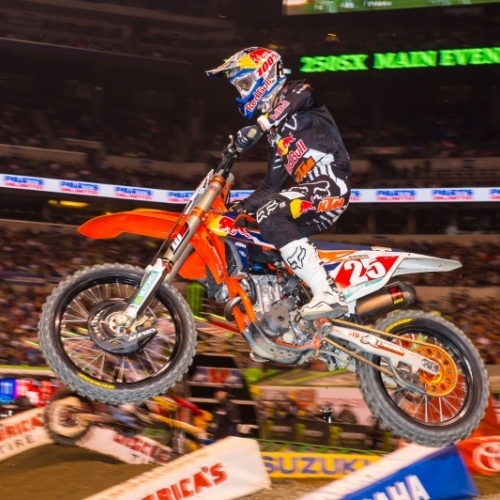 Musquin finished 6 points away from a perfect season.
1. Marvin Musquin – 194 points
It's not that I don't have much to say about Musquin, believe me I could write a book on him here. It's just that he was so dominant this season that everyone who writes about our sport has already written everything about him. He was the fastest guy each week, finished six points away from a perfect season, and he stayed injury free. The last variable of that recipe is very important. Marvin has struggled with injuries and has not been able to ride like this for a while. Now that he is back up to speed he will be very tough to beat this summer. He has to be the favorite heading into the outdoor season. He's a two-time MX2 world champion. Next year we will finally be able to see what Musquin can do on a 450 and that's something that a lot of fans have been waiting on since he came to the US.
2. Justin Bogle – 171 points
Bogle has nothing to be ashamed about this season. He had a way better series than he had last year when he won the title. Justin only missed the podium one time and finished in the runner-up spot four times. The only problem that he had this year was that Musquin had the better season. Bogle would have won back-to-back titles had the Frenchman not been in the East Region, but you can't think like that. The GEICO Honda rider was consistent in his final 250 supercross series and next year we get to see what he can do on a 450. He will have a consistent run in the outdoor series and will be a podium contender at each round.
3. Jeremy Martin – 143 points
J-Mart has figured this supercross game out. Things were looking really great for his title chances through the first four rounds. He won the first visit to Atlanta and had two other podiums and a fourth. He was in title contention until Indianapolis when he failed to qualify for the main event. That was the nail in the coffin. It had to have been hard to sit that race out for him. He was in the lead in the LCQ, then they had the restart, and he started virtually last. Despite that setback it was a quality series for Martin. He had four podium appearances and didn't finish worse than fourth. Next up is his favorite part of the season and he has a title to defend.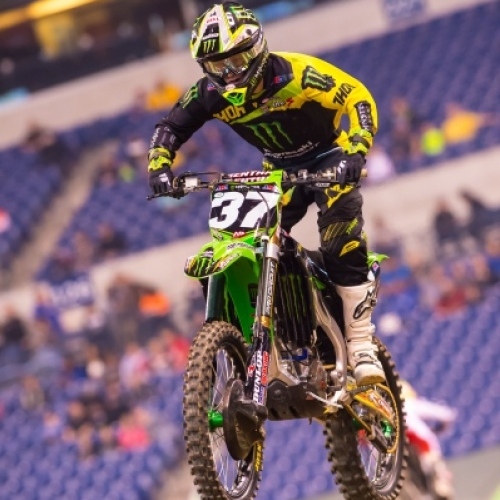 Savatgy wants to win and he's close.
4. Joey Savatgy – 133 points
Savatgy held it down as much as he could for Pro Circuit this year. The other riders on the team are either hurt or battling some sort of setback. Tyler Bowers did great for them out west, but Savatgy was the main hope in this region. He had a great run too. It was always interesting to his posts on social media after the races. He knew that he had a job to do and it's cool to see him not settling for anything. It's obvious that Joey wanted to win a race this season, and he will have one more shot in Las Vegas. It appears he has that same great attitude that he had back when he won all of his amateur titles. He hasn't lost that spark and that is a great thing. Joey should make some more podiums this summer. Next year in supercross he will be hard to bet for the championship. He's got the drive and the speed to put it all together.
5. RJ Hampshire – 100 points
The Floridian has had a solid rookie season so far. What better way to kick off your professional career with a fifth in the final standings of your first series? He made the podium in Indianapolis and had two other top five finishes. GEICO Honda knows that they have a special talent in RJ and it will be interesting to see how much he grows as a rider in this upcoming outdoor season. He had some ups and some downs, but that's to be expected. Next season I don't expect him to win a regional title, but he will be in contention for it. Two years from now is when I forecast his first professional title. This kid is the real deal.
6. Anthony Rodriguez – 98 points
You can always expect two things from A-Rod. The first thing to expect is flat out speed and the second is usually he will make mistakes. Quite a few times this season he has crashed while running in a podium position. He's like Darth Vader right now, in the fact that he has all of this speed and potential to be on the podium, yet he can't harness the speed for good. He should get this straightened out soon. He's on one of the best teams in the pits and he has a ton of untapped potential. If Rodriguez can stay healthy and on two wheels then watch out because he is on the rise.
7. Kyle Peters – 91 points
I don't want to say that Peters was the surprise of the East Region, but to me, he was just that. I didn't count him out before the season started, but I don't think I counted him in exactly either. I figured he would end up inside the top ten on a few occasions and then be inconsistent. Boy, did he prove me wrong! I must have seemed to forget that this is a guy who made an East Region podium a couple of seasons ago. That was no fluke and he has the speed to run up front. His best finish was a sixth at the final round in East Rutherford. Peters continues to grind away and he keeps building towards the top of the standings. This is a great finish in the final standings and it definitely kept him on the radar.
8. Jimmy Decotis – 87 points
I just don't know, man. I always expect more for Jimmy-D and I don't know why. By reading his social media posts, I think he expects more out of himself too. Jimmy had some bright spots this series as well as some dark spots. His best finish was a fifth in the second Atlanta round, and he also had three sixth place runs. He had the best and the brightest gear setup each week. His neon colors were just on point this year. Now Decotis is heading to Canada this summer to ride their national series. Hopefully he will come down on his off weekends and race some rounds of the Lucas Oil Pro Motocross Championship.
9. Kyle Cunningham – 72 points
I am all for earning money however you can and keeping a job you like. However, I just don't get Cunningham's situation. A couple seasons ago Kyle was given a shot to ride a 450 and he absolutely killed it on the bigger bike. This East Coast run seemed to be a struggle for the veteran this year. He had a total of seven points through the first three rounds of the series and then turned it around. A fifth in Indianapolis was his high point of the season. Cunningham has great speed. He is doing the right thing by riding what he can, but he should just make the jump to the 450 class and show everyone that he can ride the bigger bike again.
10. Martin Davalos – 63 points
Last year Davalos almost had it all put together for the championship, then he got hurt. This year he was for sure going to avenge his misfortunes from last season. However, it wasn't to be. He did score a fourth in the first Atlanta round, but other than that he was invisible on TV. It just wasn't meant to be this year for the Rockstar Husqvarna rider. Maybe he can come back in the outdoor season to put in some top ten finishes?
11. Luke Renzland – 62 points
Here's another rookie doing the right things. It took Luke a bit to get the hang of supercross this season, but he had some decent showings. He only missed the main event twice and he was always in the mix for the top ten. Matthes always wrote in his columns that when he would go visit the Cycle Trader Rock River Yamaha semi that Renzland was always the first guy there. This impressed me at Indy, because I found him sitting in the rider's seating long after the 450 main event staring at the track. He hadn't even taken his gear off yet. Luke continues to get better and he will be a contender for the 10-5 region in the outdoors.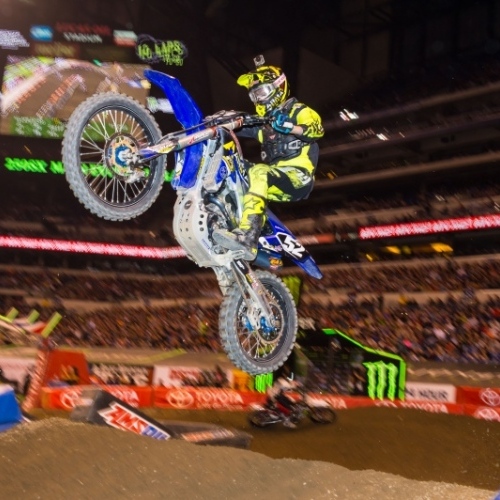 Oldenburg was very fast this year.
12. Mitchell Oldenburg – 61 points
Mitchell always seemed like he was on a mission when he was out there on the track this supercross season. In a way he kind of was. He was his team's only rider from Indianapolis on and he had good showings. Heck, he even made the 450 main event in Houston on his 250 and was able to score seven points. That's a feat that no one else can claim. Oldenburg is very fast and is one of the nicest, humble, riders in this sport. If he gets on a 450 this summer a lot of guys are going to have their hands full.
13. Vince Friese – 58 points
Friese did not have the season that he expected this year. It wasn't anything that he did differently either. He just was battling injury after injury. Had he not been injured then I think we see the same Friese that we saw last season. The guy who stood on the podium in East Rutherford and took home third in the standings last season is still there. He just wasn't able to ride to his full potential this year. Two sixth place finishes in the first two rounds prove this theory. He had the speed, just not the health.
14. Colt Nichols – 53 points
Nichols makes it three rookies inside the top fifteen in the final standings. If you want to talk a guy who has just pure speed it's Nichols. Really though, had this guy not made mistakes he would have finished inside the top ten in points. His best finish was a sixth and he also had troubles at two rounds where he didn't make the main. Colt impressed me this year. He had the speed to finish in the 5-10 range every week, but wasn't able to. The potential is there and this is a strong upside for Nichols. Keep an eye on him the rest of the year.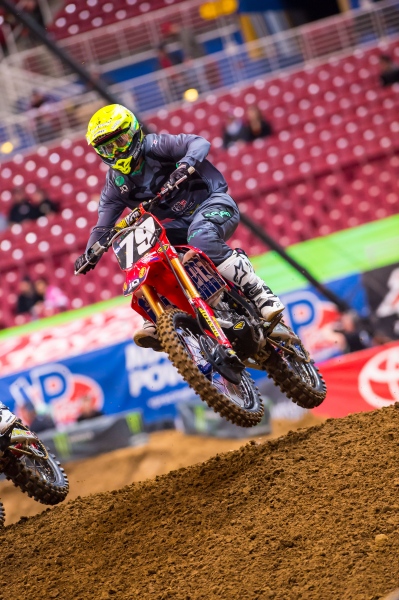 Owen proved he can be a top ten guy this season.
15. Jace Owen – 50 points
Owen proved to everyone and most importantly himself, that he was a top ten guy. His year started out a bit rocky, but was able to score his first ever-top ten in Indianapolis. He then followed that up with a tenth, ninth, and eleventh to end the season strong. Owen is just a guy doing things on his own program. Before this year he had only raced at three supercross races. This is his sophomore season, but with limited funds he did not make it to many races last year. Keep an eye on Owen as the rest of the season unfolds. He is a two-time Loretta Lynn's champion for a reason. He is figuring out the professional side of things as well.
Agree or disagree with what I wrote? Let me hear you! Email me at Troy@pulpmx.com to chat about anything. Thanks for reading.