Bendgen gives a rundown of the final 250 standings.
Bendgen gives a rundown of the final 250 standings.
Photos: Simon Cudby
It's that time again! The time where I take a look at the top twenty in each class and analyze how well/bad the riders did. This is a column as well as an analysis, so basically I'm taking my opinion and backing it up with a lot of facts. We'll start with the 250 class this week and next week I will finish with the 450 class. I've been writing about motocross for almost seven years now, so I've done a lot of analyzing over the years. This is just my latest rant.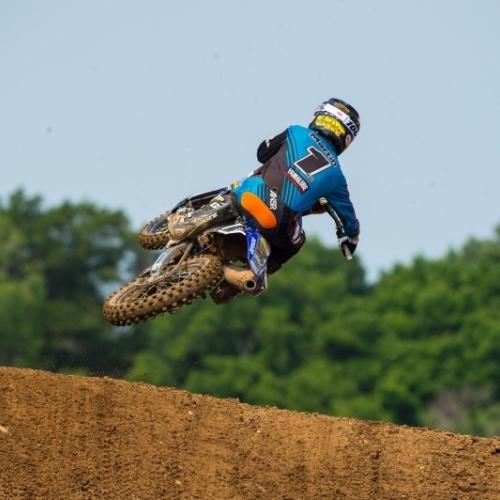 Champ form.
1. Jeremy Martin / Yamalube Star Racing Yamaha / 491pts
Matthes and I have already discussed Jeremy and his season a lot this year. Most of what I have to say about Martin is repetitive. He had a great outdoor season and successfully defended his title. The cool part about Martin is that he gets a chance to go for a three-peat next season. It's a rarity in this sport to actually win three straight motocross titles. The last person to do it was of course Ryan Villopoto in 2006-2008. Next year Martin will have his hands full with Copper Webb, Aaron Plessinger, RJ Hampshire, Shane McElrath, his brother, Joey Savatgy, Jessy Nelson, and everyone else on this list besides Marvin Musquin who will be moving up to a 450.
2. Marvin Musquin / Red Bull KTM / 479pts
It was such a heartbreaker at the Ironman National for Musquin. How gutted was everybody for one of the nicest guys in the sport? He didn't even get a chance to fight for the championship in the first moto. From there it was basically over. Musquin had a great year and did accomplish the East Coast title, which makes losing the outdoor one a little better. Musquin is moving up to the 450 full-time next season and should be an instant threat.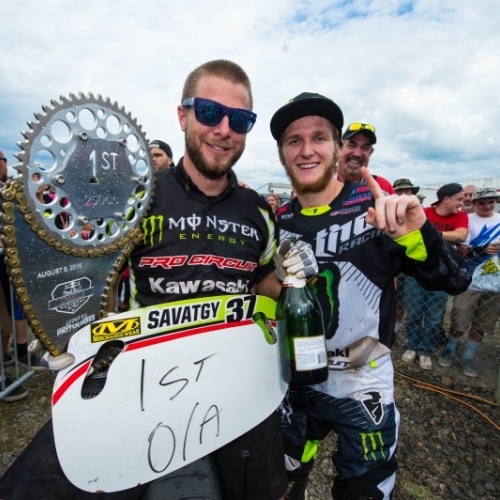 Savatgy will pick a career number for the 2016 season and beyond.
3. Joey Savatgy / Monster Energy Pro Circuit Kawasaki / 348pts
Lookout everyone because next season is Joey's time to shine. Seriously guys and gals, Savatgy does not race for the podium, he strictly races for the win every gate drop. A lot of guys just kind of just aim for a certain spot and then they build from there, but not Savatgy. We'll call him Savage from this point forward. Savage knows that he has the best team, team, and he trains down at the Carmichael farm. He knows that he should be winning. This is the recipe for success and he will have a stronger 2016 season. Joey accomplished his first overall win at Unadilla and has a pretty epic/weird beard according to some fans of the sport.
4. Zach Osborne / Rockstar Energy Husqvarna / 330pts
Osborne should have finished in third place this outdoor season. He held the final podium position in the standings for the majority of the summer and then Savatgy cranked it up. Zach-O still had six podium finishes that included three runner-up finishes. It was the first four motos of the season that really jumped up and bit him in the end. Osborne is usually always consistent and up in the mix, which is why he ended up fourth in the standings.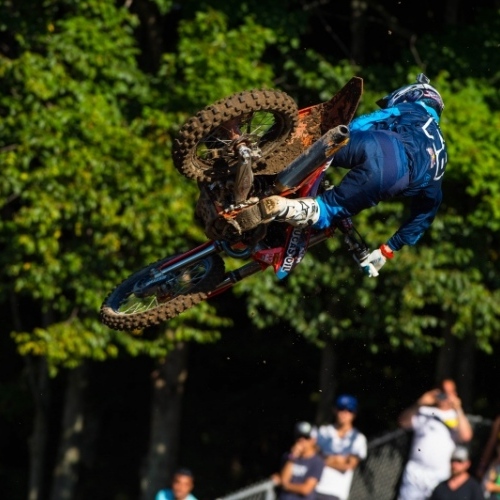 Nelson should win a few races next season.
5. Jessy Nelson / Lucas Oil KTM / 323pts
Nels-dog started the summer off really well, fell off a little bit in the middle, and then finished strong. He had four podium appearances this summer and his highest finish was runner-up in the second moto in Tennessee. Based off of the fact that he won supercrosses this season, and that he found the podium outdoors, he will be a title contender in each series next year. Jessy isn't afraid to hang it out and pin it and that is also why he will have a better year next season.
6. Aaron Plessinger / Yamalube Star Racing Yamaha / 311pts
Check this out! Just when we thought that we weren't going to see a rookie get a win this season Plessinger comes and saves the day. The top rookie this season in both supercross and motocross came on very strong late in the summer. In the last eight motos of the season Aaron only finished worse than fifth one time and had three podium appearances. Plessinger has signed on with Yamalube Star Racing Yamaha through the 2018 season and he has a lot of championships in his current forecast.
7. Alex Martin / Cycle Trader Rock River Yamaha / 288pts
Big brother Martin actually had a breakthrough season this year. He was no longer just a top ten guy and maybe he gets a top five here and there. He was a legit podium contender, and as of Budds Creek, a race winner. Alex has been around this circuit since 2008 and it isn't often where a rider figures it out later on in a career. I think that Osborne fits into this mold as well. These guys continue to just hammer out the laps every year and continue to build their speed. Eventually they reach the top and become a contender. It's a weird cycle because usually if you have it right away you have it. Or if you don't you slip off at some point and give up the dream. Martin was always a top ten guy, so it's nice to see he didn't settle for that. He will be a great addition to the Yamalube Star Racing Yamaha team next year.
8. Matt Bisceglia / GEICO Powersports Honda / 256pts
The top finishing GEICO Honda rider is eighth place in 2015 and Matt Bisceglia is the leader. Don't take that the wrong way here. The team is in a rebuilding year. Bogle was supposed to be their title contender, while the rest of the gang does the best they can and figures out the game. Unfortunately Bogle got injured at the opening round and wasn't able to lead the team. Bisceglia (you'll notice a trend here) always seemed to have one good moto and then one bad moto at each national. He did end the year with a fifth place at the Ironman National, which is a great way to end the year. Bisceglia will have a breakout year next season and it may or may not be on a red bike.
9. Shane McElrath / Lucas Oil KTM / 248pts
McElrath has displayed that he is more comfortable on the supercross track this season. He had a third in the second moto at Glen Helen and was not able to find the podium again. However, it has been a nice sophomore year for Shane. He is on the list of guys who will be a contender in both disciplines next year, so he has that going for him. It's going to be between him and Jessy Nelson for the top team rider under the Lucas Oil KTM banner next year with supercross rookie/outdoor sophomore Alex Frye not far behind and learning the ropes.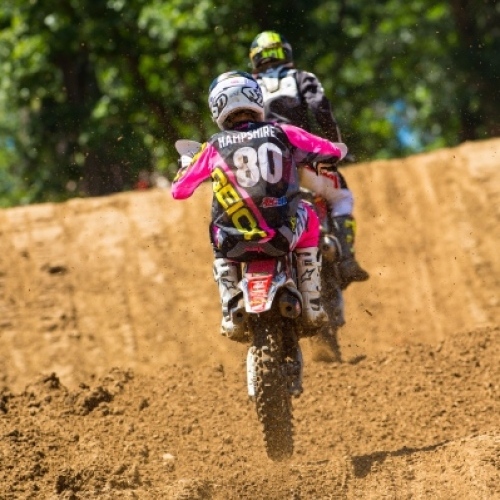 Hampshire has come a long way in a few short years.
10. RJ Hampshire / GEICO Powersports Honda / 248pts
I'm actually very impressed with RJ's outdoor season. He was a turn away from scoring a podium finish at the Utah National after all. He tied in points with McElrath, but McElrath's third place moto at Glen Helen was the tiebreaker. RJ showed that he had consistency late in the year and capped his season off with a fourth in the final moto. For a while there it seemed like he would have one good moto and one bad moto. He'll be a podium contender next season.
11. Cooper Webb / Yamalube Star Racing Yamaha / 246pts
Here is the third championship contender if he would have been healthy the entire season. We know what Webb's capabilities are. He's a race winner and title contender. When he came back to the action at Budds Creek you just knew that he was going to pin it and try to win as many overalls as he could. To miss nine motos and come back to eleventh in points is not too shabby. None of that mattered to Webb though. He just wanted to win as much as he could and he won three motos on the year. Coop will be the guy to beat in both series next year as well as his teammate Jeremy Martin. It's going to be fun to watch this guy on a 450 at the MXoN in a month.
12. Christian Craig / GEICO Powersports Honda / 219pts
Before this season I literally wondered to myself what could have been for Christian Craig. I had no idea that he would be racing this summer at all, nor did many other people. He probably got a luck break considering Justin Bogle went out so early. However, I don't have to wonder anymore. Craig killed it this summer in so many ways of awesomeness. The guy is just flat out fast and I always thought that he would be a race winner. To come out of retirement to race up front the majority of the weekends is a great way to reward your father-in-law for giving you a shot. His second moto and podium at RedBud gave me chills. He's been through a lot of injuries and it's just nice to see big daddy Craig at the track again. No one will be able to take this summer away from him no matter what the future holds.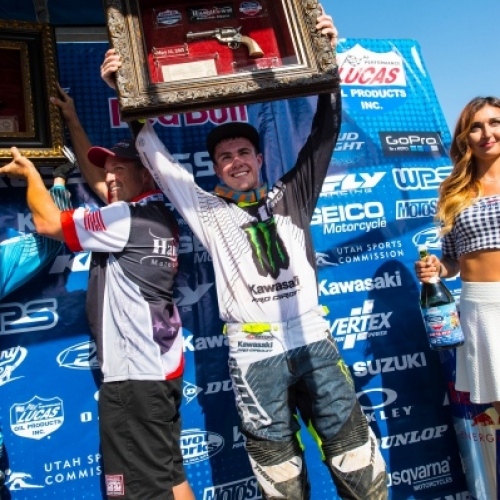 Alldredgestarted off with a bang at Hangtown and then was inconsistent. He's very fast.
13. Chris Alldredge / Monster Energy Pro Circuit Kawasaki / 188pts
Inconsistency was the story of Alldredge's rookie season. However, I'm still on his bandwagon. I believe that the Pro Circuit team has a very big talent in Chris. Sure, his results were super inconsistent but what about his two podiums this year? He had a third overall at the Hangtown opener and a third in the first moto at Unadilla. These finishes aren't flukes. Alldredge is really fast and if he can harness his speed then we'll have a force to be reckoned with.
14. Adam Cianciarulo / Monster Energy Pro Circuit Kawasaki / 178pts
It was another heartbreaking season for Cianciarulo. It's getting to the point where I don't even care where he finishes out on the track. I'd rather see him get fortieth every weekend if it means we get to watch him all season. Unfortunately Mitch Payton, the team, his sponsors, nor himself agree with that statement. If Adam is healthy he is a championship contender. He competed in twelve motos this summer and finished inside of the top five in half of those. He also had two runner-ups and a third right before he injured himself. His best rides were coming and now we have to wait for him to get better.
15. Jordon Smith / GEICO Powersports Honda / 177pts
It seemed like Smith always had one good moto and one bad moto at each event. Matthes said that he thinks Smith has some very serious speed and I will agree with that. In some motos you begin to wonder why he can't be this fast at all of the races. Hey, the point of your rookie season is to make it through the majority of the races healthy and to learn a lot. Smith finished fifth in a moto twice this season and that was his best result. If he can stay off of the ground and healthy I say he wins a supercross next year.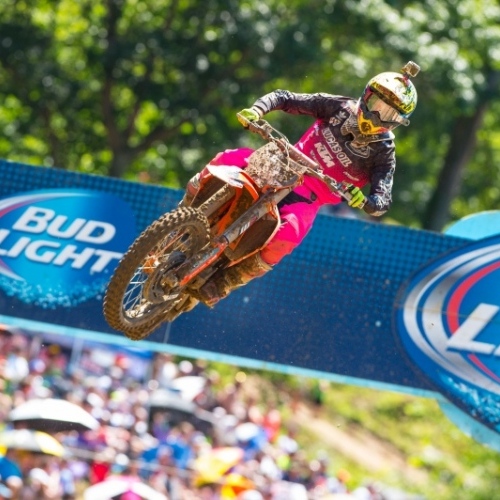 Oldenburg was a great addition to the Lucas Oil KTM team this summer.
16. Mitchell Oldenburg / Lucas Oil KTM / 143pts
Oldenburg did a great job filling in for Darryn Durham this summer. For a while there it was looking like Darryn was going to be back racing this summer. Heck, he even told me that he was in for the season a few weeks before Hangtown. Oldenburg thought that he was going to be racing in Canada this summer, but he was able to find this ride and he made it inside the top ten a few times. This was Mitchell's first shot on a factory-supported team. Had he not gotten hurt at Utah he could have made a strong case against Smith for fifteenth in the standings.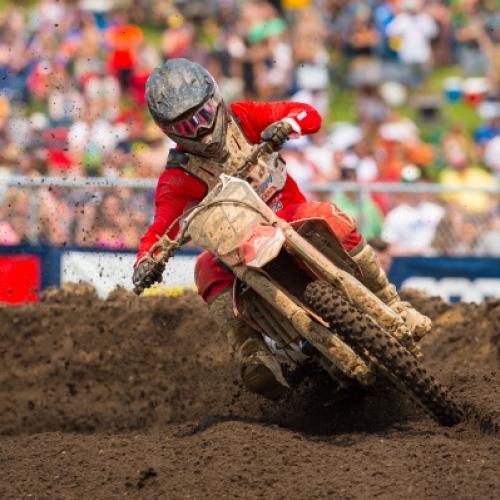 Peters has top ten speed any given weekend and 2015 was a rebuilding year for him.
17. Kyle Peters / Motosport GPI Honda / 122pts
Peters wants to be inside of the top ten and he isn't happy with anything less. He told me that he expects to run up front every weekend. He has a great ride with the Motosport GPI Honda squad and he knows that he has all of the resources to be successful. He wasn't able to race in Utah or Indiana, which could have helped him vie for the top fifteen in points. Peters has the speed and his best moto of the year was a seventh at Glen Helen. Nevertheless,
18. Justin Hill / Red Bull KTM / 107pts
Man, I really thought this guy was going to be a champion or race winner in 2015. After his performance at the Monster Energy Cup I figured he was going to be a whole new rider on his KTM. The highlight of Hill's summer was a second place in the first moto at Glen Helen. At that point I thought, "Yeah, Hill's back!" I know that he has been fighting through a lot of injuries this season, which is a bummer because this dude is wicked fast. Those injuries held him back tremendously. I feel like when he moves up to a 450 we will see an entirely new rider. He just seems to be more comfortable on the big bike, just like his older brother.
19. Luke Renzland / Cycle Trader Rock River Yamaha / 104pts
Renzland started to progress later on in the summer. Unfortunately he must have gotten hurt because he didn't score any points at Utah and didn't show up to Ironman. Unadilla was his best round though, which makes sense because that is where he turned pro one year ago. I feel like Renzland has a good story to tell and I think as the off-season continues we will catch up with him for a feature story.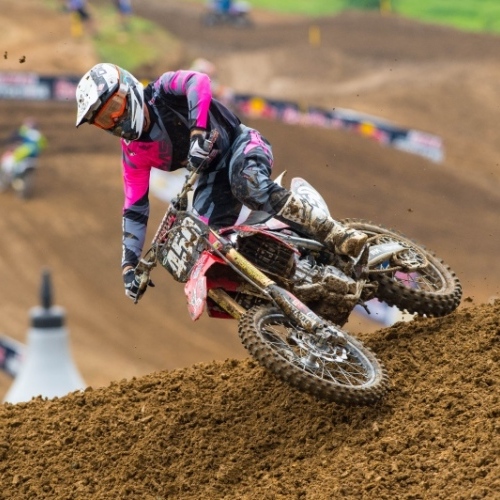 Mellross is enjoying his time chasing his dreams in America.
20. Hayden Mellross / TiLube Storm Lake Honda/ Buddy Brooks Racing / 49pts
The top Aussie of the 250 class is Hayden Mellross. Not only is he the top Australian, but he is in fact the first privateer as well. It's crazy to think that the top nineteen guys in the series are all on factory supported teams out of semis. That's the progression of the sport these days. Mellross is a nice guy and he's enjoying his time chasing his dreams in America. He trains under Tim Ferry at the Nest and to finish twentieth in the final standings is nothing to hang your head over.

Thanks for taking the time to read my thoughts. Do you agree or disagree? Hit me up at Troy@pulpmx.com to chat about this or anything really.