What's BT been up to this off season looking toward the start of 2016?
What's BT been up to this off season looking toward the start of 2016?
Swizcore- How has the off-season gone for Broc Tickle? What have you been doing? What's your preparation been like?
Broc- Time's flown by, that's for sure, but it's been awesome. Since Monster Cup I've pretty much been slammed riding and testing and training and doing whatever I feel like I needed to to be prepared. Now that it's a week away I'm pretty stoked with where I'm at. I feel like I've gained a lot of momentum in the off-season fitness-wise and riding-wise and bike setup-wise. So all positive things going into Anaheim.
It's crazy it's a week away already. Does it seem like it's gone by quick for you?
Yeah, for sure. Obviously after outdoors racing, the Soaring Eagle race, and then taking a week and a half off and then coming straight into testing for Monster Cup, and then flying over to Italy the first weekend of November and just riding, training, testing… Everything seems like it's blown by so fast. Obviously I wanted to enjoy it a little bit more but now that it's now I feel like it's well worth the effort that I've been putting in.
This is year three or four with RCH? Does it feel the same as it always has been or is constantly evolving and each off-season and year is kind of just an evolution of the year prior?
Ever since 2013 there have been improvements to the whole team. This off-season for sure stands out more than last season. Last season's off-season stands out from the year before, too. So for myself it's been really awesome. Obviously Ivan I feel like did an awesome job again setting the bike up. He started testing Supercross actually before we ended outdoors. When I got on the bike two or three weeks after Indiana and tested before Monster Cup, I felt like the changes that he accomplished with the team were in the right direction. Got the motor better, and then even since then we've gotten the motor better even more. Obviously Showa came out with new parts for the forks. With Kenny on KYB the team and Showa had to put somebody in place to cover Kaipo (Chung, RCH suspension tech) because Kaipo is going to work on Kenny's KYB stuff. Obviously Showa and KYB I believe are not going to let Kaipo do both. So that's kind of what happened.
I got my own suspension tech now, but he does work hand in hand with Sergio and all the other technicians there. I just started with him about two weeks ago. I'm stoked with that. Right now I think we're at a good place to start the season. More testing days obviously this week a little bit just to fine-tune a little bit. I'm pretty much ready to go. I've had four days a week for riding for the past month and a half or so, so I'm definitely prepared. I feel confident in where I'm at in every aspect of where I stand at the moment.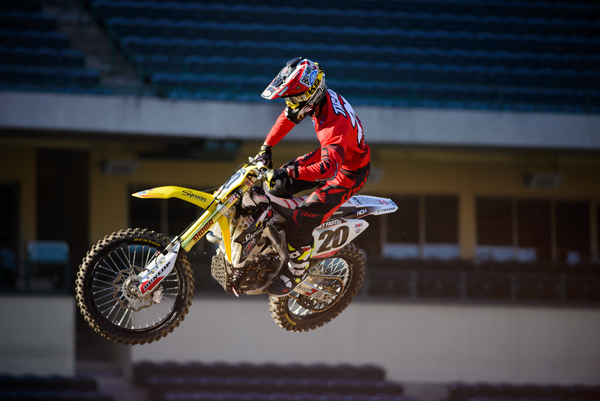 Broc is looking to better his 9th place in points of the last two years. It's definitely attainable.
I was looking at your results from the last two years and I was definitely surprised to see that you finished 9th in the series the last two years. (Clearly I was drunk when searching for points totals because Broc finished 8th in 2015 SX) Obviously from your finishes it seems like that's lower in the standings than you should be and could be. It's also a good place to be though because I feel like that's a number you feel that you can easily approve upon in the final series standing this year.
Year after year it shows that I build momentum as the season goes, so for me I want to bring the heat to Anaheim 1 and then build. Obviously showing up to Anaheim the last two years and getting 8th is awesome but I feel like if I could start off in the top 5 at Anaheim 1 and build from there I think it's just going to be a better season and I could build that momentum quicker to be closer to the podium. I definitely feel like I've done all the things I need to from every aspect to be on the podium. I know the class is going to be stacked. Everybody on the gate in the main event is going to be an awesome rider. For myself it's just going to be putting myself in the right place to go out there and do it.
How did all your new gear deals come together? I know you had the shoot already done and then you ended up having to do those again. What was the deal behind all that?
I really wasn't ready for the first shoot. I had some offers on the table. I never signed anything. I honestly wanted to make more money. That's kind of where I was at. I knew I could do it if I did it the way I did that. That's kind of where I'm at. I'm still stoked on all the new stuff. Obviously I wanted to be where I was, but it just wasn't right. With everything coming together at the last minute I pulled together some good deals and I'm stoked about them, actually. I'm stoked on the helmet, the gear. Obviously Answer's been around for a while and they know what's going on. For a rider it's not like you're picking a team to ride for. For me, I think it's kind of cool how Answer went about it and has four 450 guys. I think that's a good way for myself and those other three riders to get some publicity through them. At the moment I'm happy with how everything turned out.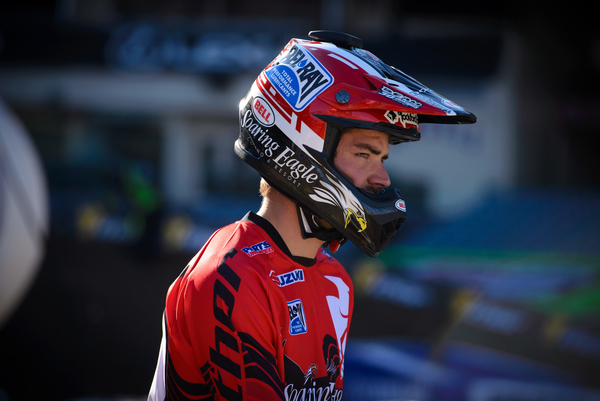 Come of Broc's deals came together late but he's happier for it.
There wasn't any type of adjustment period for "this is different than I'm used to?" You were with the other companies for a long time.
No, actually the helmet is pretty much, I would say right there with it. Obviously Arai's been around forever and known as one of the best helmets you can wear, and Bell's been around the same deal. So I knew I wanted a good helmet on my head and Bell couldn't do anything because it was too last minute, so that's kind of the route I took.
Nobody can slight you for making a choice for your future. That's why you guys all get to the level that you're at anyway.
For sure. I'm honestly really stoked on my TCX boots. They made a big change for their new boot. Actually doing a press launch at Anaheim 1. The new boot is awesome and they did a lot of work to get it better. It's a really comfortable boot. They can do any color way I need to. It's pretty easy to work with them. I'm the only guy that's going to be wearing it in the States pretty much, at the moment at least. There might be a couple Lites guys or maybe a Lites team, but I'm the only 450 guy wearing them. So I think that was another good seller for me.
With you still wearing EKS Brand and Steve not doing EKS Brand goggle service for any EKS Brand riders this year, are you guys going to be able to be buddies again?
I don't really have a problem, honestly.
For the record, he still likes you and says you're a good guy.
I kind of know that because I feel like I'm respectable and I respect others. For me obviously there was some heat there, mainly through outdoors, but I feel like it was realistic. It wasn't like I was doing it just to do it and cause problems. Nothing against him, but I worked out a deal with Rich and whatnot. I felt like there needed to be more support there at the races. Nothing against him but for myself and other riders at my level I feel like that's what we need as a goggle guy. We need somebody in the mechanics area, even though it seems kind of ludicrous but it really does make a difference. There were a couple instances where I could have saved two or three positions due to that. So for me, obviously missing the top five in outdoors by a handful of points, it's nothing to blame on anybody, but that at the end of the year made a difference.
I know we talked about it before and I even took the opposite side when we discussed that before, but thinking about it now I can see how from your point of view at this level with everybody as even as you are, even if it doesn't make a realistic difference the mental aspect of it, it does matter. I can totally agree with you on that.
There's never been a problem with the product for me. I've always liked the goggle. I've worn the best goggles in the pits and these goggles are right there with them. For me it was just more of a support thing. So I got that handled and I'm stoked to be back. I'm stoked at how everything turned out. I think my setup looks good and obviously helmet-wise I'm taken care of. Boot-wise I feel like I have more support in the boot. That's where I'm at.
Good because it's been awkward for me too because I like all my buddies to be buddies too.
Oh for sure.
Good luck, we'll see you at A1.
Sounds good.