Story and photos by James Lissimore
Story and photos by James Lissimore
In an ironic twist of scheduling, the return of Southwick to the AMA National schedule this past weekend meant that the two roughest sand tracks on each of their respective schedules were taking place on the same weekend as the 2016 Rockstar Energy Drink Canadian MX Nationals made their way to the Gopher Dunes track, in southern Ontario.
Where as Southwick has a bit of a hard base under it, Gopher is pure, deep, bottomless sand, more like Lommel in the GP's. It's completely flat but the deep sand makes for arguably the toughest national track in North America and with such a deep field of riders this year, fans were excited to see who could come out on top when the checkered flag flew. At the track, rumours started to fly that points leader, Davi Millsaps, had suffered a practice crash during the week off and had injured his ribs. Many were curious to see if the punishment of the Gopher sand would prove too much but the Florida native gutted out an impressive ride to finish third overall and maintain a healthy points lead going into round six. In the end though, to the suprise of no one, defending champion and noted sand master, Matt Goerke, took the overall win to remain undefeated in his appearances at the Dunes.
Here's what went down…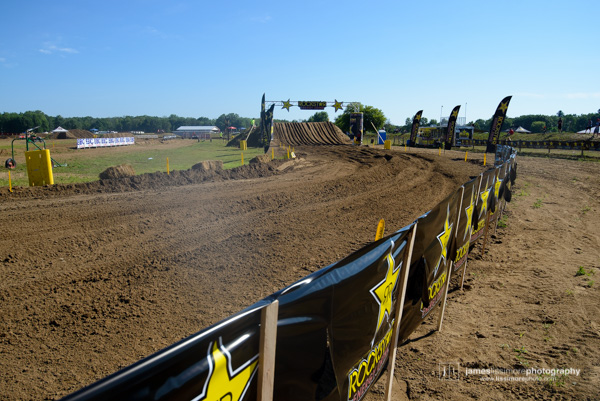 The Gopher Dunes track may lack in elevation but it makes up for it in deep, power robbing, soul sucking, sand.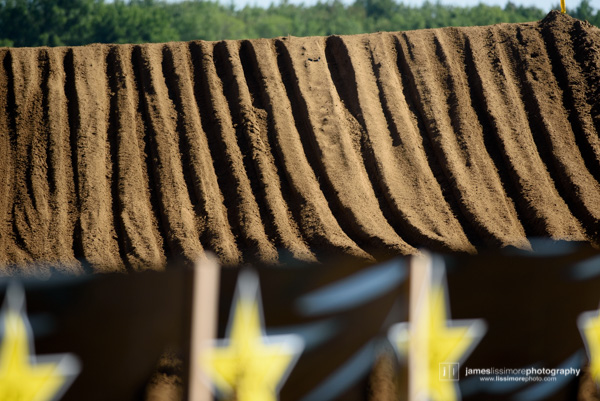 Pick a rut and hold on.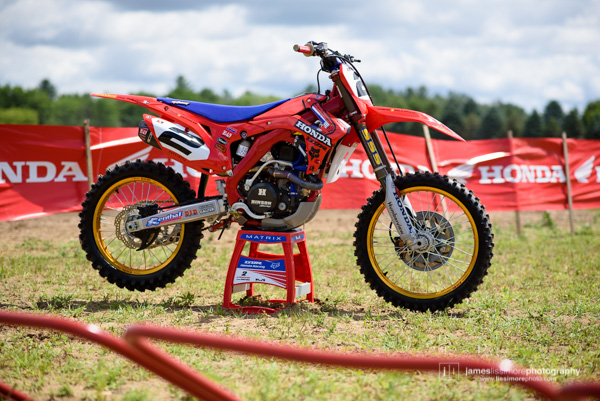 Since the GDR Honda team is owned by the track and it was their 30th anniversary, they did up these special, retro bikes for Colton Facciotti and Jeremy Medaglia, for their home race.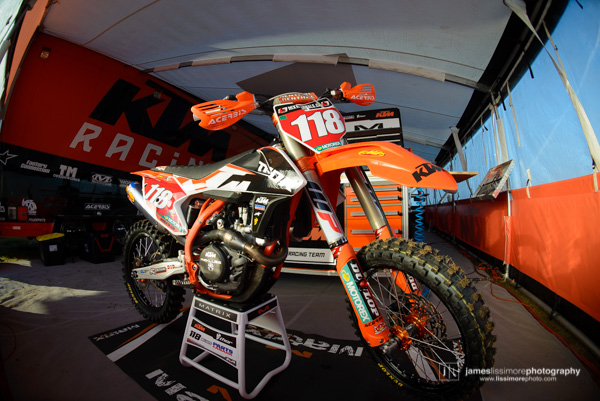 Millsaps' Factory KTM Thor Racing bike. Gratuitous fisheye shot for Matthes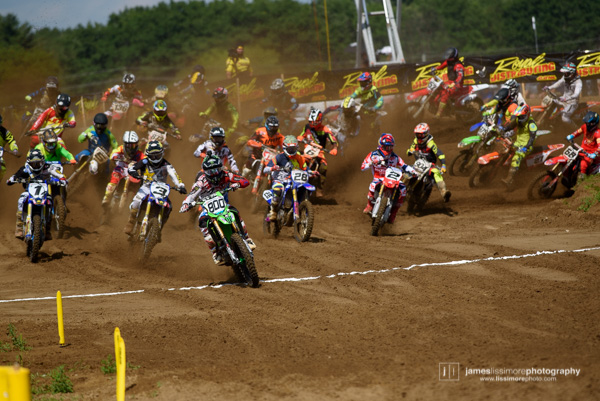 To the shock of no one, Mike Alessi grabbed both MX1 holeshots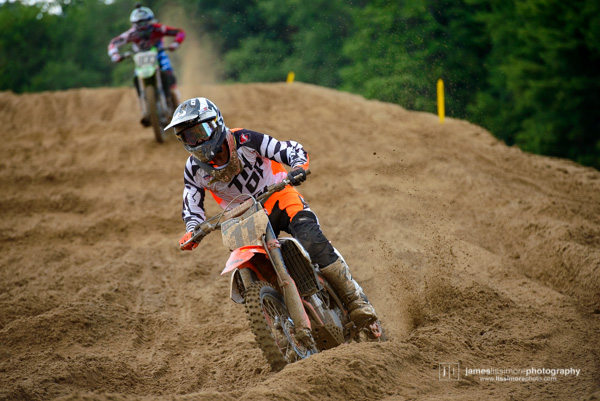 Kaven Benoit is knocking on the door of big things in his rookie MX1 season. He led the early laps of moto one before a crash knocked him back to fifth. He looked to have a podium locked up in moto two before Matt Goerke got him right near the end. He's got to be excited to be heading to his home race next weekend.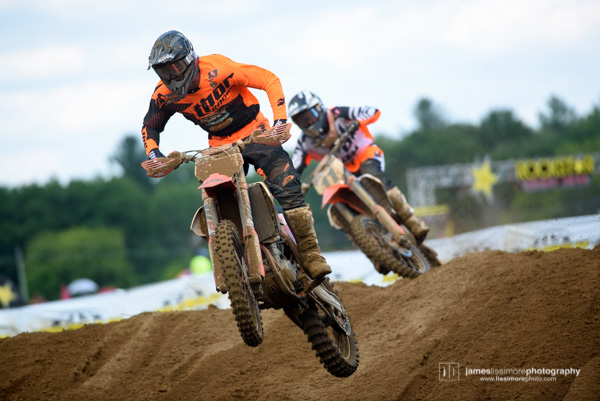 A practice crash during the break left Davi Millsaps with cracked ribs but he still gutted out an impressive ride to stay in command of this championship. He led most of the opening moto before Goerke caught him with three laps to go. To add insult to injury, he fell twice on the last two laps to drop back to third. In moto two he worked his way from eighth up to second, to take third overall.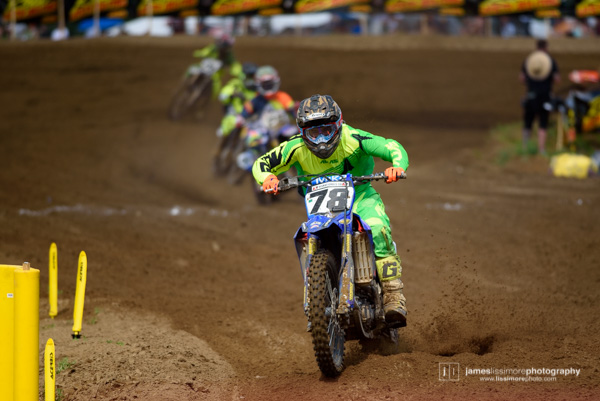 Pennsylvania's Michael Fowler finished just outside the top 20, finishing the day with 23-30 moto scores.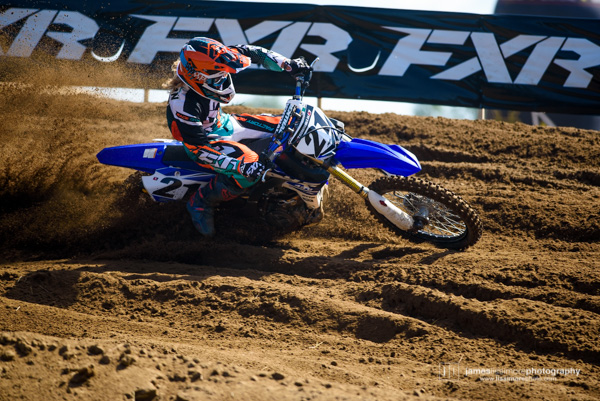 Kyle Swanson finally had graphics on his bike at Gopher Dunes. He finished 15th overall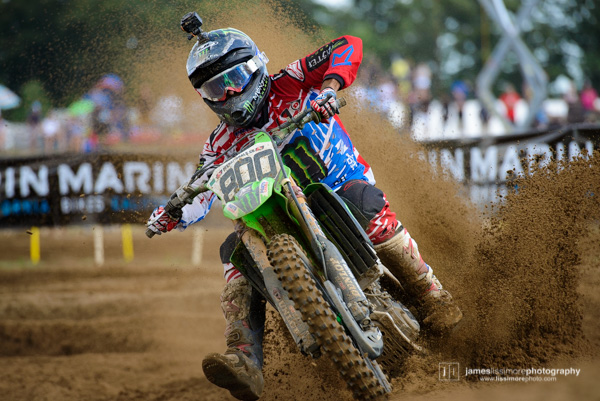 Alessi had the starts dialed but couldn't find the speed to run with the top guys, dropping back to 6-5 finishes for 6th overall.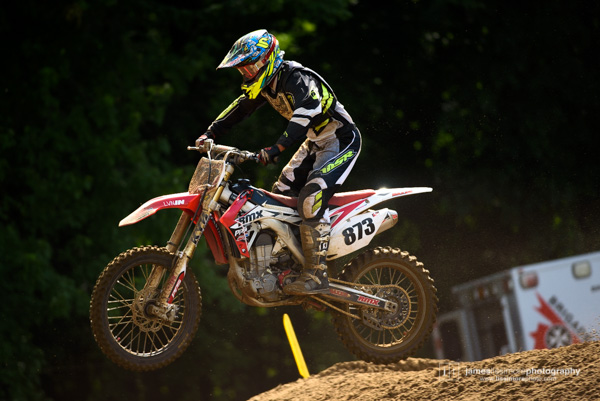 Utah's Dusty Humphries just cracked the top 20 with 20th overall.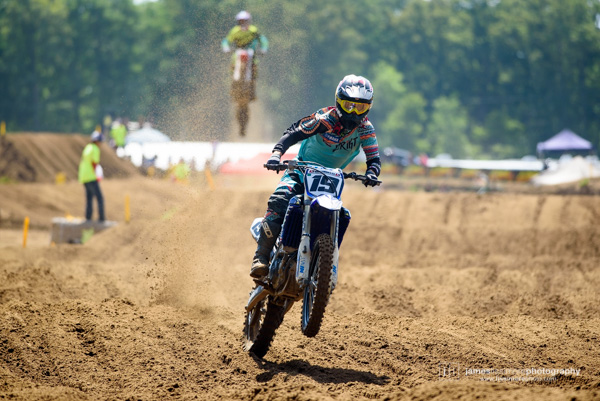 Idaho's Morgan Burger had a solid day, scoring consistent 10-10 finishes for 10th overall.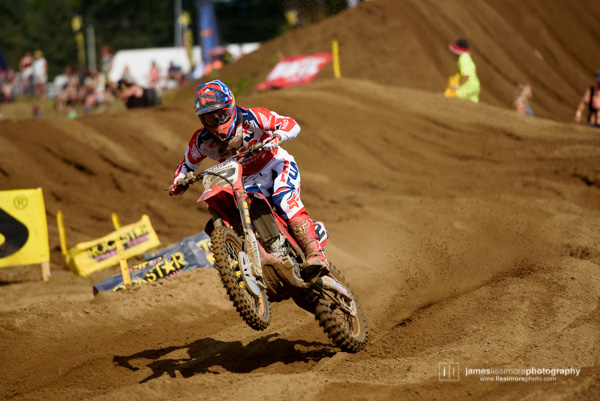 The Gopher round is basically a hometown race for Colton Facciotti these days. The BC native lives near the track and rides for the Gopher Dunes Racing team so the 4-time champ has a lot of pressure on him. He went 2-6 for 4th overall.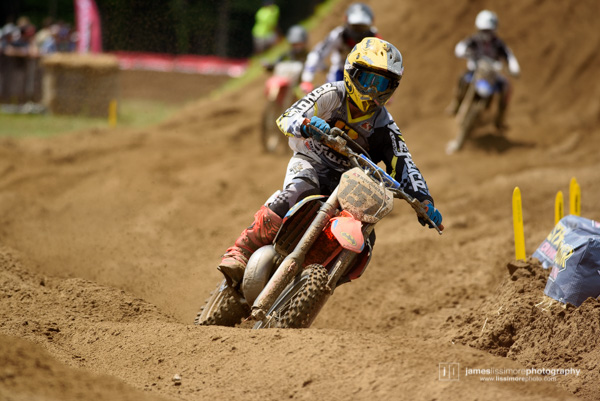 This rider's last name is Batman and he fully embraces it, with Bat Man logos on his helmet, gear and bike. No word on if Ryan Batman also goes by Bruce Wayne.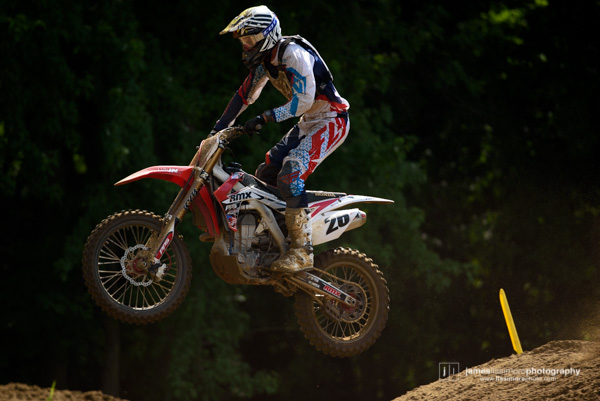 Utah's Riley Brough finished 12th overall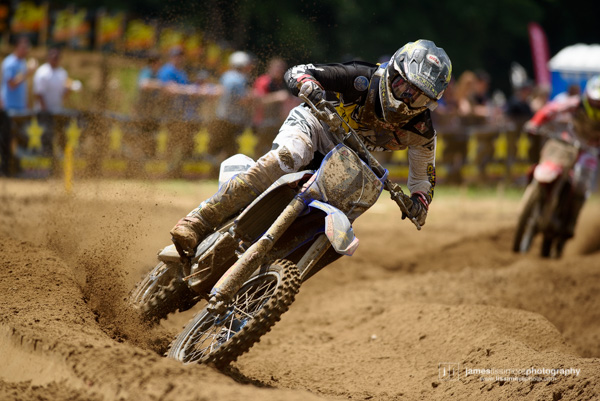 Matt Goerke showed again why he's undefeated at Gopher Dunes. Not even a crash in moto two could keep the defending champ from taking another overall win with two come from behind efforts. It was a master class in going fast in the sand.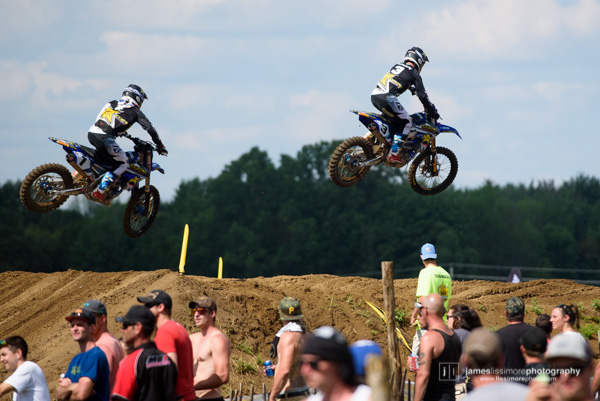 It was a good day for the Rockstar OTSFF Yamaha guys with Brett Metcalfe(3) and Goerke out front in moto two.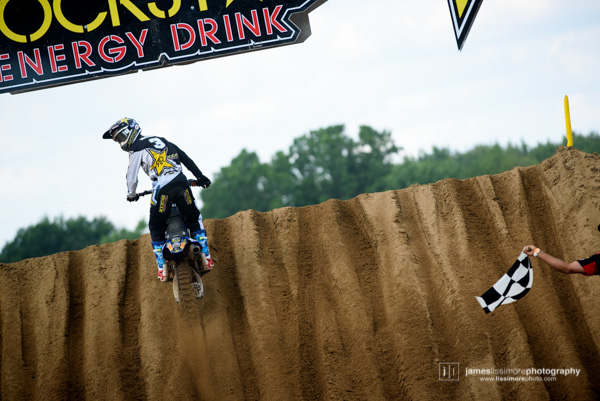 After a slow start to the season, Metcalfe looks to be really coming on in the East. Metty took his first moto win of the season in moto two and second overall to his teammate, Goerke.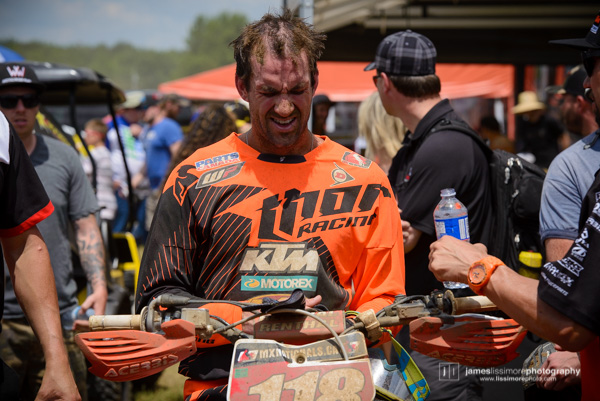 Nothing like having to pound two 30 plus minute motos on the toughest track in North America, with cracked ribs. Millsaps really showed championship mettle with his podium ride.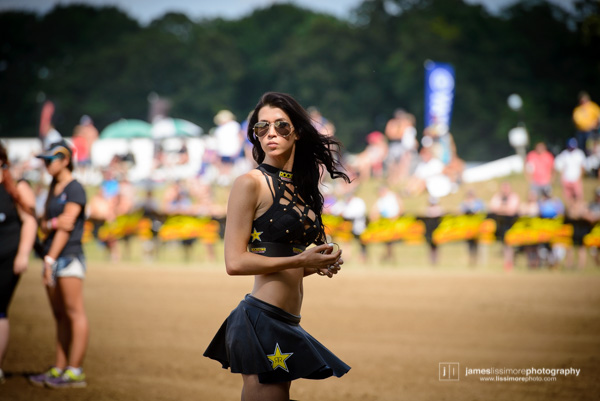 Random Rockstar girl shot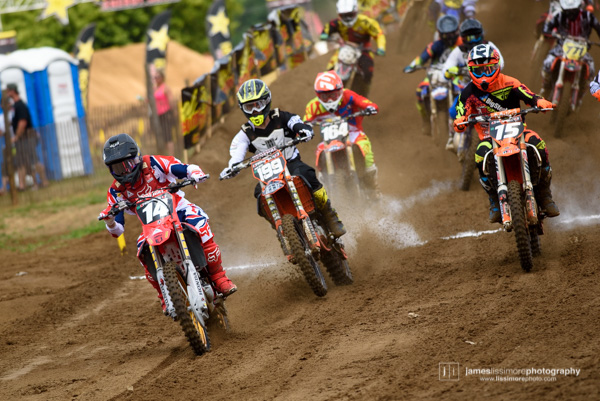 The highlight of Jeremy Medaglia's day had to be his second moto holeshot. After not racing Calgary or Regina due to a concussion, Jer Bear gave it a go at Gopher but ended up pulling off after not feeling well.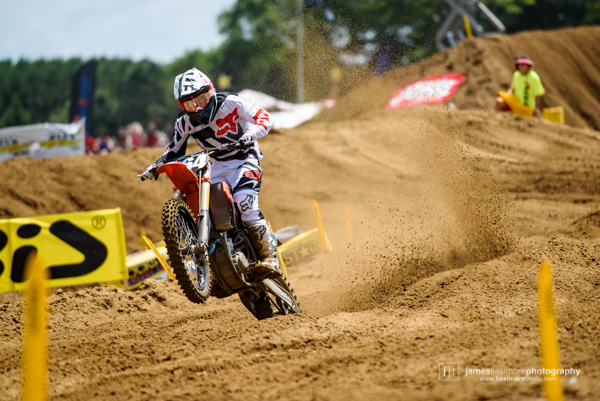 Dakota Alix made the trip up to race Gopher Dunes. The Vermont native grabbed the early lead in moto one when all the usual contenders were down in the first turn, or stuck in the gate(Dylan Wright). He would finish the day on the podium with 2-4 finishes for 3rd overall.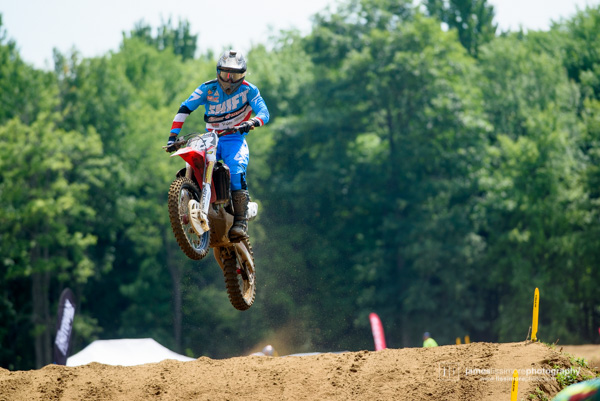 Washington State's Brad Nauditt is not known as a big sand rider but he managed to have a decent day, finishing 7th overall.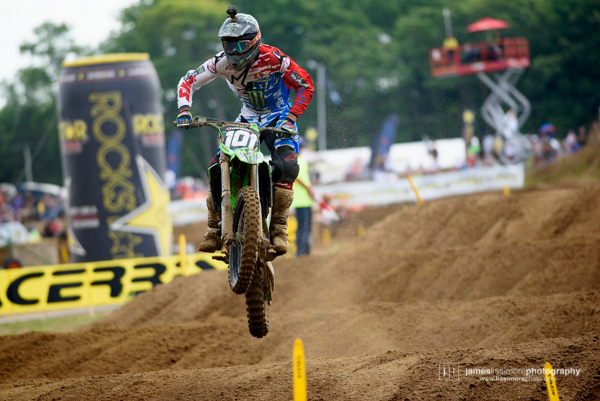 Arizona's Mark Worth continues to hover around the podium in MX2. He ran in podium spots in both motos before eventually finishing 4-5 for 5th overall.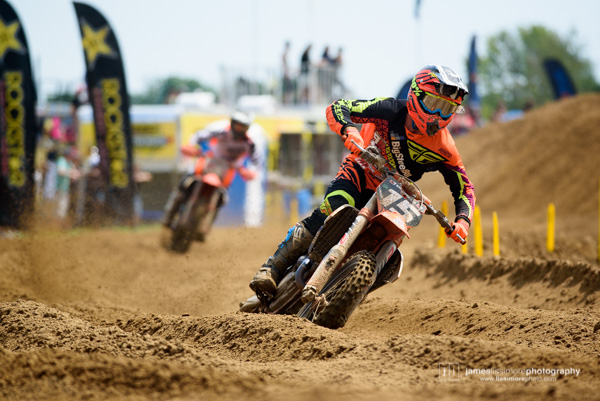 Shawn Maffenbeier had to work his way up from a first turn crash, then another crash, to ultimately get 5th in moto one. He grabbed the early lead in moto two and led all the way to the two lap board, before eventually surrendering the position to Cole Thompson. 5-2 gave him 4th overall.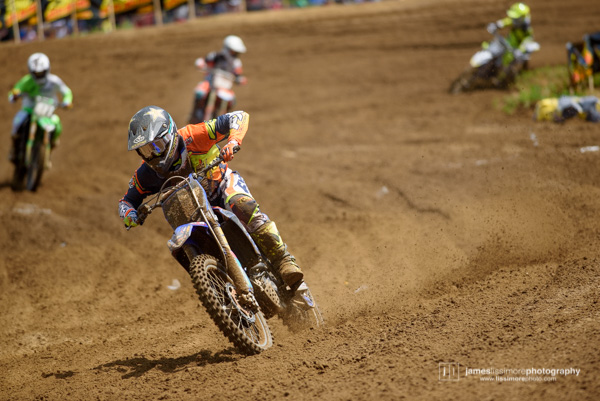 Lots of riders having to eat sand and work their way through the field at Gopher. Dylan Wright hit the gate in moto one and came all the way from almost last to get 3rd. Another 3rd in moto two gave him second overall.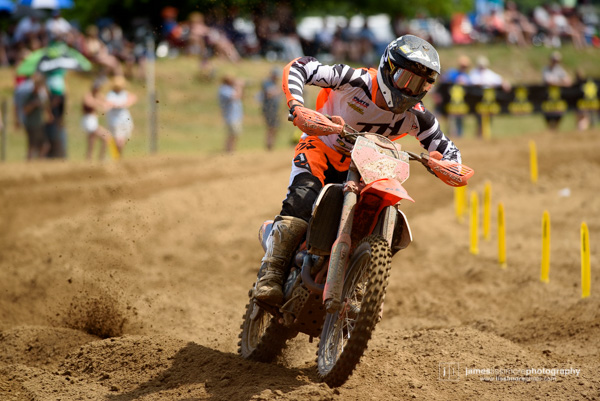 Cole Thompson is really in another league in the MX2 class. A first turn crash left him in last in moto one but it didn't matter. The KTM rider rode himself all the way from last to the lead. In the second moto he took his time but eventually wore Maffenbeier down and took another win for his fourth straight overall win.