Supercross was in the land of Jamis Winston (Tampa Bay Buccaneers quarterback in case you didn't know) and pirate ships over the weekend, plus we saw some great racing in both the 250 and 450 classes. As usual, I watched the daytime qualifiers, studied the riders techniques, the track and came away with a few things that you may or may not of noticed yourself. Yes, I watched the night show too, but I DVR'd and watched it late Saturday night. I am getting geared up to BE IN Atlanta next week, so stay tuned for some special Post-Race Pulpcasts and another edition of "Daytime Program" that may or may not include the night show as well. Enjoy the weekend off, Steven.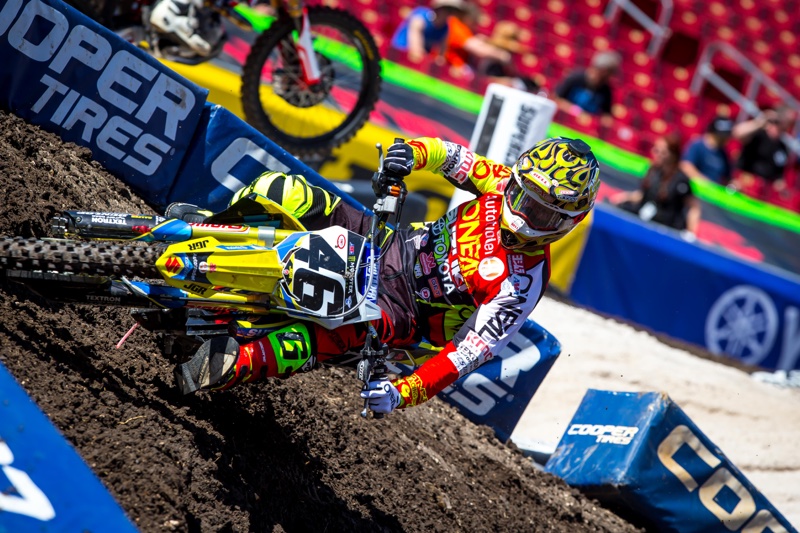 Justin Hill: Justin not only has huge, ginormous balls, but can ride the 450 as advertised! At the beginning of the year I told Matthes it wouldn't hurt to put this kid on the 450 for some races. He disregarded it as another kid saying he is good on a 450. I know a lot of riders claim they are great on 450s, but Justin was more than vocal for a long time on how much he enjoyed the 450. The proof is in the pudding and the pudding was yellow Saturday night! The triple, quad, quad was insane and he seemed to be the only rider to clean this section on more than one occasion. If it wasn't for his impatience, Hill for sure would of at least been on the podium in Tampa. I am looking forward to watching him ride in Tampa.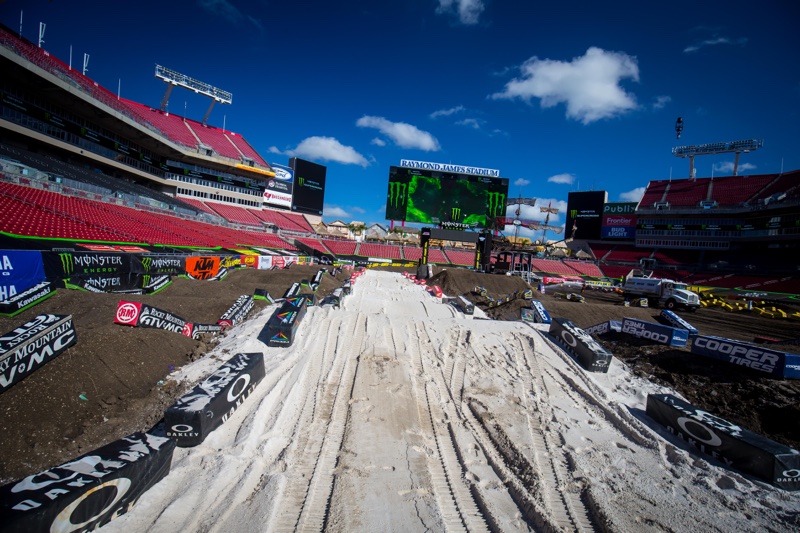 Sand Rhythm: This section makes me think that most Supercross riders need to ride off-road more. The sand section was wreaking havoc on even the best of riders and once it got chewed  up it seemed to get a little easier to manage. I liked Anderson's way of getting through the sand the most as he stayed low and farther back on his bike, with only his front tire touching the sand very lightly.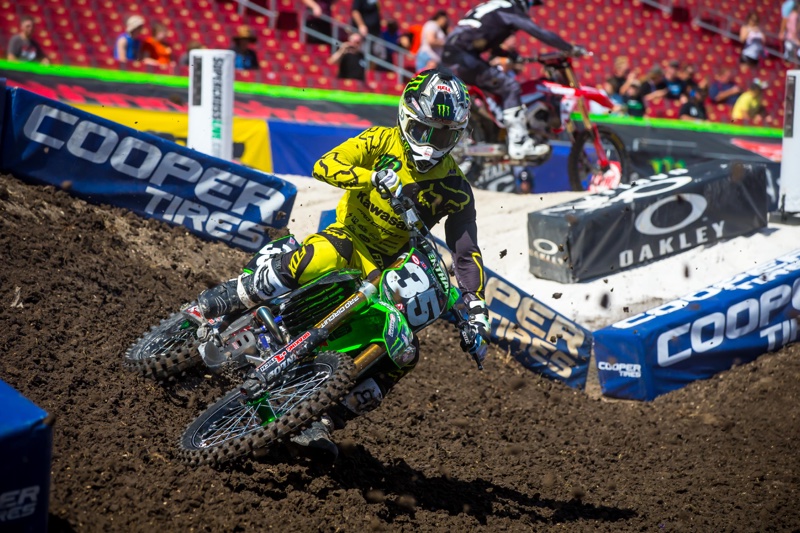 Austin Forkner: Not bad for a kid that only started riding Supercross three weeks or so before the first round of the east coast swing. Austin is a tough SOB, his motocross skills are insane, but his tenacity to not give up and willingness to shove back, when shoved, makes him a threat for a lot more wins this season.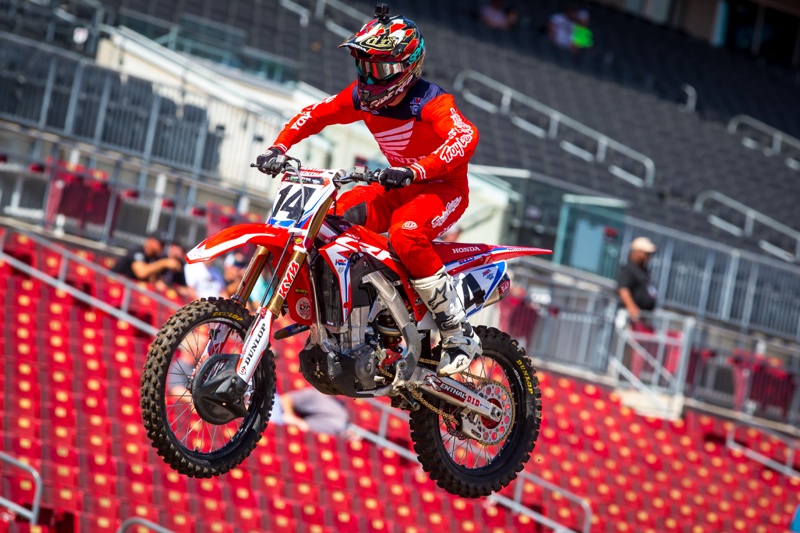 Cole Seely: This makes me sad! Cole is one of my favorite riders to watch ride when it comes to dissecting the track early in the afternoon. He is smooth, precise and looks like he is barely trying out there. He miss timed the first rhythm section and tagged his rear end on the top of the jump, sending him into an endo. I have done this exact same thing when I was racing and luckily I got away from the bike before it pummeled me. Seely wasn't so lucky. I am sure you have already read that Cole has a broken pelvis and that his season is done. Cole is one of the handful of polite, respectful riders in the pits and when you see this kind of thing happen to a great guy it really guts you. I watched Cole's hand go up very quickly after the crash as to say, "I know what is wrong with me get me off of the track ASAP". Racers are usually great self diagnosing types of people and know exactly what is going on with their bodies when something bad happens.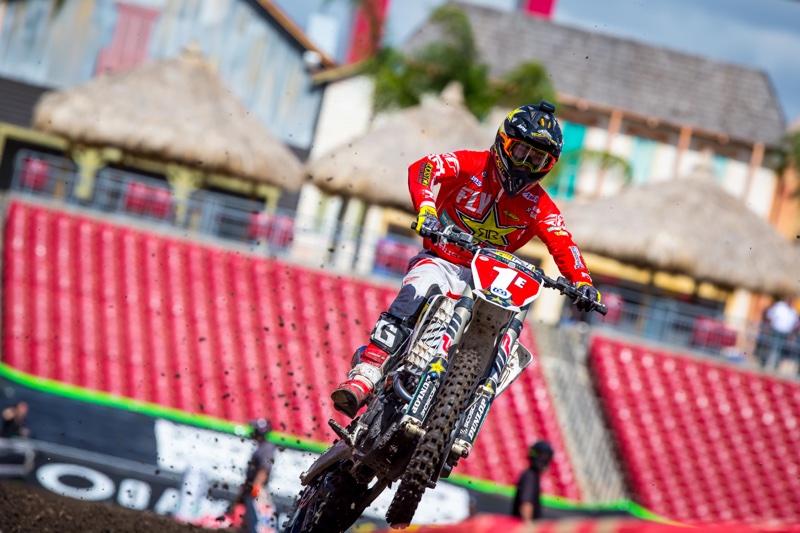 Zach Osborne: Zach came away with a third place and seemed to be just off the front two all night. Zach seemed to lack the aggressiveness and pop he had last week, so I am intrigued on how he rebounds next week in Atlanta. Osborne was quoted as saying that he "rode well", but I think he knew that the win just wasn't there on this night and wanted to be consistent for the championship points.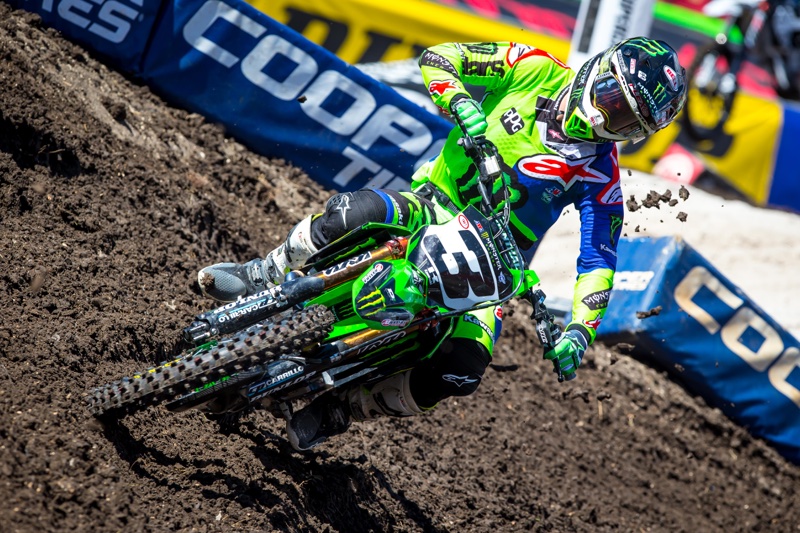 Eli Tomac: Four wins now and Tomac is still no where near the points lead. I smell nine to ten wins this year and no championship. If you guys watch the Main Event back again, watch how Tomac gets passed by Musquin and Hill then latches on and continues to learn some of their lines. He adjusts his lines that weren't working and adopted some other lines that got him into the lead for the win. I cant explain how hard this is and how much mental toughness it takes to do this when racing. This makes me not on the "Tomac has concentration issues" bandwagon some people are on. His concentration is fine and sometimes in Supercross racing "shit happens" and sometimes it finds the same person more than once. In this case "shit" found Tomac in the 2018 Supercross Series, but he will win a "shit" ton of races, but not the series.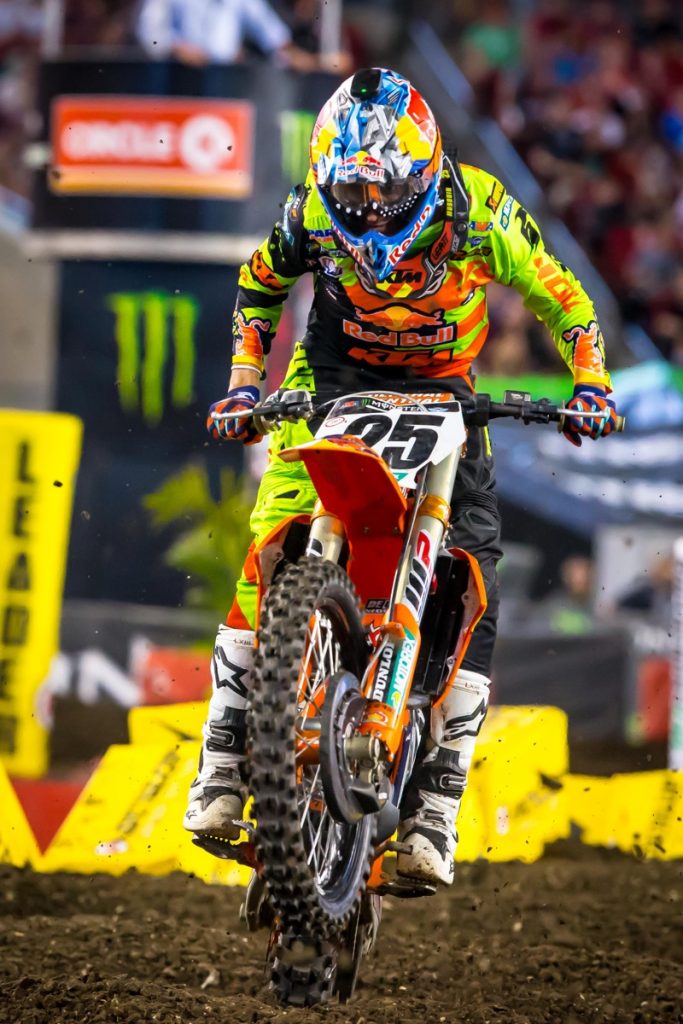 Marvin Musquin: I am never going to doubt JT again. I repeat… I am never going to doubt JT again. That is all.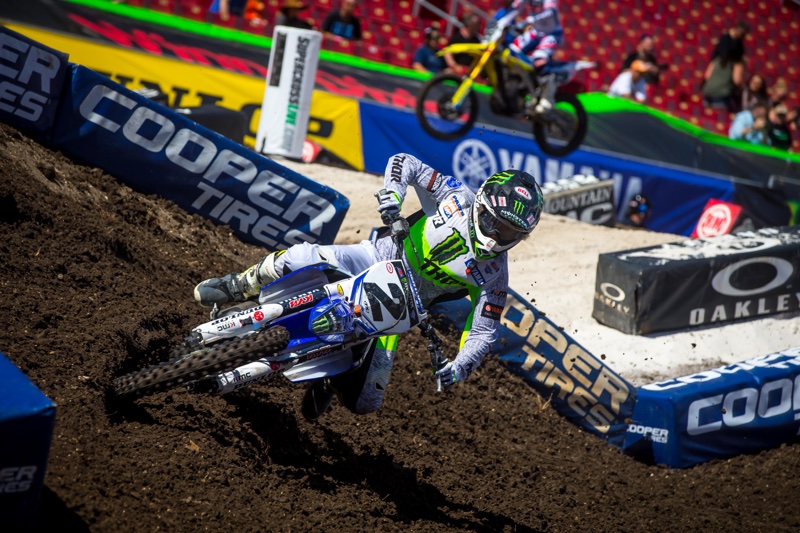 Cooper Webb: Finally! Cooper is here! Webb got a great start, lead for a bit and gained some confidence going into the second half of the series. Cooper still needs to get a little more aggressive, but a podium is in his very near future.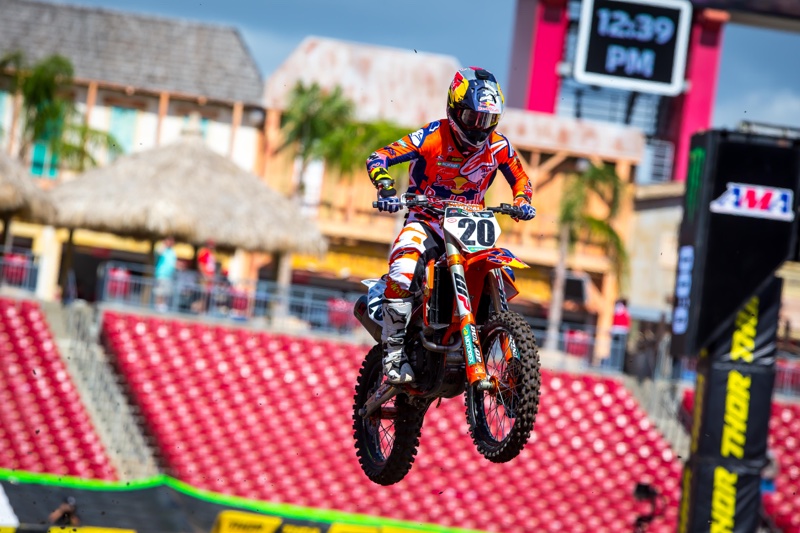 Broc Tickle: Brigade! I have been riding the new KTM 450 Factory Edition with the number one on it, but maybe I should just put the number 20 on her? Tickle's fifth place was impressive and he hung tough and fought off a charging Justin Hill late in the race. Tickle is being Tickle and finding his form later in the series and will be a consistent top five guy come outdoors as well. Especially with that new KTM! It's good!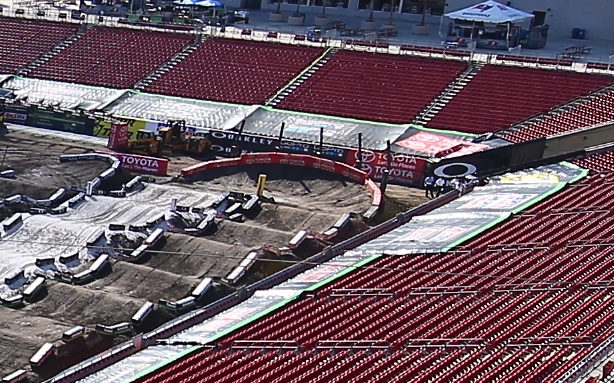 Nets: Did you think I was going to get through this whole article without mentioning Steve's conquest! Probably just like all of you, when I saw Baggett SpiderMan himself into the net after the first rhythm, I thought of Matthes. Immediately I rolled my eyes and said "Well the first 45 minutes of Monday's Pulp Show is going to be all about how he saved Baggett's life, how he should be on Feld' payroll and how he should demand more respect like Rodney Dangerfield". However, I have to give the Bassett Hound loving guy some props for pushing this movement for a long time and having enough influence for a company as big as Feld to take note and listen. Even though they will never admit it.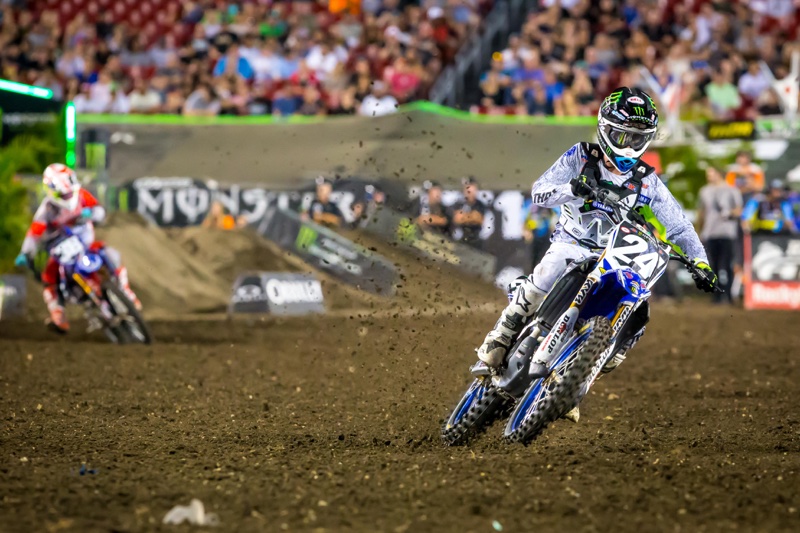 Dylan Ferrandis: The newfound riding style and even more aggressive Ferrandis was so close to getting his first win of his young career. He was fast in the sand and in the whoops all night long. If you watch his rolling corner speed you can see that is where he is making up a lot of his time. He rolls his corners so well and gains a few bike lengths in almost every bowl corner. He also has great throttle control and was especially good on that mechanics straight where it was super shiny and slick. Look for DV's guy to win one very soon!