Photos by Rich Shepard
What? No rain? Wow! This year's Seattle track was hard packed and not muddy, which was a huge sigh of relief for most riders. However, we still have memories of Filthy Phil "Black Watering" his JGR Suzuki RM-Z250 out of a sink hole in 2018. Ahhhhhhh. It's the gift that keeps on giving, but let's focus on this year's race and what I viewed from my 75 inch Sharp TV.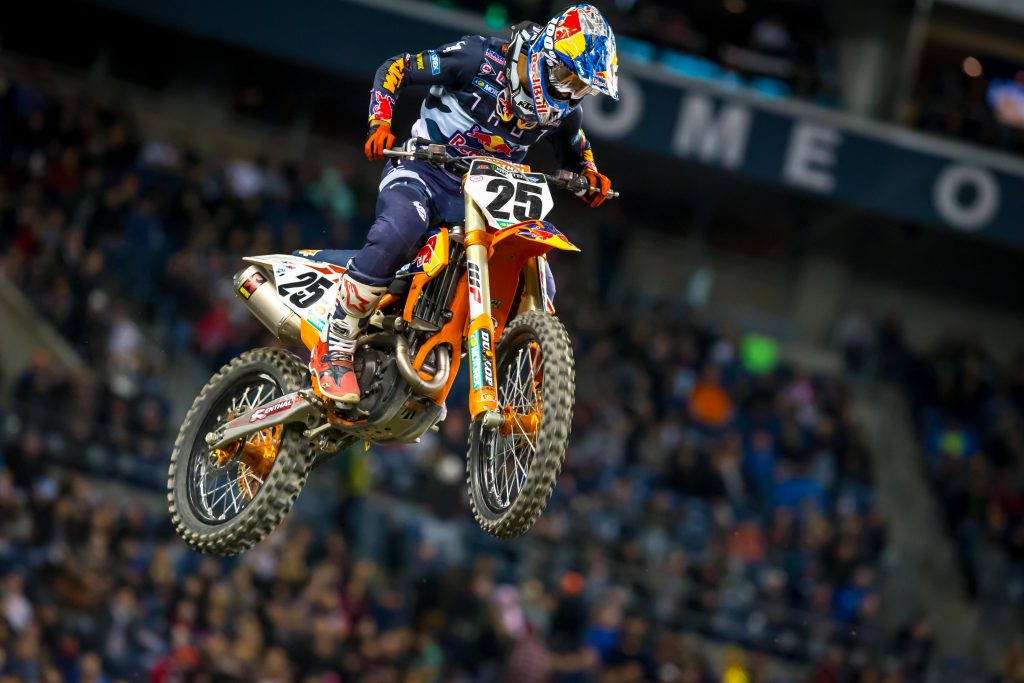 Marvin Musquin: Marv rode excellent and I think that sucks that his win will be overshadowed by his mishap with the red cross flag. I also assumed that he would be docked positions, but the rule (that was updated in 2017) says that if you didn't gain any positions (in the red cross area) that you will be only docked points and prize money. This still hurts Marvin as he is now down by 14 points and not 7 like he would of been if it wasn't for the double jump on the red cross flag.
Jumping The Whoops: Cough…Cough… Hey JT$ what's up? Jumping the whoops in Supercross is that new, new. It works. Check tape.
Ken Roczen: K-Roc was good all day/night in Seattle. He said he "felt" better on Friday and it showed in his racing results. I hear this crap talking about K-Roc amongst some other media outlets saying "he's not having a great year and maybe his arm injury or his brother in law's accident has hindered his riding in 2019". Stop it! Roczen is beating Eli, he's in the points chase and can win at any given time. I think he's having an awesome year, especially when most of the top riders are still healthy.
Eli Tomac: Third place isn't horrible, but we are so used to seeing Eli kill everyone that maybe we are overlooking how good everyone else has got in 2019. Eli was trying to skim the whoops late in the main event, but it wasn't consistent enough to catch Roczen who was killing the whoops all main event long. Tomac is 19 points down and it will take a huge mistake by Cooper Webb for Eli to get his elusive SX Championship.
Joey Savatgy: Joey has as much speed as anyone, but bad line choices or small mistakes trying to make moves on riders have hurt his overall finishes. You can't deny his speed and he is THE BEST rookie in 2019 thus far, by a long shot.
Dean Wilson: I saw Wilson jump that quad in daytime qualifying and thought to myself, "that is such a gnarly transition if he doesn't make it". The landing was meant to be a takeoff and it was sharp on the backside, so any mistake would have a high consequence. He made it work by getting P1 in qualifying, but starts have killed him in the main events. If he does get a good start in these last few races, don't be surprised to see Wilson sneak a win in before this is over. It's also cool to see him get a shot at outdoors with the Rockstar Husqvarna team as well!
Tyler Bowers: A top ten for "The Bear" and was one of the best guys in the whoops in Seattle. We all know the dude is strong, but what's awesome to watch is he gets his legs and feet placed correctly when entering big whoops. What that does is let him carry so much more speed entering the whoops and lets him keep that momentum towards the end of those long whoop sections (like we had in Seattle). I also like that he is one of the few top riders that speak up and tries to help better our sport.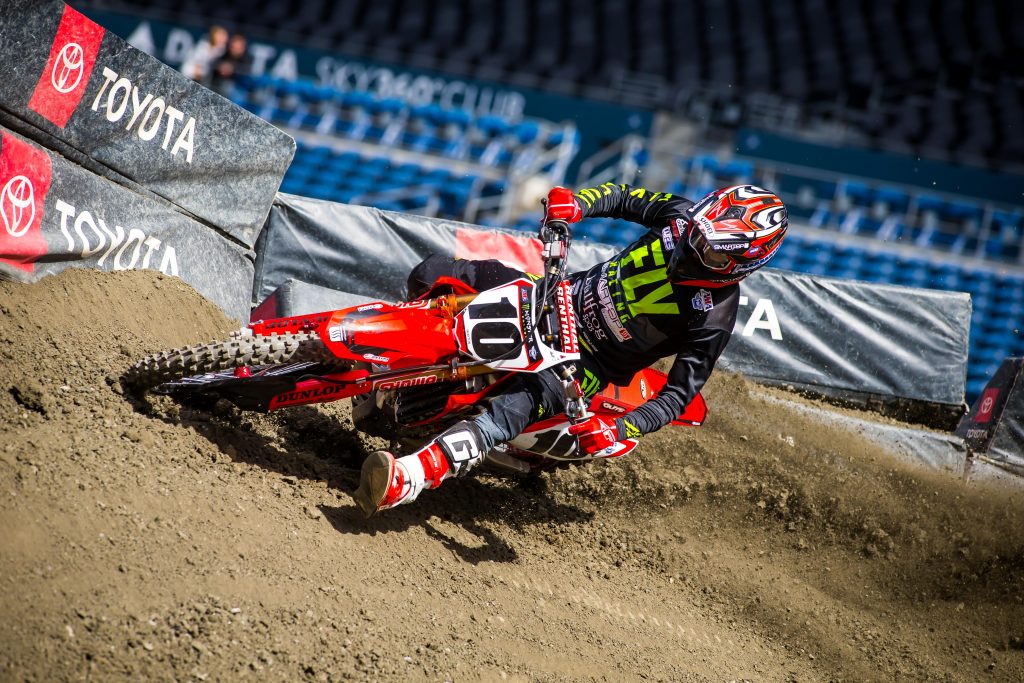 Mike Alessi: With Brayton most likely out, will we see the 800 at the rest of the rounds this year?
Ben Lamay: Someone get this dude a ride? I felt like Yamaha should of given Plessinger's bike to Lamay as he is one of the only journeyman privateers that is making consist mains and putting in good results. I mean I know Josh Grant has a name, but to me why not reward a good rider (like Lamay) with a factory ride for a little while. If I was a consumer/enthusiast that was interested in purchasing a new bike, that move right there would sell me on a Yamaha (more than putting Grant on the bike). Just sayin……
Alex Ray: Alex got her in the main Saturday night! I think he will have a practice bike next week, so that is good news!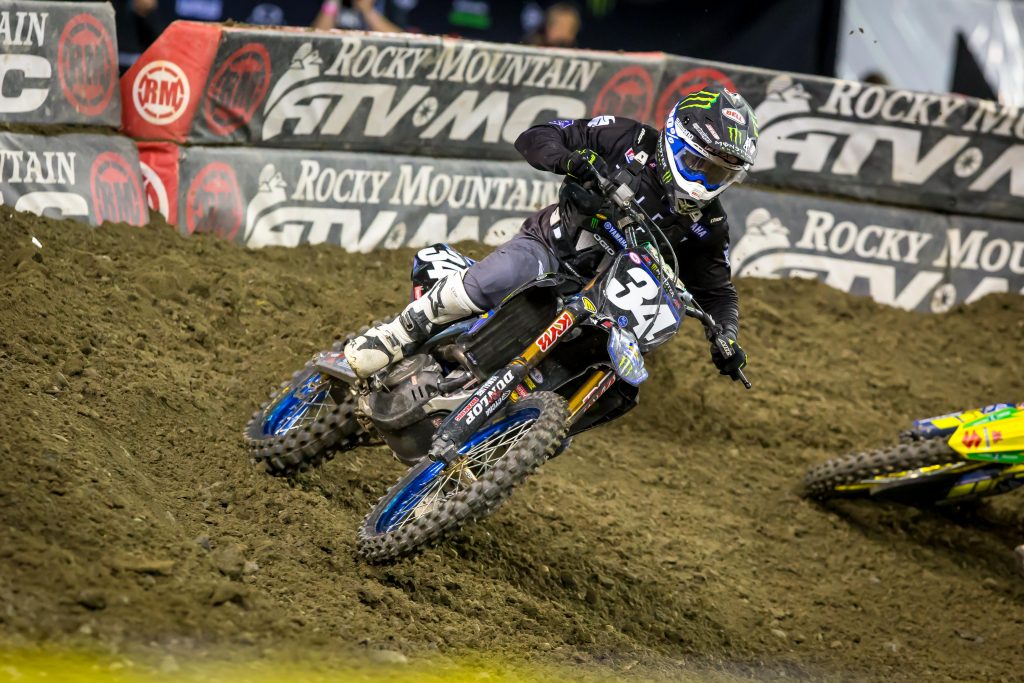 Dylan Ferrandis: Dylan was skimming whoops! I wonder if DV had something to do with this a little? I thought Ferrandis would of been better than he has been in 2019, but now that he has got that first win off his back this year we could see him start to string a couple more together.
Adam Cianciarulo: AC was faster than Ferrandis, but I think AC knows that there is a championship to win and getting a second place in Seattle was the smart thing to do. AC has a 12 point lead so there is no need to go "full send" on Ferrandis just yet.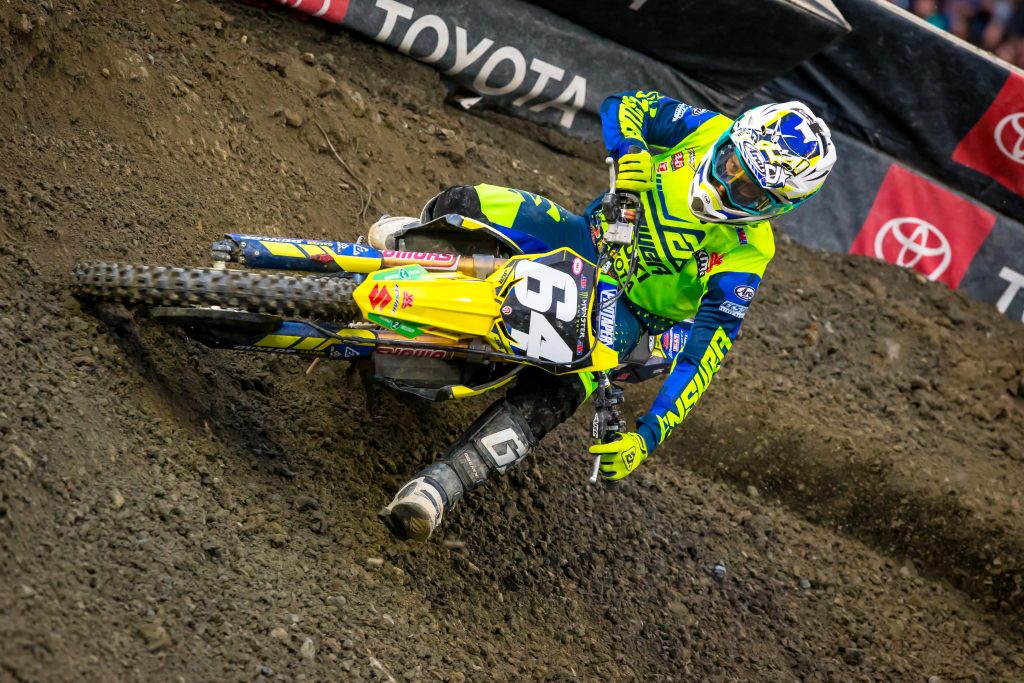 Jimmy Decotis: How cool is it to see Jimmy D up on the podium? This made my night and also makes me happy for Suzuki. It's been a rough go for the yellow team this year and it's nice to see a vet like Jimmy give them a podium on their "new" bike for 2019. I also like that Decotis isn't happy with third and wants to go win one of these things. Oh and in case you didn't know, Jimmy's #HOMELIFE is as solid as they come. Boom!
Chris Blose: Arenacross breeds whoop slayers and Blose is a graduate of that class. A fifth place is a great finish for a guy that isn't "supposed" to be up there. There's a lot of hype around some of these other kids with factory rides and we got good ol Blose just handing it to their ass. The dude can ride a dirt bike very well, is strong as an OX, is pleasant to talk with, and is NO BS. His 450 races on the east coast has helped his race endurance and I expect Blose to get a podium by the time the fireworks go off in Vegas. Don't judge a rider by their age anymore. That crap is lame. Judge a rider by their results, the man that they are, and how they treat the fans. That's who should get those factory rides. Blose is one of those dudes.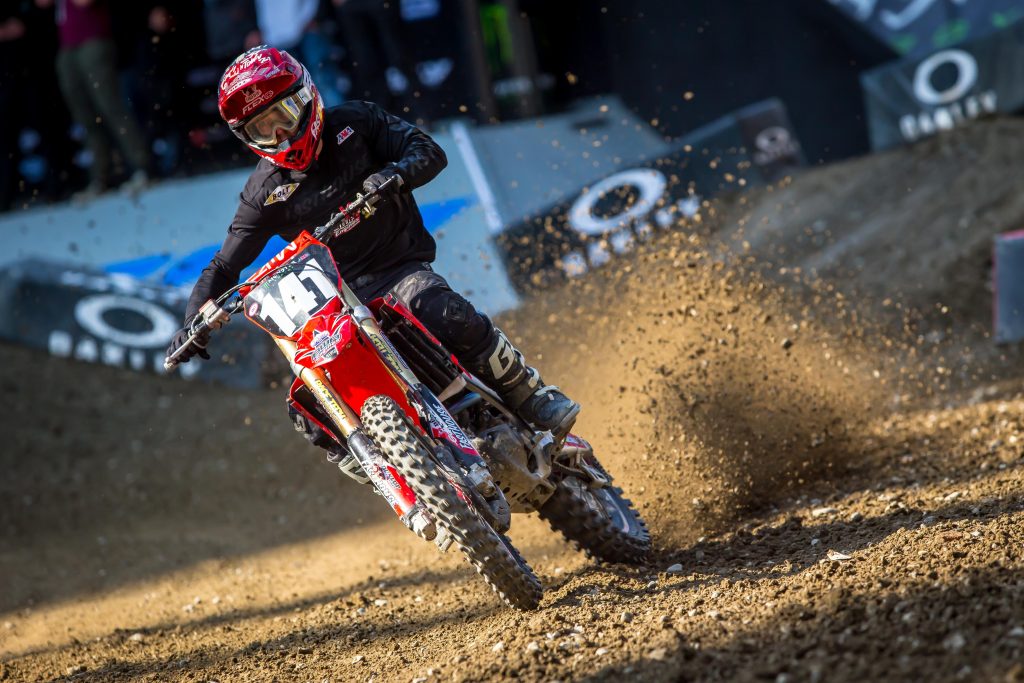 Robbie Wageman: Robbie is the son of Russ Wageman, who was a fast professional in the late 80's/early 90's and he and his brother RJ have ben hitting the west coast rounds in 2019. Robbie is the younger of the two and his eleventh place finish is the best of his career. Robbie has a sick style and is fun to watch ride a dirt bike. I have spent many days at Comp Edge with Robbie and have seen the advancements in his riding this year. Hopefully him and his brother can find the funds to go race some outdoors this year. Oh and did I mention they both have their own line of beef jerky? That's right go check out rjerky.com and get yourself some. It's pretty dang good!