Sunday, Sunday, Sun… I mean Wednesday. It's been fun watching races on a Wednesday. As we all know (thanks Ralph), Wednesday is the day that Cooper Webb wins. He's now undefeated on Wednesday's with 3 victories and that ties him with Eli Tomac for the most all-time wins in Salt Lake City. As impressive as Webb's ride was (did you see that turndown on Osborne!?), it was once again Eli Tomac that put on a show and came from last place to finish 2nd (be sure to check out his start here). In the process he set the fastest lap of the race and all but solidified his first premier class championship.
On Sunday, Eli Tomac needs to finish 19th or better to win the championship. Depending on how you want to measure it, Eli holds either a 95% or 97% chance of winning the championship. It's 95% if you go by losing the championship at the last round and 97% based on losing it at the final round of the now modern day longer series.
In the history of supercross, there's only 2 instances where the leader of the series has lost the championship at the last round. Broc Glover lost it in 1985 and Damon Bradshaw in 1992. In 1985, the series was only 11 rounds long and Broc Glover held a slim 1 point lead over Jeff Ward entering the final round of the championship, 211 vs. 210 points. At the final round in Pasadena, CA, Jeff Ward finished 4th and Broc Glover finished 5th. It wasn't without it's controversy though as you can read in the excerpt below from Cycle News.
In 1992, the series was 16 rounds long and Damon Bradshaw held a narrow 6 point lead over Jeff Stanton entering the 16th and final round of the championship. Jeff Stanton won while Damon Bradshaw struggled to a 5th place finish. Not likely that Eli Tomac has a similar fate given his 22 point lead, but interesting to take a quick look back at history.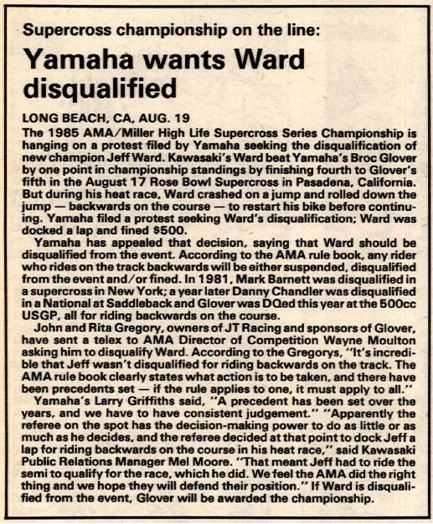 Eli Tomac is about to solidify his name amongst the best the sport has ever seen. This will be his 2nd supercross championship in 10 attempts. Maybe most impressive is that he's finished 2nd in supercross championships on 5 other occasions. He sits tied with Ryan Dungey for 6th on the all-time wins list with 34 wins. That's 30% of the 113 main events he's entered. He actually holds 6th outright in total supercross wins with 45 and the names in front of him on this list are McGrath, Stewart, Carmichael, Villopoto, and Reed. Add in that he has 4 motocross championships, sits 6th in overall motocross wins (35), and 9th in moto wins (68 with a chance to be in 3rd at the end of this season), Eli Tomac is amongst the best we've ever seen.
While I'd love to see Eli Tomac win his 35th on Sunday night, I'll be cheering for Zach Osborne to get his first win before we #TakeItOutside and start the outdoor nationals. While Zach's first 10 rounds weren't what he hoped, the last 6 rounds have been among the best of the best. I'd love to see that hard work pay off and see what confidence can do when he starts a bid for the Pro Motocross series championship.
Who's excited for the east/west shootout on Sunday!? With two championships on the line, you couldn't ask for more potential drama. Chase Sexton is leading Shane McElrath by 6 points and Dylan Ferrandis is leading Austin Forkner by 7 points. Both Forkner and McElrath will need to finish 3 positions in front of Ferrandis and Sexton to win the championship. Considering there are 7 different teammates across these 3 teams, Colt Nichols, Justin Cooper, Jett Lawrence, Hunter Lawrence, Christian Craig, Jo Shimoda, and Cameron McAdoo that could potential factor into the results, we're likely to see some fireworks on Sunday.
Hope you enjoyed this weeks version of Advanced Analytics. Check out the Round 16 key stats and box scores for each class below. As always, drop me a line on Twitter or Instagram @3lapsdown with any questions or just to bench race. Hope you enjoy the analysis (especially the NBC Sports crew).
450 KEY STATS
Zach Osborne (Rockstar Energy Husqvarna) pulled yet another holeshot (Tied for 1st with 6) and led for 22 of the 29 lap main event. He's now led 52 laps this season, just 7 behind Cooper Webb. What's more interesting is that he's led laps in 8 different main events which puts him 3rd behind Ken Roczen (12) and Eli Tomac (9). Going back to 2013, the only one with more laps led in a season without a win is Ken Roczen in 2019 when he led 55 laps.
Eli Tomac (Monster Energy Kawasaki) added +10 position changes to what's now +79 on the year. Since 2013, the next highest position change was Trey Canard in 2015 and Jason Anderson in 2016. Both had +61 position changes. The most position changes for a champion in this same span is Ryan Dungey in 2017 with +48.
Motoconcepts Smartop Bullfrog Spas riders Vince Friese and Justin Hill have been struggling in SLC. Since we restarted racing, they've moved -41 and -20 positions over the last 5 rounds, respectively. Between elevation and a hand injury for Hill, this has not been the finish anyone expected.
It may go unnoticed, but Aaron Plessinger (Monster Energy Yamaha) set the 6th fastest lap time of the main event but finished in 14th place. Not sure what happened but his qualifying time and fastest lap were much better than the points show.
450 BOX SCORE
250 KEY STATS
Anyone else hear Ricky Carmichael and Will Christien talking about Chase Sexton having to get the holeshot to have a chance at winning!? As mentioned in our mid-season report, the winner of every single 250 East main event has rounded the first lap in either 1st or 2nd position. Tonight was no different as Chase Sexton was in 2nd position on the 1st lap (disclaimer: I'm partial to the GEICO Honda team due to a long history growing up in New England in the company of Ricky Z – Go Chase!).
It may go unnoticed, but Enzo Lopes (Club MX Yamaha) started in 19th position, had +12 position changes, and finished in 7th place. A long night of racing having to go through the LCQ that ended with a solid result.
Rookie Pierce Brown (Troy Lee Designs Red Bull KTM) continues to impress. Just 6 races into his career and he's got 3 Top 5's and sits 8th place in the championship.
250 BOX SCORE