2020 has been one helluva ride so far with COVID-19, BLM protests, general uncertainty, and likely a turbulent presidential election ahead of us. It's felt like a relentless rollercoaster and neither the supercross nor the motocross seasons have been spared. In supercross, we had an unprecedented 2.5 month delay that ultimately saw Eli Tomac win his long overdue first 450 Supercross Championship. We also saw Zach Osborne take his first 450 supercross win at the last round. As the motocross season unfolds, it's possible we're watching the changing of the guard.
Zach Osborne, Adam Cianciarulo, and Chase Sexton account for a mere 4 seasons in the 450 class, but Osborne and Cianciarulo currently sit 1st and 2nd in the standings. Sexton sits 7th due to a handful of rookie mistakes, but he's shown the ability to run upfront after being fastest qualifier at 2 of the 6 rounds. All 3 riders have inserted themselves into the Pro Motocross championship storyline. In the case of Zach Osborne and Adam Cianciarulo, they have asserted themselves as the main characters.
Not only are they sitting 1st and 2nd in the championship, but they are dominating almost every single race statistic. For starters, they account for 5 of 6 overall wins and 7 of the 12 moto wins. No other rider has multiple overall or moto wins. As you can see from the table below, they have the most holeshots, rank 2nd and 3rd in 1st lap position, have led laps in the most motos, rank 1st and 3rd in average finish position, and have the most moto wins/podiums/Top 5/Top 10's. Osborne, Cianciarulo, and to a degree Sexton, have very clearly signaled they are here to contend for wins and championships.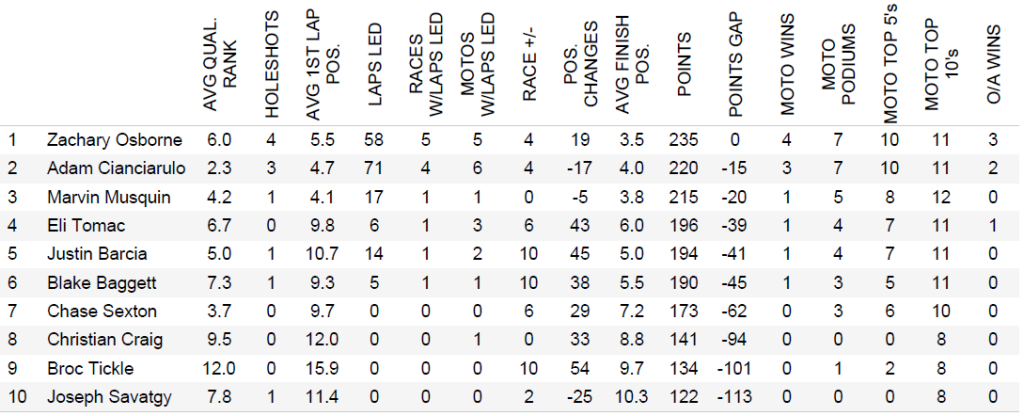 Then you have Marvin Musquin, Eli Tomac, Justin Barcia, and Blake Baggett who sit 3rd through 7th in the 450 championship standings. Combined, they account for an average of 7 seasons in the 450's and a total of 38 overall wins. They are the veterans that have dominated past seasons, yet this season they only account for only 1 overall win and 4 moto wins. Of recent, Blake Baggett has provided the best challenge via podium scores in the last 3 of 4 motos, but that's a far cry from years past where this crew took the majority of moto and overall wins. Unless something changes in the last 3 rounds of the season, we're likely seeing a changing of the guard in the 450's.
In the 250's, it was again the old guard of Dylan Ferrandis, Jeremy Martin, and Alex Martin that dominated on the day. The average age of the overall podium was 27 while the average age of 4th through 10th was 21. It seems a bit of maturity goes a long way to delivering results. The second moto was a perfect example. Both Ferrandis and Jeremy Martin put on a clinic for the up and coming younger riders as they pulled out a 32 second lead and battled to the absolute last corner.
For Dylan Ferrandis, this is what we expected of him after he went 1-1 at the first round. Today, he got good starts that put him 4th and 3rd at the end of the first lap of each moto. This was a significant change from the first 5 rounds where he averaged 14th on the first lap. No surprise, he used that good first lap position to win both motos and the overall win. He now has a 3 point lead over Jeremy Martin with 3 rounds remaining. A good day for Ferrandis and a great day for us fans as the championship battle got tighter.
Hope you enjoyed this week's column Be sure to check out the Millville race stats below and if you have questions, hit me up @3lapsdown on Twitter or Instagram.
450 RACE STATS
Adam Cianciarulo (Monster Energy Kawasaki) made up +27 points on Zach Osborne (Rockstar Energy Husqvarna) and Marvin Musquin +8 points. The last 3 rounds just got a lot more interesting.
Grant Harlan (Hoosier Tire FXR Game Moto) takes the Privateer Spotlight for Round #6. He qualified 27th but had moto scores of 20-13 for 16th overall.
Blake Baggett said "It [Red Bud moto win] revived me a bit. I remembered what I can do". After a 2-2 moto scores, it looks like Blake may have regained the confidence and motivation to go for moto and overall wins.
Christian Craig (HRC Honda) has quietly put in good results the last couple of weekends, finishing 9th and 7th after rounding the first lap in an average of 7th and 11th. Not a bad fill-in for the recovering Ken Roczen.
250 RACE STATS
Alex Martin is have a career year aboard his JGR Suzuki. He grabbed a moto win back at round 3 and today he was fastest qualifier (first since Unadilla in 2016) and got his 2nd overall podium of the season. Most interesting… his 3rd place in the second moto was the first career moto podium at his hometown track!
Jarrett Frye (Star Racing Yamaha) takes the Rookie Spotlight this week after going 14-14 in his pro debut. Not bad for a rookie and the 49th roster slot on the team.
Jett Lawrence (GEICO Honda) continues to impress as a rookie. He took 4th overall after 3-6 moto scores. The second moto he charged from a horrendous 19th on the first lap. Who's got Jett as a 2021 title contender? I do.
Hunter Lawrence (GEICO Honda) finally had a good day, finishing 7-5 for 7th overall.
Derek Drake (TLD Red Bull KTM) had his best finish of the season in 10th.