The 2021 season has come to a close and Cooper Webb (450), Colt Nichols (250E), and Justin Cooper (250W) are your 2021 champions. In a nod to our own Steve Matthes' popular Observations column, let's look at the key stat for each rider this year.
450 CHAMPIONSHIP
Cooper Webb – Cooper won every single race he led (8 for 8). Most important, 4 of his wins were in mains that title rival Ken Roczen also led laps.
Between Roczen and Webb, they led 66% of the total laps (264 of 402) in the series. They led laps in 13 of the 17 main events. Webb led laps in 8 rounds and Roczen led laps in 9 rounds. Webb led 2 rounds wire-to-wire while Roczen led 3 rounds wire-to-wire.
Most importantly, Webb won all 4 main events where they both led laps (rounds 3, 12, 15, and 17).
Webb passed Roczen on the last lap at round 3 in Houston after Dean Wilson disrupted Roczen's flow. Webb led 3 total laps that night, the first two laps and the last one.
At round 12 in Arlington, Webb passed Roczen and led the last 7 laps.
At round 15 in Atlanta Webb passed Roczen with 2 laps to go.
At round 17 in Salt Lake City, Webb passed Roczen and Chase Sexton and led the last 7 laps.
Cooper Webb led a mere 19 laps to capture 4 head-to-head wins against Ken Roczen. In the first 3 of these wins, Webb stole 9 points from Roczen for an 18 point swing. Even if Roczen had won the 17th round, it was these 3 head-to-head defeats that solidified Webb's 2nd premier class championship!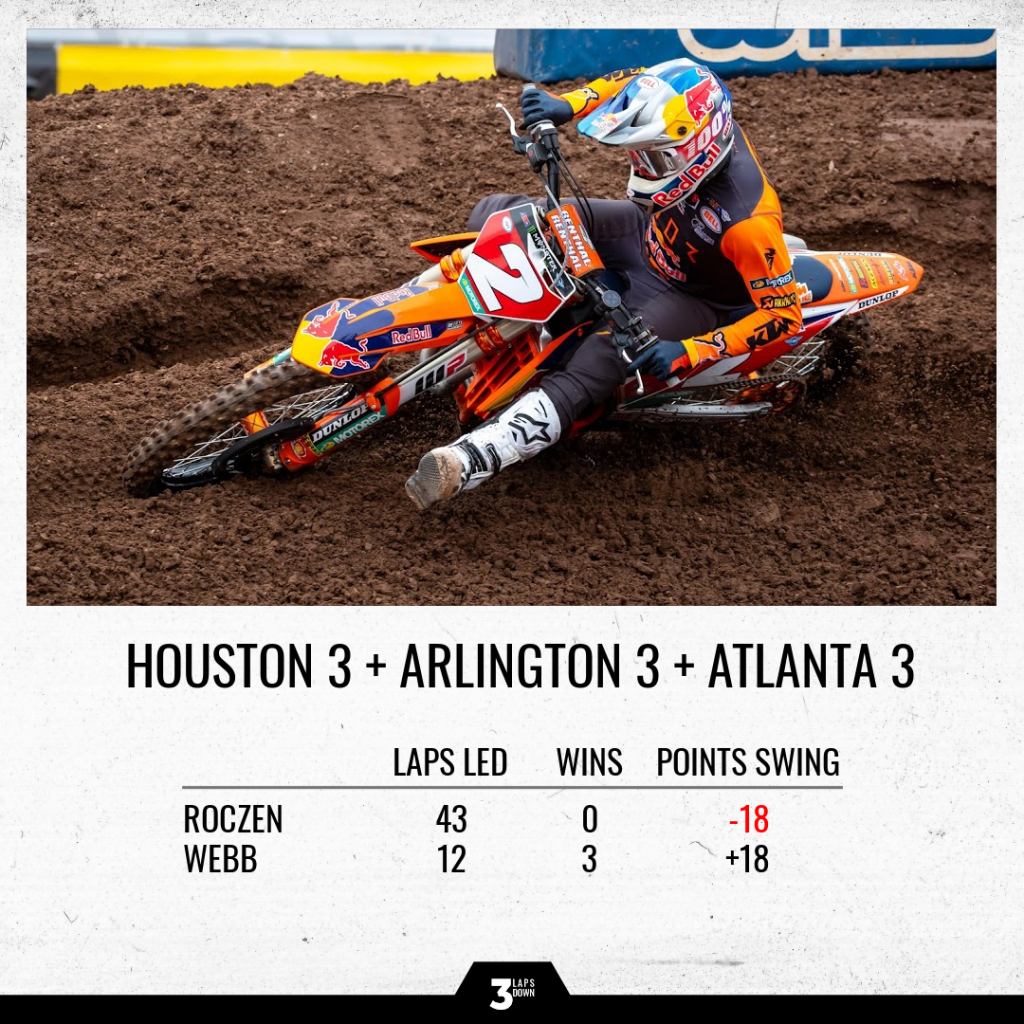 Ken Roczen – Ken joins Chad Reed as the 2nd rider in history to lose the championship lead after Daytona (since Daytona was moved to either round 9 or 10 in 1998). He also set the fastest lap in 8 main events (most of any rider) but only won 3 of these races. Ken had the speed but simply wasn't been able to dominate a complete main event.
Eli Tomac – 3 wins, the least since 2016 when he only had 1. He also only had 30 position changes vs. a series leading 84 last year. Whatever your theory – fitness, focus, or the deep field – Eli simply wasn't the same Eli this season.
Justin Barcia – Won the opener for the 3rd straight year. He also grabbed 4 holeshots bringing his career 450 total to 9 and his 28 laps led were second only to his rookie year (40). Last but not least, Justin's 9th year in the 450's ties his best series finish (4th) set in both his rookie and sophomore seasons (2013-14).
Aaron Plessinger – 1st podium in the 450's. He also led laps for the first time in the premier class (2 different main events) and set the fastest lap at Atlanta 1 . Throw in 2 heat race wins and Aaron had a break-out year.
Jason Anderson – Averaged 10th place on lap 1. Jason simply didn't get the starts he needed to contend for wins. He was fastest qualifier in 4 different rounds (the same amount he had in 2018 when he won the championship) but without good starts he was left fighting through the pack.
Malcolm Stewart – 1st podium and 4 Top 5's. Malcolm more than doubled his career total of 3 Top 5's entering the season. Any concerns of his switch from Motoconcept Honda to Star Racing Yamaha look mostly ridiculous now.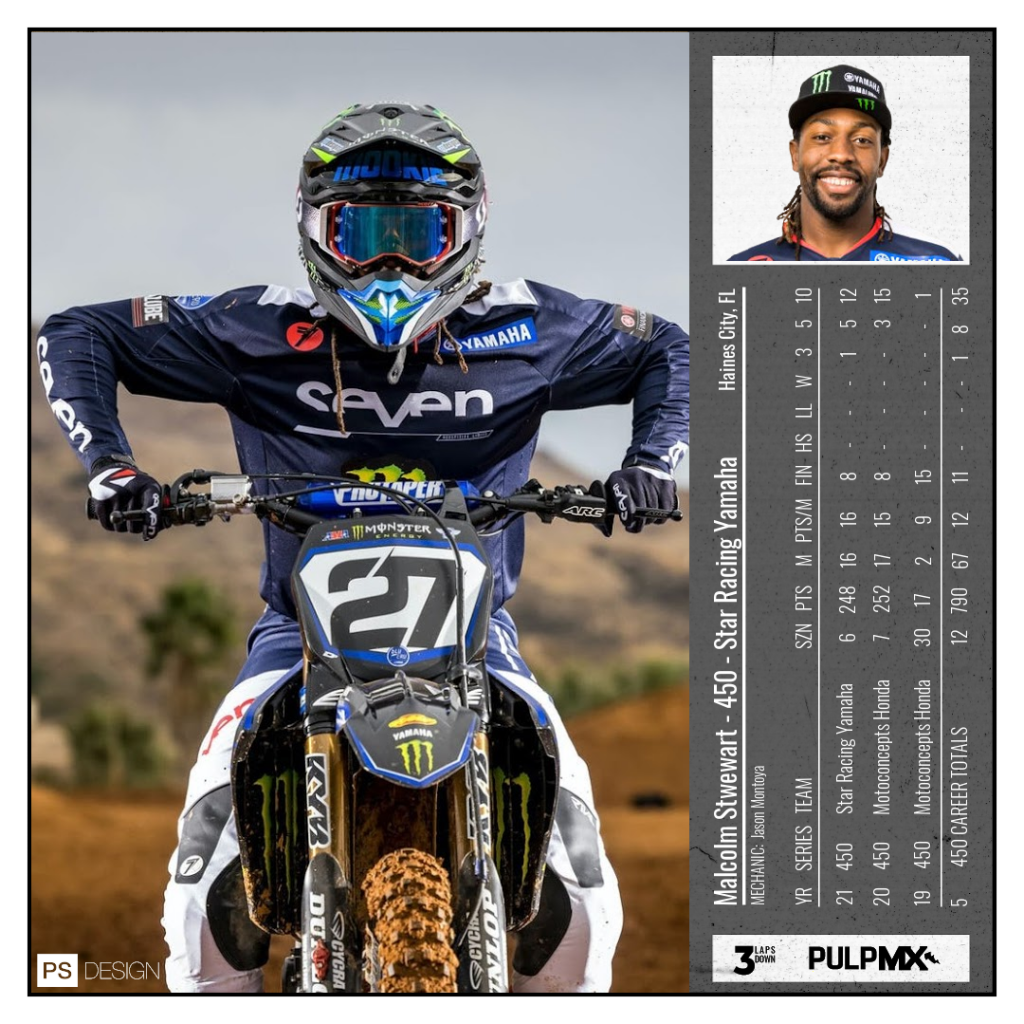 Dylan Ferrandis – 1st podium and top french rider. He's the clear rookie of the year even though Sexton showed more raw speed and had more podiums. He likely wanted more consistent finishes, but this is still one of the better rookie seasons in a few years.
Marvin Musquin – 1 win and 5 podiums. We talk a lot about Tomac, Roczen, and Webb's all-time wins, but let's not forget Musquin ranks 23rd in all-time 450 wins (9) sandwiched between greats Broc Glover and Ron Lechien.
Joey Savatgy – 1 position change. Oddly, there's no stats that really jumped out with Savatgy, but it was clear to see his progression throughout the season so having a net total of 1 position change between first and last lap seemed like a fitting choice. I expected to see this season include some of his best career results, but he grabbed 5 top 5 finishes in his rookie year (2019) and none this year.
Dean Wilson – 4 LCQ wins. It's been a trying year for the likeable Scotmans, missing 4 races to injury and racing 5 Last Chance Qualifiers to get into the main events. Missing the main at round 13 in Atlanta was a low point but he used that as motivation and finished inside the Top 10 in the 3 of the 4 rounds to finish the year.
Chase Sexton – 3 podiums, 2 fastest qualifiers, 2 heat wins, and led laps in 3 mains. Chase has shown championship potential, but missing 6 rounds early in the season puts him 2nd best rookie behind Dylan Ferrandis. #thefuture
Martin Davalos – 11 bad days. He hit the ground a lot this year! Martin summed it up nicely on the PulpMX Show, "Let me tell you guys why I crash… because I send it boys. Sometimes I don't care about life and that's why I crash" #retired
Zach Osborne – 8 races. I thought Zacko would get another win in the 450's this year but injuries shortened his season to just 8 races. The highlight of his season was a podium at round 7 in Orlando along with an amazing late race charge at round 2 in Houston… that was ruined by a late race crash.
Broc Tickle – 10-15th place finishes. A good season but not spectacular. He finished between 10th and 15th in 10 main events, 16th to 22nd in 5 mains, and missed 2.
Adam Cianciarulo – 8 races. In both his rookie and sophomore seasons in the 450's, Adam competed in just 8 of 17 races each. Maybe most interesting is 2 seasons of 450 supercross and no wins. I don't believe many would've guessed no wins after 2 seasons, but here we are.
Justin Brayton – 1 podium. Justin now has 10 career 450 podiums. Considering he's the oldest rider on the track at 37 years old, this is quite the accomplishment for him and his Muc-off Honda team.
Vince Friese – lost 59 positions. For the second year in a row, he tops the series with the most lost positions between the first and last lap. He averaged 11th on lap one and 16th at the finish across 13 main events.
Kyle Chisholm – Made 13 main events in a row and 14 in total. In his 17th season, he finished 19th in the standings and a generation of fans will never forget what it means to Chiz.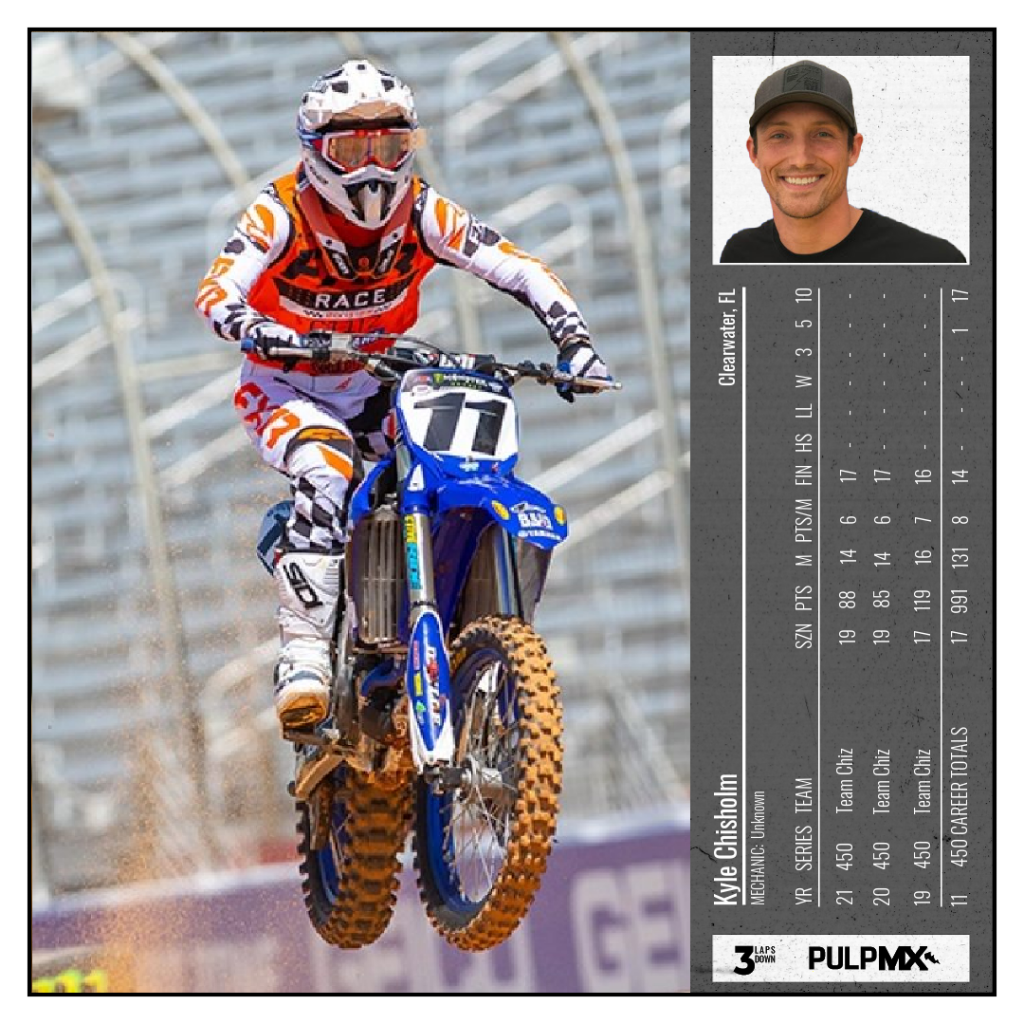 Justin Bogle – Missed 8 main events (note the theme of 8's with Zacko, AC, and Bogle). In 6 seasons in the 450 class, Justin has finished a complete season once. The incredibly talented and stylish Oklahoman simply can't stay off the ground.
250 EAST CHAMPIONSHIP
Colt Nichols – 2nd place average finish. Colt was good in every single main event no matter where he started. He led laps in 4 main events, won 3 of them, stood on the podium in 9 of 9 rounds, and with the exception of the final round didn't lose positions all season.
Jo Shimoda – first win. At 18 years old, Jo Shimoda has made every single main in 2 seasons, has 1 win, 3 podiums, and has finished in the top 3 in standings twice. We should've seen this coming… he won the 2018 Amateur All-Star race at the Monster Cup in Las Vegas beating Jalek Swoll, Derek Drake, Seth Hammaker, and Carson Mumford.
Jett Lawrence – first, second, and third win. I'm a Jettson18 fan and had him for 2 championships this year, but I was clearly wrong. Nonetheless, Jett delivered against the huge expectations that follow this 17 year old kid. Fuel for the family rivalry – Hunter's the only family member to lead a series.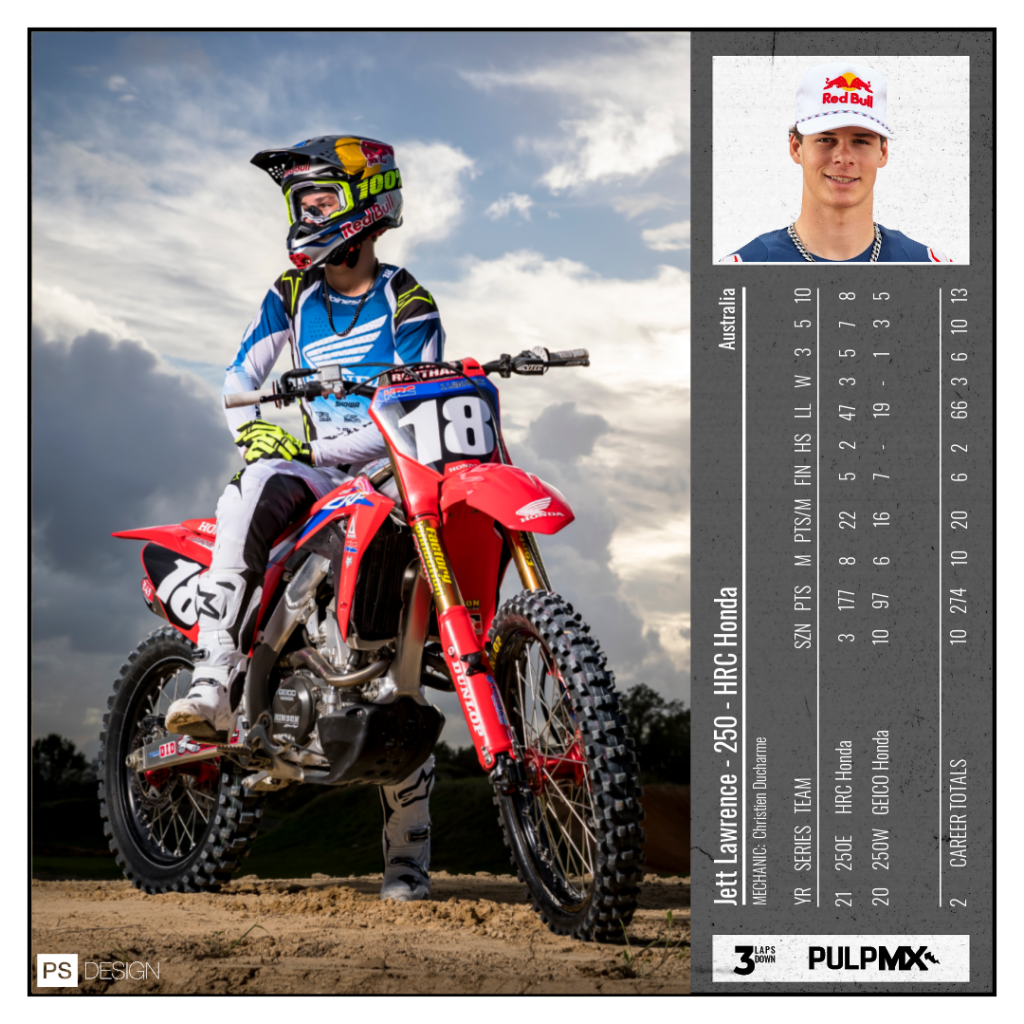 Christian Craig – 2 wins, 2 missed races. He showed speed via 1 main event fastest lap and 5 fastest qualifiers, but he's the antithesis of Jo Shimoda when it comes to consistency. In Christian's 9 seasons of racing, he's finished an entire series once. Let's hope he's able to recover in time to give his best effort in a full pro motocross season.
Michael Mosiman – 3 bad days. In his 4th season, I expected Mosiman to be fighting for wins more often, but mistakes in 3 rounds (one causing him to miss 2 rounds) cost him lost positions and more chances to contend for wins.
Josh Osby – 6th. Josh tied his career best 6th place finish at round 6 in Indianapolis. A broken wrist has unfortunately slowed his progress to finish the season with 22nd and 16th place finishes.
Joshua Varize – 3 Top 10's. Top rookie honors in the 250 East with a season best 6th at 2 rounds. Joshua may have gotten some help from a injury depleted field, but these results are still good.
Thomas Do – 5th. For a rider that started the season in the B qualifier sessions at round 1 in Houston, a 5th place finish at round 16 in Salt Lake City was an impressive ride.
Mitchell Oldenburg – 5 bad days. Mitchell battled with the top riders throughout the series but unfortunate luck and some crashes resulted in losing positions in 5 rounds.
Logan Karnow – 3 Top 10's. Logan's had a career year, making every single main along with getting his first Top 10 finish.
250 WEST CHAMPIONSHIP
Justin Cooper – 3 wins, 50 laps led, 4 mains w/laps led, and a championship. He also tied his competition for the least bad days. Have I mentioned the rider with the least bad days wins championships!?
Hunter Lawrence – first win. Hunter joins 5 other first time 250 main event winners this season. That win wasn't the only highlight though. He also put in the fastest lap in 4 different main events which is a strong signal for high expectations in 2022.
Cameron McAdoo – first win. Cameron's performances in Atlanta have given fans reason for debate, but no one can question his first win ever at Daytona was special. Unfortunately, 2 bad days where he finished 10th and 13th after rounding the first lap in 7th and 5th cost him a chance at the title.
Seth Hammaker – first win. Seth got his first career 250 supercross win in just his 3rd race. While this is impressive, keep in mind that at 20 years old, he's 1-2 years older than Jett Lawrence, Jo Shimoda, Nate Thrasher, and Garrett Marchbanks who also have wins.