Motocross style is pretty unique. The gear we ride in would look completely absurd in nearly any setting other than a motocross track. Most motocross racers consider themselves type "A" macho men yet have no problem showing up to the track in a set of skin-tight Day-Glo pink pants. Motocross fashion is just weird like that. 
When it comes to my taste for gear, I have always loved bright colors but have never been a big fan of over-the-top patterns. With a few notable exceptions, I prefer my gear to be on the lower-key side of crazy. When I sat down to narrow down my favorites, I found it pretty hard to come up with just ten. There are literally thousands of designs to choose from and 50 years of modern motocross history to consider. Over the last month, I have culled my collection of images to find the ones that most resonated with me over the years. Of course, depending on your age and taste your list may be quite different from mine, but that is what makes bench racing like this fun. As with my previous top ten lists, I am going to enlist my moto buddy Matthes to add his two cents for a little additional perspective. While we are of similar age, our tastes for gear and bikes do not always align so it will be interesting to see what he thinks of my picks. 
For this list, I am going to focus on the complete gear line in a particular year and not just a single colorway or design I really liked. I am looking for overall excellence across the board and that might make this list a bit different than some of the others we have done. Here are my selections for the ten coolest gear lines ever. 
#10
 

Xtreme Gear 1994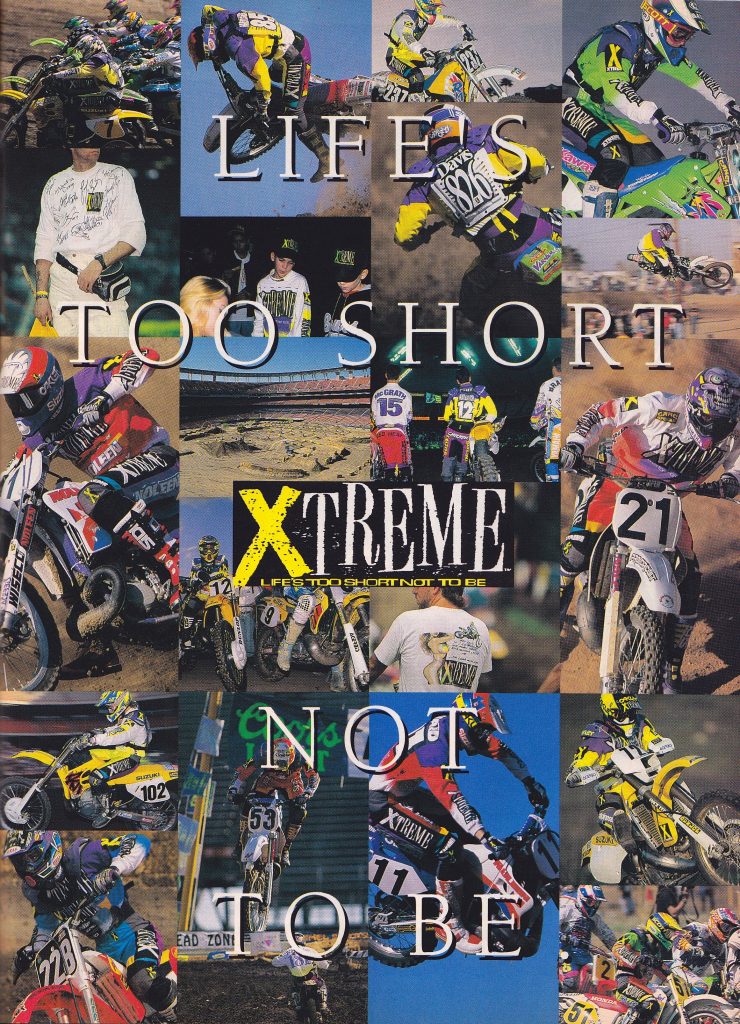 It did not hurt that Xtreme had the best catchphrase in the business in 1994.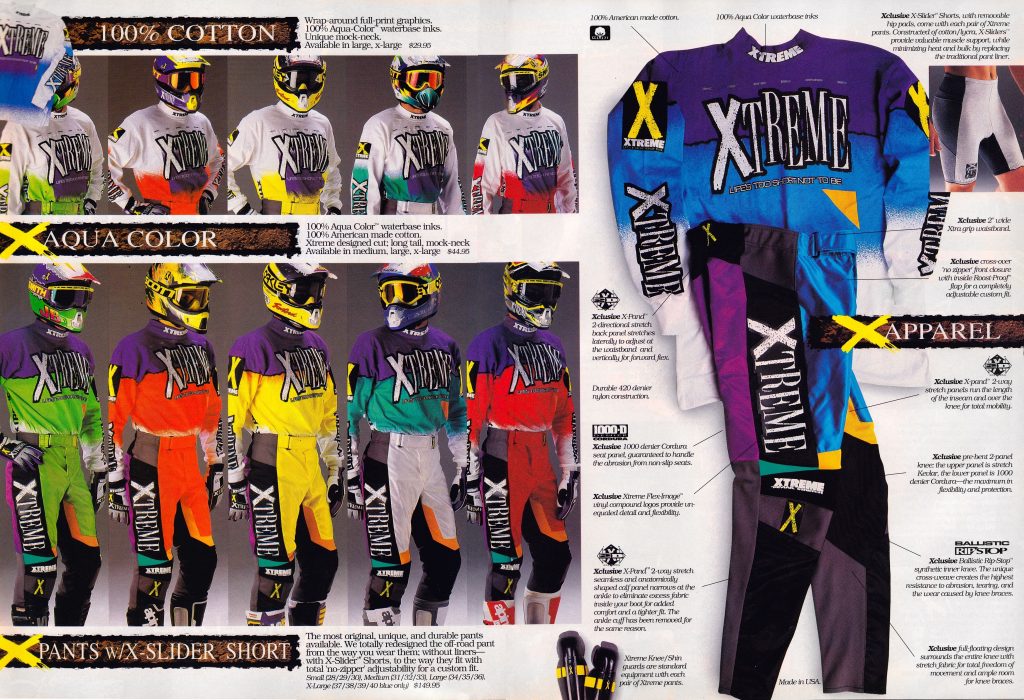 All of this gear was absolutely badass in my opinion. I even love the slightly offbeat purple/aqua/white combo. Photo Credit: Xtreme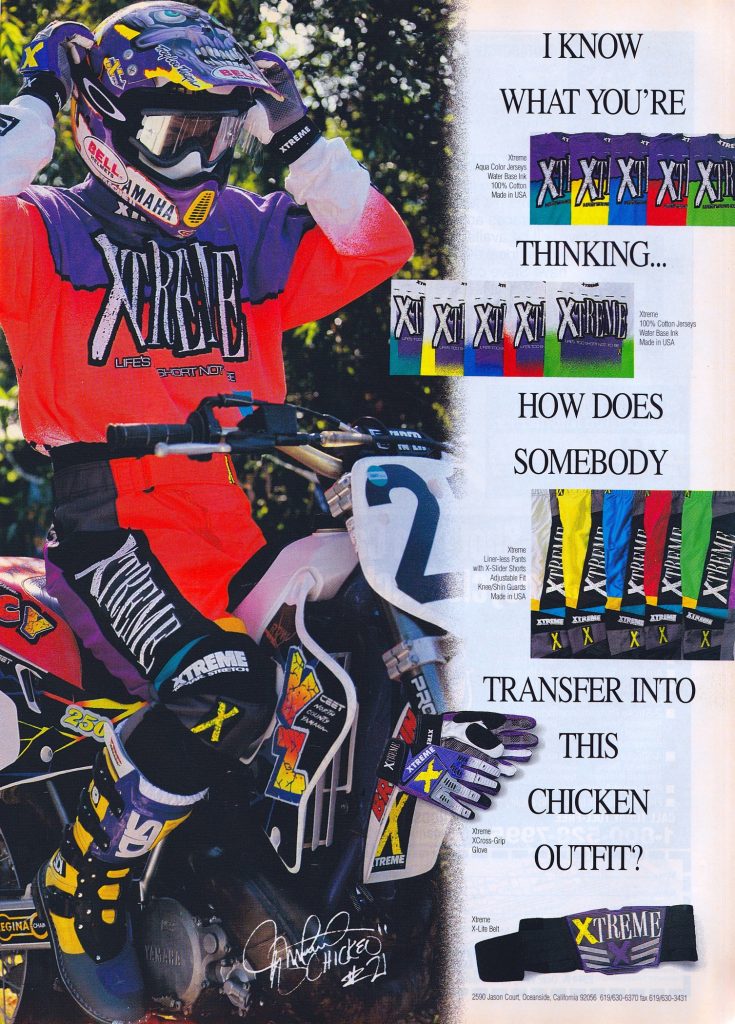 Jeff Matiasevich was Xtreme's biggest star in 1993 and he was back on an NCY-backed privateer Yamaha in 1994. Photo Credit: Xtreme
Blaze: When Xtreme broke onto the gear scene in 1993 they stood out even in a sea of over-the-top 90s gear choices. With Jeff Matiasevich in their camp and a selection of clean and ultra-colorful designs, Xtreme was an instant hit. Already well-known for their popular motorcycle and girl-related T-shirts and calendars, Extreme hit the ground running in 1993. While their gear was never as polished and well-built as AXO and Fox, their look was totally on point.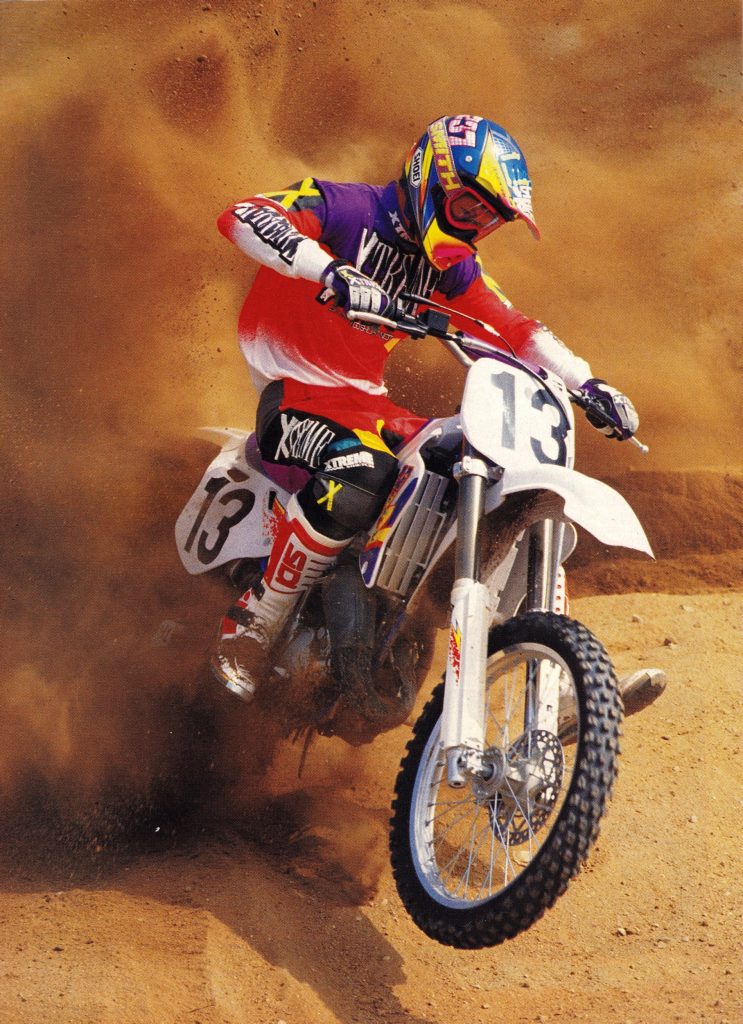 Even today, this gear looks amazing. Xtreme had it firing on all cylinders in 1994.  Photo Credit: Dirt Bike 
In 1994, they added the new Noleen Sizzler team to the Xtreme stable, and I really loved all of this Xtreme gear from 1993-1994. The yellow and blue combo was fire if you had a Suzuki and the red and purple that Noleen favored positively glowed with badassery. Unfortunately, Xtreme's time at the top of the style heap was fairly short-lived. By 1997, their designs had lost most of their luster and while they would continue making gear into the 2000s they would never again capture the portion of the motocross mindshare they held in the early 1990s.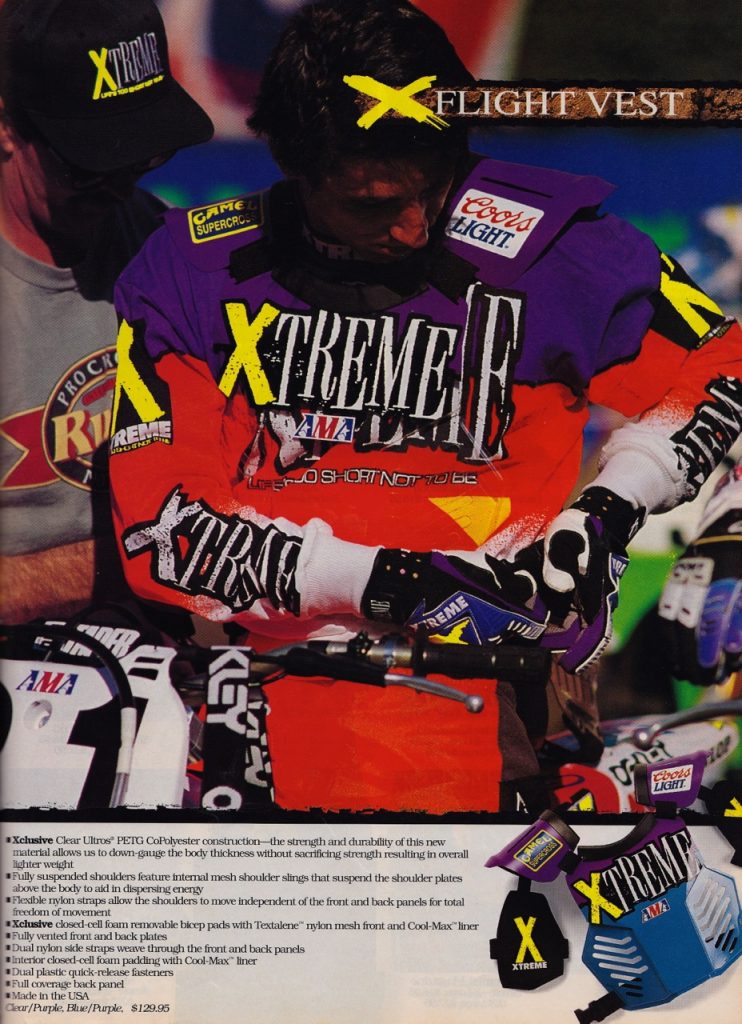 I had one of these clear Xtreme Flight Vest chest protectors and it looked great initially but got pretty beat looking after a little roost got ahold of it. Photo Credit: Xtreme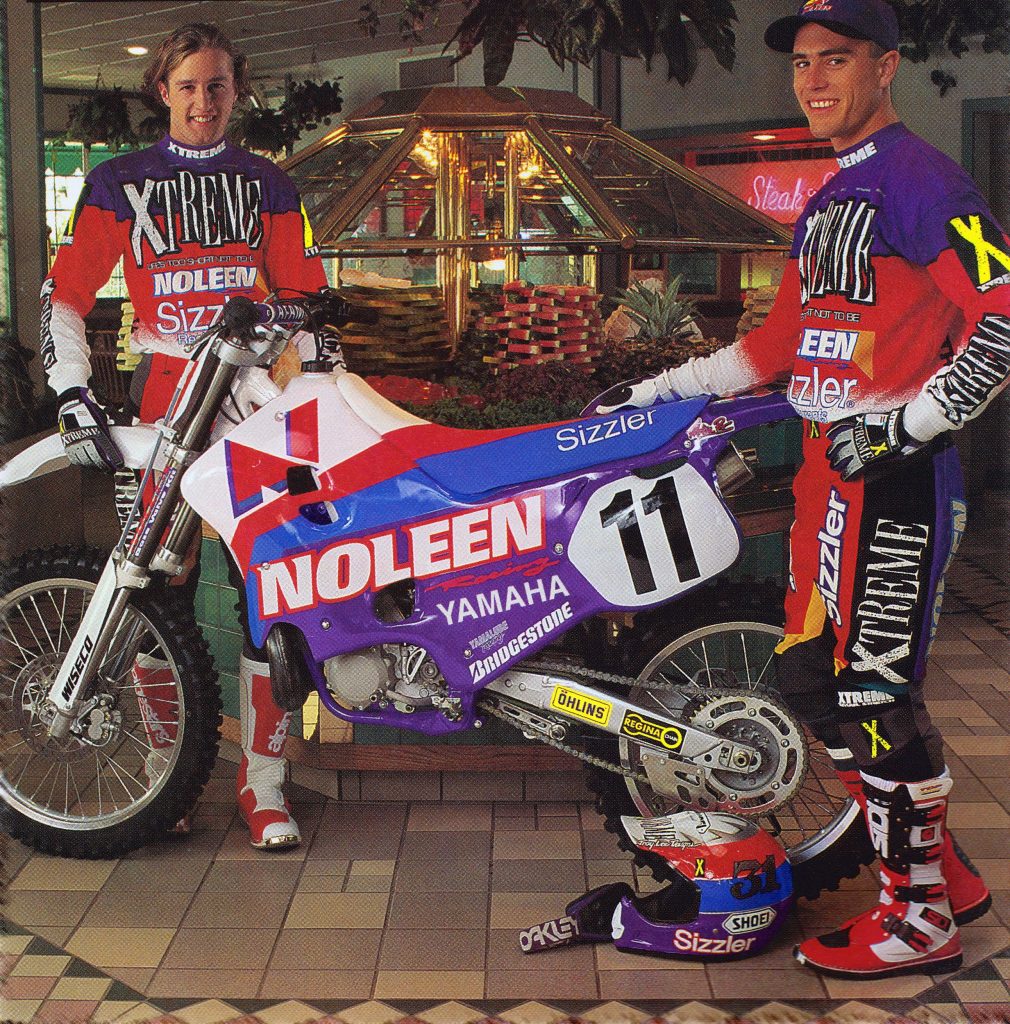 The Ryno Skins never caught on, but this Xtreme gear was hotter than a grill at Sizzler in 1994. Photo Credit: Noleen
Matthes: Well, we're off to a terrible start here Blaze. Xtreme was never really elite looking, it wasn't made very well and the name itself was a little cheeseball. Now, if you wanted to go with Xtreme, you should've went with the '96 or '97 line. The '96 had that PJ1 Yamaha team wearing it and it did stand out, that's for sure. My rider Ty Birdwell wore it in '97 and '98 and they had some ok looking stuff but top ten of ALL TIME? Uhhh, no way. Rough start for Blaze here.
#9 JT Racing 1989

 In 1989, JT Racing had a little of something for everyone. Solid colors like Classics Pants were more my speed but bolder designs like the K9, BoneHead, and Confetti designs were there for the "bolder of spirit." Photo Credit: JT Racing
Blaze: Throughout most of the 1980s, JT Racing was the gear to have for well-heeled motocross enthusiasts. In the early 80s, they had a stable of riders that encompassed 80% of the factory riders on the circuit. Their designs were iconic, and their gear was the one to beat.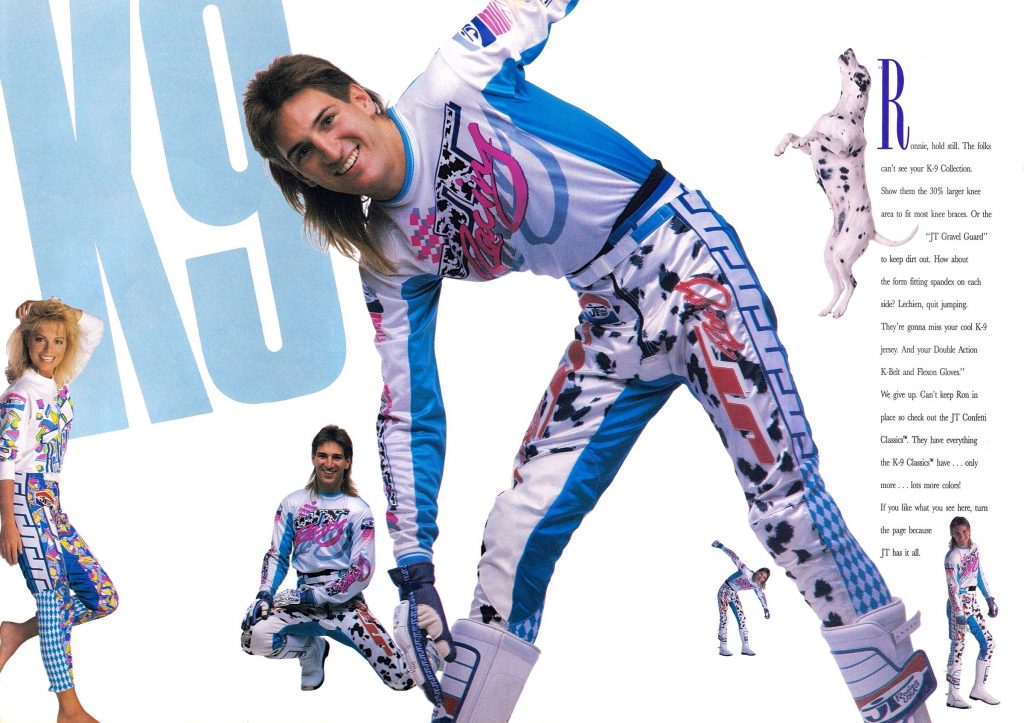 Ronnie's mullet game was strong in 1989. Photo Credit: JT Racing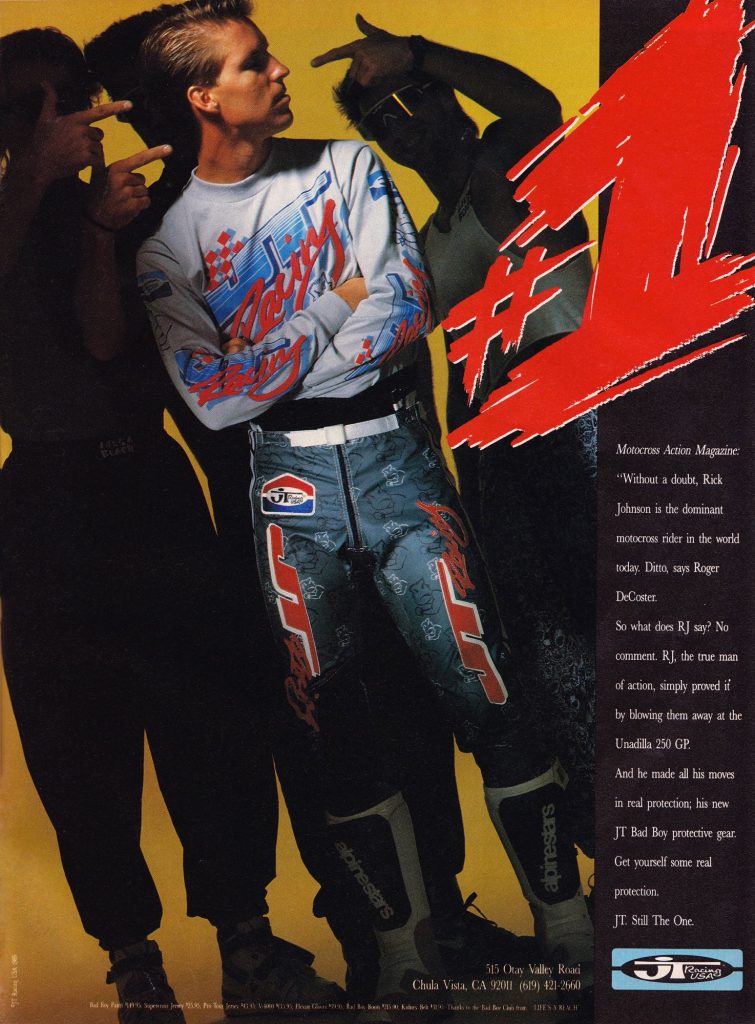 Rick Johnson's move to JT from Fox in 1989 was big news. Even though I was never a big fan of the "Bad Boy Club" this 1989 signature gear was pretty good-looking stuff. Photo Credit: JT Racing
By 1989, this dynamic was shifting with competitors like Fox Racing and AXO Sport stealing much of the stylistic high ground. JT was still a powerhouse, but the tides of motocross style were shifting. While JT Racing was no longer the undisputed King of motocross fashion, their lineup remained one of the best in motocross in 1989. Clean and timeless looks like their Classics Pants and Pro Tour Jerseys were joined by bolder offerings like the Dalmatian, Confetti, and BoneHead lines. Add in the awesome looks of the V-1000 chest protector and the ALS helmet and you have one of the most solid gear lineups ever. I even like the Rick Johnson signature Bad Boy gear this year which is at least 96% better than the funky Cyborg stuff he would debut in 1990.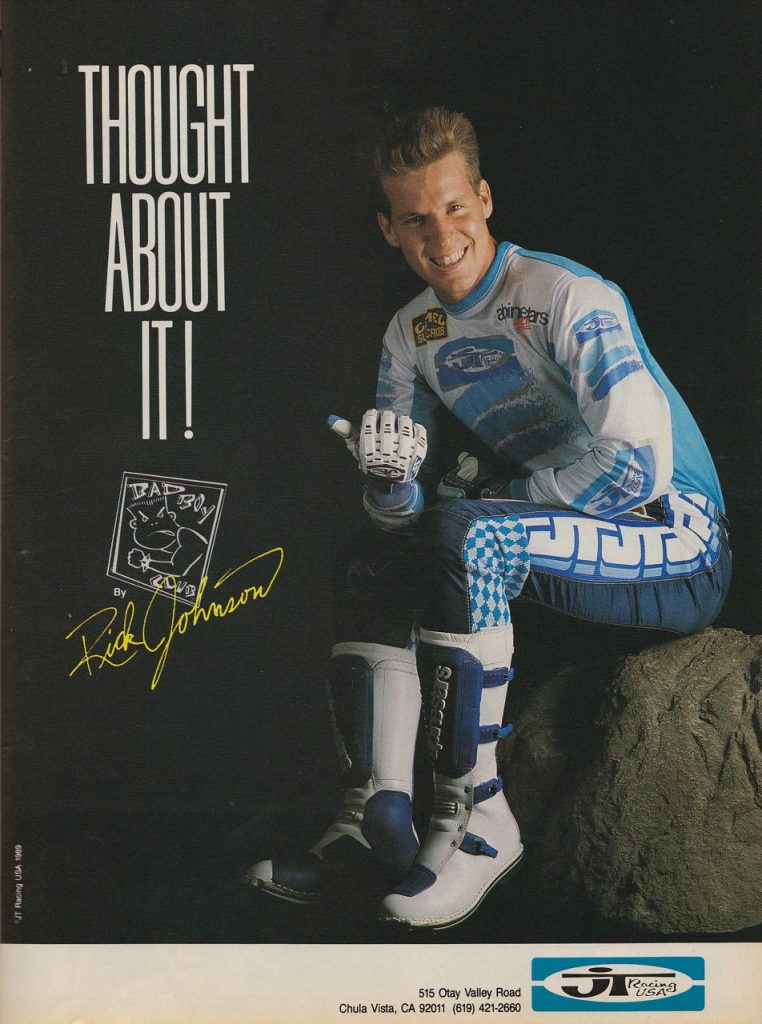 I don't think this ad made anyone at Fox very happy in 1989. Photo Credit:  JT Racing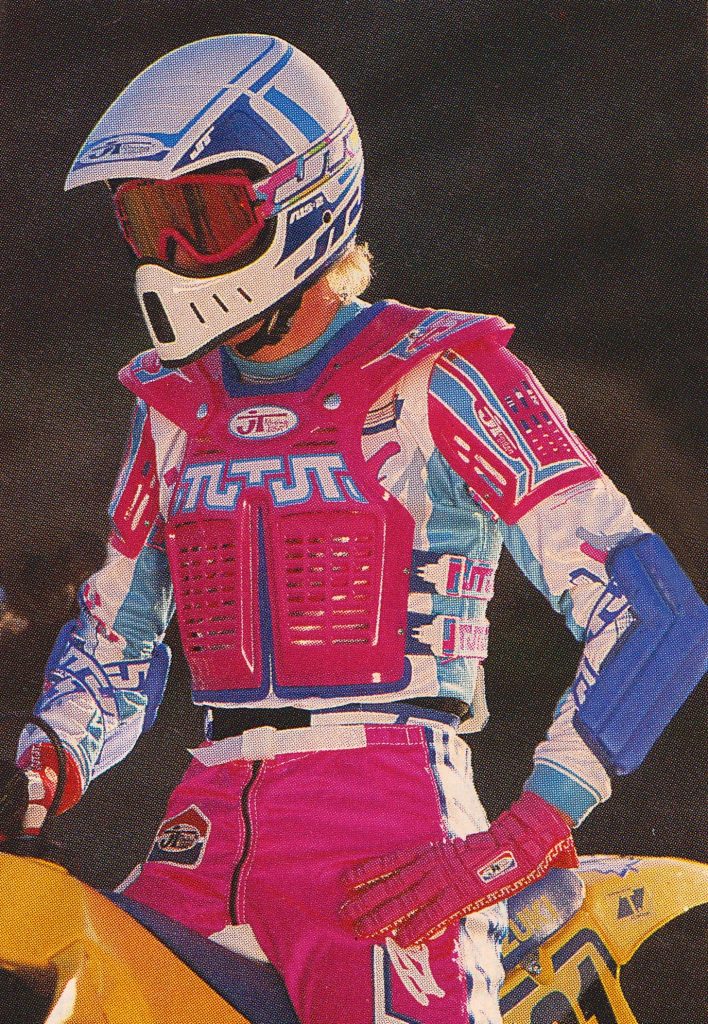 Most of the gloves from this era have not aged well but the rest of this 1989 gear still looks great in my book. Photo Credit: JT Racing
While there is a lot of love for the Dalmatian and BoneHead gear this year, my personal favorite is the Pink/Cyan Pro Tour Jersey and Classics Pants made famous by Broc Glover. When you combined this with a florescent-pink V-1000 and ALS-1 it equals all-time badassery and is equal to anything ever ran by RJ or Bradshaw in my book. It is such a clean look and just screams 80s cool. The Flexon Glove and JT Boots were not great, but the rest of the 1989 JT lineup is just all-time cool.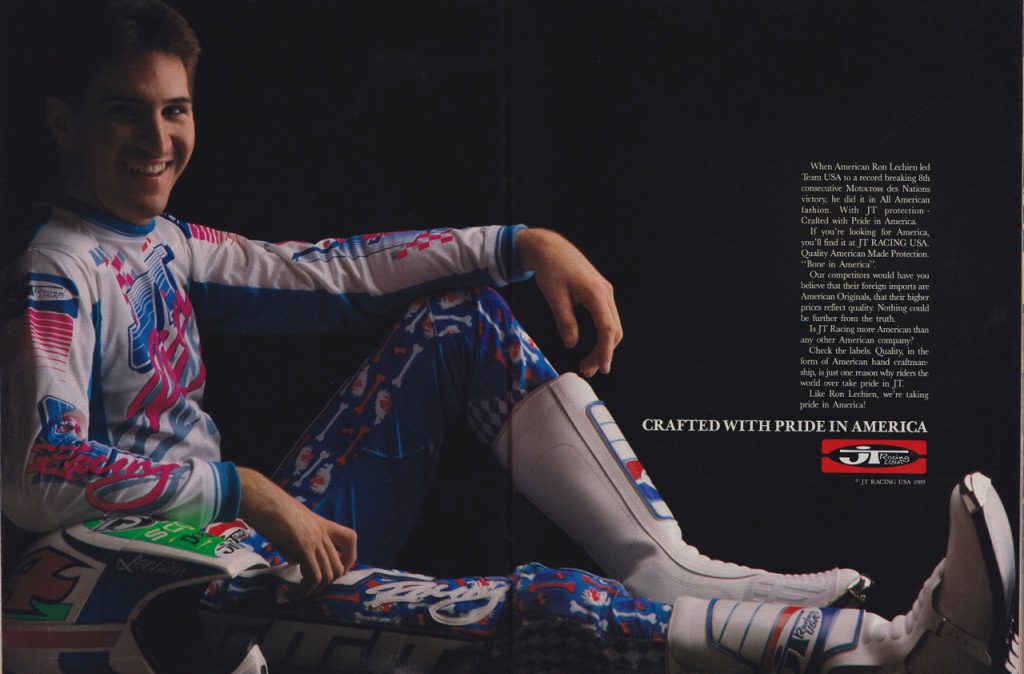 Ronnie may not have always been the fastest guy, but damn did he always look good. Photo Credit: JT Racing
Matthes: 1989 was a good year for JT, heck the entire 1980's was good for John Gregory and the boys down in El Cajon. I had the Dalmatian and the cyan blue stuff from this year and JT adding that wide spandex on the side of the leg was a game changer back then. Of all the JT "looks" that people talk about…the Bailey flo stuff from '86, Dogger and his Bad Bones from '88, the clean stuff from the mid-80's, etc, etc not many people talk about Broc Glover's 1988 look. He was #44, he wore pink and blue all year with matching helmet and looked awesome. But Blaze goes and picks 1989 for some reason. RJ looked good in his return to JT this year but there are NUMEROUS other years of JT I would've went with.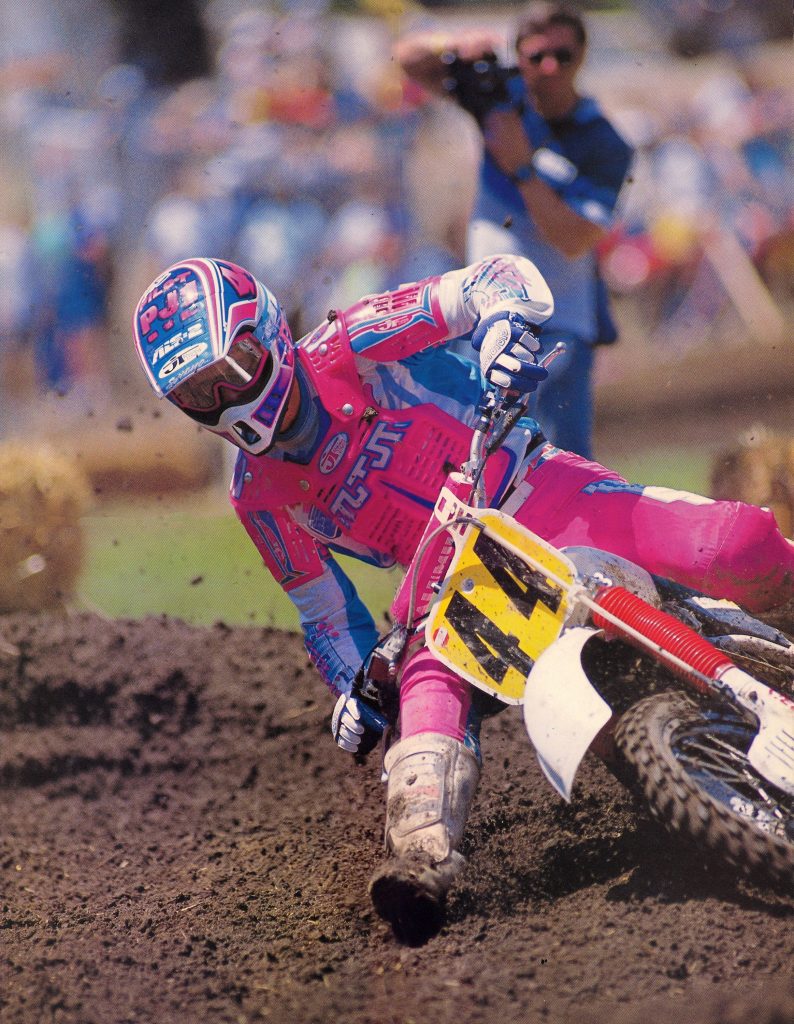 Glover's look in 1988 was epic, Matthes is certainly right about that. Thankfully, you could still get this exact setup in 1989.  Photo Credit: Kinney Jones 
#8 Fox Racing 1994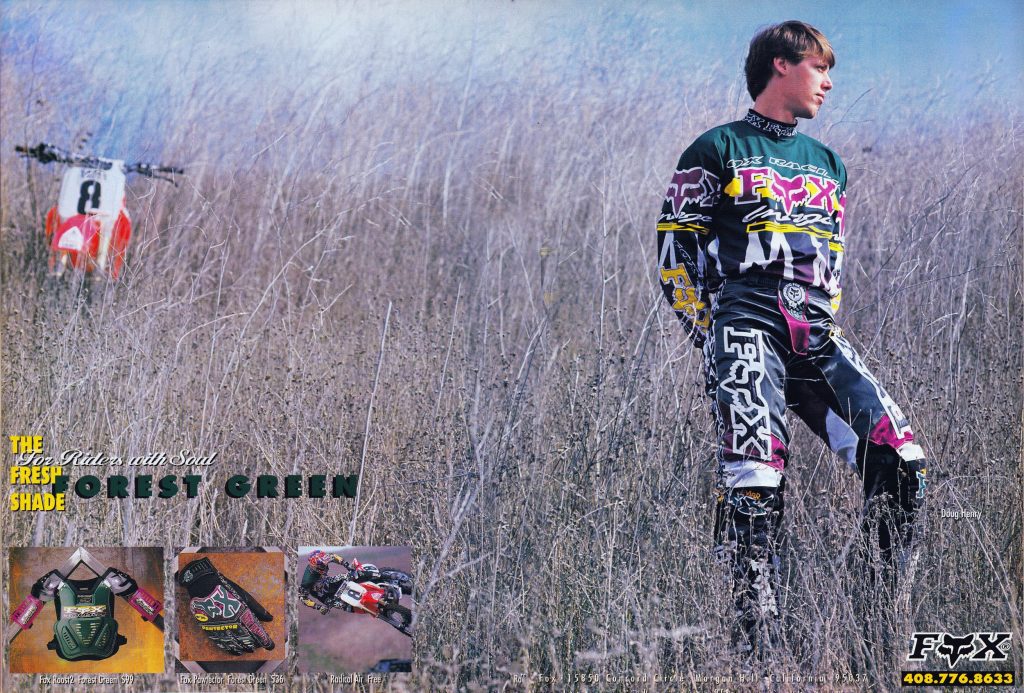 After half a decade of retina-searing neon, Fox's 1994 earth tones felt like a welcome breath of fresh air. Photo Credit: Fox Racing
Blaze: If I had to pick one brand that had most consistently knocked the ball out of the motocross park in my lifetime it would have to be Fox Racing. Sure, there have been a few oddball detours like the wacko Antiscene gear in 2010 and questionable Barbed Wire of 1991, but for the most part, Fox Racing nails the big stuff. They know style and have been the most consistent performer over the last forty or so years.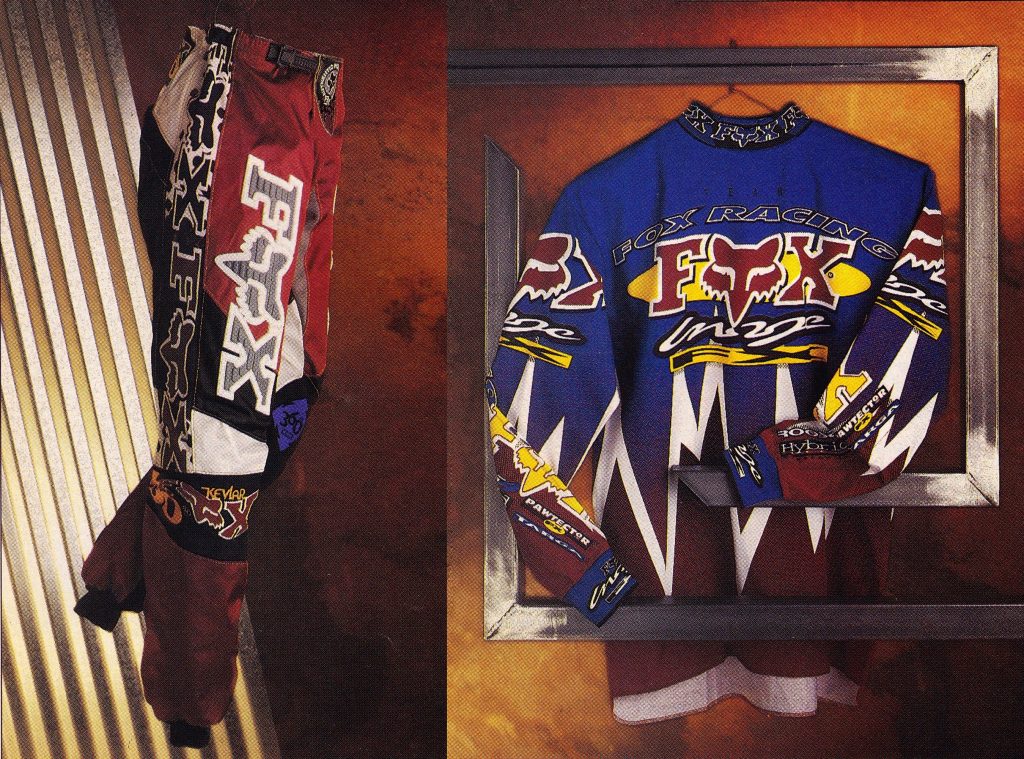 As much as I loved the Forest Green, I think it was even more beautiful in the Rust Red and indigo. Photo Credit: Fox Racing
While Fox can be counted on to deliver year in and year out, they still occasionally hit the Jackpot with some real winners and that is just what they did in 1994. At the time, Fox was just getting over its obsession with Zebra stripes, spider webs, and polka dots. The huge success of 1989 had led to three years of variations on a theme and by 1993 many (including myself) were ready for a change.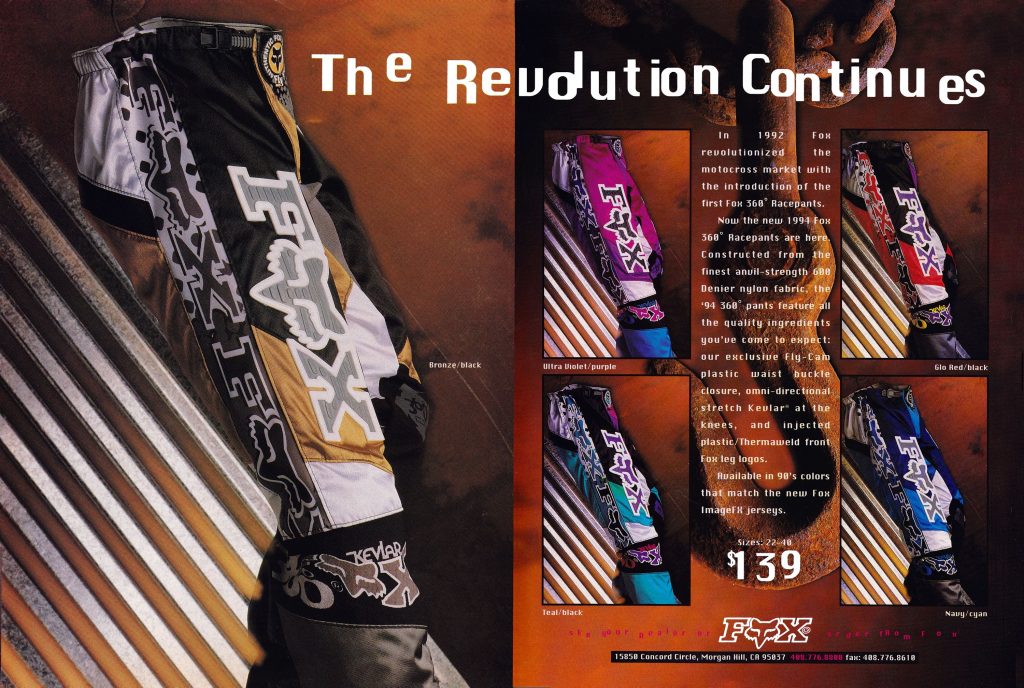 By 1990s standards all of this was positively low-key and classy. Photo Credit: Fox Racing
In 1993, this took the form of Fox's all-new Image and 360 lines which kept most of the bold colors, but toned down the patterns and over-the-top graphics. The new look was less busy and focused on one or two main colors instead of a kaleidoscope of shades common to the previous few years. While some lamented the lack of animal print, I believe most found the new Dream On look a pleasing change.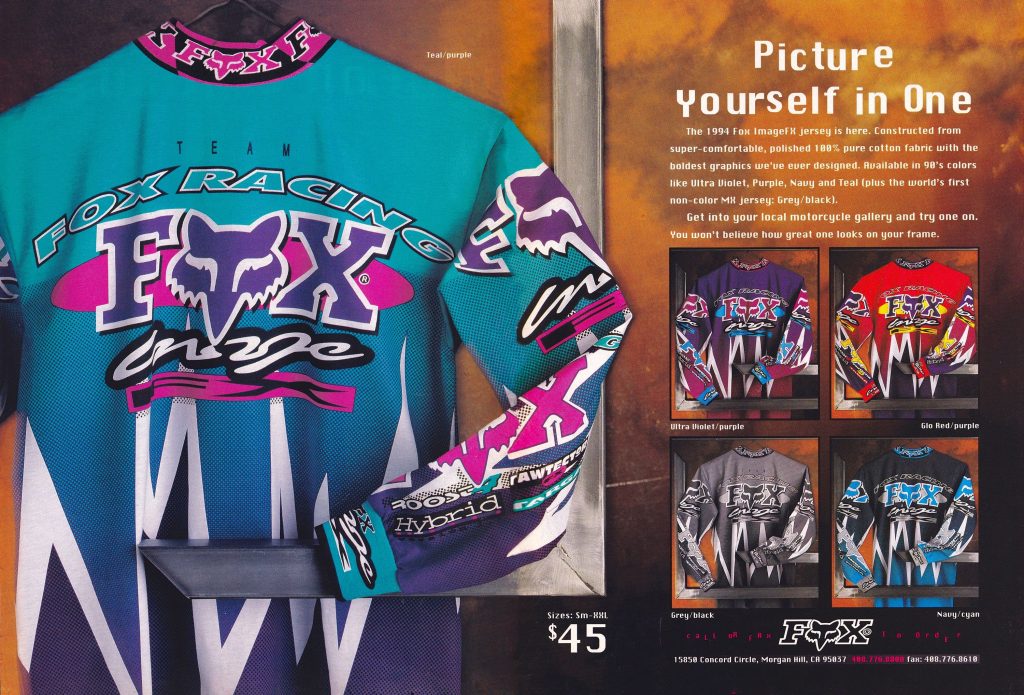 If you really wanted to give the middle finger to your buddy on his "unicorn barfed on it" 1992 RM then you went with the straight-up gray and black in 1994. Photo Credit: Fox Racing
For 1994, Fox made things even better by adding several all-new colorways that felt like a 180-degree turn from the neon shades and big hair of the late eighties and early nineties. The new Rust, Forest Green, and Bronze 360 Racepants and ImageFX jerseys for '94 felt like a palate cleanser after a decade of oversaturation. At the time, I was blown away by this change and instantly fell in love with all three. Even the more traditional 90s colors like the Glo Red/Purple combo looked fantastic with the lower-key look of the '94 lineup. 
This season even got the first of Fox's epic red and yellow throwback gear to celebrate their 20th year in racing although I don't think you could buy it at the time.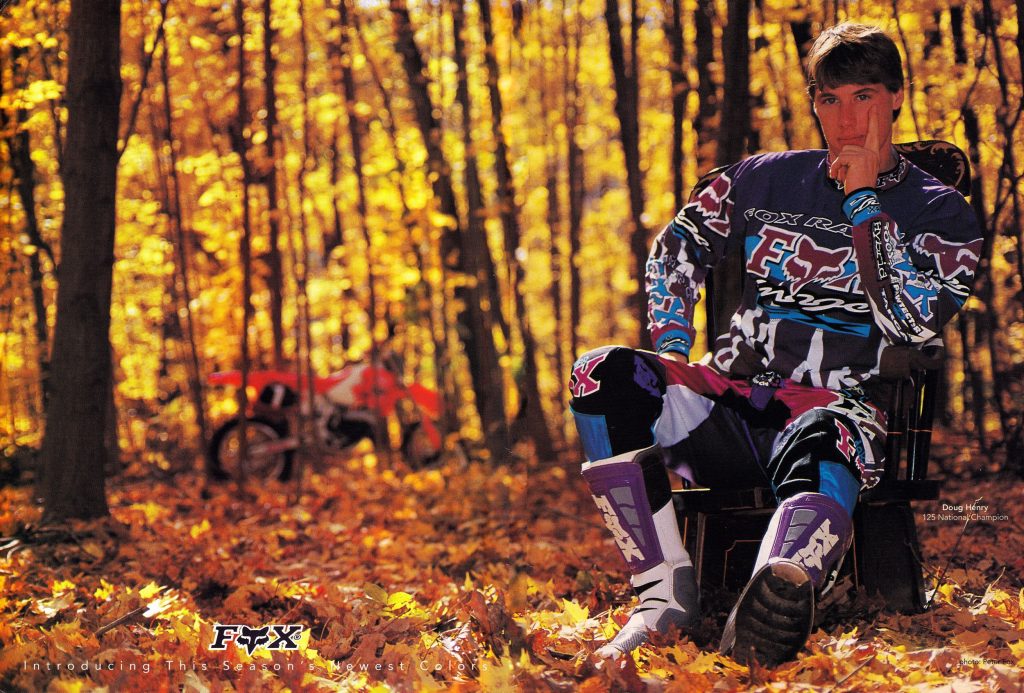 Fox Racing had some great ads and great gear in 1994. Photo Credit: Fox Racing
While Fox's 1994 lineup does not have the ultra-badassery of the 1995-1996 Red Riders gear in its stable, I feel it is more solid overall. All of those McGrath kits are epic, but I just don't care for the rest for the 1995-1996 Fox lineup nearly as much as this cleaner look in 1994. For me at least, that puts this year at the top of the 1990s Fox Racing heap.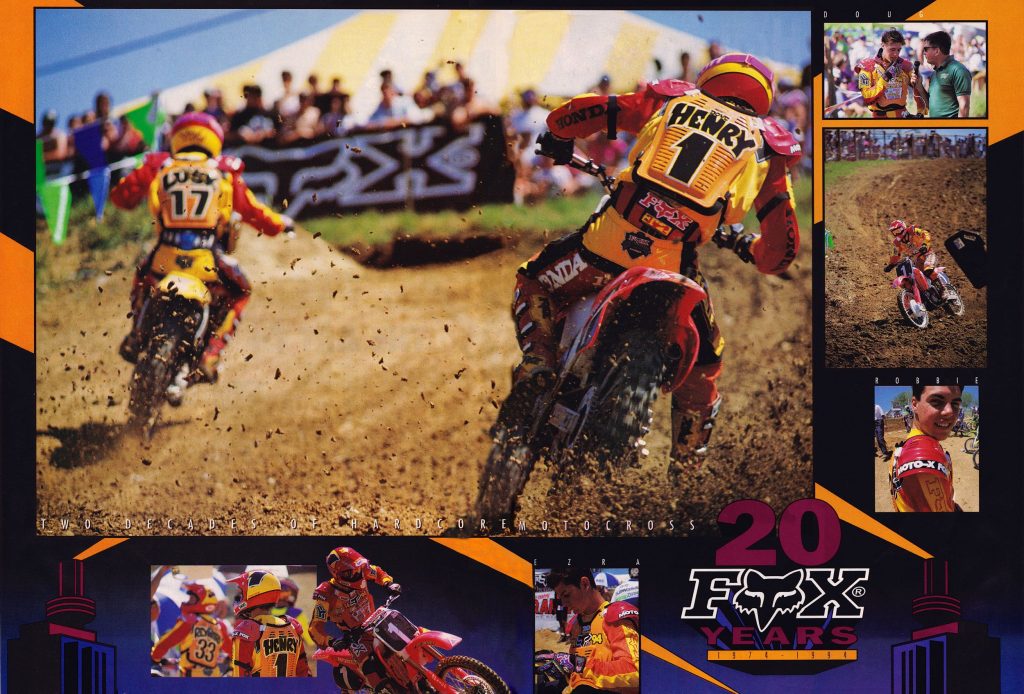 I don't think Fox actually sold this retro gear in 1994 but it is worth mentioning how badass it was as well that season. Photo Credit: Fox Racing
Matthes: Yeah, Fox really emerged from the day-glo look of the previous years and brought it back home with this stuff. I had the black/bronze stuff and it fit well and looked great. You couldn't go wrong with Fox this year, the Honda collab stuff with MC and Honda was whatever, yellow and red not my favorite but all of this stuff was great. Match it with the Roost-2 and you have a winner.
#7 Thor 2006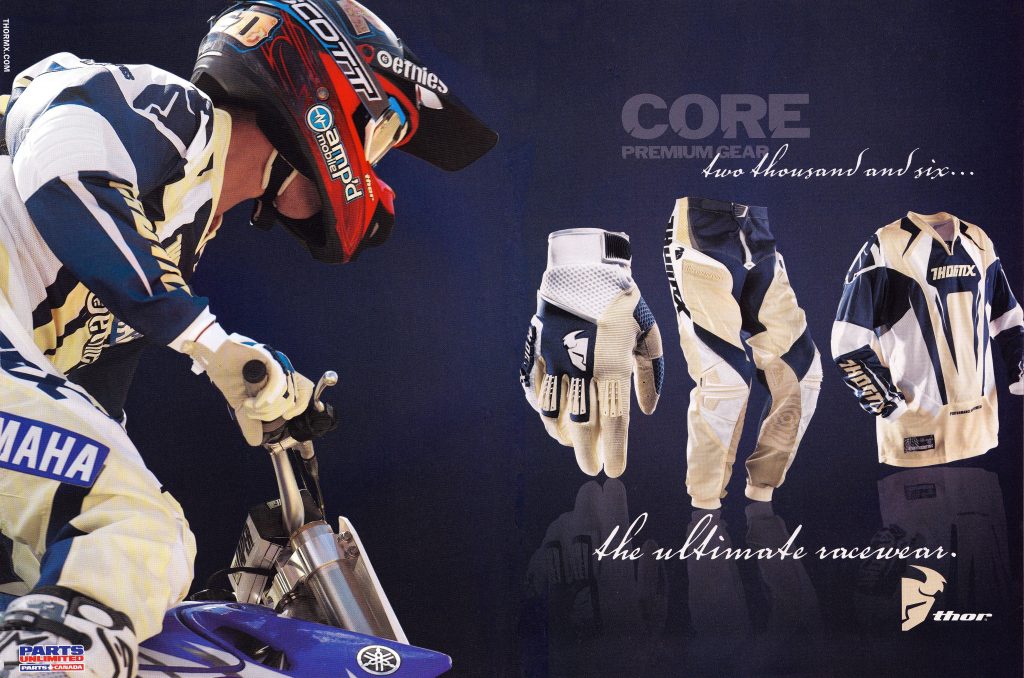 Thor has not done much for me since Chad Reed left but man, they had it going on in the 2000s. Photo Credit: Thor
Blaze: It probably says a lot about what an old fart I am that the newest gear to make my list is still fifteen years old. I certainly don't hate any of today's gear but most of it does not speak to me in the way stuff in the 1990s and 2000s did. As a man of, shall we say…larger carriage I am not a fan of the painted-on look so many gear companies are fond of today but mostly I just don't feel a connection to it in the same way I did back then. Thor's 2022 lineup for instance is perfectly fine with pleasant designs that are inoffensive but also highly boring. Most of it looks like shrink-wrapped pajamas and none of it is half as interesting as anything they offered during the 2000s. Again, maybe that is my age talking, but feel free to get off my lawn because this is my list after all.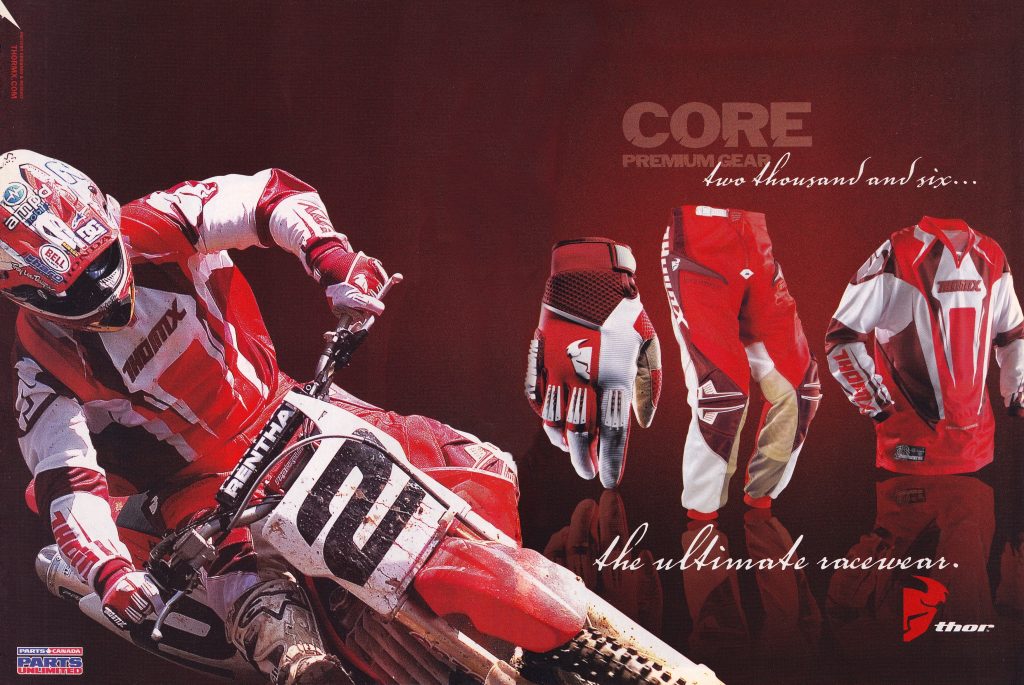 Has Jeremy McGrath ever looked bad in a set of gear? Of course not! He's Jeremy McGrath for God's sake. Photo Credit: Thor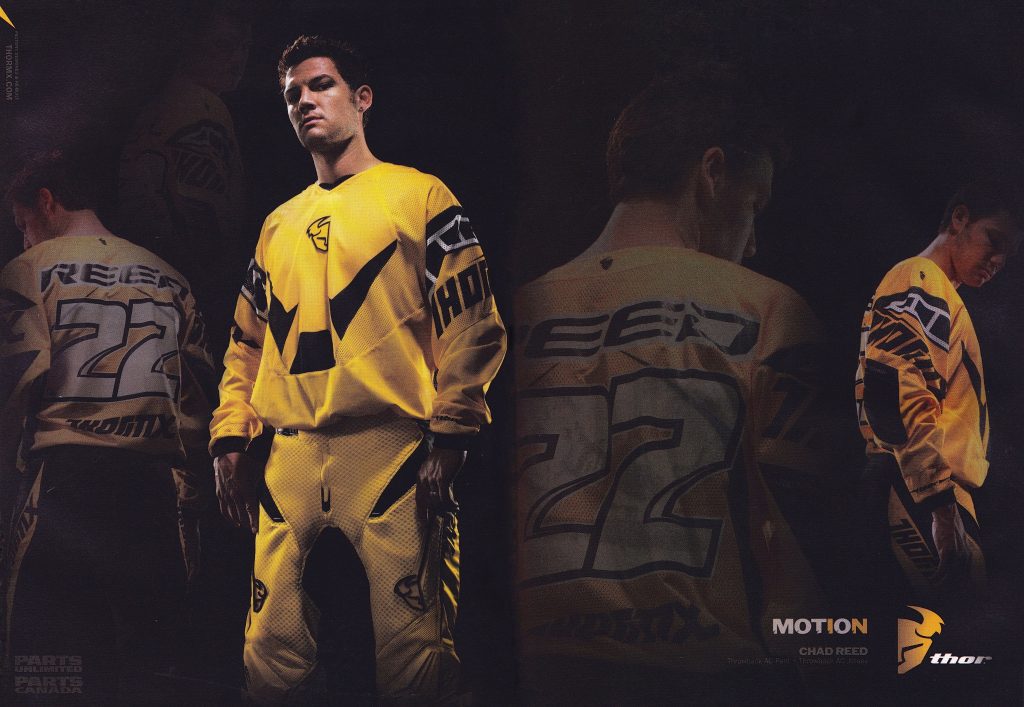 I always love when Yamaha breaks out the bumblebee look, and this sweet Throwback AC gear was a perfect match for that yellow anniversary YZ450F. Photo Credit: Thor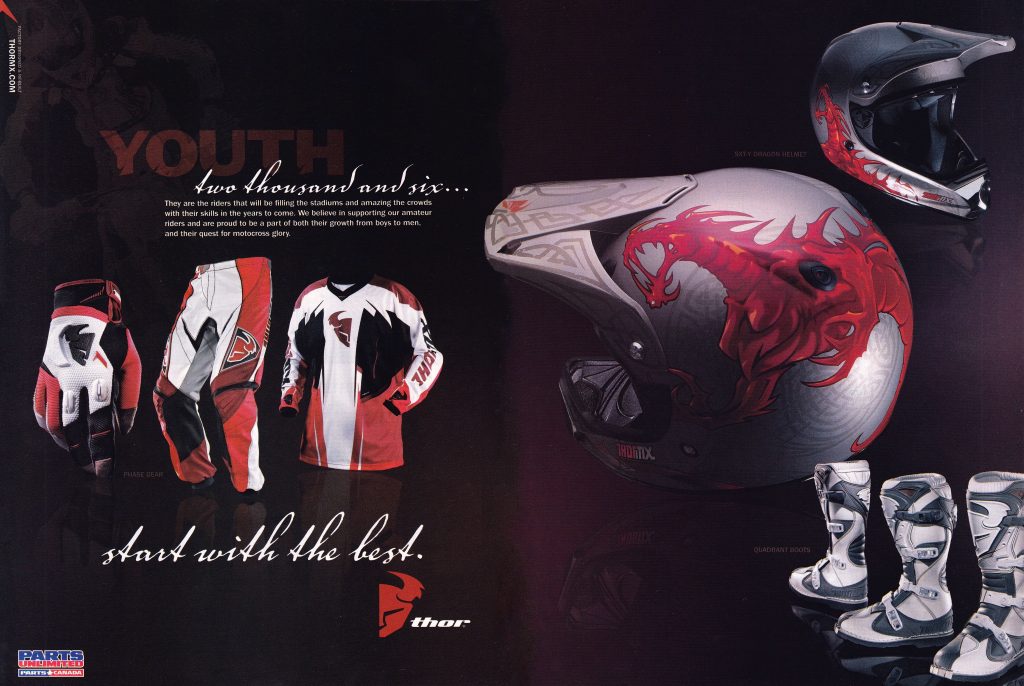 For some reason, the Pro Circuit team always ran the Phase gear instead of the Core line but I really liked both in 2006. Photo Credit: Thor
As to this 2006 gear, well it was just epic. I love this era of Thor and nearly everything they did during the 2000s was aces. Much like Fox in the nineties, Thor had things running on all cylinders during the George W. Bush years. These years were so great for Thor that I had a hard time narrowing it down between 2005, 2006, and 2007. All three were great but it is hard to argue with the year that brought us the grand "Dukes of Hazzard" Bootleg gear that Travis Pastrana ran at Daytona.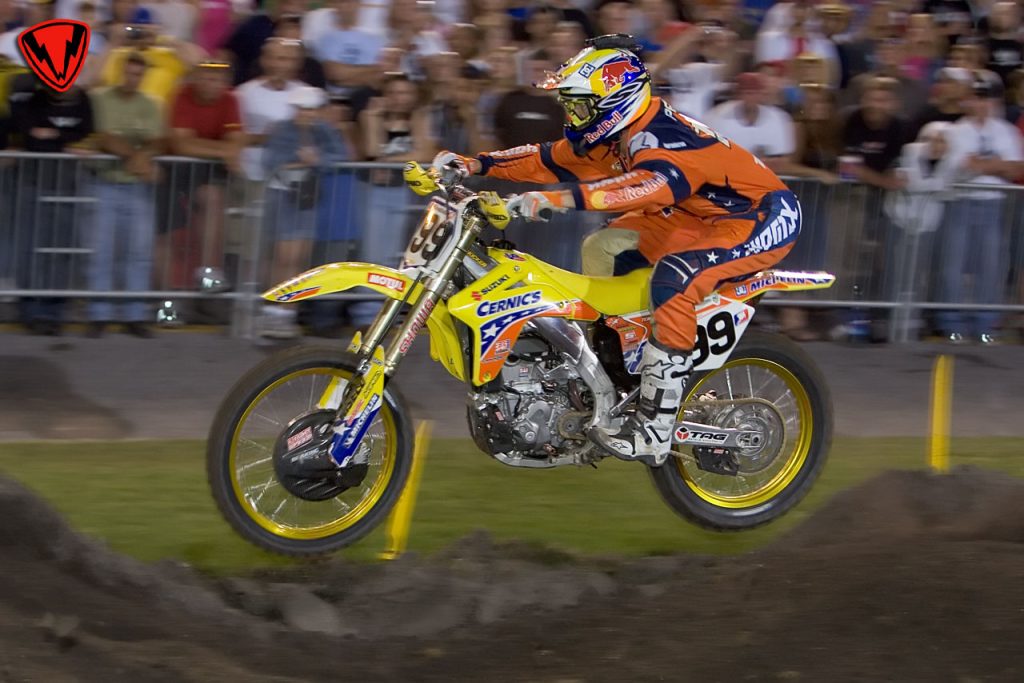 This Bootleg Core gear was a perfect match for the wild child of motocross in 2006 Photo Credit: Transworld MX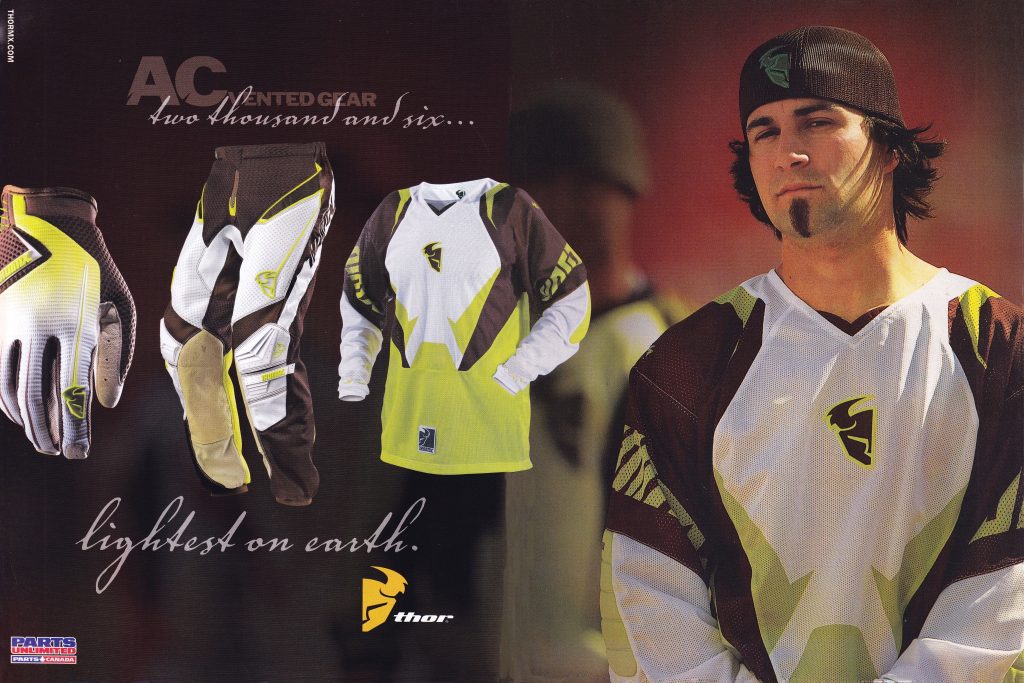 I still have this exact set of AC vented gear from 2006 and I still love the look of it. Thor in the 2000s was the shiznit, my friends. Photo Credit: Thor
In addition to the rebel look, you had an awesome yellow and black Throwback set that harkened back to the heyday of Hurricane and Glover and a full lineup of cleanly styled Core and AC offerings. I particularly loved the Navy/Cream colorway Core gear this year which stood out for its understated classiness. All of this gear was really great, and I even dug the cool injection-molded ThorMX logo on the chest of every Core jersey that would surely give a heart attack to today's minimalist-driven designers. Hell, yeah it weighed 1.67 ounces and hell no I don't want you to take it off! Normally I don't love the looks of vented variations of most gear but even that looked amazing this year. Clean, classically styled, and confident, Thor had it going on in 2006.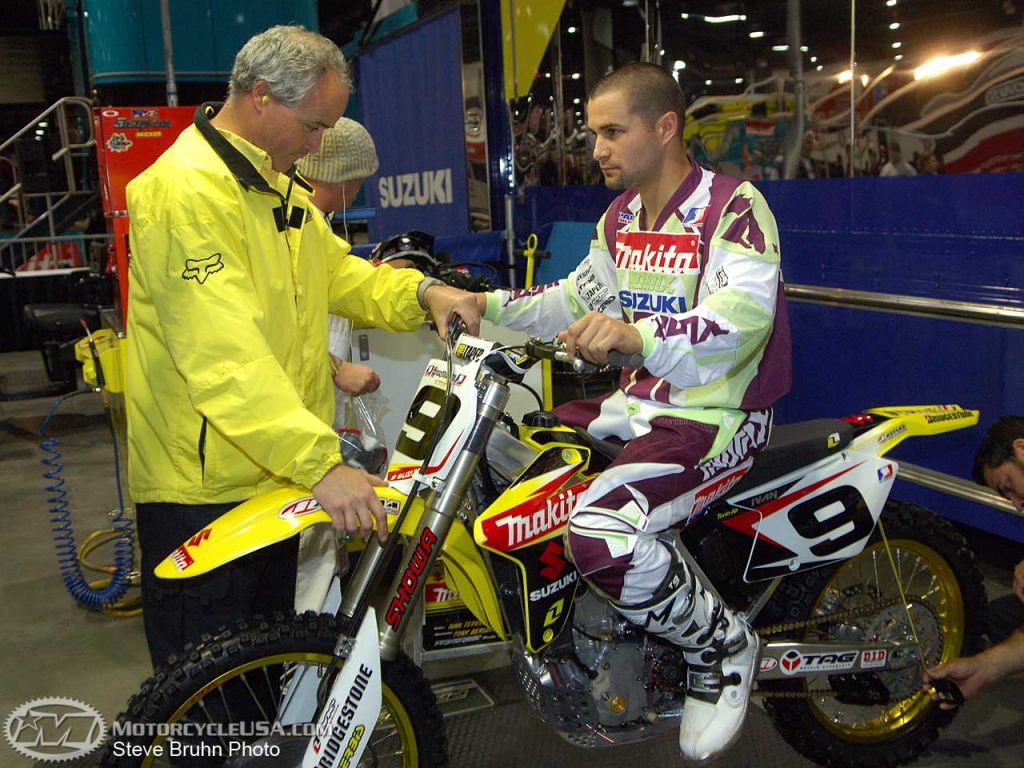 I loved the interesting color combos Thor offered in 2006. Photo Credit: Steve Bruhn 
Matthes: Man, Thor had a stacked group around this era! Reed, McGrath, Tedesco, RV, Weimer, Pro Circuit, Pastrana, Ferry, Tortelli and probably more I'm forgetting. Like Blaze, that cream/off-white color was cool looking and the minimalist look was good. Look how baggy this stuff was back then compared to what the guys are wearing now. 
#6 AXO Sport 1991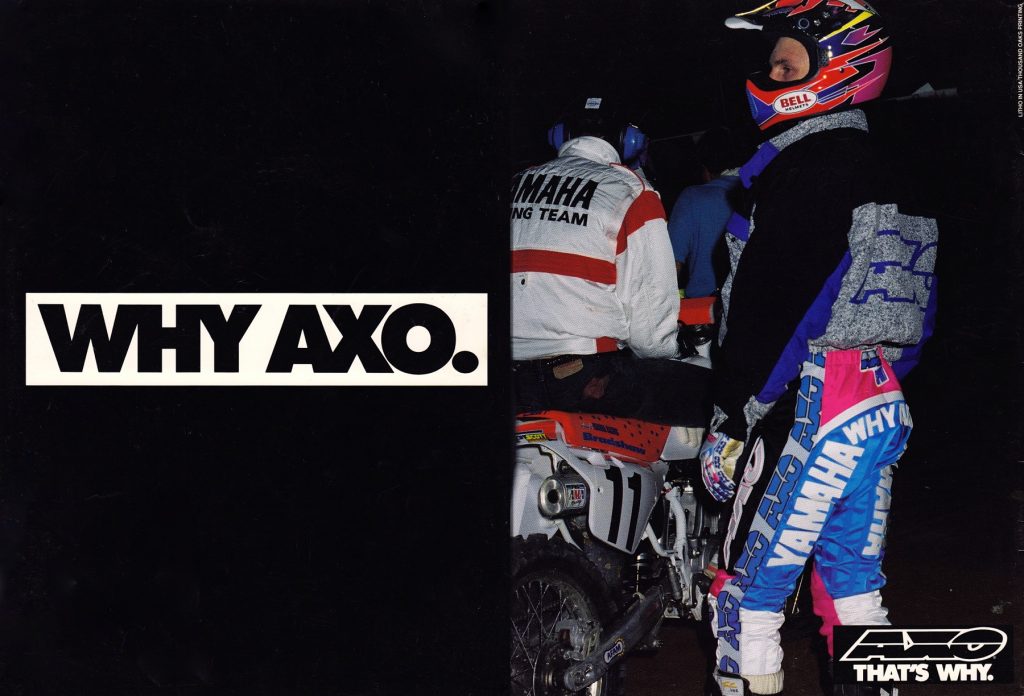 Bradshaw's move to AXO Sport was big news in 1991. Photo Credit: AXO Sport 
Blaze: Over the last fifty years of motocross in America there have been a few special parings of rider and gear that have transcended the status quo to become icons of their era. David Bailey and JT racing in the mid-eighties, Rick Johnson and Fox in the late eighties, Jeff Emig and Shift in the late nineties, Jeremy McGrath and Fox in the mid-nineties, Chad Reed and Shift in the early 2010s, and of course, Damon Bradshaw and AXO Sport in the early nineties. Some could argue that Damon was such an electric personality that we should add his early stint at Fox to this list as well. In each case, you had the combination of a charismatic rider, a brilliant design team, and a savvy promotional machine working together to make motocross marketing magic.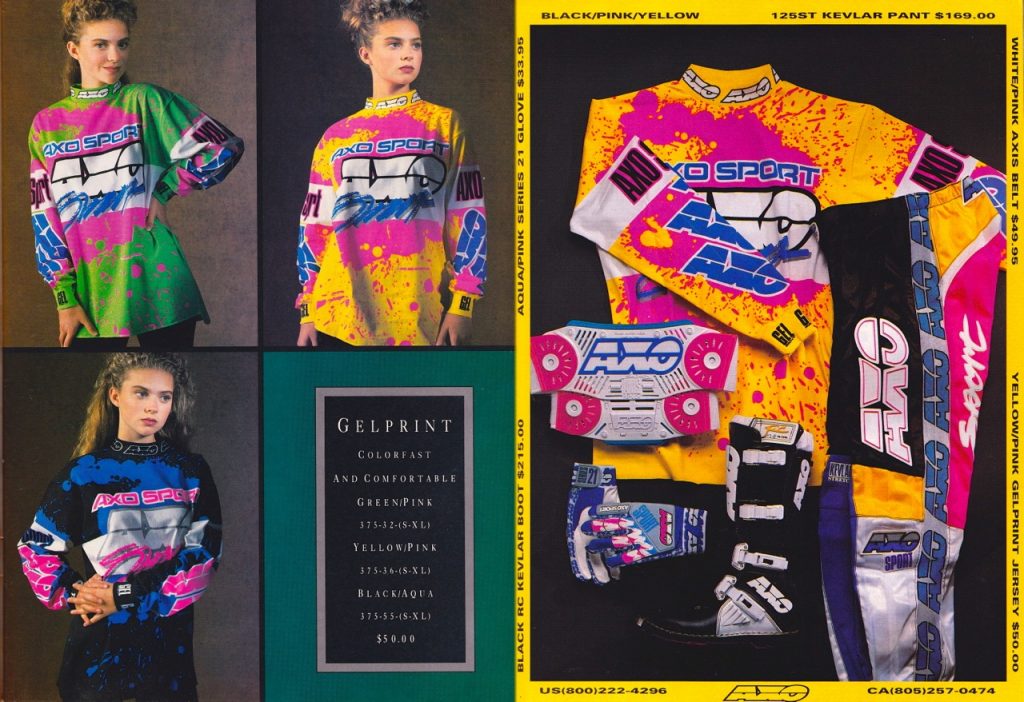 The all-new Gelprint jerseys for 1991 were a game changer at the time. These bad boys were as hot as a North Face parka, but no other jerseys had ever offered such vibrant all-over colors. Photo Credit: AXO Sport
Before Damon arrived at AXO they were already on a trajectory towards becoming one of the top brands in the sport. Under the guidance of Jim Hale, they had grown from a boot company into one of the most respected brands in the sport. AXO Sport-America offered high-quality products at a premium price that were generally aimed at the higher end of the market. Their boots, jerseys, and pants were all incredibly well-made and durable and a definite cut above much of the competition. What they lacked, however, was a marquee star to make them a must-buy to the fashion and status conscience moto masses.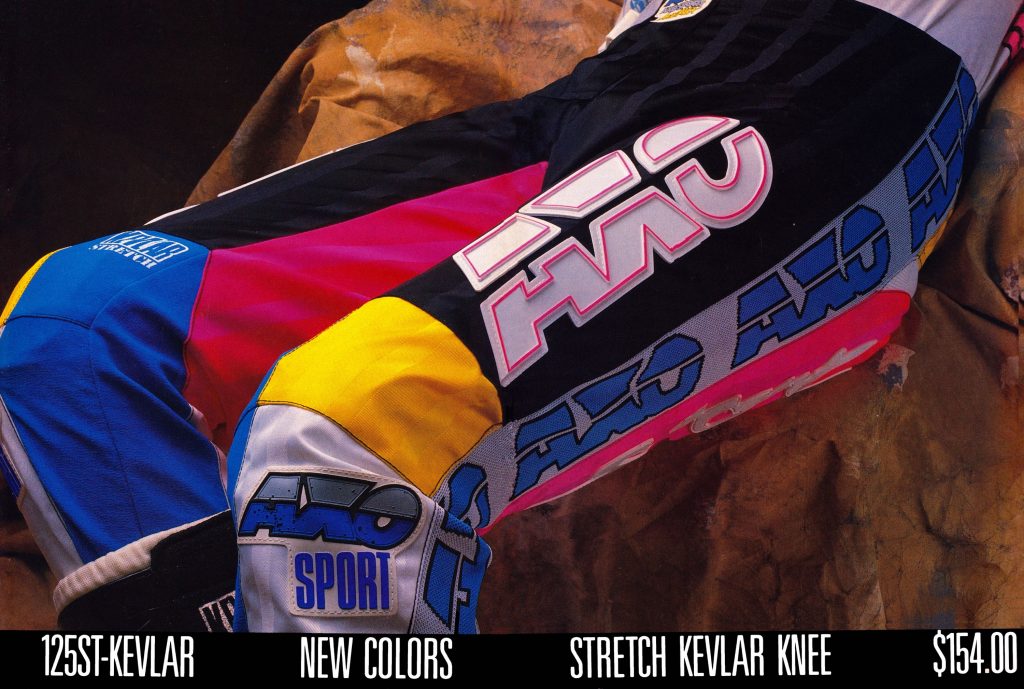 Great colors, quality materials, and stylish lines made the 125ST-Kevlar pants worth their premium price in 1991. Photo Credit: AXO Sport
In 1991, Jim Hale finally got that marquee talent in the form of Yamaha's young superstar Damon Bradshaw. After spending his entire early career at Fox, Damon made the jump to AXO and kicked off one of the greatest rider and gear pairings of all time. Damon's brash and brazen personality turned out to be the perfect match to the bold and daring new designs Hale had on tap for 1991.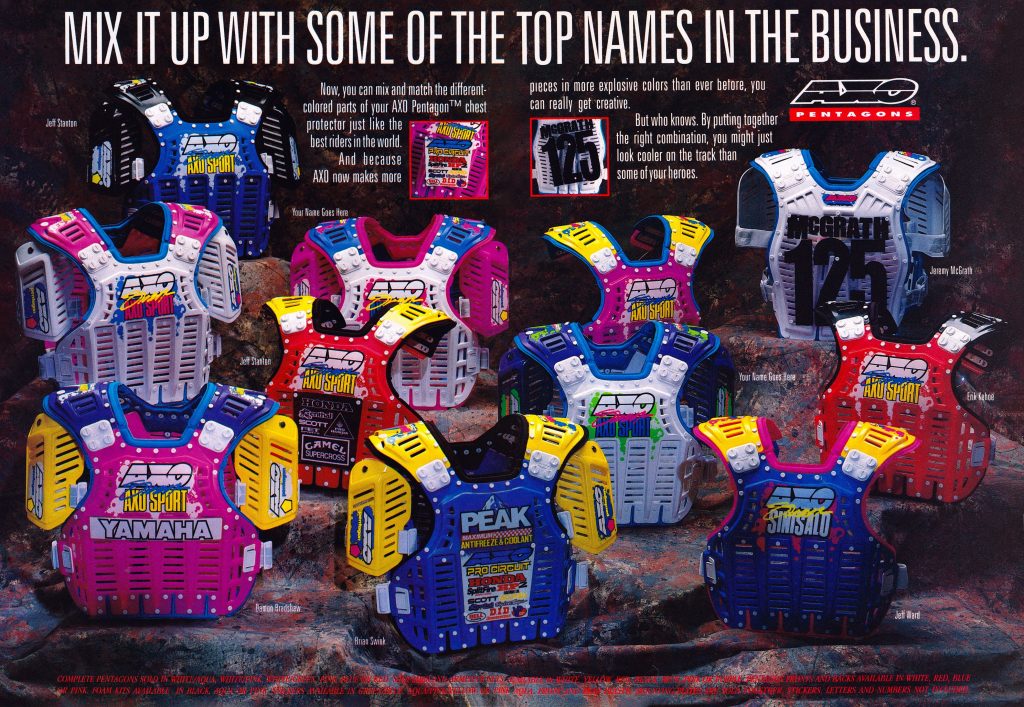 All-new colors for 1991 really brightened up the AXO Pentagon lineup. Photo Credit: AXO Sport
I still remember the first time I saw the new AXO Gel Print jerseys for 1991 at my local dealer and I could not believe how bright and vibrant they were. Even though it did not match any of my other gear I just had to have that yellow and pink jersey. Keefer would have hated me, but I was "that guy" with my old JT pants and my glorious new AXO jersey. When I saw Damon running the new Mission Control pants at High Point with my Gel Print on, I considered getting into the bank robbery business to get the $179 (that is $358 in today's money!) I would need to buy his pants. Thankfully, my better judgment prevailed, and I continued to look like a pink and yellow spode for the remainder of the year.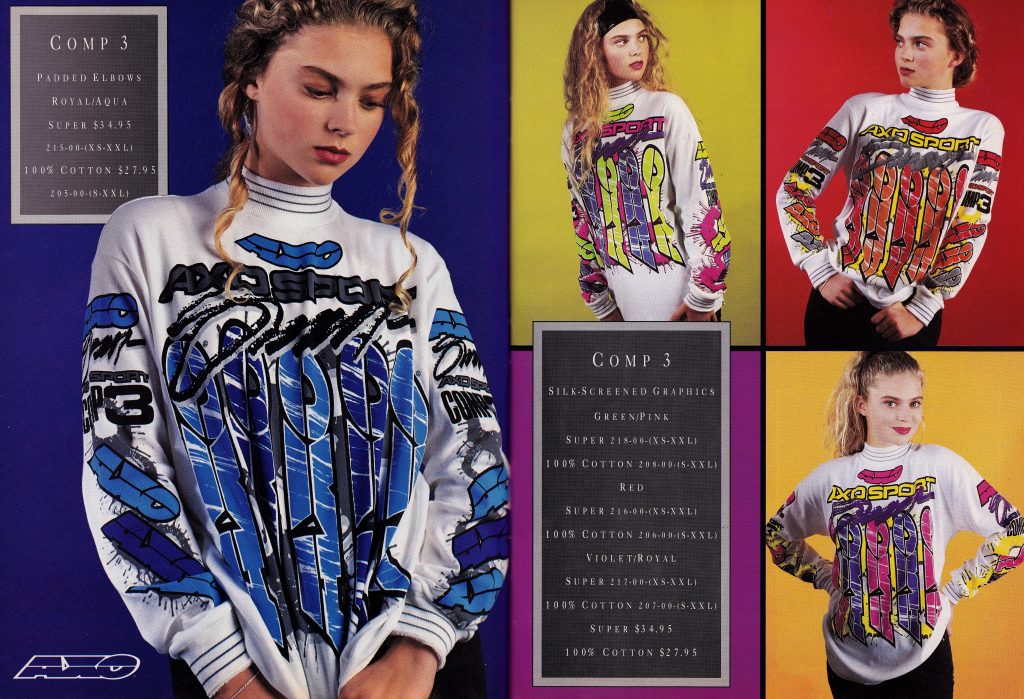 I may be alone in this, but I miss good old-fashioned cotton jerseys. That terry turtleneck collar, though, you can keep. Photo Credit: AXO Sport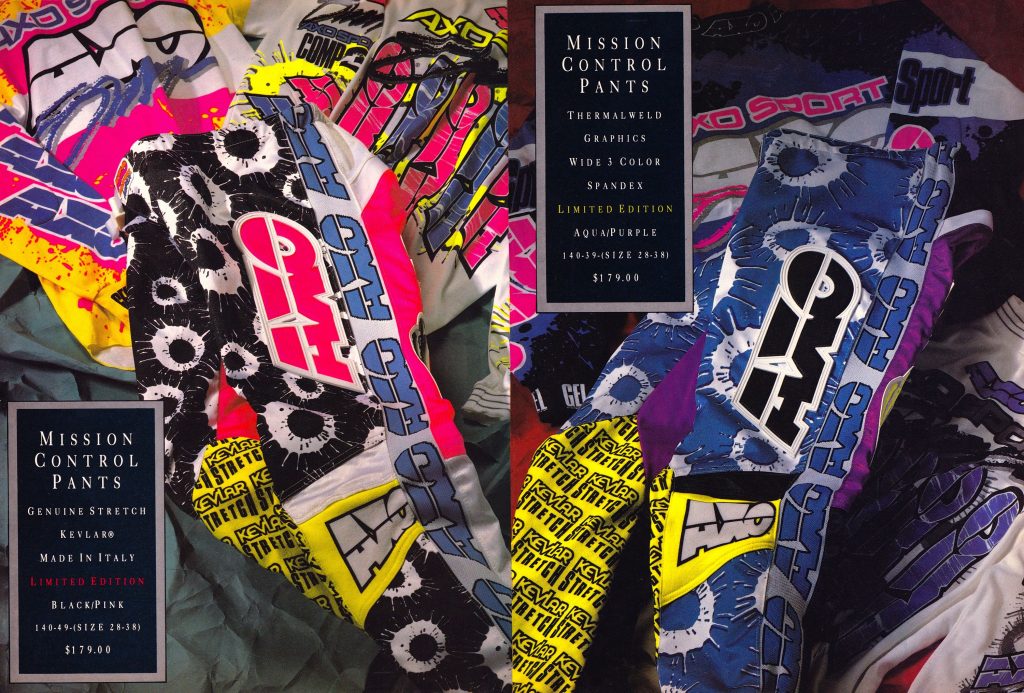 These limited-edition Mission Control pants made a strong style statement in 1991. Photo Credit: AXO Sport
While I could not afford 90% of it, I continued to lust after the entire AXO lineup in 1991. All of the Gel Print colorways looked amazing and the new 125ST Kevlar pants just sweat premium Finnish quality with their satin finish and cool pinstriped styling. New colors for the Pentagon chest protector in 1991 brought them from ho-hum to hubba-hubba and the new AXO RC Kevlar boot promised to take another chunk out of my very meager motocross budget. Add in the new Peak Pro Circuit team gear and you have one of the sweetest gear lineups ever!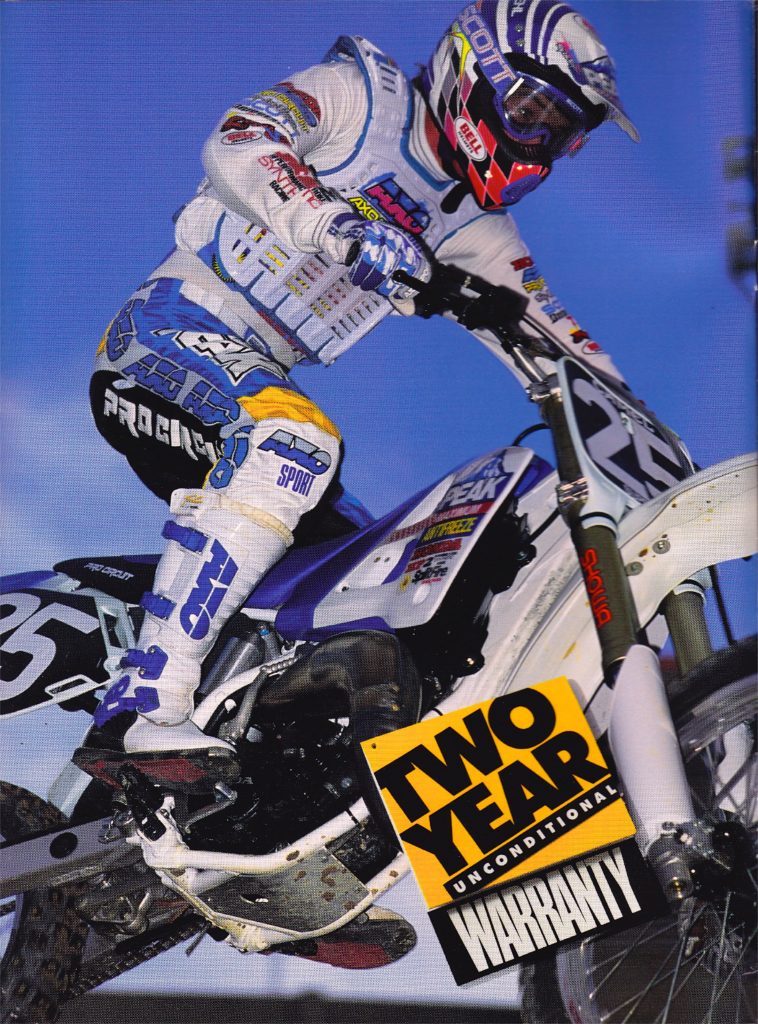 AXO Sport supplied the new Peak Honda squad with its gear in 1991. Photo Credit: AXO Sport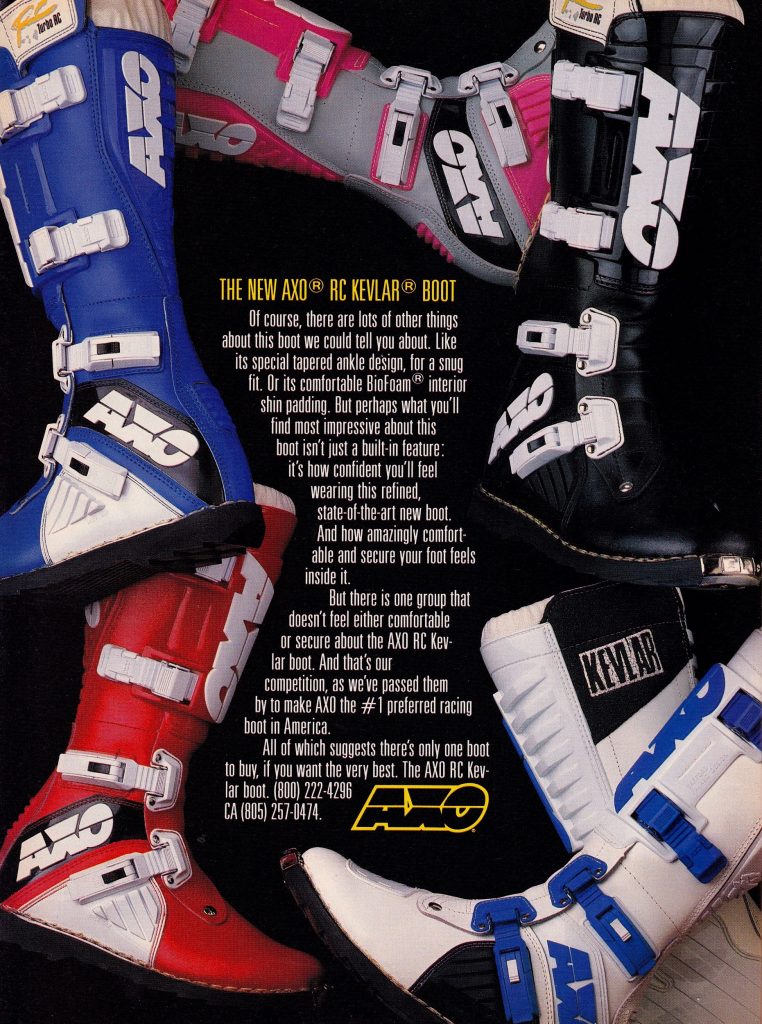 I was an AXO boot guy in the early 1990s and I loved my gray and pink RCs. These boots were not as flexible as some other competitors, but they offered a lot of support and wore like iron. Photo Credit: AXO Sport
In 1991, AXO Sport leaped from "contender" to "top dog" with an amazing combination of innovative designs and on-track bravado. Like so many others, this position at the top would be difficult to maintain, but for a few years, the Bradshaw and AXO combination would lay waste to the competition with a series of hit products that caught the imagination of kids like me. Few brands have ever burned as bright as AXO in the early nineties and that hot streak starts right here.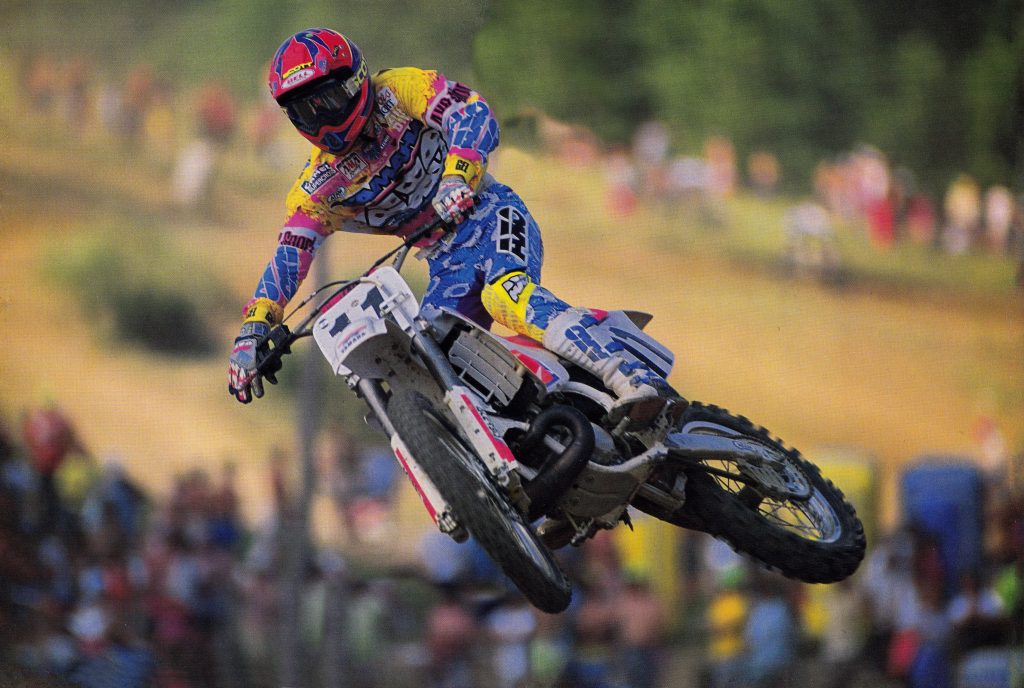 Damon and AXO were such a stylish combination in 1991. Photo Credit: Fran Kuhn.
Matthes: Love to see any photos of Blaze and his gel-print yellow jersey and JT pants! Man these jerseys were hot and heavy, that's for sure. I had the year before this stuff with a cotton jersey and I don't think the fit was much different, it was good. I always wore the AXO boots with my Sinasalo get-up and went through them rather quickly. The bullet-splatter stuff worn by Bradshaw there on the WR500 was cool as was the black SX stuff he mostly wore. The Kevlar in the knee was a game-changer for back then, that's for sure.
#5 Fox Racing 1990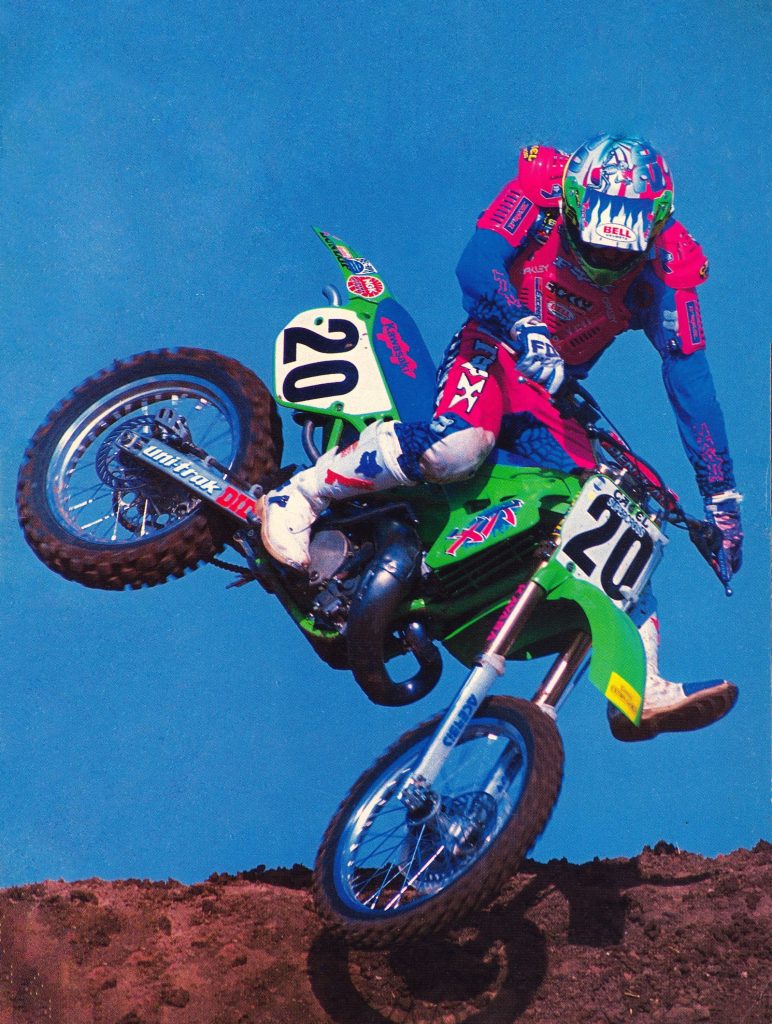 Lots of fluorescent pink was on the Fox menu for 1990 and Jeff Matiasevich put it to good use leading the Supercross championship late into the season. Photo Credit: Dirt Bike  
Blaze:  I don't think it would be possible to do any top ten gear list without including Fox Racing in 1990 somewhere on the list. This was the second year for Pete Fox's new Image Racewear and this season he opened up his repertoire to include an all-new set of colors and prints. In 1989, Fox's new Zebra print had taken the sport by storm with a stable of young up-and-coming riders. Damon Bradshaw, Jeff Matiasevich, Ronnie Tichenor, and Donny Schmit had taken the reins of the brand from Rick Johnson who had defected to JT Racing. This pack of young lions looked fantastic in Fox's new wares and set the tone for style during the '89 season.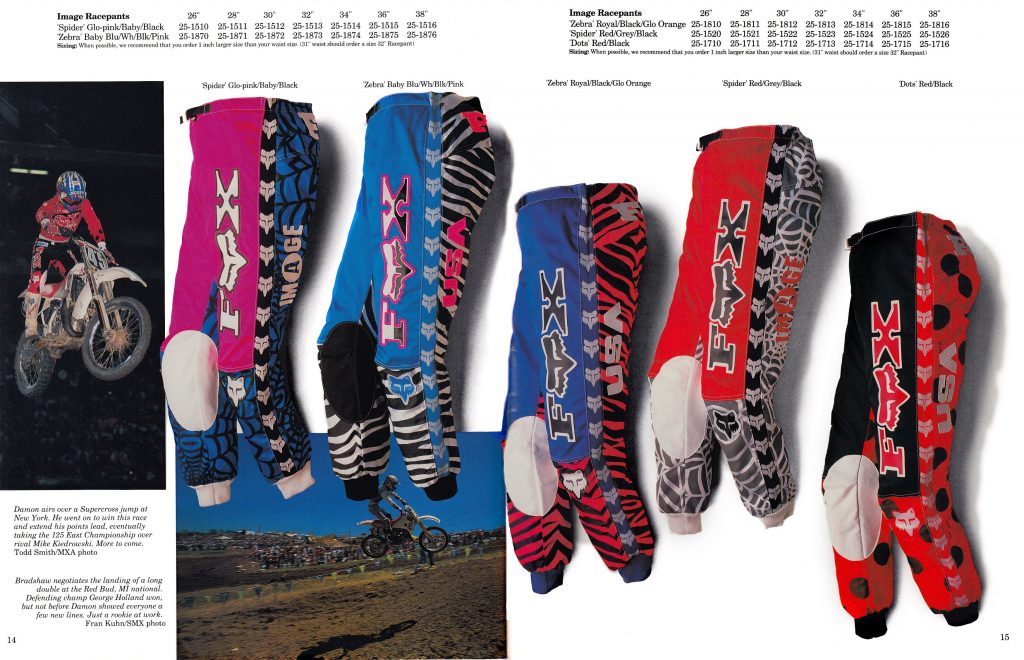 I loved the new Spider print in both versions for 1990. The classic Zebra continued to be a big seller, but I think the Dots in red was an underrated standout. Photo Credit: Fox Racing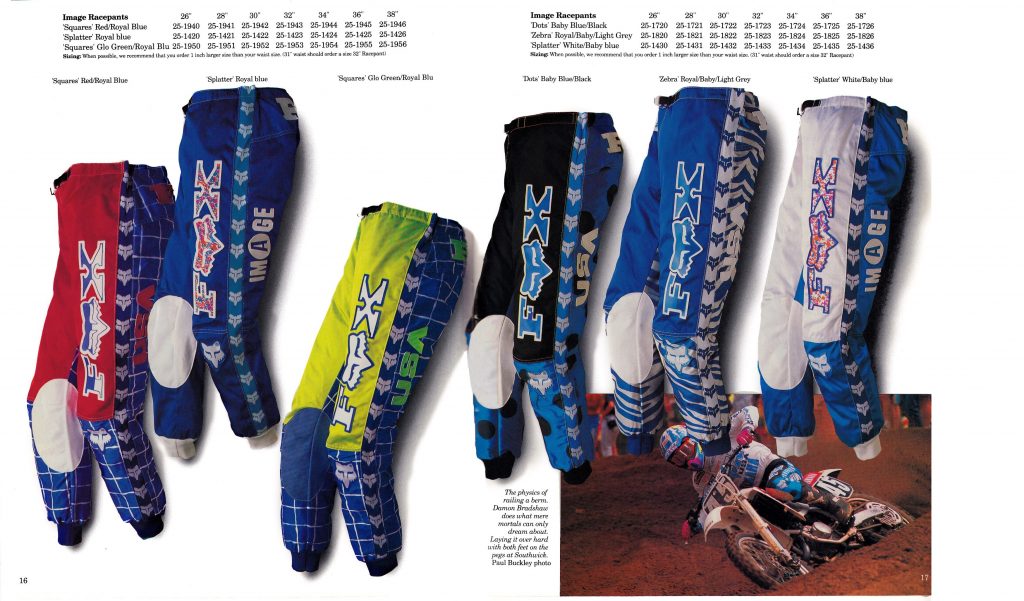 I was not a big fan of the Squares gear, but the new Splatter was a welcome addition for 1990. Photo Credit: Fox Racing 
For 1990, Fox played on that '89 success by expanding their Image lineup to include several new color and print combinations. The new Spider and Splatter designs were a perfect complement to the Zebra, Squares, and Dots of 1989. This year, we also get some great new colors like Flo Pink and Smoke Gray in the iconic Roost-2 that freshened up its looks.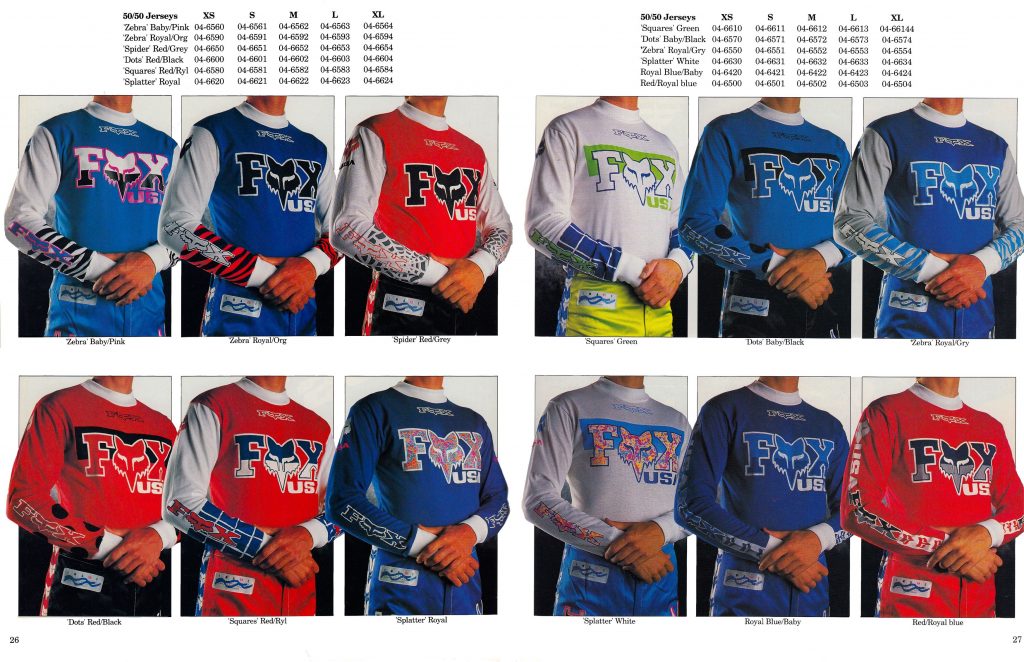 It is hard to beat that classic Fox head logo for timeless style. Photo Credit: Fox Racing
As much as I loved the Zebra of 1989, I think I like the Glo-pink/Baby/Black Spider favored by Jeff Matiasevich in 1990 even more. This gear looked so good when paired with the new pink Roost-2 and really popped against Chicken's green KX. The Splatter was another great look and I even bought a set when Fox brought it back in 2017. For 1990, Fox was smart not to mess with success and brought back the Zebra gear largely unchanged. Aside from a couple of new jersey options, it was the same superstar that everyone had bought the year before. Of all the gear for 1990, about the only one I did not love was the Squares, but even that was pretty good looking in Red/Blue.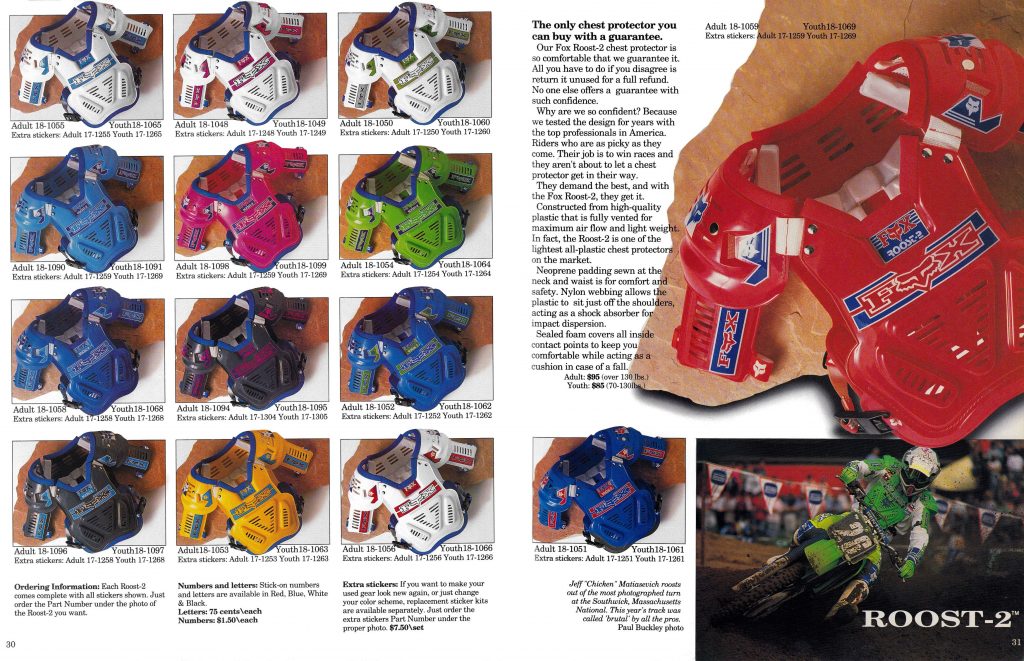 The new Flo-Pink and Gray/Pink Roost-2 colorways were great additions for 1990. Photo Credit: Fox Racing
It is no bit of hyperbole to say that this gear changed the face of the motocross gear industry moving forward. Pete Fox's innovative designs and the dynamic duo of Damon Bradshaw and Jeff Matiasevich propelled Fox Racing to the top of the gear heap in 1990. Zebra stripes, spider webs, polka dots, and splatter prints turned out to be just what America's youth was craving at the time.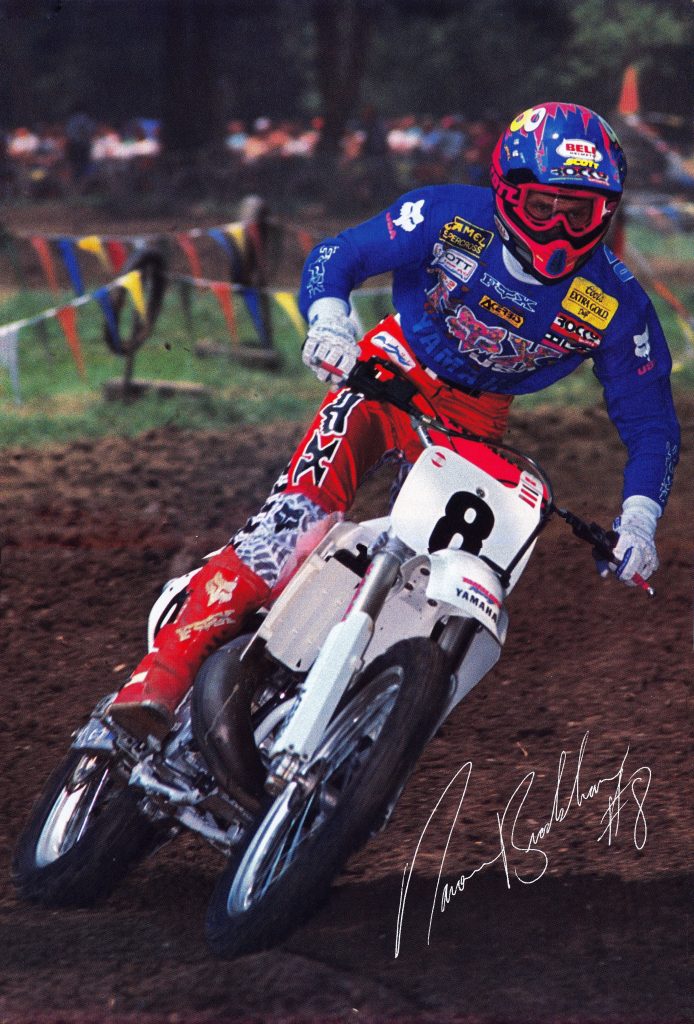 When you are Damon Bradshaw you don't even need your pants and jersey to match to look like an ultra-badass. Photo Credit: Dirt Bike 
Today, I think Fox's 1990 gear lineup holds up surprisingly well. Aside from some significant changes in material design, all of the gear looks modern and attractive. Just look at any photo of Bradshaw or Matiasevich from 1990 and I dare you to tell me they don't still look amazing. Over thirty years later, Fox's 1990 lineup still looks great, and that is something very few apparel manufacturers in any industry can say.
Matthes: It's funny, Bradshaw just was DGAF about matching sometimes this year and it still looked good like Blaze says. Also, not too many companies bring back gear from year to year but that's what Fox did with the zebra stuff with some small updates. What looked good about Fox this year was they had guys riding all the brands with it and it all looked good. My brother had the poka-dot red stuff, I had zebra and blue set, my buddy Curt had the squares on the back and everyone and anyone wore the Roost-2.
#4 Shift Racing 1997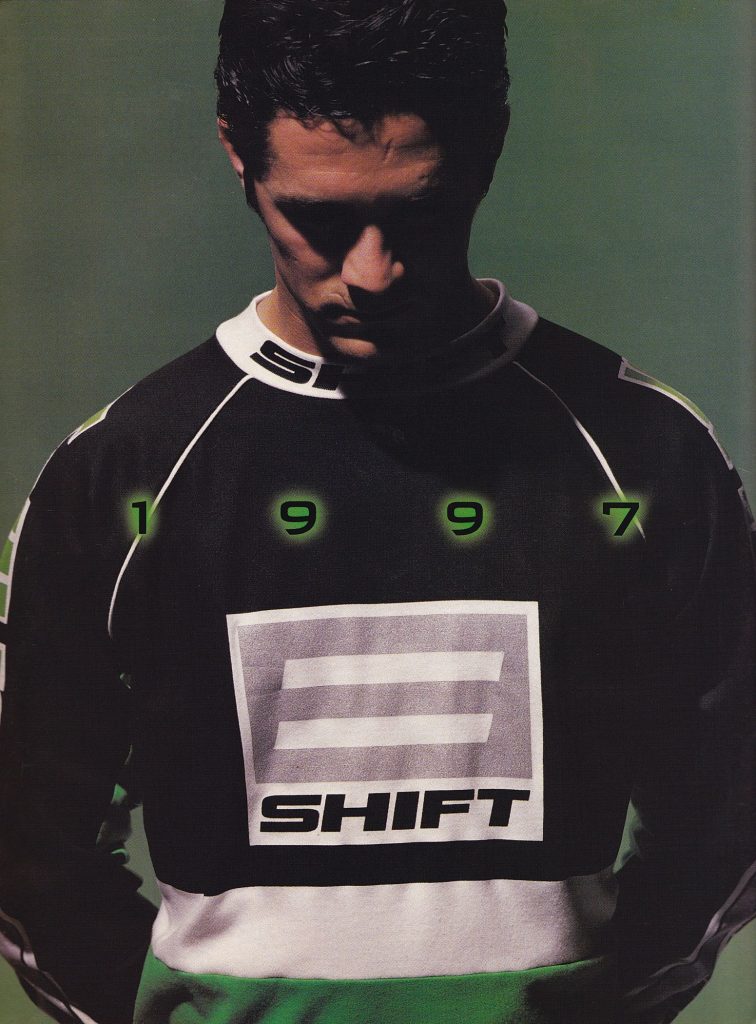 Jeff Emig's move to the newly created Shift Racing in 1997 was a perfect melding of personality and style. Photo Credit: Shift 
Blaze: Shift Racing is another one of those brands that have seen the highest of highs and the lowest of lows. Originally conceived as a way for Fox Racing to branch outside of their core motocross market, Shift came out of the gate swinging in 1997 with an irreverent image and some truly great-looking motocross gear. At the time, Jeff Emig was coming off of a rather surprising upset of Jeremy McGrath in the 1996 250 Nationals and his signing turned out to be the perfect melding of athlete and brand.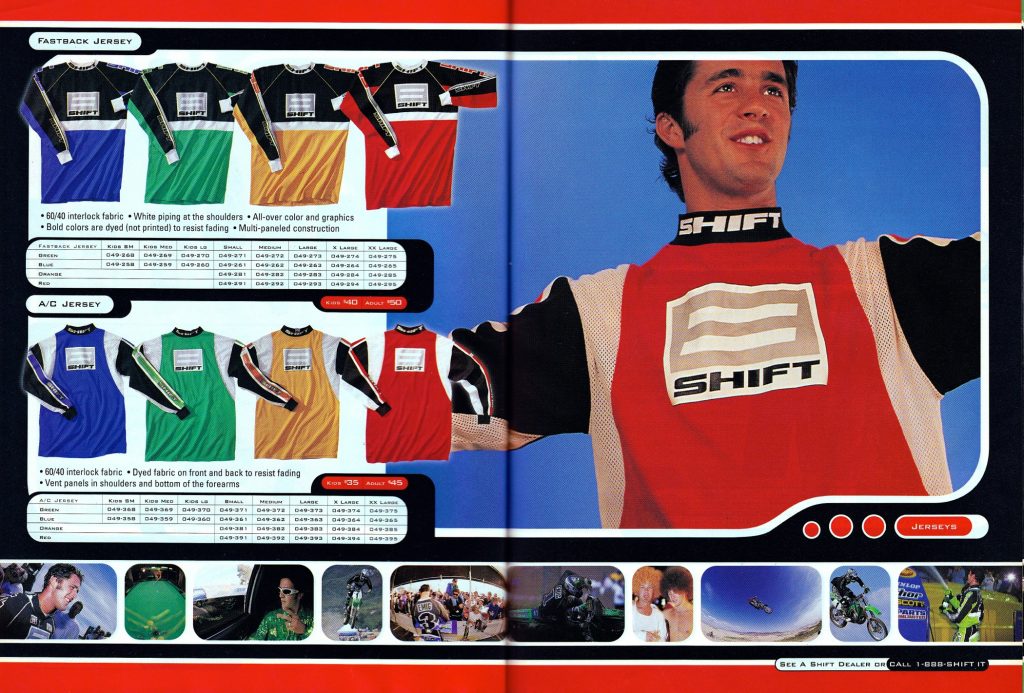 There were only four colorways in 1997 but all of them looked great. Photo Credit: Shift
Originally, Shift was going to break away from Fox with a line of baggy gear and a more "free-riding" persona, but that baggy gear craze was already starting to wain by the time Shift hit the market in 1997.  Instead, Shift's true difference was more in the lifestyle it portrayed with riders like Jeff Emig and Seth Enslow sporting gaudy gold chains and seventies-era leisure suits. With some brands, this would have come off as comical, but Emig and Enslow had the charisma and credibility to pull it off.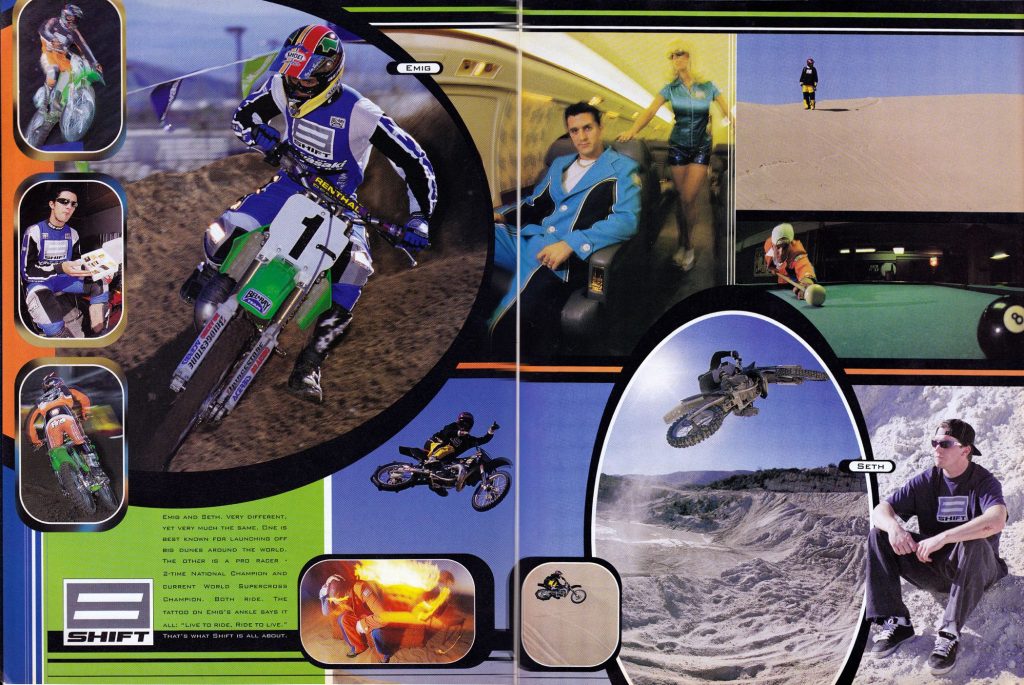 It takes a bad man to rock a leisure suit and not look like a total dork. Jeff Emig is a bad man. Photo Credit: Shift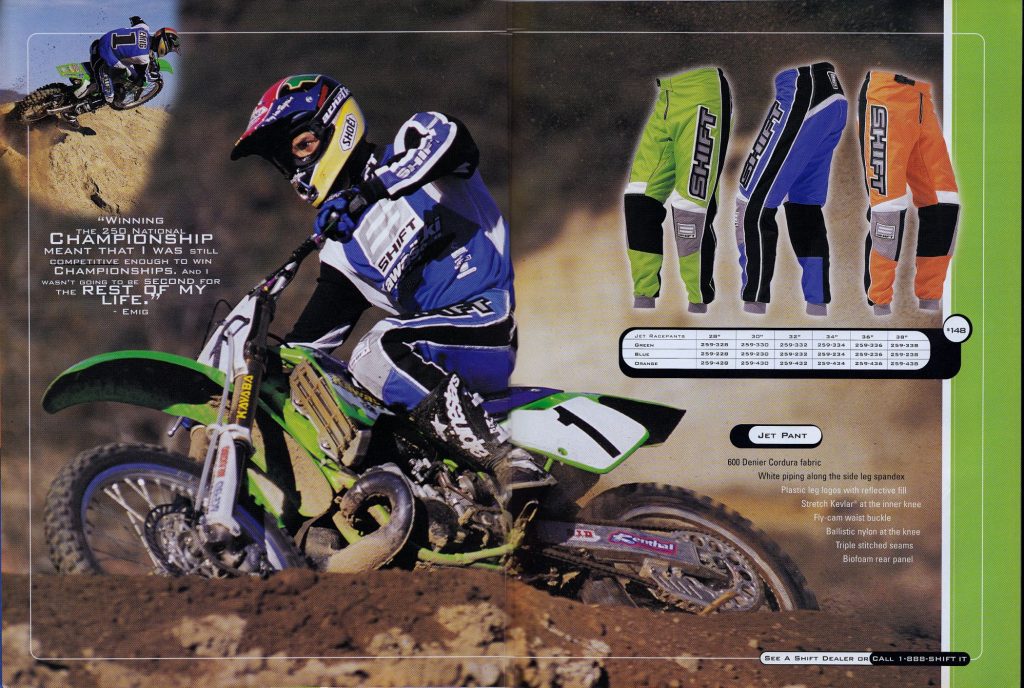 I think this first generation of Shift gear holds up so well today because it is actually pretty simple in its overall design. Photo Credit: Shift
While the Shift leisure catalog was chock full of accouterment for the modern-day rapper, its new motocross gear was all business and great looking from top to bottom. All of the designs were simple and devoid of crazy colors and busy graphics. It was simplicity made beautiful through clean lines and a careful selection of colorways. While this first-year lineup is not vast, every style and color is an absolute knockout. In 1997, Fox Racing crafted the perfect blend of personality, style, and performance with their new Shift brand and Jeff Emig. It was the right rider, at the right time, with the right gear, and that season turned out to be magic for all involved.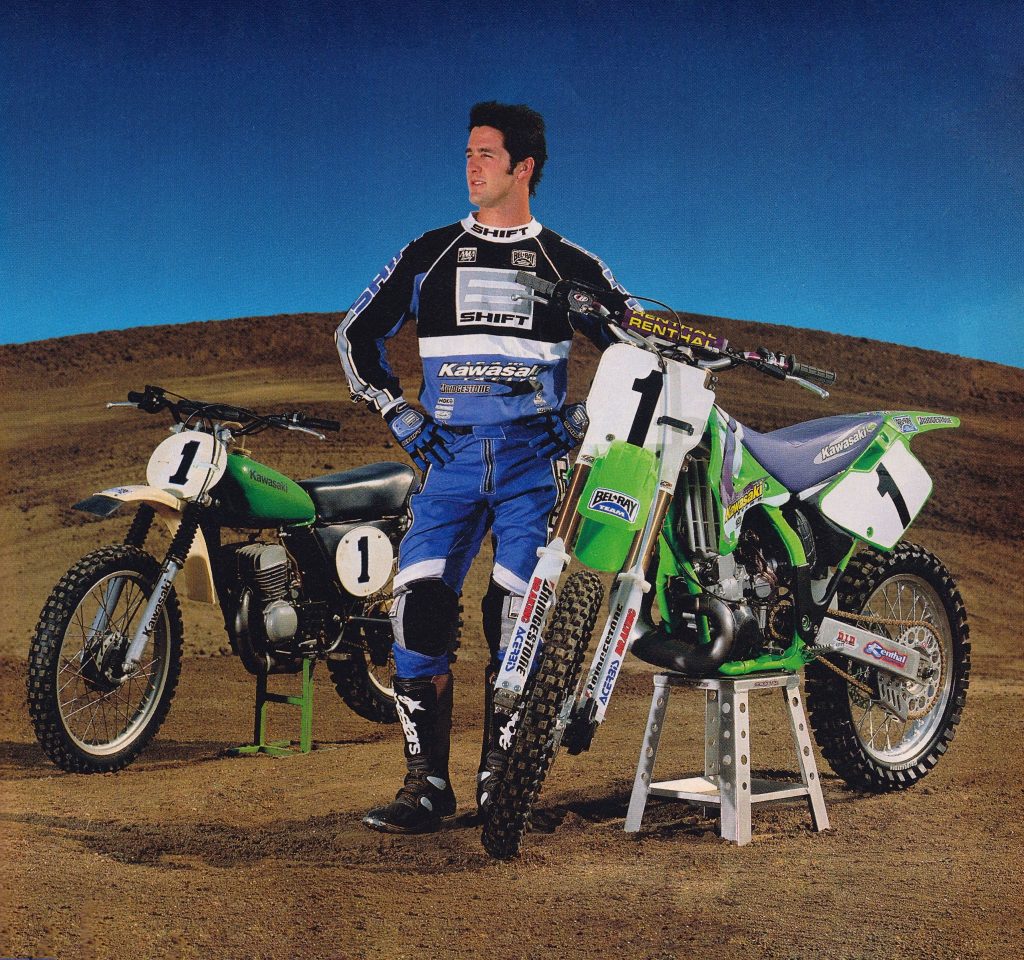 Jeff Emig and Shift were the very definitions of cool in 1997. #EmigOs Photo Credit: Bel Ray
Matthes: No Blaze, just no. Sure, Shift belongs in here but not the original line but the '98 line was WAY better. Fro with the #1 on his bike, updated a bit with sharper colors and straight lines. The '98 stuff was head and shoulders better than this year IMO. See the photo below for the '98 look and tell me I'm wrong Blaze.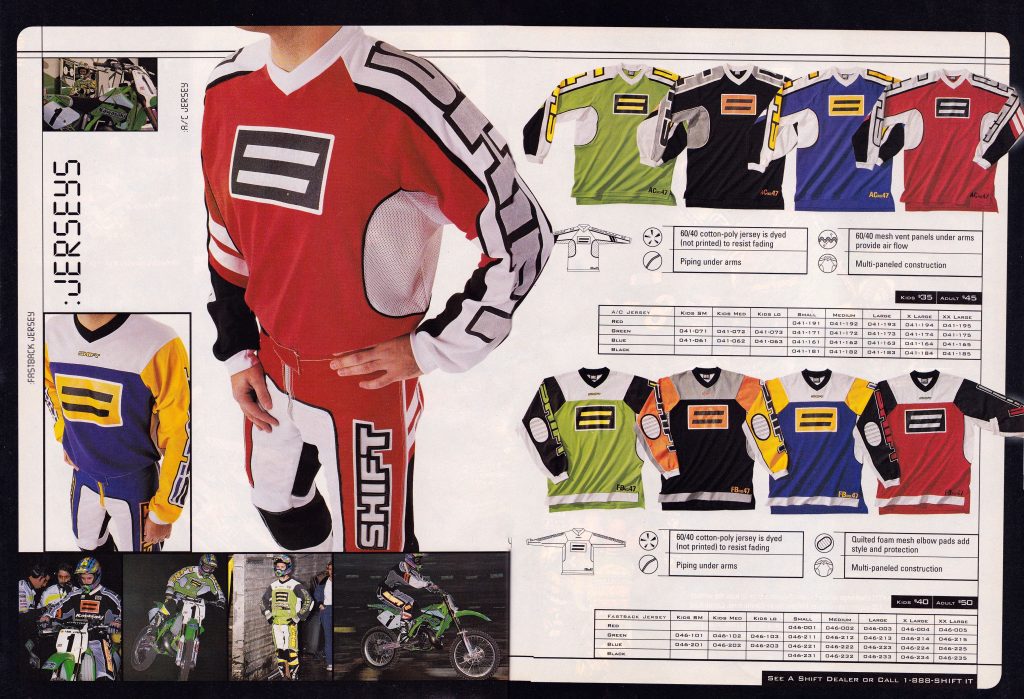 Blaze: You are wrong Matthes. While I do like this 1998 version of Shift, it is not better than the cleaner 1997 gear IMO. 
#3 No Fear 2000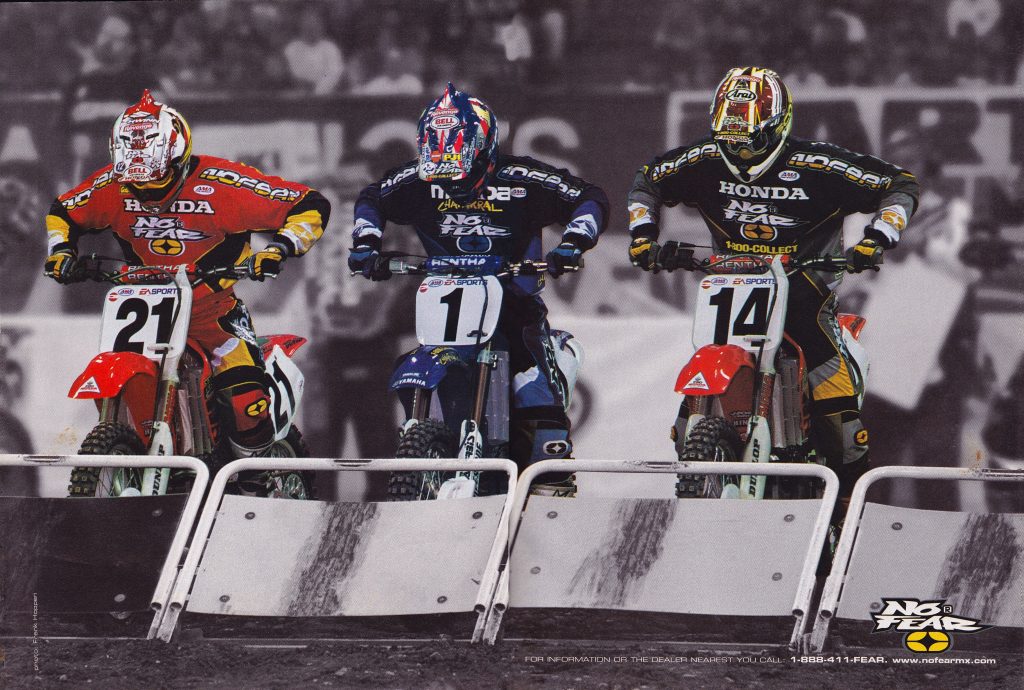 No Fear had a murderer's row of superstars in their stable in 2000. Photo Credit: No Fear 
Blaze: No Fear is one of those brands that was everywhere in the 1990s. Nearly all of us had some sort of No Fear hat, shirt, or sneaker in our moto arsenal during that decade. No Fear stickers in the back window of mini trucks were as ubiquitous as boob jobs in the SoCal moto lifestyle of the 90s. In a sport driven by machismo bravado, the name alone said it all.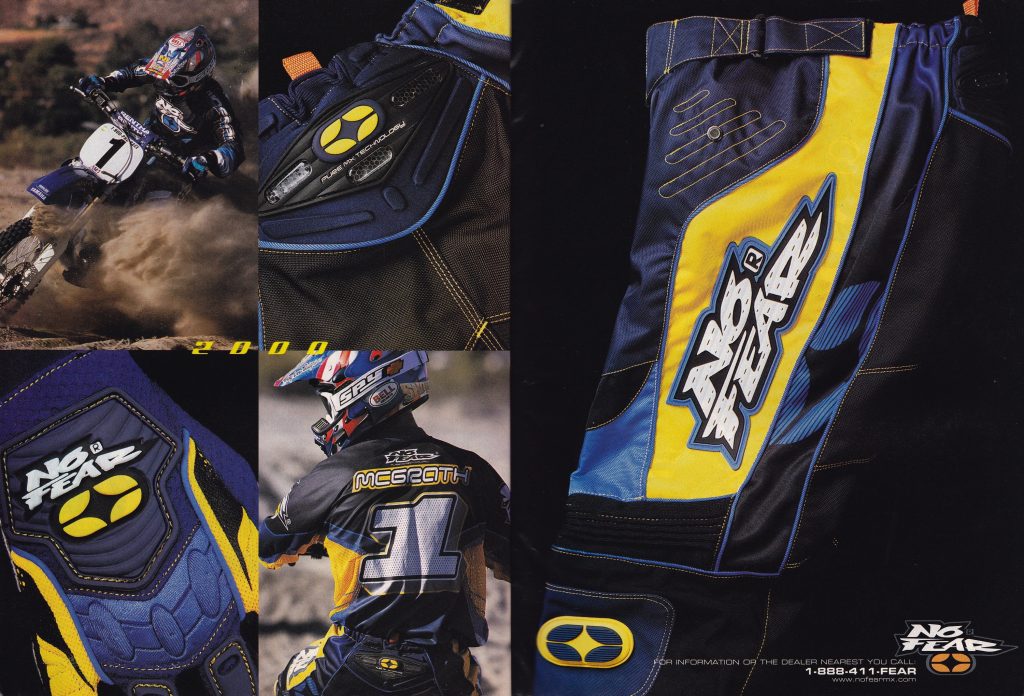 I have these pants in the Red/Yellow colorway and they still look amazing twenty years later. By modern standards they feel like they weigh 800 pounds, but I love the look and extra protection of the raised No Fear logos on the thigh and knee.  Photo Credit: No Fear 
In 1999, Jeff Surwall and Jeremy McGrath branched the brand out into motocross gear and immediately took the sport by storm. That season the newly created No Fear Motocross had the reigning Supercross champion McGrath, French sensation Sebastian Tortelli, and his Honda teammate Kevin Windham in their gear. It was an all-star cast that helped the brand take off like a Saturn V rocket headed for the moon. Overnight, No Fear was everywhere and while I did not personally love the look of the '99 No Fear gear, there was no denying it was a hit.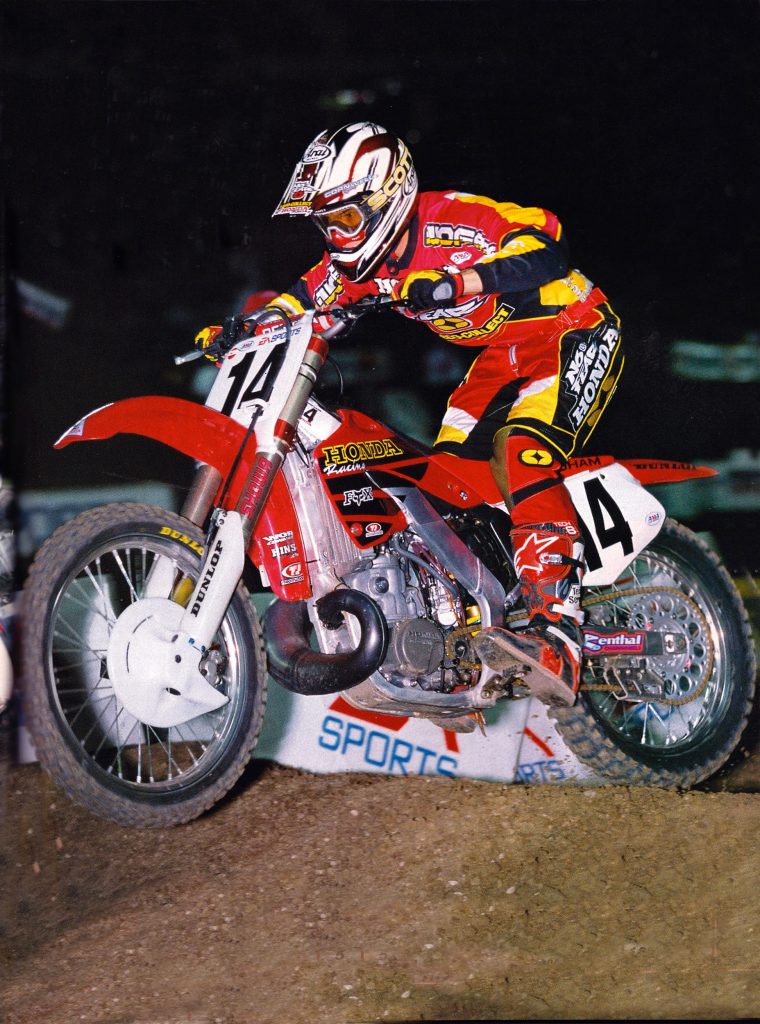 This Red/Yellow Elektron gear is one of my favorite "kits" ever.  Photo Credit: Motocross Action 
For me, No Fear did not hit its stride until year number two in 2000. That season, they added rookie sensation Travis Pastrana to the ranks and launched an absolute murderer's row of amazing products. The redesigned Elektron gear was drop-dead gorgeous and looked fabulous in every color. I just had to have a set and bought the Fire Red/Yellow combination that Pastrana seemed to favor that season. The Yellow/Blue Electron was another favorite but even normally boring colors like gray and white looked great that season. The combination of interesting lines, a great logo, and just a hint of gold accents made the normally blasé colorways pop. There was not a stinker in the bunch and that is the sign of a gear lineup that deserves to be on this list.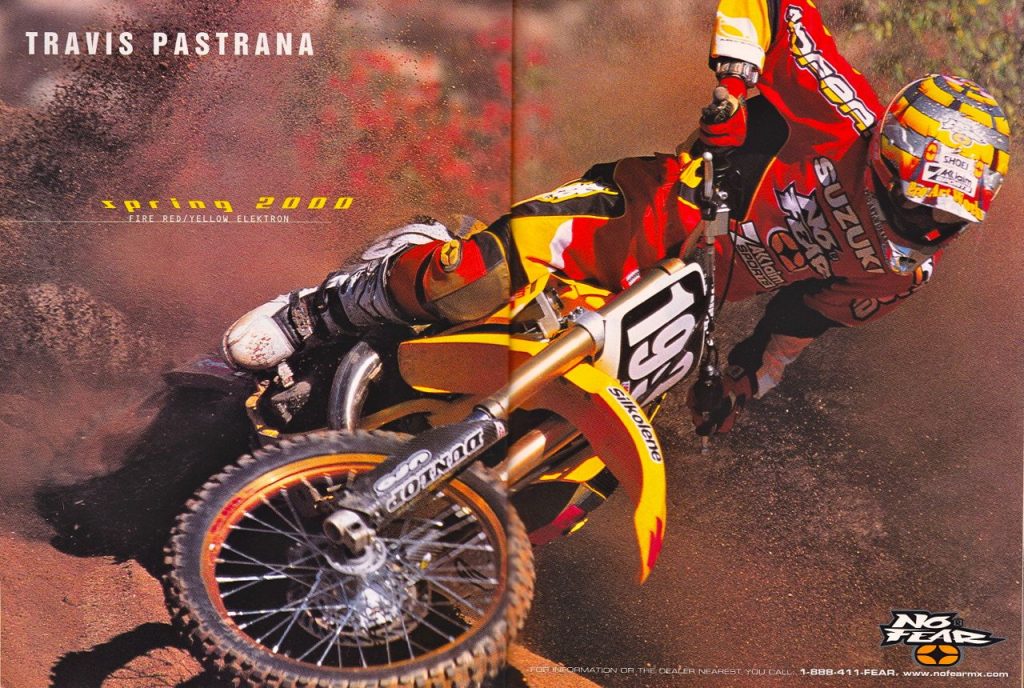 Having teenage superstar Travis Pastrana under the No Fear tent in 2000 was another major coup for the brand. Photo Credit: No Fear 
While I know many of you out there could make a case for 2001-2004, I just don't think any of No Fear's subsequent seasons were as perfect as 2000. The 2001 lineup was great, with many of the same colorways as 2000, but the lines were less interesting and the overall look less unique. Aside from a few standouts here and there, I don't think No Fear ever hit the same heights they did in their second season. Much like Shift in 1997, No Fear caught lightning in a bottle with Pastrana and McGrath in 2000 and the result was moto magic.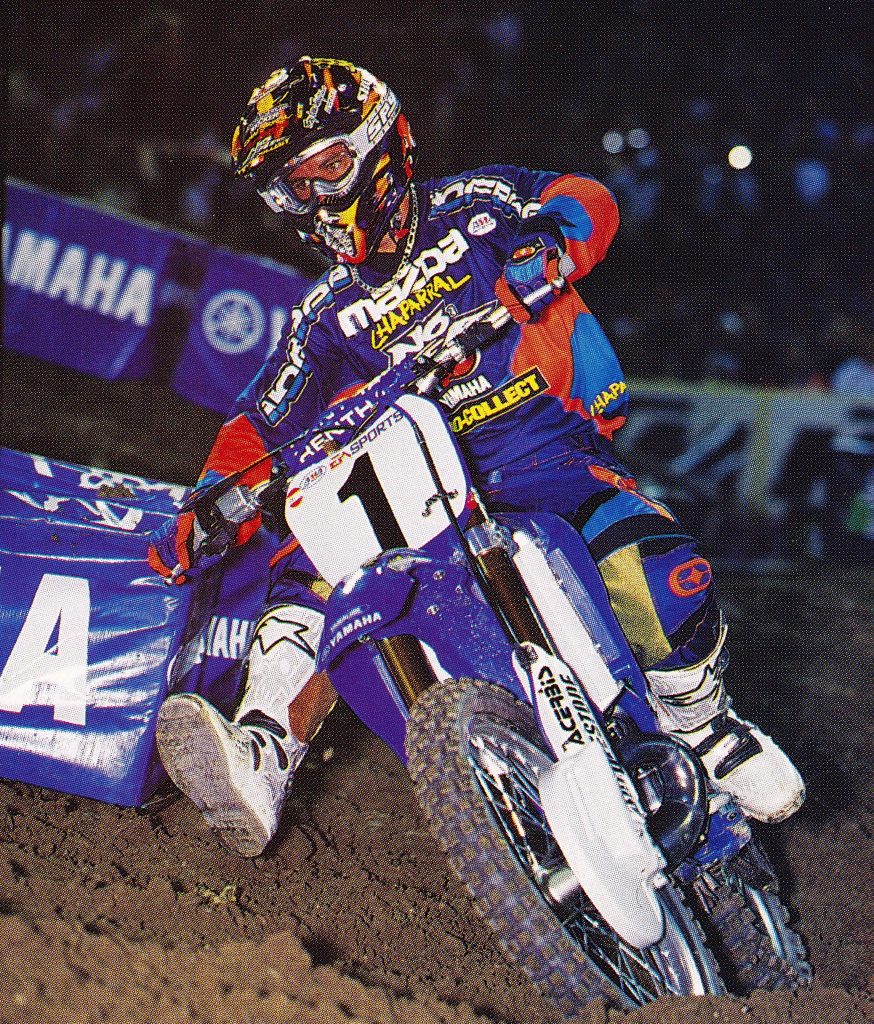 McGrath and No Fear were a lethal combination of cool in 2000. Photo Credit: Motocross Action 
Matthes: Yeah, great looking stuff. Blaze doesn't even have a photo of the McGrath white/blue look from this year that was fire. They really came out of the gate swinging with money spent on riders and the stuff, designed by a French guy, was amazing. It didn't get much cooler than this stuff and I would also say that the 2002 line of stuff with Windham/Pastrana on Suzuki would be really close to this.
#2 Fox Racing 1986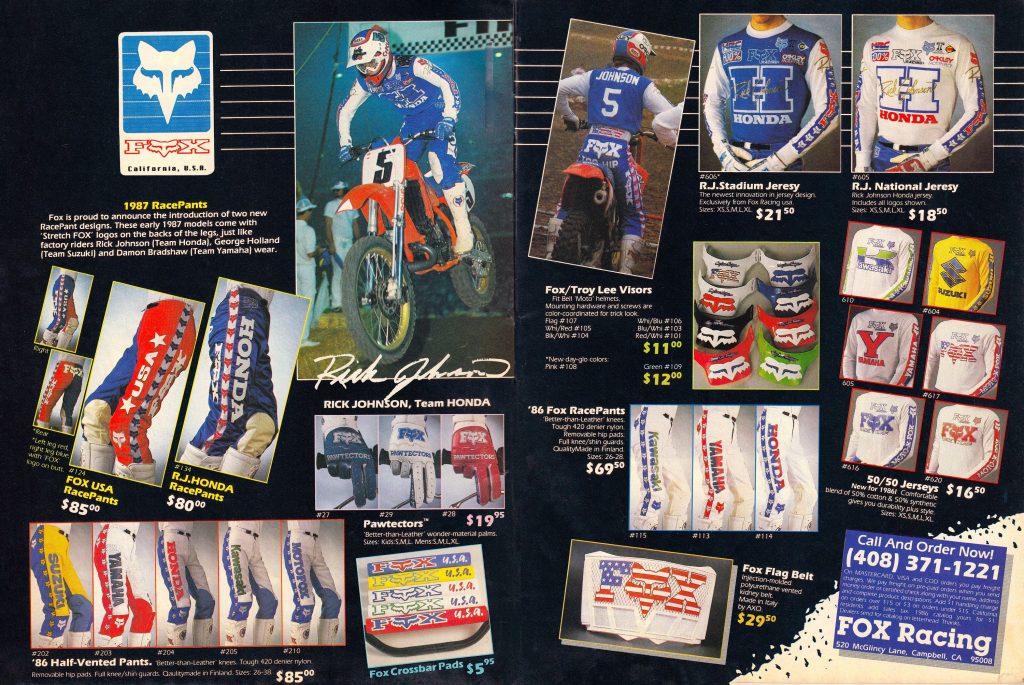 Fox Racing blasted the motocross industry with a double-barrel shot of badassery in 1986.
Blaze: As significant as 1989 was for the Fox Racing brand, I believe it still pales in comparison to the momentous year of 1986. Perhaps not in terms of overall sales (I believe the '89 Zebra gear is still their best-selling line ever), but certainly in terms of brand identity. Before 1986, Fox Racing was successful but not particularly interesting. At the end of the 1984 season, their long association with Mark Barnett came to an end and the brand was left looking for a new marquee rider. They found that rider in Yamaha's reigning 250 Motocross champion Rick Johnson. At the time, Johnson was popular, but far from the superstar he would become a few years later. That 1985 season, Fox provided him with a signature gear line that was about as interesting as a bowl of warm tofu. In keeping with the rest of Fox's 1985 lineup, the RJ Signature line was inoffensive, unobtrusive, and highly uninspired. Everything from the boring SuperFox pants to the utterly unstylish Roost-D-Flector was aimed at the safe middle ground.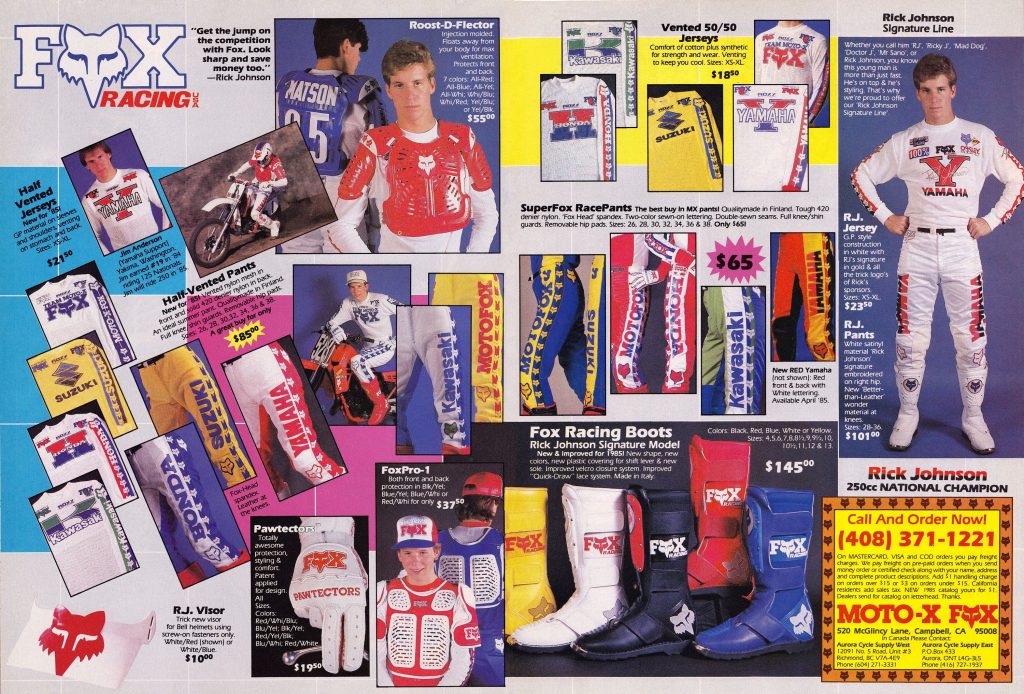 No brand in motocross has ever taken as much of a quantum leap forward in style as Fox Racing did in 1986. This 1985 lineup was about as exciting as watching paint dry. Photo Credit: Fox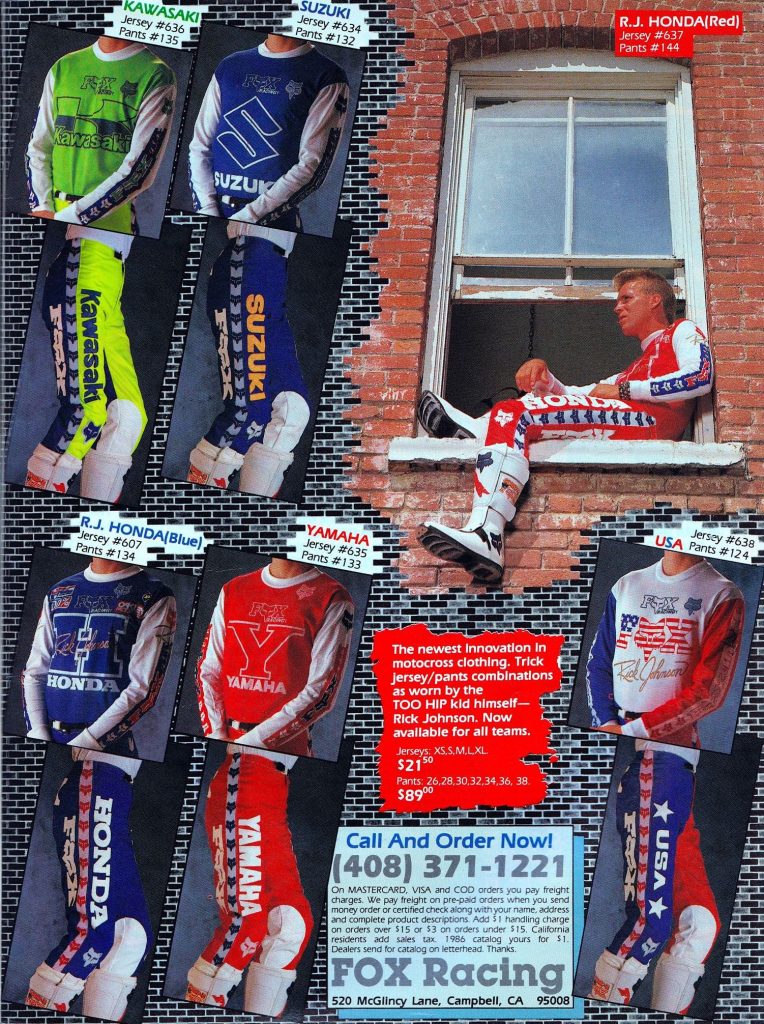 Pete Fox and RJ were on fire in 1986 with great-looking gear and fantastic marketing. Photo Credit: Fox Racing 
In 1986, all of that changed with a transformation of the brand that can only be described as miraculous. Everything from the look of the gear to the tone of the ads, to the marketing of their riders was completely overhauled this season. This is the year that a very young Pete Fox began to take the creative reins and his influence shows in every photo, product, and ad. This season brought us so many iconic Fox products. The beautiful and functional Roost-2 chest protector (still my all-time favorite and 800% cooler than the lame Roost-D-Flector), the AXO-clone but still super cool plastic Fox Flag Belt, the ultra-comfortable and dead sexy Comp-2 boots, the all-new Stadium Jersey, and the redesigned and much better-looking Fox Racepants. All of it was a quantum leap forward from the dull and drab look of 1985.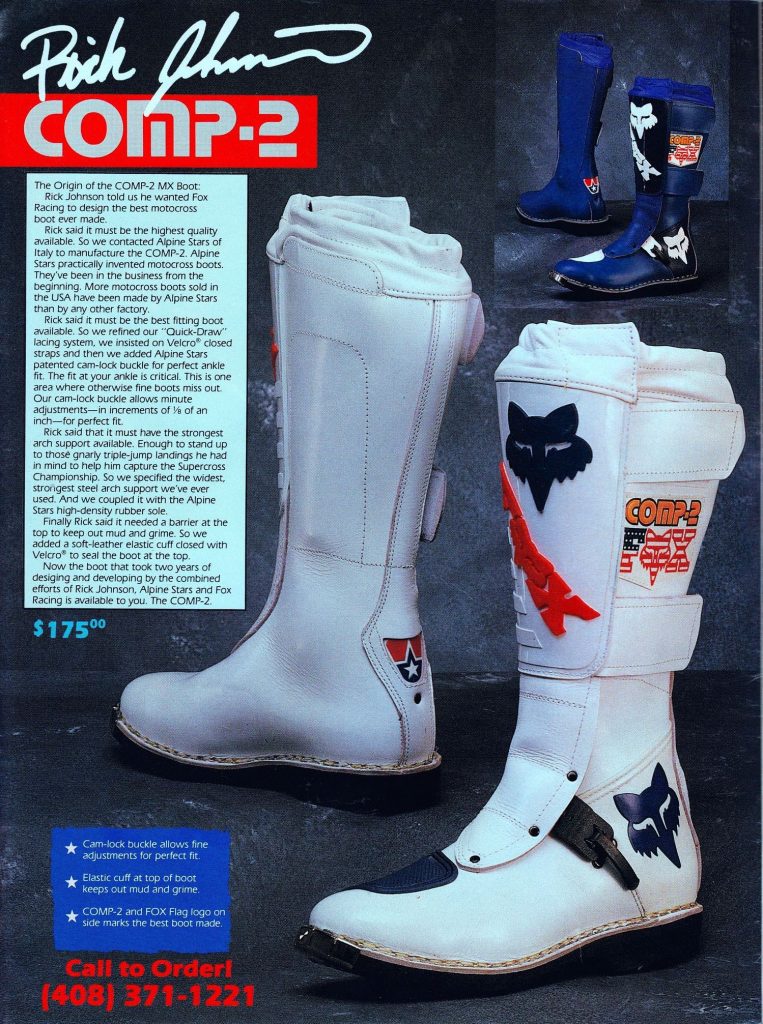 These all-new Comp-2 boots were completely out of my budget at the time, but good lord did I ever want a set. Photo Credit: Fox Racing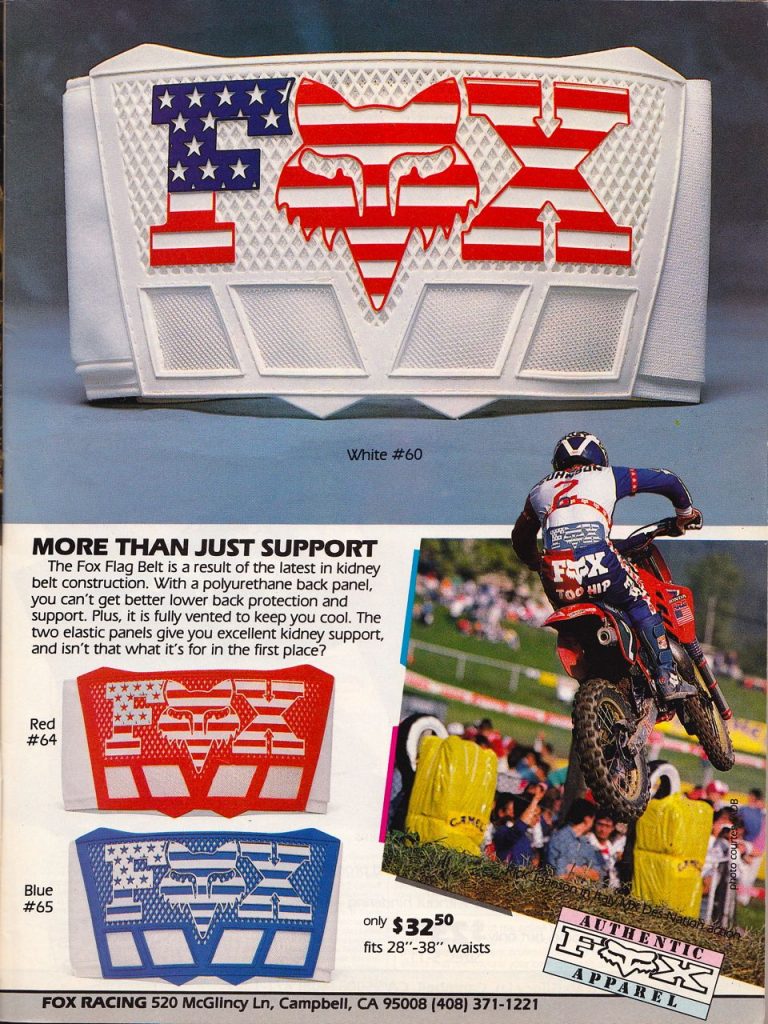 Kidney belts have gone the way of the dodo (apparently no one has kidneys anymore) but in 1986 the new Fox Flag Belt was the seriously hot stuff. Photo Credit: Fox Racing
So much of this gear looks fantastic still to this day. The USGP gear with its matching red and blue legs and sleeves is no less attractive than it was when RJ wore it to victory at Carlsbad that summer. The new '86 Racepants are all so much cleaner and less fussy than the 1985 design and I love all of the colors despite their lack of neon. The all-white USA Flag gear was probably not the best choice for a racer without a Surf detergent sponsorship, but hot damn was it absolute fire. Just look at a photo of RJ in this gear and tell me he is not the coolest man on the planet. Go ahead, I dare you.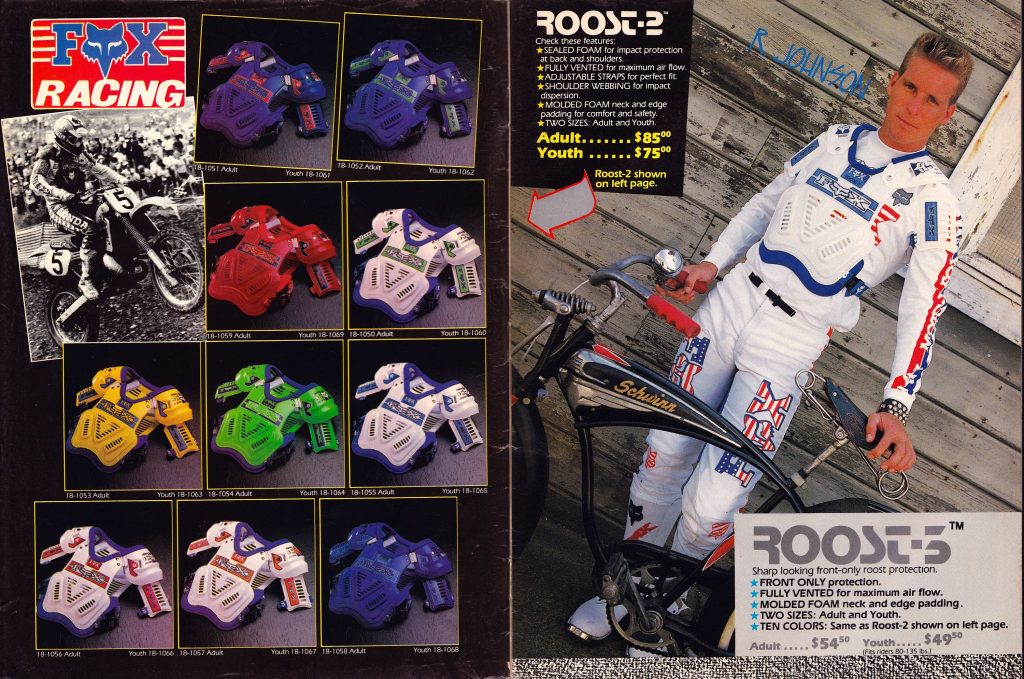 The all-new Roost-2 and Roost-3 were so much better looking than the old Roost-D-Flector that it is hard to imagine they came from the same company. Photo Credit: Fox Racing
For 1986, we also get my pick for the coolest signature line of all time with the new R.J. Honda Stadium Jerseys. In 1986, I bought the red one and holy crap did I think I was the coolest kid in my school. Thinking back, everyone at school probably thought I was a dork wearing it to class, but I did not care, I looked like the Bad Boy! All of this stuff, from the Pawtectors to the Fox Troy Lee visors was just absolute fire in 1986. Yes, 1986 is not as flashy as 1989, but this is where the foundation for that 1989 success is laid. Top to bottom, this '86 lineup is practically perfect and my pick for the second-greatest line of motocross gear ever.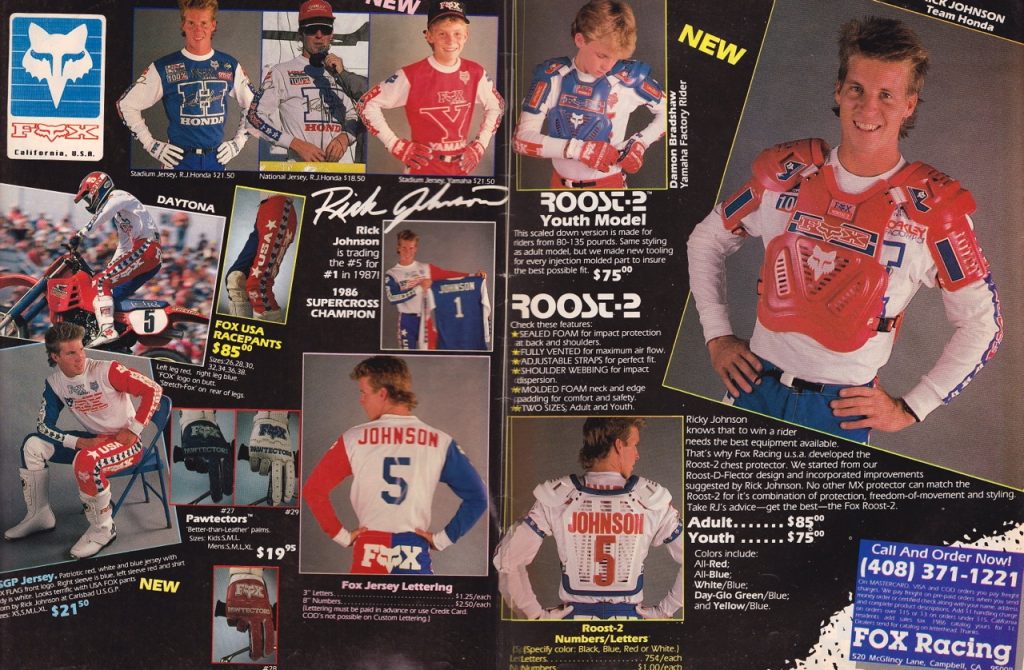 Beast Mode: A very young Damon Bradshaw makes another appearance on our list here in 1986. Coincidence? I think not. Photo Credit Fox Racing 
Matthes: Ok, first of all…this is a great choice and probably my #1 as well but I've even sent Pete Fox a text that I think the '85 line that you said "is like watching paint dry" is underrated in regard to the RJ white/black/red stuff. RJ was #1 that yea in outdoors and he looked great. Anyways, '86 is awesome, the USGP stuff blew everyone's wigs back and one red and one blue boot? I mean, c'mon. The Roost-2 is iconic. The Comp-2 (made by A Stars) was a great boot, I resoled mine and kept wearing it in 1989 and '90 also! The solid colors with white sleeves was cool, Yamaha and Kawasaki solids really popped also. RJ was also the coolest fucking rider ever so that didn't hurt. George Holland also wore it on Suzuki this season and looked great, Chicken also made the green stuff good. Pete Fox's influence on his dad's company started to show around this time and it was a game changer for the company.
#1 AXO Sport 1992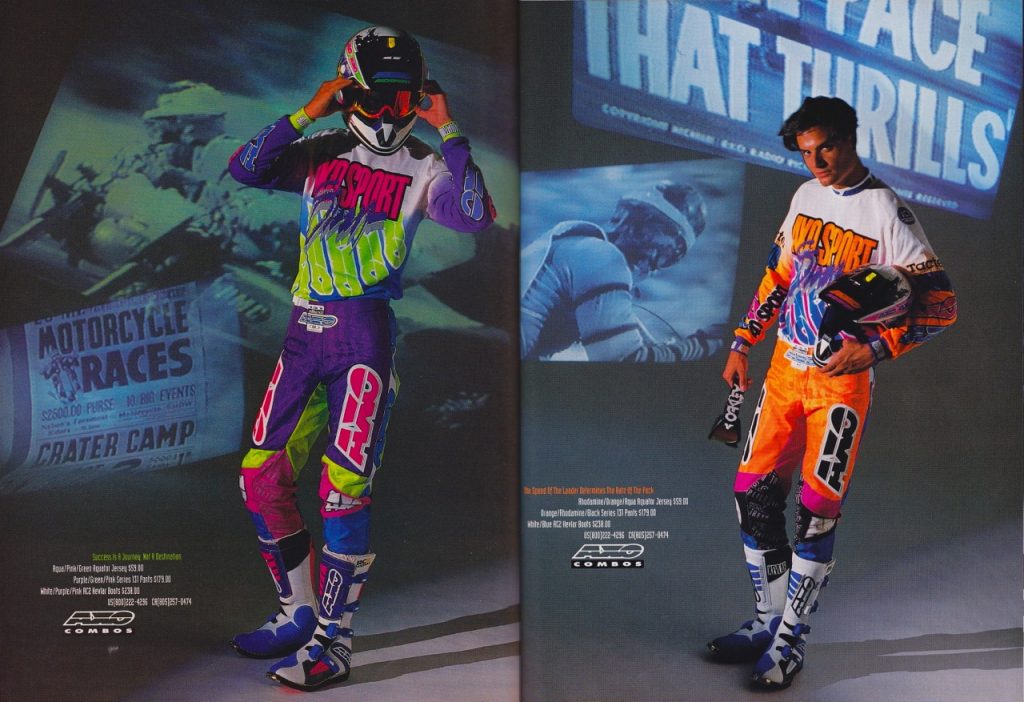 I still love this gear every bit as much now as I did in 1992. Materials and construction have improved but I don't think anyone has topped early 90s AXO Sport for style. Photo Credit: AXO Sport 
Blaze: In 1992, I was a HUGE Damon Bradshaw fan. Before Bradshaw, RJ had been my guy and with his retirement, I was all-in on the Beast from the East. At the time, I thought Stanton and Kiedrowski were about as interesting as plain toast and JMB was just not my cup of escargot. Guy Cooper was fun but coming to the end of his run and the rest of the field was just fodder for my guy to blow past on his way to victory. Today, of course, I realize that Damon was a bit of an arrogant prick, JMB was misunderstood, and Kiedrowski was underappreciated, but all of that was lost on my 22-year-old self. Back then, all I wanted to do was twist my right wrist, trade paint, and look cool just like The Beast.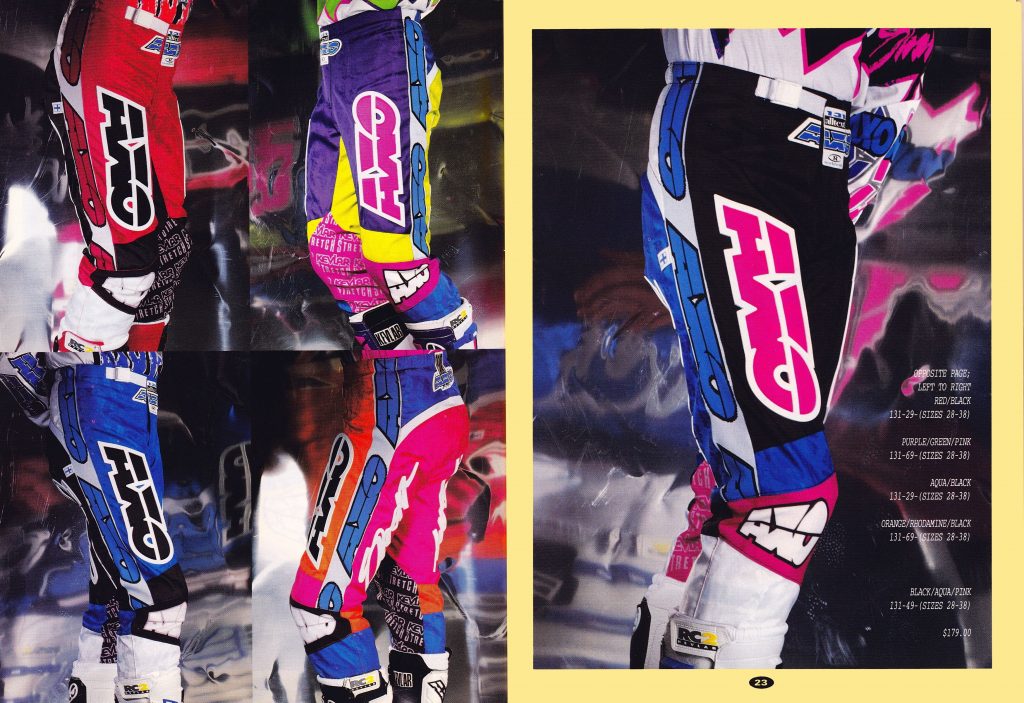 For 1992, AXO upgraded the logos to the trick Biofoam ones used on the limited-edition Mission Control pants in 1991. This change added some additional thigh protection and really made the logos pop against the pants. Photo Credit: AXO Sport 
That year, I ponied up the cash (credit actually) and bought a complete AXO setup just like Damon. I had the 131 Pants, the new Gelprint 2 Jersey, and the super-trick new Aquator Jersey all in Orange/Rhodamine. Pair that with my new AXO RC2 boots and you had quite a hole in my college student budget. Adjusted for inflation that kit cost me over $1000 and I am sure I was still paying it off long after Bradshaw had retired. Cashflow faux pas aside, I absolutely loved that gear and I have never felt as confident in my life as I did the first time I rolled up to the line at Antietam Motocross in my all-new '92 AXO gear. I did feel like Bradshaw and I just knew everyone was looking at me in my Beastly regalia. That day, I proceeded to holeshot both motos and took my first overall win on my CR250R.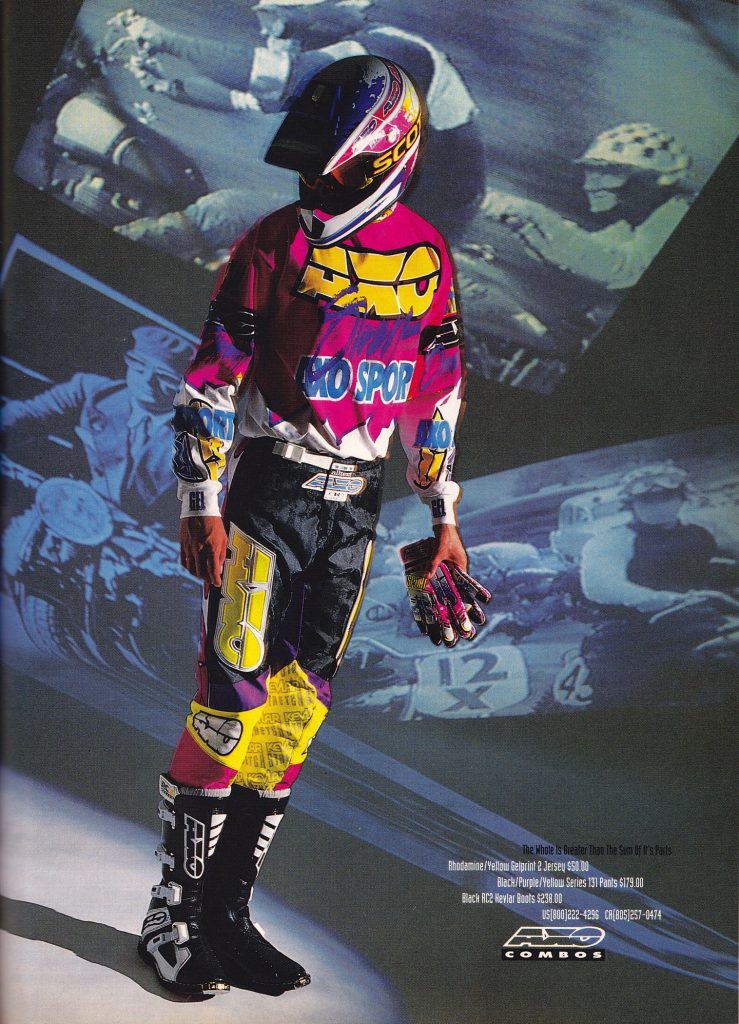 The Gelprint 2 was much more understated for 1992 but no less of a hotbox. As much as I loved the 1991 design, I believe this 1992 version was a much better look overall. Photo Credit: AXO Sport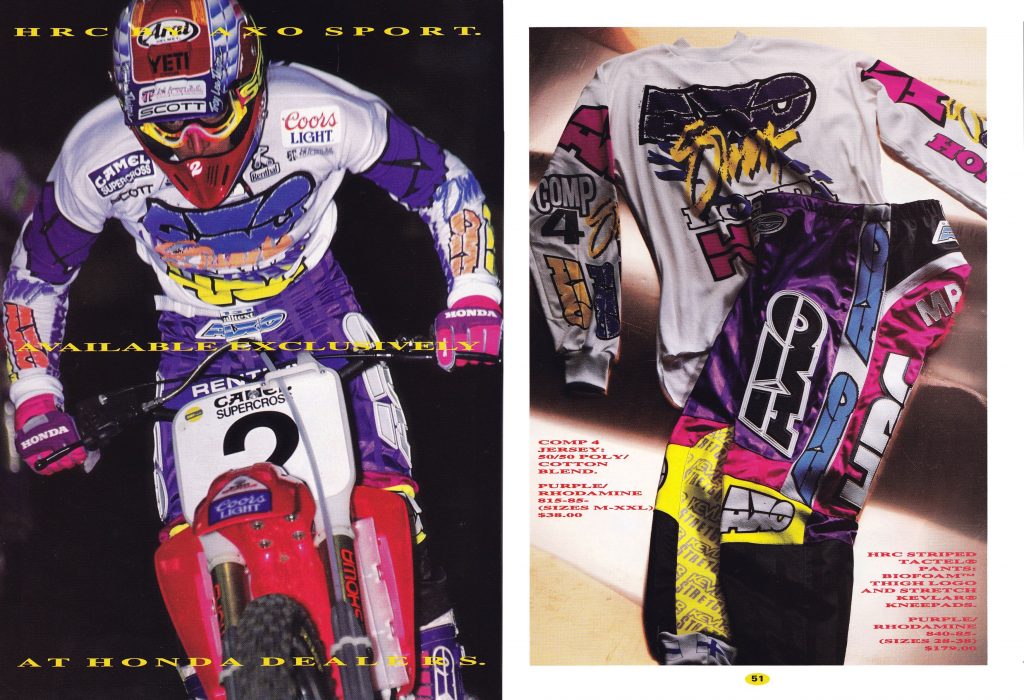 This AXO HRC gear for 1992 was some great-looking stuff. AXO offered a replica of Stanton's jersey as a T-shirt with his big number 2 on the back and I wore that thing until it was falling to pieces. Photo Credit: AXO Sport 
While I can't say I would not have won in my old JT gear that day, I do believe the confidence and bit of cockiness I felt that day contributed to my success. I remember thinking I had these guys beat before the gate even dropped and that extra bit of confidence helped me make it a reality. That is the kind of thing great gear can do and that day I just felt special.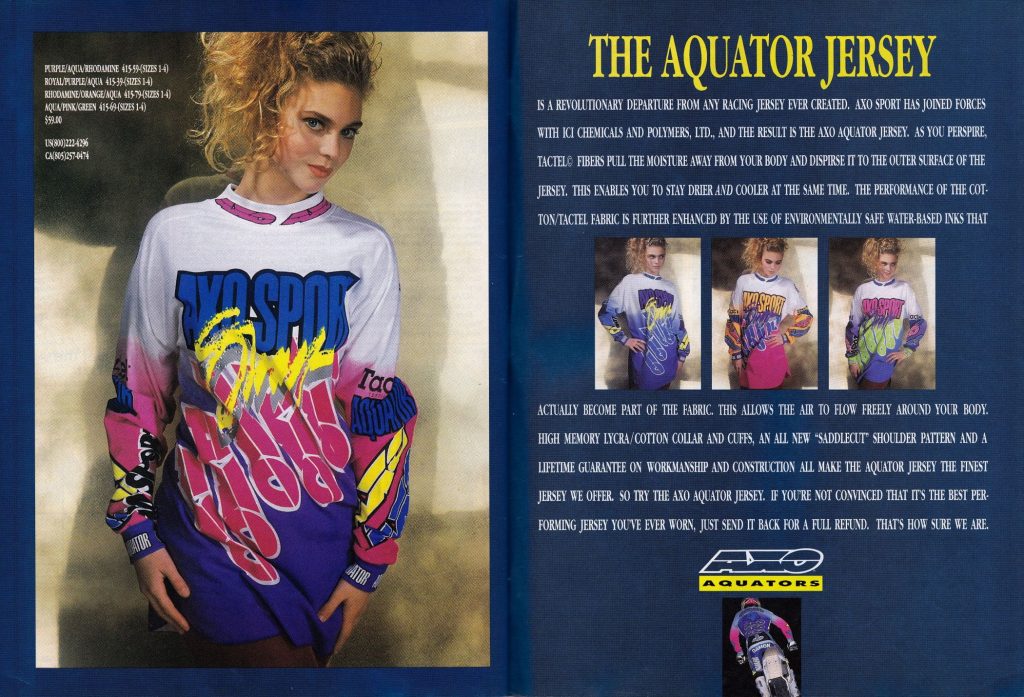 This Aquator jersey was a real breakthrough in 1992 and was the first attempt at a modern moisture-wicking jersey material. Today, the jersey's material feels a little weird and it is about three times thicker than a modern synthetic, but it still looks amazing and has not faded a bit. Photo Credit: AXO Sport
While I fully admit my love of Bradshaw and the special place this gear will always hold in my heart has probably swayed my opinion of it over the years, there is no doubt in my mind this gear deserves the number one place on my list. The entire 1992 lineup was as cool as the other side of the pillow and every colorway is crisp, clean, and attractive. While I know some might prefer the 1993 or 1994 AXO lineup, for me this 1992 lineup was just magic. The logo on the pants is less fussy and the graphics on the jerseys are cleaner across the board. The Orange/Rhodamine will always be my favorite (it still hangs in my closet to this day), but the Purple/Green/Pink is no less of a star. 
I loved all this gear back then and I still do today. In 1992, Jim Hale and his design team hit it out of the park, and this remains my favorite gear lineup of all time.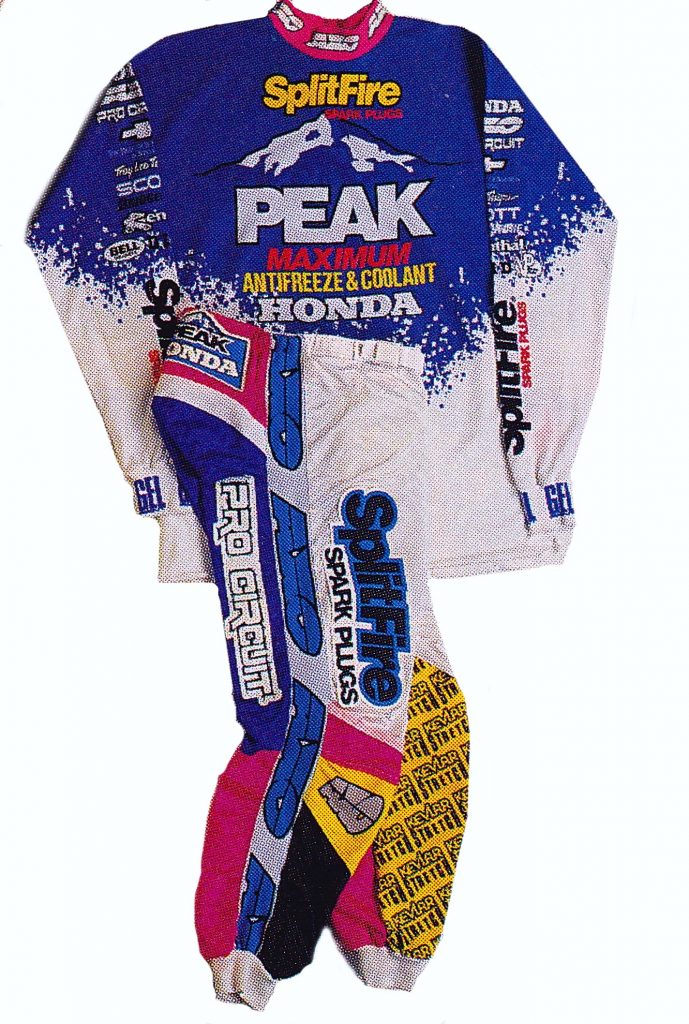 AXO's Team Peak gear was pretty sweet in 1992 as well. Photo Credit: Pro Circuit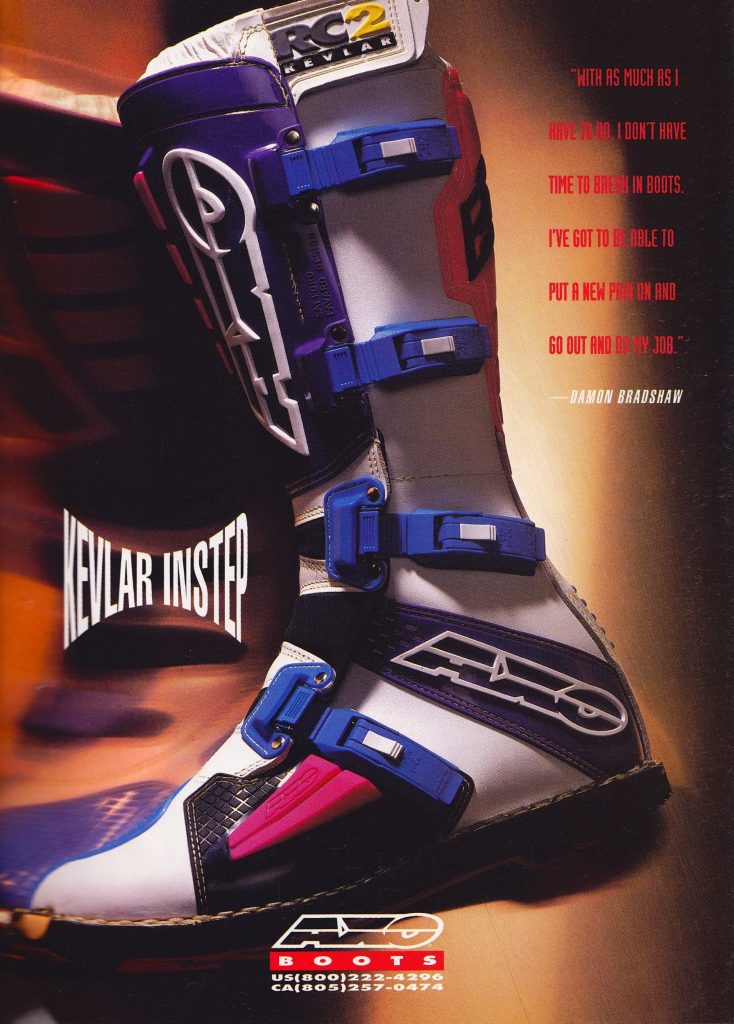 I loved these new RC2 boots in 1992 and they were a solid upgrade from my original RCs. I rocked these boots for a good five years and still have them in my garage. Photo Credit: AXO Sport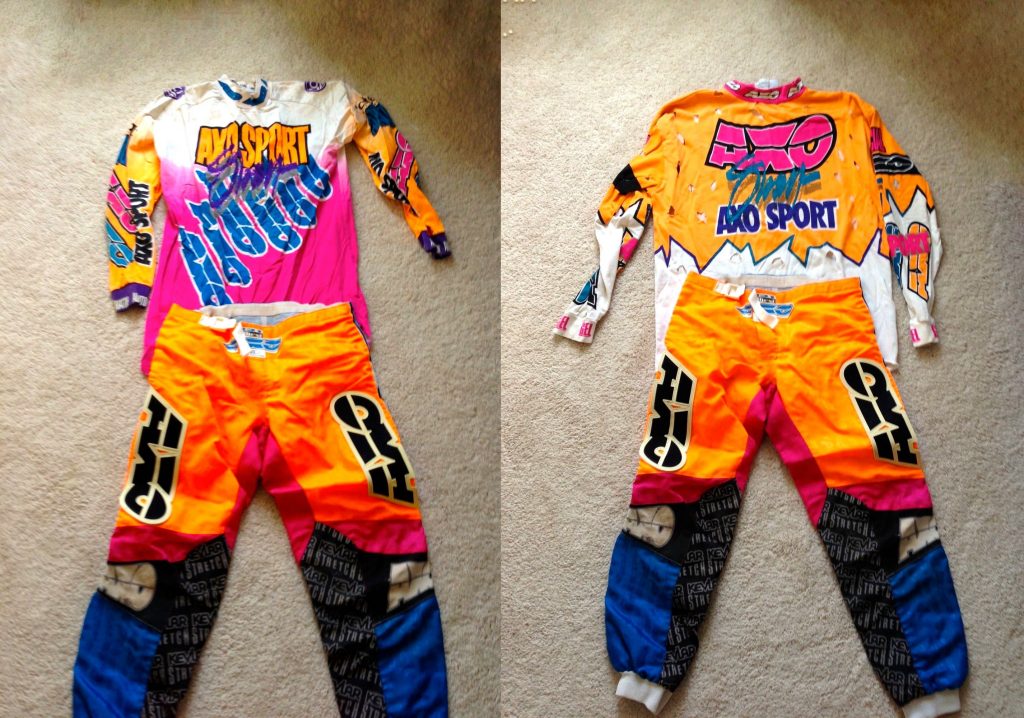 Back in 1992, we had to make our own ventilation and I kind of regret cutting a hundred holes in my lovely Gelprint. Today I can't get my fat butt in these pants, but this gear still looks great in spite of about 1000 laps of use. Photo Credit: Me 
Matthes: This #1 for Blazier is all just because he won some janky Maryland moto in this gear. He's letting that get to his head. This stuff is good, Damon was awesome in it (I'm partial to the black stuff) and the Gel Print did change the game with motocross gear but the best looking of all time? No way. BTW, the RC boot buckles flew off if you just looked at them wrong. What is true is that this stuff, and all the AXO pant/jersey around this time is very well made and durable, I'll agree with Blaze on that. The PEAK PC stuff looked awesome, still can't believe how heavy and hot the jerseys were back then, Gelprint = cool but also = SO HOT. I remember thinking that the color patterns for this stuff took some inspiration from Sinisalo stuff from a few years earlier. I get it, Blaze is a Damon guy and he won a moto in this stuff but #1? He's drunk and/or high methinks.
Matthes' Honorable Mention: JT Racing 1986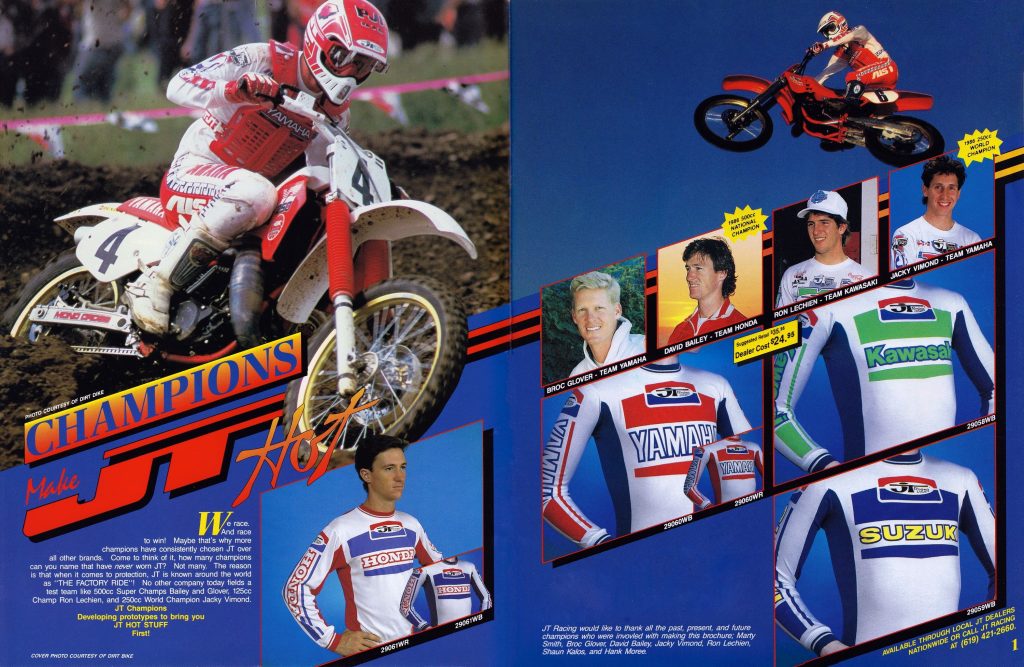 While I prefer Fox's lineup in 1986, that Honda Pro-Tour jersey David Bailey is wearing is a really clean and good-looking design. Photo Credit: JT Racing
Blaze: Matthes has insisted I include JT Racing in 1986 as a bonus pick and I actually can't really argue with his choice. This is peak David Bailey, and a fair case can be made that this is peak JT as well. I personally prefer 1989, but all of this gear was great as well. The V-2000, ALS helmets, Pro-Tour jerseys, and Newform Unleathers pants were all solid competition for Fox's incredible lineup in 1986. I was always an RJ guy so maybe that has once again colored my opinion of the gear in favor of Fox, but I really can't say all any of this is inferior in any substantial way.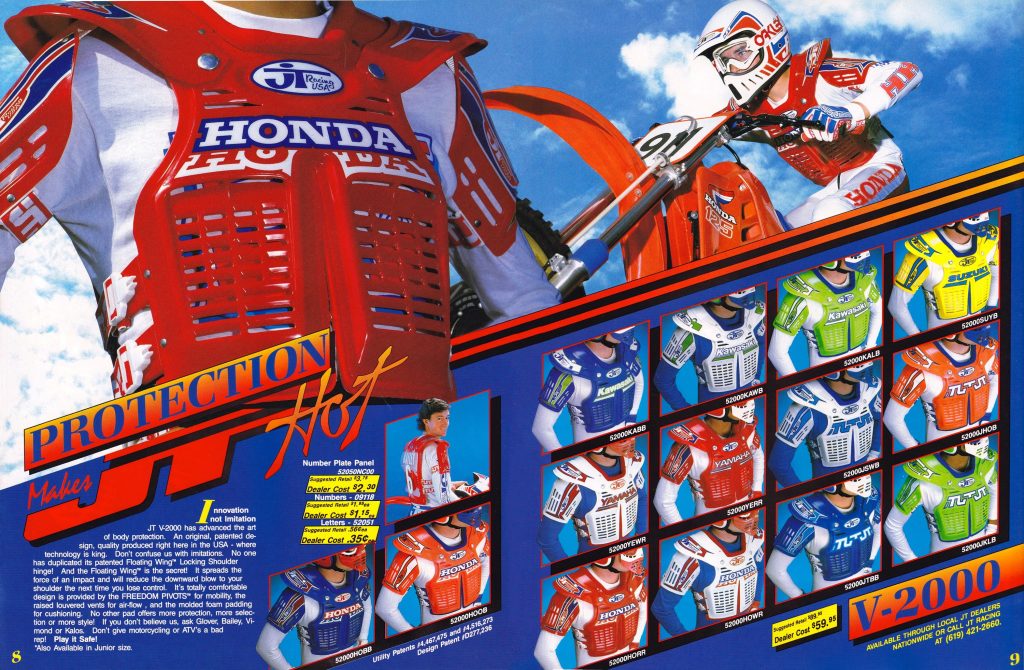 The V-2000 in Flo-Orange was some serious fire in 1986. Photo Credit: JT Racing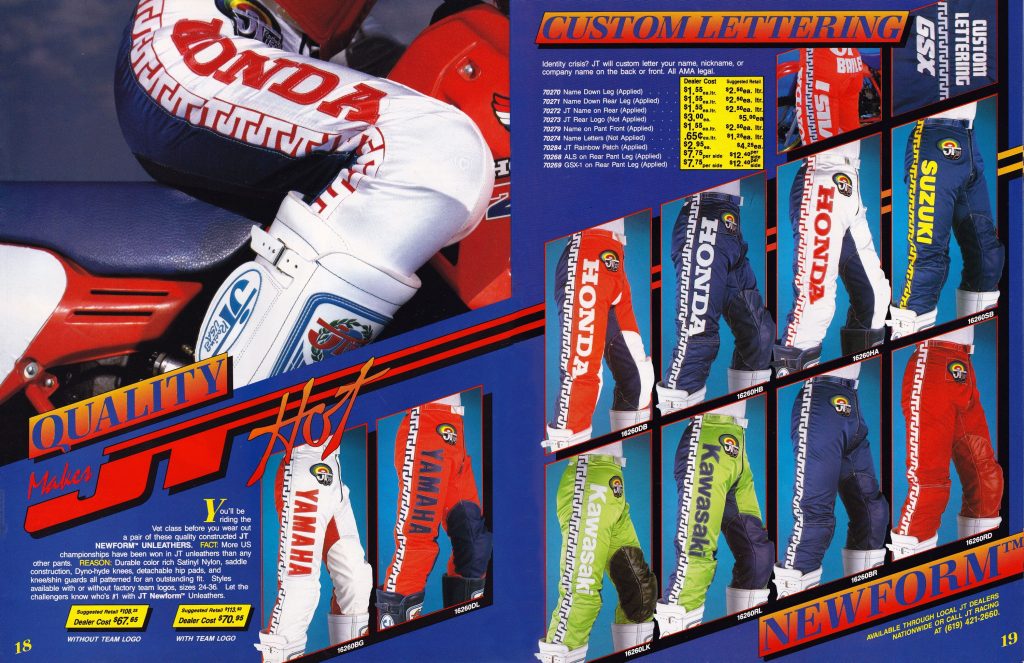 I miss the days when you could get the names of the brands on your pants. Photo Credit: JT Racing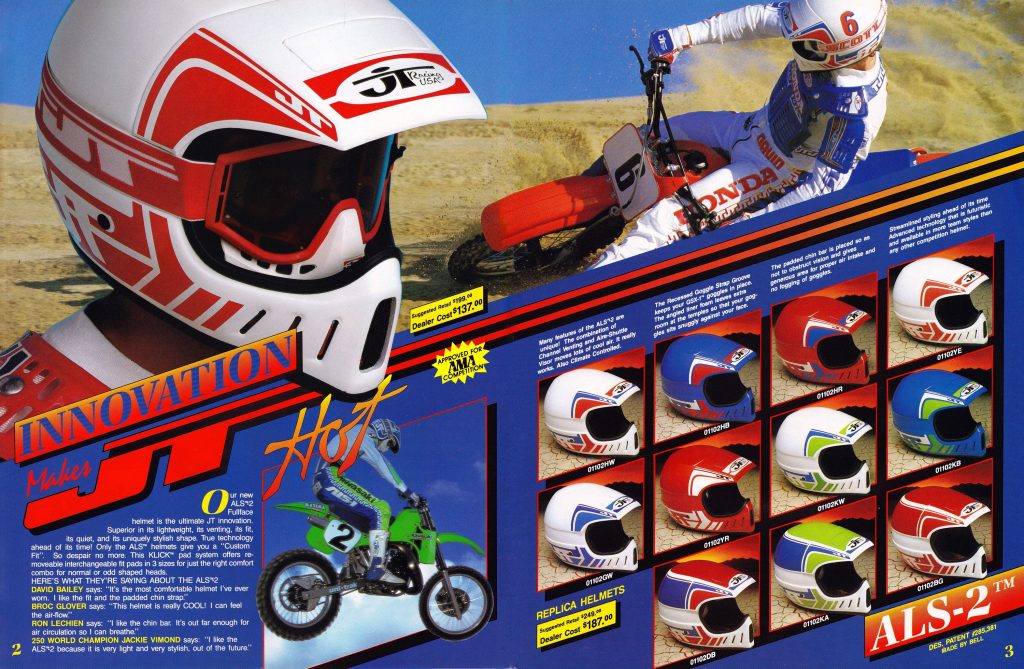 This ALS-2 is still one of the best-looking and most unique helmets ever. Photo Credit: JT Racing
Matthes: First of all, Blaze didn't put the full line of ads in here…probably because he wanted to sabotage my choice. Look at that photo of Glover there and tell me that doesn't look awesome. Nice solid colors that matched the bikes well and then the OEM's name on the stuff (before OEM's wanted to get paid for it) is a nice touch. Blaze doesn't have Bailey's flo-orange get-up here that he debuted at Anaheim SX that year and I would argue that look was the best thing ever when it dropped. Now, a guy up in Canada had a set and I have to say, after a few washes it did not look as good! The ALS full-face was introduced this year and as Blaze says, it still holds up. JT came out with the GSX goggle that was good, their boots were definitely a weak point, I had a pair and they got worn out fast. Still though, this is probably my #2 after the Fox '86 line and ahead of JT '89 line. Can't believe Blaze doesn't have it in his list. He's fired.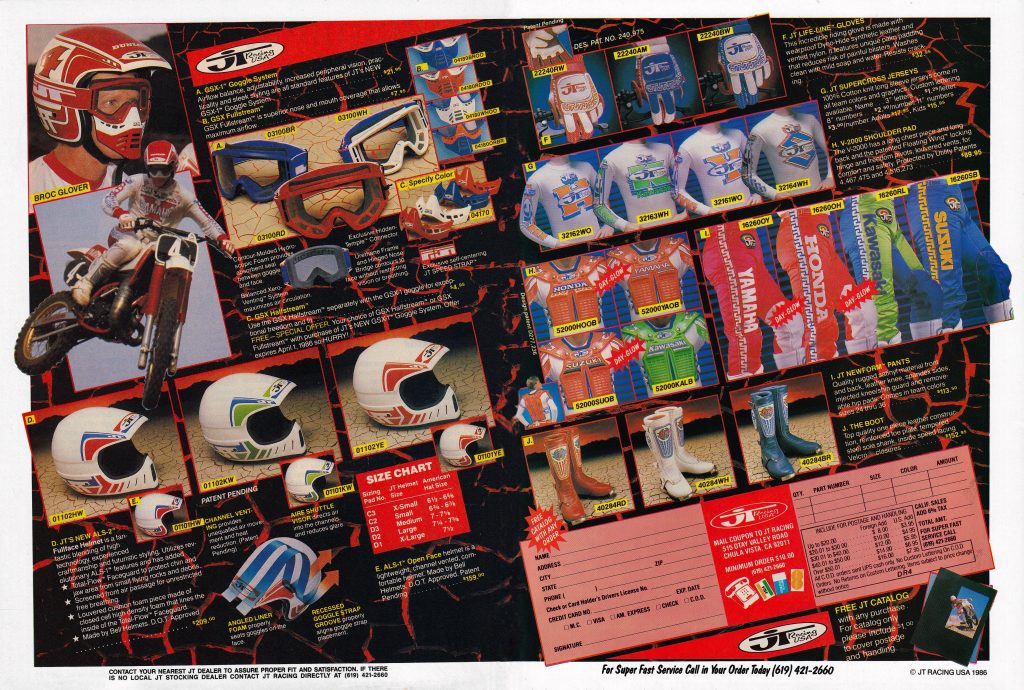 Blaze:  Here is the Day-Glo Matthes is talking about and I do agree it was game-changing but overall, I still prefer the 1988-1989 JT stuff to this.