Somehow, incredibly, James finds a bit of time to talk to me.
Somehow, incredibly, James finds a bit of time to talk to me.
Me: James, as we do this interview, it's been a week since you clinched the title. What has that week been like?
James Stewart: Well, obviously Saturday night we went out a little bit with my team. After the whole thing was done, I left the track and got back to my hotel it was already 2 o'clock. I went out and hung out with the team, I got back it was like 6:30 in the morning. We went to that Rehab place at the Hard Rock Hotel, it was like a little pool party deal. So that was Sunday and we did that until 6 at night. Then I went to a show and then Monday I was driving home, and I actually drove from Vegas to California and drove straight to the airport. I didn't even go home, and I flew out to Portland. I went up to Nike for a couple days and I was up there doing some commercials and some photo shoots and stuff like that. So I was up there Monday, Tuesday and Wednesday, flew to Bell Helmets on Wednesday night, was up at Bell on Thursday and then got home Friday and then today I went riding a little bit. I'll go riding and then I have a San Manual thing and then tomorrow I've got to go to an air show to do.
So one day of fun really.
I could keep on going if you want. Basically I got two days off next week of doing nothing and the other days are filled up.
So yeah, really you've had one day really to treasure it and then you kind of still keep going, huh? The train never stops!
The train doesn't stop and it's kind of tough because I don't party so I went out and had a good time obviously and dude, I was ruined, I mean I'm still recovering right now.
Let's talk about Saturday night itself, obviously I think Reedy's plan was to maybe get you to get your ego in the way a little bit and try to make you race with him and maybe you make a mistake and he wins the title. How hard was it for you to not get in that game?
Honestly, my ego is not that big cause the only time I raced Chad is when I honestly have to. All season I had to race him for sixteen races and I'd be doing my job by not racing him that last race. So I didn't have anything to prove. The only thing I had to prove was to win the title, so my ego wouldn't have gotten in the way because I beat him. I beat him eleven races so far and so it wasn't like I needed to beat him again to win the title.
Yeah, I think he was hoping you would though.
I already knew it was coming. Like I said, I've heard the interviews and stuff like that. Honestly he's been popping off since Jacksonville.
It's been a good season as far as a guy who is watching it from the outside. At what point did you think that you had the title? At what point in the season did you think that things were going your way, after disastrous Anaheim 1?
Honestly I thought after Atlanta, I wouldn't say I had the title, but I was feeling pretty good. Even after Indy I felt pretty good and obviously Daytona. Things happened at Daytona and it was just downhill. After Seattle I told myself I'm not letting this thing go. I won't come back a third time. After Seattle I didn't feel like I had it, but I felt like at least I'm gonna go into Vegas tied and I'm gonna give it my all no matter what and I was able to win the Salt Lake race and then I was ready.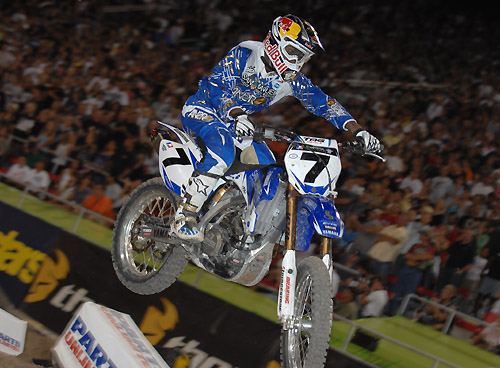 Stewie in Vegas when he "just wanted to everyone to leave him alone." Stone pic.
We've got to talk about Chisholm and all that stuff
What, Chisholm gate?
Yeah, that would be it. I mean it had to be hard for you to sit back and hear all this shit and then you've got to put it out of your mind and just race.
I read your column and I appreciate that you took that stand you did. You know, there's my side to that and I guess things happen and I can understand what he (Reed) was upset about, but at the end of the day and the whole deal, whatever happened and I know for a fact that Larry didn't do that. Larry is a different guy and maybe in the past he needed to get guys to pull over. I don't think he would, but maybe he would have because his guy maybe wasn't the fastest guy. You know, he was trying to look for an advantage. I was totally the fastest guy so I didn't need any help.

Even if something like that even happened, it didn't affect Chad enough to cause him to lose the race. I know it didn't happen. You know, like it didn't seem that it did happen. But whatever Kyle did, and honestly when I asked him about it, he said he made a mistake. He wasn't going to move out of the way for anybody, but he said he wasn't going in to take anybody out or do whatever, he made a mistake. I just felt like if the championship is on the line and you can't make up one point, not even a half a second, or whatever he said he lost, if can't make that up then honestly its one of those things that you're making an excuse. You don't deserve to win the championship. It's like when he bumped me I lost a lot of time, but I knew I needed to win that race and so I made it up. I just think the whole thing got blown out of proportion. I think Ralph and Jeff jumped on it.
Yeah, they didn't really help out.
Yeah, you're right, they didn't help out. I know what happened in that situation and know the reason they were talking about him. I'm not going to say he told me but there were people yelling upstairs, yelling in Jeff's and in Ralph's ear then that they needed to keep playing this story up because now Feld has a reason now to pump this story up and make it go. I just felt like honestly the whole thing – I was bummed out because I ran a good race. I ran a clean race against Chad, I won one of the biggest races and the key races of the series. I came back with 35 points down once I started adding up the races I lost and you know, kind of gave up points. I came back with 35 points and you're going to make a half a second the reason why championship was lost. I won't sit here and even go about that and say that was the reason. Coming back with 35 points was the reason I won the championship.
Did all the talk about Chisholm make you mad or did you just push it out of your mind? Were you really pissed about it on and off the track or did you just kind of let it go?
It wasn't a big deal for my part because I knew I had nothing to do with it. Like I said, whether he was playing with Reed or whatever it was, I had nothing to do with it. So I could sleep at night. I didn't have anything to do with. Whether they wanted to do it or not, I had nothing to do with that. So I know for a fact it wasn't but at the end of the day I was just bummed that it was one of those things that people wanted to jump on and use it as an excuse of why Chad Reed lost the championship. I just thought that was unfair. I got the number one place and I was happy about that, I could really care less.
What was your best race of the season? Not necessarily one that you won but just one race that you felt you were unstoppable at.
The race that I felt I was unstoppable at was, well it's a tough one, but I would say San Diego. San Diego I felt like nobody would touch me tonight and even Atlanta I felt like that too. It was kind of an easy race, well I wouldn't say easy but I just felt really good. San Diego was probably the race I was really locked in the most and I was good.
What about the worst race for you?
Probably the worse race for me was St. Louis. I just had a bad day of practice and I didn't really like the track and I fell three times and twice in the heat race. It was just an off day for me. It was like any moment I knew I was going to hit the ground and it sucked.
Was this title more rewarding for you than your other one?
Yeah, it definitely was because it was a lot of stress. People don't understand. All year I basically had to win, like all year long after A1. That just isn't fun. Even when I got the points lead, I lost the next race and then Daytona happened and then so it was always going. Coming home doing a week, knowing that dude, I've got to win the next seven races or five races to even win this title and stressing it. Then I got it done and the having all the drama between the Jacksonville deal and the whole Chisholm-gate deal. Everything, it was a lot of stress. You know, the unfair part for me, I felt like every time I lost a race it was such a big deal, like oh he did this, he crashes. Chad would lose and it would be like no big deal.
There's no room for error for you.
Yeah, right. So obviously it was stressful but at the end of the season I started laughing about it cause so many people were just talking so much noise and I just couldn't believe. I was like, how does a human being come up with this stuff, like really! How do people come up with this stuff? I just started laughing. That's why I got on the podium in Vegas and I probably said a couple of things I probably shouldn't have. I was so emotional. Honestly so happy and so relieved, I don't know who was even talking. I think Bubba came out and just started talking. It was funny.
Up until Jacksonville you and Reed had been okay. Was really Jacksonville really the start of when you and him kind of started going downhill? Was there much animosity before Jacksonville?
Yeah, well I think, I guess he always had animosity and you know I never really played into it and just kept it underneath. I was doing my thing, he was doing his thing. But honestly I think at Jacksonville the tides were really starting to turn. I think I was kind of getting back on that road where I was starting to feel like I was at San Diego, unbeatable and even Jacksonville I felt so good. Even that was another race I felt unbeatable and I think the whole practice thing started there. I thought that was more of a game than anything, I didn't really make anything out of it. Then we started racing and then he started saying I cut him off and he got hit, and that was that. I think honestly when Chad Reed started talking about me and started talking about he wanted to beat me and do all this, I knew for a fact I got him, I have him now.
Was it because you thought he was starting to worry more about beating you then racing?
Exactly, and then I think it showed at Seattle. Obviously he rode different at Seattle. It was all the sickness. I mean, he said he was sick since Atlanta. He won like three races out of four or five, so obviously he wasn't too sick.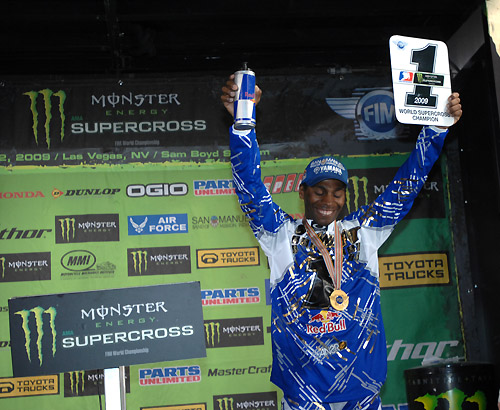 On the podium and celebrating his second supercross title (or third if you count the World one, and he does.) Stone pic.
Did Chad give you a better run than you thought he would?
Yeah, he definitely did. I wouldn't even say he stepped up. I think he was so happy to be on his new team. You when people get animosity and something goes wrong, you always feel like, oh here we go again. He has a lot of animosity. I think he wanted to beat Larry Brooks worse than he wanted to beat me.
I think you might be right there…
He did. He rode great. But if you honestly think about, I think he stepped it up but he didn't do anything radically different than he has in the past. I always go back to that, I felt worried about him and I'm like dude, like Chad is really into it. But if you go back and think about it, he hasn't done anything different then he has in '07, in 06, '05-whatever. He's won the same amount of races. You get caught up in it but go back and like, let me break it down, geez he's the same person and I like to find out stuff. I'd break down lap times. I know lap times from '05, '06 and go back and I break every lap time down from each race and races that he rode good. Reed's been the same distance away from me every time, every race.
That's interesting.
Yeah, nothing has changed. You can go back and pull them up. Let me see if Reed is any closer today than he was in '07 and all that. When Chad Reed rode good he was always the same distance each race from me that he was now. There were a couple of races in '07 that Chad Reed was faster at me, just like he was this year. So there were some races that I'll be 2 seconds faster than him or half a second that, it hasn't changed.
What about your bike? You mentioned you just weren't that comfortable on it sometimes. What was it doing?
The only thing that I was uncomfortable was because I was put in a situation that, obviously I rode green bikes my whole career. When you practice at home or even at the US Open, bikes work different. My bike worked better on certain tracks than it did other tracks and I'm sure Suzuki's that way, I'm sure Honda's that way. I just never found that sweet spot. I could never find one setting that I said okay, now we're here. It was like Jacksonville when I said, Okay, oh man, this feels really good. And we had a good bike. Ever since Houston we had a really good bike, you know the works, I was still never comfortable. Never comfortable fully and I think once we got that down a little bit, it started to show. I was really good time to get back into form and stuff, it was good.
And next year you have a whole new bike to deal with too, again!
Yeah so next year I get to start over again.
Now just once you have everything down, you'll have a new frame, new motor, new EFI, everything.
I'm excited for it, I guess it's gonna be fueled injected, I was told. You know how hard I slam into things and how hard I push some things. I can't wait until that stuff, to be able to keep pushing through stuff knowing that nothing is ever going to happen to it.
What about his move at Vegas? Did they catch you by surprise? How close did you come to crashing?
Well I kind of knew it was coming at some point. I actually was shocked when it did happen there, I didn't even see it coming. I'm so pissed that I even got that point. Because what happened was he was following me for three laps and I'm not doing anything, so I kind of got back in that mode where I had a little lead going into that section then he came and crowded me and pushing and I was actually pretty close to falling, just because of the way the hay bales were angled, and I had to go through them, but I was honestly surprised. I didn't even see that one coming there. It was funny because when I got back on the track the first thing I said was, whew; at least we got that one out of the way!
Yeah, that was pretty exciting, sitting there, wondering what was going on. Like I said, I think he was hoping that you would be like alright, follow me, and maybe you would make a mistake, but luckily you just said, alright dude, whatever, go.
Yeah. I mean Vegas was the worst race I rode all year long. I rode pretty, I would say bad, I was so – I didn't want to do anything. There was that one rhythm section thatI jumped in practice, I tried doing it in the main event once but came up short and I just wasn't myself. Like I just felt like I don't want to face anybody, I don't want be hurting anybody, I just want to be out here. Can everybody just move over and let me just ride by myself the whole time? It was weird. I don't ride like that so it was harder for me to ride like that in a way.
What about the outdoors? What are your plans? Maybe some of them? Maybe none of them? Any ideas yet?
Honestly, and I told you, I think it's the third time I told you, and people honestly don't believe me. I don't have a ride for outdoors.
I know but…
I know you believe me, because I would tell you. I did ride outdoors today. We are outdoor testing next week just in case. Maybe later I could convince them to at least take me outdoors and let me get a bike set up and stuff like that, and get 'er ready. But I don't have a ride for outdoors. It sucks too. Especially with me, coming off of a season like this, undefeated like last year. I want to race but I mean, believe or not, this is a last time-I don't have a ride for outdoors.
The only reason I ask that again is because I heard that your team might've committed to three of them. I asked Larry about it and he said that "it wasn't confirmed." So there's something there.
I don't know why he said that because I know for a fact he hasn't come to me and said hey you want to do 3 out there, cause I would be like, let's do Glen Helen and maybe skip back Sacramento because I don't really like that track, it's too rough. Not too rough, but I just don't really like it. And do a couple of them that I like, maybe that Texas one 'cause I like it hot, and then Colorado. Then it just seemed like we got to the middle part of the sx season. Maybe it was a thought we were going to do them and then all the talk stopped and I would ask him and he's like, you need to worry about supercross title, you need to worry about supercross title. I was like, okay one supercross title and I basically begged him to go outdoors after that.
Yeah when I was talking to him about Chisholm-gate, I asked him and he's all (sigh) nothings for sure.
Every time I say, hey Larry what about outdoors? He goes (sigh). I get that every time. Every time! Even before the season started. When I feel like talking about doing outdoors, every time (sigh). (Laughs)
Hey Larry, what about Chisholm? (Sigh)
It was everything. Hey Larry, can I get a chicken sandwich? (Sigh) It was funny.
Are you going to reward yourself at all for this title? Anything you've got in mind?
Reward myself would be able to show up at the gate at Glen Helen. Honestly that would be reward. I want to race the whole season, but at least I would like to race one or two races for the fans. If I can't, which it looks like that, I am going on vacation. I'm going to hangout and relax like I did last time. I've got a lot of testing, schedules coming next month. Testing on the new bike hopefully and get that thing dialed in so I kind of want to relax and test and just have a good time so when I do come back I feel like I did when I came up to Glen Helen when I was getting ready for the supercross season last year. Just really refreshed and ready to get on it and go for it.
Alright, thanks…
One more thing, I expect if I do go race Glen Helen, and I do win Glen Helen, I better get picked for the Motocross Des Nations cause that's it. If I don't run one I don't want get picked but if I at least run one, I want to get picked for Motocross Des Nations.
You can't really blame Larry because he told me that his sponsors give him money to do supercross only and that's what the deal is. The outdoors needs to be more important to the industry more so than the riders and the teams.
I will put it on him (Brooks) because it's not my decision, it's a supercross only team. Honestly, I knew that coming in but it wasn't like rides were hanging on trees and the grass was green everywhere when I was shopping for a ride.
The cool part is, and I actually want to thank Davey Coombs, because the whole reason the races were on Saturdays and the 450s were first is because it was me. I made that happen. If I made all these changes, people didn't realize I made all these changes, and made it better for racing and did all this stuff, and to cop out now because I just don't feel like racing, that doesn't make sense. If not, I would've told him, dude leave that shit rough as hell, I want to be the last moto. You know, just like it is now. I want the hottest part of the day, make'em on Mondays, I don't care. If I was planning on not racing. I mean come on guys, think about it a little bit.
Good point. You're right about that. Well hey, thanks James, I appreciate it.
No problem Steve.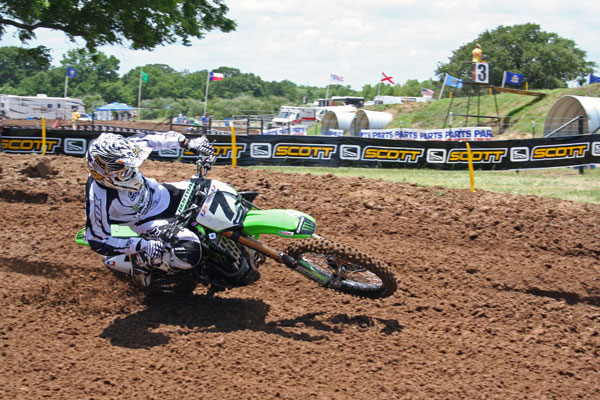 Will we see this in 2009? The outdoors part, not the Kawasaki part. Stay tuned…