I used to get a lot of emails asking me what it was like being a factory mechanic and people I would talk to at the races would tell me how lucky I was to be able to do "a dream job." I always smiled and nodded and told them that I was indeed lucky and somehow, this goof-off from a small city in Canada was wrenching for some of the top riders in the world.
I used to get a lot of emails asking me what it was like being a factory mechanic and people I would talk to at the races would tell me how lucky I was to be able to do "a dream job." I always smiled and nodded and told them that I was indeed lucky and somehow, this goof-off from a small city in Canada was wrenching for some of the top riders in the world.
I've won a national, a summercross, got a ton of podiums and even wrenched for an American rider at the Motocross Des Nations. I feel like I know what it's like to be involved with a works bike and a top level team that won championships. That's why it's laughable to me when a rider or team lies to me while trying to tell me how it is. They may be able to fool the average reporter in the industry but I've been on the inside, I've been in the trenches, and again, not trying to toot my own horn here, but I have a pretty good idea of what goes on with teams and riders.
So with that in mind, I thought it would be fun to take you through a day in the life of a mechanic at a national.
5:00AM- The alarm goes off and you try to remember what you have to do to the bike when you get to the track. There's two motos ahead and your rider and team are depending on you to do your job and make sure everything is checked and double –checked..wait…what city are we in? Does this hotel have a continental breakfast? I always liked those hotels that gave you a little cup of batter and a waffle maker, they made it seem like you were back at Grannys. True story-one time a guy I knew was so tired and hung-over, he took a swig of the batter. We then turned him upside down and lit a match under him to make a giant waffle. I might have made that last part up.
6:00AM- Get to the track with the rest of your team. It always goes mechanics in one car and managers, suspension and motor guys in the other. I don't know why, maybe the higher-ups think the mechanics had cooties? I always wanted to stop at Starbucks and my co-worker Gothic Jay (now Short's guy) always wanted Dunkin Donuts 'cause he's an east coast guy. We would usually battle but whomever got the rental usually got to choose.
Once at the track, you have to unload the tire racks, mechanic carts and, most importantly, the motorcycles. Never a good sign when you get to the track and there's a puddle of oil under your bike. This had happened to me a few times, sometimes from the residue of new oil getting onto the skid plate and sometimes from the crappy GYTR carbon covers we ran that leaked like the Titanic post-iceberg. If you had oil, you were now a source of ridicule from the others and the trick was to get in and wipe your mess up first and then do an inspection when the bike was on the stand. I always had a banana in the morning because somehow, in my Matthes logic, it was going to fill me up all day. Sometimes you just never get a chance to eat at a national.
7:00AM- Now things are starting to heat up a bit, fans are piling in and asking for stuff. Nosy reporters come by and shoot the breeze for bit. I used to wish those dudes would go away and not talk to me because I was thinking of things that I had to do on the bike. Now I'm one of those guys. I'm going to shoot myself now.
7:30AM- The riders get to the track and you can usually tell the superstars from normal riders by seeing if they are carrying their own gear bag. The bigger the dude, the more people behind them carrying bags and stuff. DV and Ferry usually wheeled their own bags while I'm sure Reedy doesn't know what a gear bag is. The riders that stay at the track in the motorhomes sometimes come over and see what's up and make sure the team showed up but you generally don't see those guys until five minutes before practice begins. Then they show up to "make the magic happen."
8:00AM- The riders meeting begins and the riders are obligated to show up now but back in the day, the superstars never usually went. Then the AMA started randomly calling out numbers and if you weren't there, there was a fine. Nothing gets the riders attention like the possibility of having to open their wallet for somebody that wasn't themselves. Then they showed up. Imagine that.
8:30AM- What I want to make sure you guys get is the constant thoughts that run through a mechanics brains. Did I tighten this? How long will my clutch last? Is it muddy? Do I need handguards? What the hell is this guy going to whine about today? Are all things that race through your brain and you just have to make a mental checklist of everything and anything that can come up.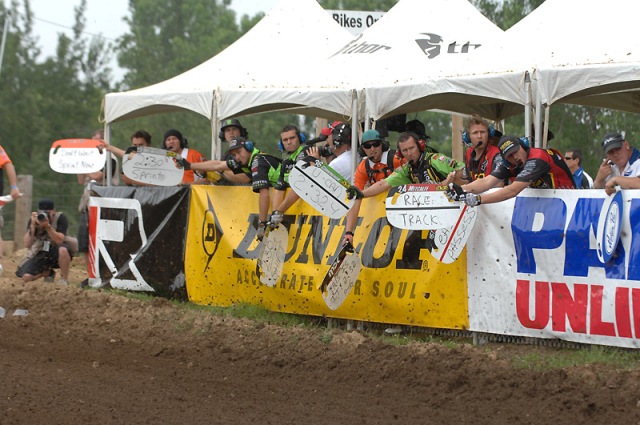 The battle in the mechanics area is almost as bad as on the track. I see a "U-Can" and a "Race Track" in there!
9:00AM- The sx/mx chaplin, Steve Hudson (whose nickname is Chappy, which is SO original) wraps up his lesson on the day shortly before nine and it's funny because every week Hudson has a cool little lesson about being a good person and a good Christian. I'm not religious in any way shape or form but I used to enjoy these talks because Chappy didn't make it too preachy and in the end you were left with a good feeling towards your fellow man. It would be funny to stand at the back of the sermon and look at all the riders that cheat on their wives, team owners that screw people out of money and other general bad-ness that you get with any sort of travelling circus of the rich and talented just nodding their heads to Chappy. "YES Chappy! I get it-I WILL be a good person today."
9:30AM- The 250 class is now done their practice (or as we liked to call them, the mud pushers, because almost 100% of the time, the track was muddy mess for the first practice) and we're up. Mike Alessi jets out first, because, well just because that's his thing. Heath Voss was another guy that liked to get out very first and it would be funny to watch the battle when those two had to figure out from which end the official would start practice. When I worked for Ferry, I didn't have those worries as he would go last and the first two or three laps he had sea tortoises going to lay their eggs passing him. Let's just say it took a little while for Red Dog to warm up.
9:45AM- The practice is in full swing now and when I worked for Nick Wey, he'd already have come into the mechanics area three times to adjust bars or levers. I'd loosen the bars, he'd hit them up ¼ of an inch, then down a ¼ and be satisfied. Even though they were now in the same spot. Ferry would've pulled in and just sat there. When I asked him how it was he would just say "good" and I'd go back to looking at the monitors and wonder what gate he was going to pick with his thirty-eighth choice.
9:55AM- Wey would moto down hard with his "new" bar position while Ferry would just go around and look at the pretty trees and banners. Then he would lay down a lap that was in the top three and the when practice ended, the disparity between his top two times would be in the three hour range. Timmy just needed that one lap to see that he still had it and many times in the first practice, he would just ride around because the track changes so much and is still muddy so why worry. It should also be pointed out that Kevin Windham would never put in a fast lap and would reel me in every week with a "We've got KW covered today" thought.
10:05AM- Practice is over and your showroom shiny and new bike now looks like King Kong took a giant dump on it. Then used your bike to wipe. It's covered in mud, the stickers are coming off, the chain is loose, oil is everywhere (what? That was just me?) and you have twenty minutes to wash it and make the necessary changes. Which, if you're Chad Reed and you're not happy, you make sure everyone knows and then your team manager overreacts and changes to a different set of forks, offset of the clamps and front tire. I used to think that our manager probably killed mosquitoes with shotguns in his spare time. Ferry would change tires a lot and fork set height but that's about it. Wey would make wholesale changes, maybe because he had the same manager at Pro Circuit?
10:10AM- Did I mention that Yamaha was about the only team in the pits that makes it mechanics change their own tires? Yep, even though the tire companies are more than happy to do it and you have probably a better chance of sitting down with the Easter Bunny for a steak dinner than them pinching a tube, god dammit the guys in the old days did EVERYTHING by themselves so you will too. At least I think that was the philosophy. My point was, you better have tire choice B and C already mounted with the right sprocket or you're EFFED.
10:30AM- Time for the next practice and you've got fresh tires, bolts are checked and you're ready to go. The track has gotten a little better and this practice is serious. What's funny is that, inevitably, you would run out of time to go through your whole mental check list and you would be in staging wondering how you can discreetly put a mini T-handle on that side panel bolt and make sure it's tight without your rider noticing and your fellow mechanics pointing and snickering. True story, I was waiting in staging at a sx and every time Ferry would rev his bike, I could see the seat bolt turning left and right. I thought, 'that's not good' and tightened it while he was on the bike waiting to go. Then my headphones crackled, "Matthes, what are you doing?" and I was busted. Of course everyone heard about it back at the truck and I was mocked once again. Still, better than having the seat fly off right?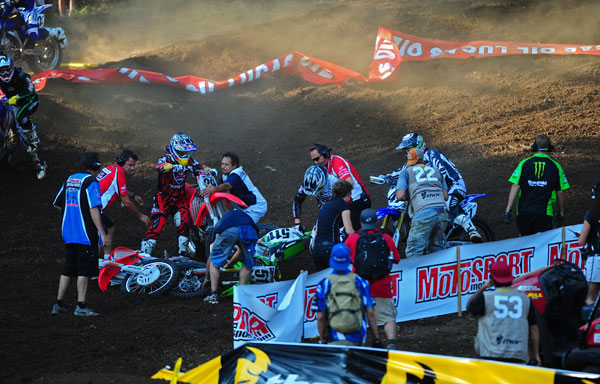 The tension is high right here. Seriously…
11:00AM- Second practice is over and King Kong has visited you once again. Ferry would almost always be in the top five somewhere and KW would avenge his average first time with some awesome lap. RC would be first…imagine that. Here's where a guy like Goose would sit back, laugh and count his bonus money because his guys were always seeded into the top ten and would go to the motos. I'm talking the days of the morning qualifiers people!
There were plenty of times Red would be coming back from injury or whatever and we had to do these. In '02, Wey missed the first three rounds and we were crawling out of the not-in-top-ten hole all summer. There really isn't much time after practice to do much but wipe it off and get to the line. There wasn't enough time to do the after wash prep so you would clean the number plates off, knock some mud off and adjust the chain.
11:00AM to 1:00PM- Here's where, if you don't have morning qualifiers, you finally have some time to catch your breath. You have a couple of hours before the motos start and that gives you plenty of time to change the oil and air filter, put some new stickers, figure out your tires (but if you're Reeds mechanic you just leave the wheel off and wait until right before the moto because he won't have made his mind up yet) and take care of anything that your rider may want. My guys almost always wanted the cables lubed and throttle greased up which is a huge pain in the ass but you do it anyways. There's always contact cleaner, WD-40 and assembly lube flying everywhere.
The truck driver always starts lunch and you begin to try and plan some time where you can grab some grub. This is always a 50/50 proposition because if your guy wanted some different clamps or a motor swap or something like that, you were screwed out of lunch. Don't worry though, you can always look over ten feet into your hospitality and see the managers, agents, gear guys and other hanger-ons munching away and talking about how "zesty" the burgers are. You just sit there and drool like my basset-hound Fred does. I'm now one of these guys…and I'm going to go and close a door on my head repeatedly.
I just remembered one of my major complaints about the riders. Allow me to vent here…remember how I had to lube everything and make it buttery smooth? Marking the lever position, putting three (not two or four) loops of safety wire around the grip, making the seat foam just the right height and everything else that goes into setting up a bike to fit a rider? Well, it's hilarious to me that when you would show up at the riders house to service their practice bikes, the cables felt like they were off a '84 CR 125, the throttle had no return on it and the grips were ripped through the ends and pushing into the housings. They didn't care during the week because THEY HAD NO SLAVES AT HOME. The bike seemed to work perfectly and all the new parts you send them just can't seem to make it on the new bike. I've showed up and seen the kill switch ripped off, a ball of a lever broken off and grips ripped through and spun from no wire to where the waffles were facing up. This kind of work would get you fired on the spot on a Sunday (now Saturday) but at home, the riders are fine with it. You know why? BECAUSE THEY WOULD HAVE TO DO THE WORK INSTEAD OF WORRYING ABOUT THEIR RIMS AND THEIR BITCHES.
Thanks for letting me get that off my chest.
1:40PM- It's time for the motos and you gather your headphones, the umbrella, two sets of goggles, the extra fuel bottle, your fanny pack, pitboard and markers and at this point, you look like a pack mule heading up Everest. The rider grabs a helmet…and nothing else. The staging for a national is an eerily quiet place, there's not much chatter and the riders go about selecting your gate. I'd always tell my guys to start one gate to the outside of RC. Two reasons really, one is that there is a pretty good chance he's getting the holeshot (No one was single handily more driven to get a start than RC. He treated the start gate like it was a chick that gave him herpes) so my guy can just tuck in beside him because he's moving to the inside and the other reason was there was a really, really good chance that I could get on TV and then get chicks. This was before I was married of course.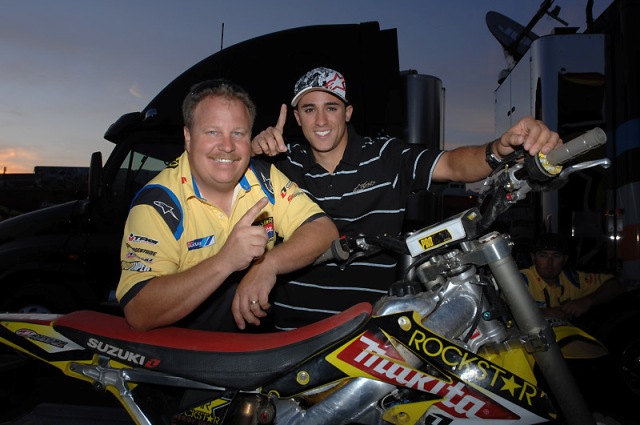 Mike knows the value of a good mechanic. Here he is with "Tooltime" Tim McAdams
1:50PM- Here is where the modern four-stroke has made life easier on mechanics. This is probably the ONLY thing that they have made easier on mechanics. There is no throttle-blipping needed. Yep, the old days you would have to get the fuel bottle out, take the parade lap goggles from the rider and get him the race ones, hold an umbrella and not let the bike stall. The rider would sit there and contemplate how much dirt he was going to eat and how many times he would get a rock in the nuts and I had to worry about keeping the two-stroke running. Nowadays- none of that! The bike just sits there, burping and farting along. LONG LIVE FOUR STROKES!
2:00PM- The thirty second board goes up and you back away from the gate (or get pulled away by an official) and you make sure your watch is set to zero. Your trigger finger on the 'start' button tapping your watch excitedly. The gate drops and forty fire breathing machines rage into the first turn, the marathon starts, there's thirty-seven minutes of torture ahead for the riders. All of us mechanics make our way to the mechanics area. This is old-school when we didn't have EZ-Ups and little TV's with lap times and all the amenities the guys have now. You found the general area and staked your spot. If it was real hot, you began to hate the tracks that had long walks to the mechanic area (I'm looking at you Unadilla) and love the tracks where you would just turn around and you were there (Mt Morris). The worst mechanics area is Washougal because you can't see your guy at all except for the fifteen seconds he comes by you.
That is off-set by the cooler weather you would get and the shade from the trees, which was a stark contrast from the hot, muggy out east tracks. I remember Troy, Ohio had a cooler in the mechanics area with water in it. Thank you Kenworthys!
2:00-2:40PM- The race goes on and RC wins again (except for that glorious first moto at Budds Creek '03 when a certain rider from Florida wearing number 15 won) and the action gets intense among the mechanics. There are three types of guys in the mechanics area- the one set of local guys that are boarding things like "PUSH" and "YOU CAN" every lap even though their guy is thirty-seventh. No lap times, no length of time given or anything—just a constant "push" and "you can." There are also the dudes that are screamers and they have no pit boards. They most likely are hill-billys whose buddy made his one and only national. They are seen at Mt Morris and Unadilla mostly. There isn't much strategy with them, just a lot of vocalizing. Then there are the big factory dudes that are calm the whole moto, dispense lap-times and have been around for a while. They lack excitement but are methodical in the way they make sure their riders know what is going on. The placing of mechanics is also important, take a look next time you're at a national. The factory guys are all bunched together like bees on one end of the area.
As a privateer mechanic with no cool head-set or anything, I would let the Mike Gosselaars and Tony Berlutti's of the world pick a spot and get set first before I would get in where I could fit in. As I became a factory guy, I was in the club and could saunter up there and stand where I wanted. The local dudes just let you take their spot. It's like a little circle of life thing I suppose.
2:45PM- The moto is over and you have to wash your bike, change the clutch, filter, tires, oil and make any changes from moto one that your guy may want. Chances are your rider did not win and chances are very good it was the bikes fault. So it goes to reason that there will be changes done. The suspension is usually a reason so you can change the shock and fork to go along with your regular maintenance. One of the cool things that some Japanese engineers showed me at Yamaha was taking the shock off without taking the carb boot off. Saves a lot of time and I always said a little prayer for them when I had to change a shock in between motos.
Here's the thing with the time in between motos, I have no idea where it goes but when the twenty minute horn goes off, and there is a great chance that your bike is still in pieces. There were many, many times that you just sent the rider up to get his gate choice without a machine. There is never, ever enough time to check everything and do everything properly in between motos. This is where a lot of people fail as a race mechanic, it doesn't matter how smart or educated you are, if you can't work quickly and not waste any motions when working, you won't get the work done that needs to be done. I've seen many guys overwhelmed with the responsibilities of a race day mechanic. If you make mistakes more than once, you won't be around a long time. Or you could just do what I did and befriend a top rider and when gets a chance to, he brings you to a factory team. Despite the team manager telling him over and over he doesn't want to hire some Canadian weirdo. Nepotism- the easiest way to the top!
4:45PM- The second moto is over and the day is over. Now comes the part that really, really sucks. Taking the tent down is akin to Chinese water torture. It's the simple, you're tired, dehydrated, hungry and depressed your guy didn't win (this doesn't apply if your name is Mike Gosselaar) and now this monstrosity of a carnival has to come down and move to the next town. If everybody works together it goes ok, but usually the rider wanders over and the mechanic and manager have to talk about the day. Sometimes somebody else comes by and you talk to them for a bit- whatever it is, it's oftentimes a sense that somebody isn't rowing the same way you are.
If you made top three, you have to wait in the AMA impound with your bike and wait to see what the AMA post-race technical director wants to check. 99 times out of a 100, they want to weigh your bike and of course we all go home happy. Trust me, the AMA doesn't want to tear your bike down because then they might have to actually do something if they find something wrong. Anyways, if you wait in impound, sometimes your team starts tear-down without you and this makes you happy. In 2003, I was happy most weekends but in '04 and '05-not so much.
That's it; you pack everything away and leave the track by 6-7 o'clock. Unless you work for Pro Circuit and then you don't get out of there for a while because you stand around drinking beer with Mitch. You're also no doubt celebrating a victory by someone on the team anyways so why not stand around.
Sound like fun?