This past weekend at Redbud we saw a halftime race that involved all the individuals on two-strokes. I'm not one for the sentiments of people who want to bring the smokers back, after all it is a futile cause and a decision that will be made by the bean counters at the OEM's and the way they're investing R&D dollars into the new thumpers, I wouldn't hold my breath for the two-strokes to come back. I believe that it is the vocal minority who want these bikes back because, after all, the people spoke with their wallets back when the four-strokes first came around. Yamaha and Honda sold so many that you can say they were just giving the people what they wanted.
Ok, enough about that-I'm getting off topic. Anyways at Redbud we saw RC win another race when he ran away from the field ahead of Josh Lichtle and Mandingo Pickles Josh Woods. It was an impressive display of riding by RC as he whipped the RM250 around and if I closed one eye and squinted, it seemed like a lot of other races that I've seen in my time on the AMA circuit.
This column isn't about two-strokes (although I might've fooled some of you) or RC (there's been enough virtual sequoias killed talking about his greatness.) Nope, this is about the guy who finished fourth. That would be none other than Michigan's greatest motorcycle racer, Jeff Stanton. In a state that has had a ton of fast riders over the years, none stood taller or greater than "Six-time" Jeff Stanton.
At the end of the 1995 season, Jeff, who was still very competitive simply walked away from the sport. He had enough of the grind of racing and wasn't on top anymore and for him, that wasn't the easiest thing to take. He was always someone that worked harder than the guy next to him and he knew it would help him win. When the wins weren't there, he worked harder and dropped a lot of weight (partly due to his vegetarian diet) and when that didn't work, he just walked away.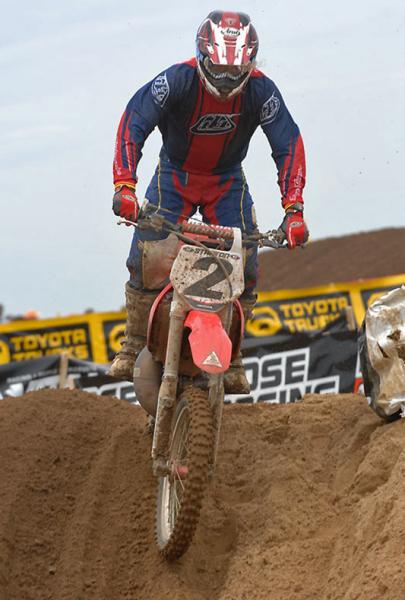 Jeff Stanton at Redbud this past Saturday.
I've been fortunate to have gotten to know Jeff (or Six-Time as I call him, something Nick Wey first showed me) and he is one of the great guys in the sport. He has the clout to call it like he sees it and you know what? Most times he's right. He's done a lot of work on the Racer X Webcasts and he was a great analyst. He would just predict what was going to happen before many of us had given a particular subject much though. He was a step ahead because if there's one thing Jeff knows, its motocross racing.
I remember when I worked for Wey we brought Jason Thomas with us practicing one day and his rear brake went out. Jeff took the brake off his practice bike and gave it to JT for the weekend, he was very concerned that JT made it through the weekend and had the part. Oh by the way, he still hauls ass.
That takes us up to Saturday and it was a special moment watching Jeff race around the track. He has long told me, and everyone else, that his racing days were over as he has nothing left to prove. He's left it all on the table and doesn't need the glory or people's adulation to drive him. Nope, he just wanted to come out because RC said he would so Jeff broke his own rule and suited up for what might be the last time.
Riding a full works Honda CR250 that was Jeremy McGraths last race bike, he raced around in fourth and looked like he could still get busy on a bike. He was the oldest guy that finished and that wasn't much of a surprise to anyone who knows him. If Jeff Stanton is going to do something, he's going to do it right.
I watched him intently for those three laps as I'm not sure if I'll ever see him race again and it was a real treat and took me back to a time when the racers didn't make a ton of money for getting tenth. Six-Time is probably the last of the old-school warriors that we have read so much about and there he was on Saturday, charging hard and trying to catch a kid half his age.
I'll never be the man that Jeff Stanton was or is. I say this to make you laugh but I'm dead serious. He's the last of a dying breed and for three glorious laps, we saw how "they" used to do it.
And it was fucking cool.