I went to Moncton on the weekend and all I got was these crappy shots..
I went to Moncton on the weekend and all I got was these crappy shots..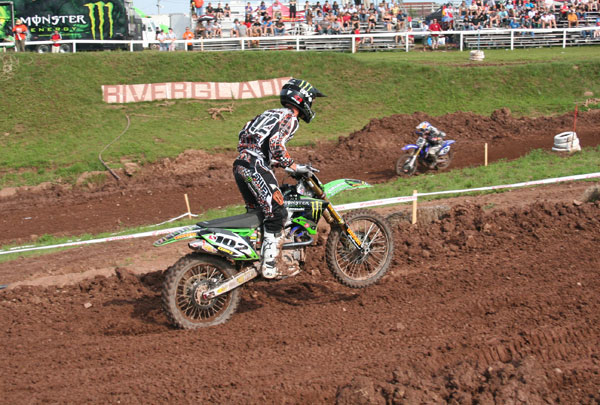 Canadians finally got to see the Bobby Kiniry that I know and love this weekend. He grabbed a good start, led for a while and finished third in the first moto. Second moto, he blowed his bike up big time but still- it was a good day for the kid.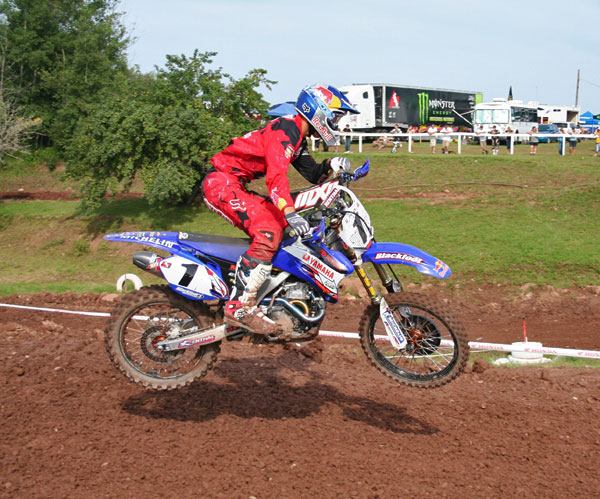 Lost in the 'Dusty Klatt is Jesus' hype was the fact that this guy dominated the actual race. Colton Facciotti went 1-1 and just about put the final nail in the coffin for the title. He's smooth like a chocolate waterfall on the bike. Ummmmm….chocolate waterfall.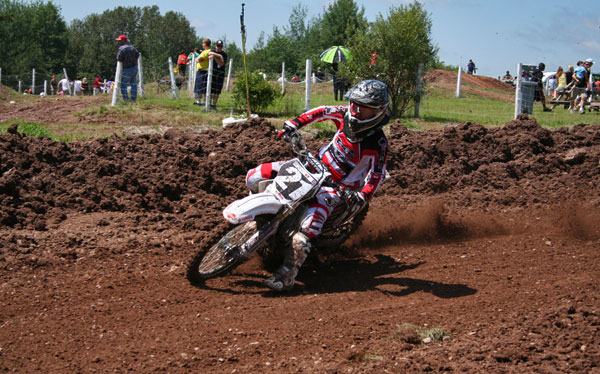 This guy is Jared Allison and he was doing real well until hurting his shoulder a few weeks ago. He came back last week in the mud but this week he showed that he was healed as he finished sixth in the second moto. First moto, his bike blew up but still, him and his identical twin, Parker, are fast kids.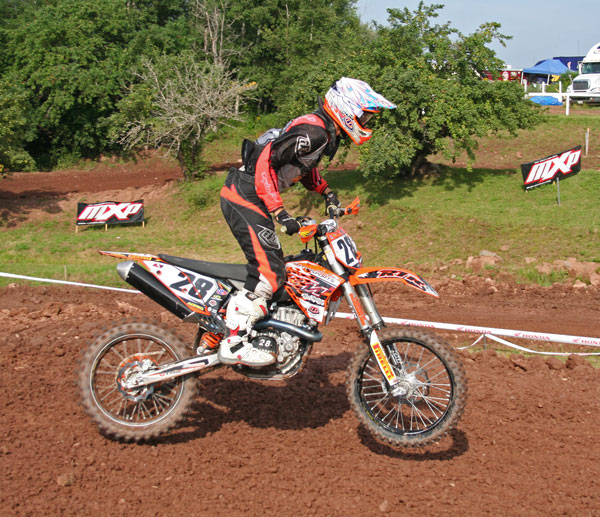 South African Liam O'Farrell didn't have a great day in Moncton. He was DQ'd from the second moto when he recieved mechanic help outside of the mechanics area. The weird thing was they didn't black flag him, he just kept spinning laps! Liam is ninth in the MX1 points.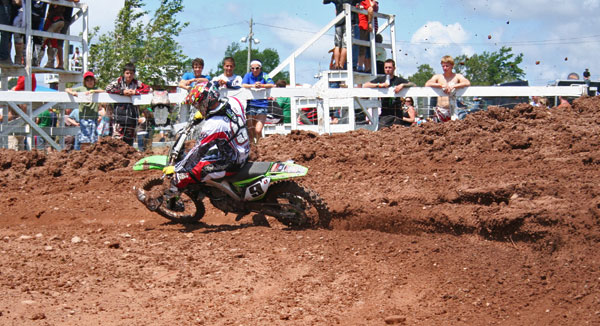 This is Mitch Cooke, you may remember him from Blackfoot Honda racing some 124 sx's a few years back. Mitch lives not far from the track and is the hometown hero for sure. He had a so-so day but seems to be enjoying the privateer life on the Kawi.
He also raised a squirrel a few years ago when it's mom died. I'm not making that up.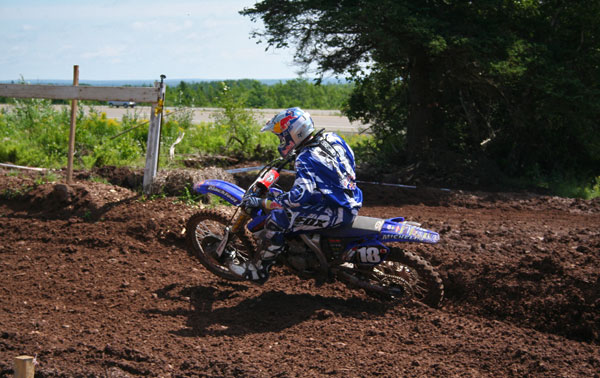 Aron Harvey from Reno, Nevada rides for the powerful Blackfoot Yamaha team and was one of the title favorites in the MX2 class. Then he went DNF-DNF at the first round and has been catching up since then. A third OA for Aron at Moncton.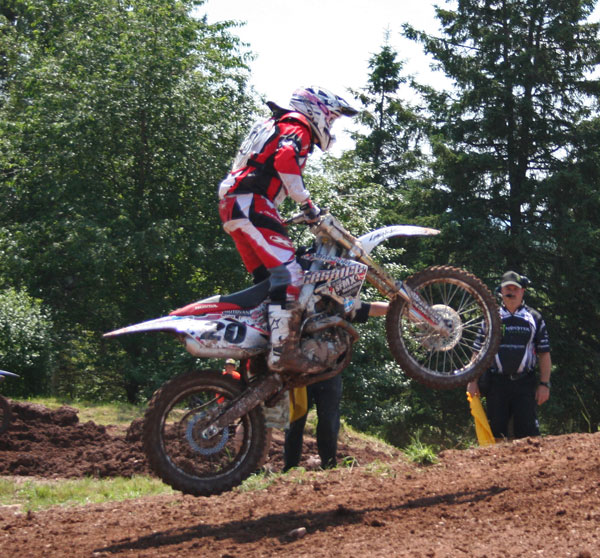 This is Marc Antoine-Generoux from Quebec. Marc rides for a privateer Honda team and rode 250's this weekend for some reason. He's a little heavy for the bike but he must enjoy racing it regardless.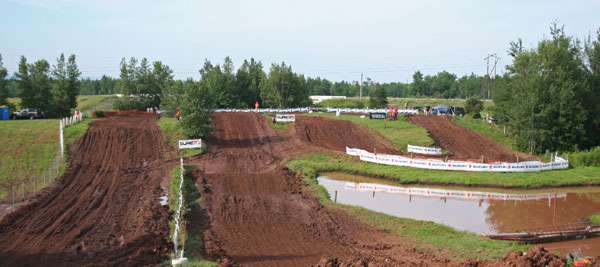 Here's the Moncton track on Sunday morning, it was primo conditions for sure. The track is the longest running on the Canadian circuit and looks like it would be so much fun to ride on.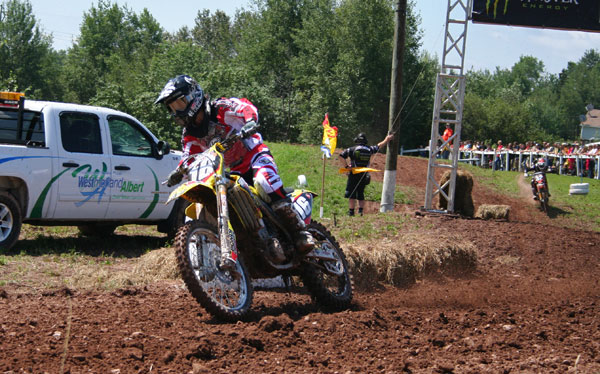 Jeremy Medaglia quit his OTSFF Suzuki team a couple of weeks ago when they wouldn't let him use team parts for his 250 that he went out and bought. Jer-Bear is a good kid that, right now, should be in the MX2 class. He almost won the first moto and then blew up in the second one. He needs a haircut bad but most of these kids nowadays do.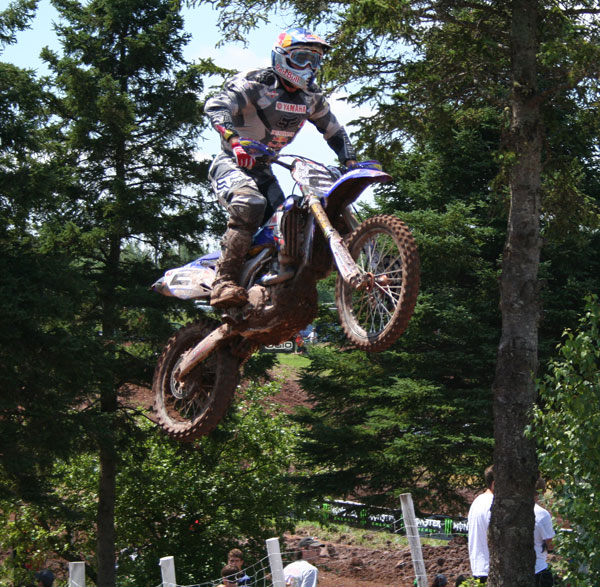 Dusty Klatt was the talk of the day, no doubt about it. His last to second ride in the first MX1 moto was epic. So was his jumping a jump that had never been done before. Too bad for him he couldn't match his teammate's speed this weekend. Dusty let it all hang out this weekend and still couldn't beat Facciotti- that must be frustrating.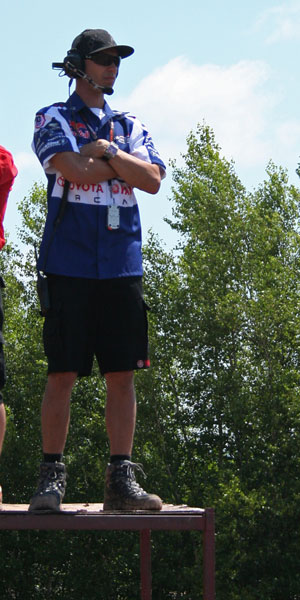 This is JSR, the prince of Canadian moto. He's the second best rider to ever come out of Canada and deserves much respect for what he's done. He used to drive his pick-up to Unadilla and top ten. He's a good dude and it was nice to catch up with him this weekend.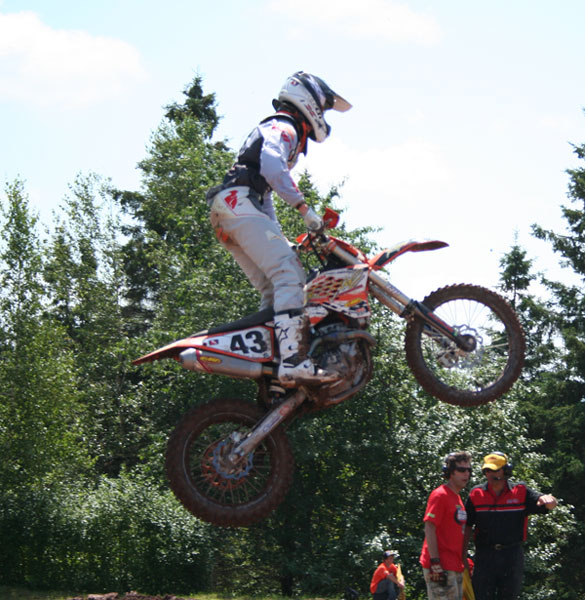 This is Ryan Millar from Manitoba, my home province. Ryan is a giant for his age (16) and is only in his second year of pro racing. He jumped up to the MX1 class and has been doing ok. He had his best day of the series in Moncton and maybe his best ride as well in the second moto.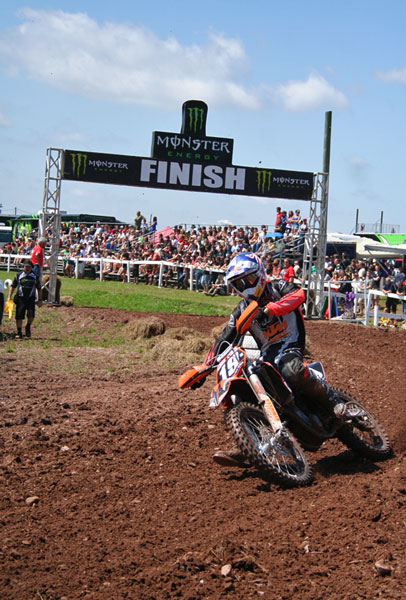 Kerim Fitz-gerald from South Africa is teammates with his fellow countryman O'Farrell and had the heartbreaking race of the weekend when he was in fourth in the first moto when he got a flat tire.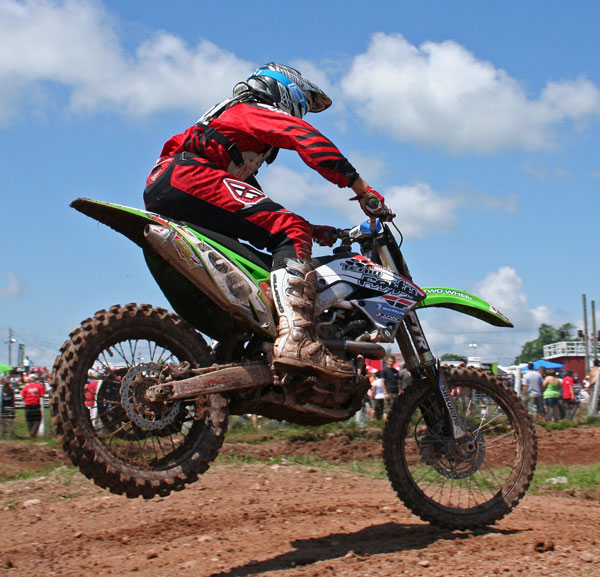 Kevin Johnson and I had a nice talk on Saturday before the race. I explained that he's a very good rider and should be doing much better than his 10th place in the points. He agreed with me and said that he feels like he's "sucking less and less" lately. So in Moncton, he went out and got ninth OA. It's a start I suppose.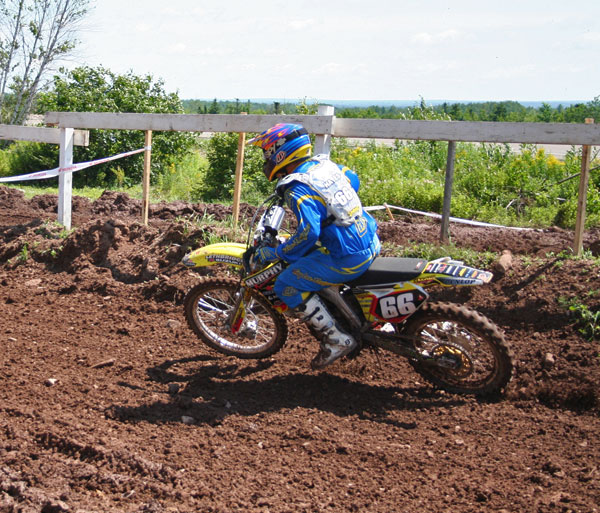 Dustin Hayes rides for the Murphy Motorsports team and finished 21st OA in the MX2 class. The thing with Murphy Motorsports is it's a guy who's son races so he went out and bought a semi for the guys to race out of. He's not making any money but if you're a privateer that needs help, he'll put you on the team! Nice guy for sure.
Defending champion Eric Nye is holding strong in the series, Teddy Maier is quicker than him but Eric is just hanging in there and is a force late in the race. Speaking of Maier, I can't believe I didn't get a crappy pic of him or his team.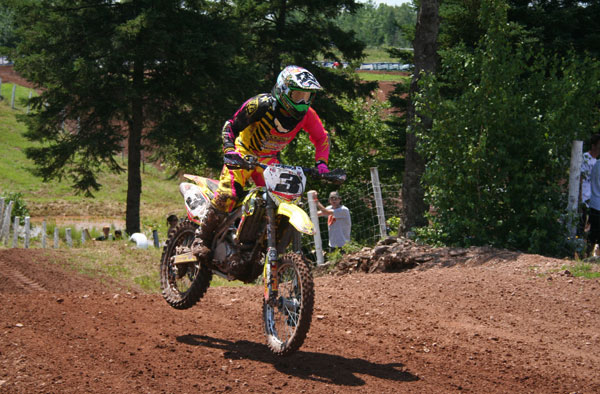 Last year's surprise rider, Tyler Medaglia has battled all year to be the same rider he was in '08. He's getting better after finding out he has scar tissue in his back that is holding him back. Moncton second moto was his best ride all season and going into his home track, he's hoping for even better things.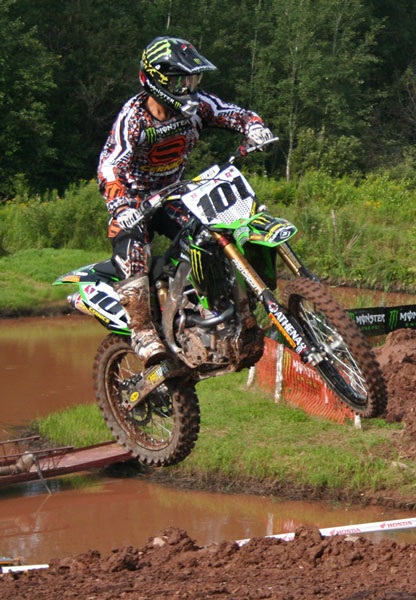 Paul Carpenter finished third this weekend and was a consistent, strong force all day. He just wasn't as fast as Facciotti or Klatt. Paul's a fighter and will be there for the rest of the motos.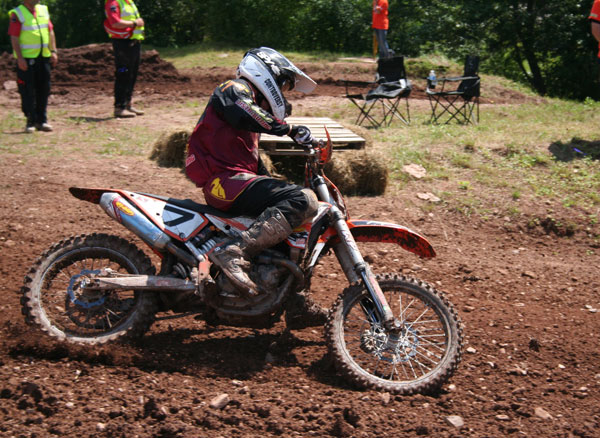 Jeff Northrup had a day he'd rather forget. Bike problems haunted him in both motos but he did jump the Klatt-apult. That's a small victory. That and a loonie will get him some Ketchup chips.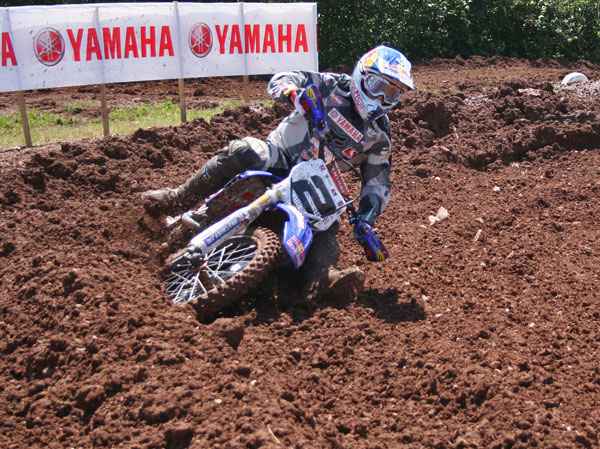 This might be my best shot and that's sad for sure. Klatt deserves two photos after Moncton.