It's not the talk that makes the difference, it's the actions.
It's not the talk that makes the difference, it's the actions.
Mike Alessi's points position at the end of the AMA Motocross series since he turned pro-
2005- 3rd (but would've been second had it not been for the penalties from the GH incident)
2006-2nd
2007-2nd
2008-2nd (not officially second because of his Red Bud crash but c'mon, it was a for sure second)
As you can see Mike has been on the verge of capturing an outdoor motocross championship for quite a while. There was always someone just a bit faster, first it was a kid out of Washington named Ryan Villopoto that had his number and then it was Grant Langston and James Stewart. Certainly a kid that knew nothing but winning his whole life was going to hit the pro scene running and show everyone what the "hype" was all about.
It hasn't worked out that way and there is no particular reason that anyone from the outside can put their finger on as to why Mike hasn't won yet. He's certainly a hard worker, he's certainly financially investing in his career and he has the raw speed that one needs to win. He's been so close to the prize but yet, in a sport that always rewards your speed over any character flaws one may have, Mike is about to burn through his third pro team in five seasons.
There are lots of whispers in the pro pits, lots of things that are seen and heard by others that quickly spread around like that jar of jelly beans that you've spilled. They hit the ground and go everywhere and you always seem to find that stray bean a month later under the table. There's simply no containing them once they are out of the jar and it's the same with rumors. You often have to take them with a grain of salt because you're hearing them second or fifth hand. But having said that, the old adage, where's there's smoke, there's fire, applies in a lot of these situations. When you start hearing things over and over and from people that don't necessarily talk to each other, well then you have to get on your hat with the light in it and grab a shovel to start digging.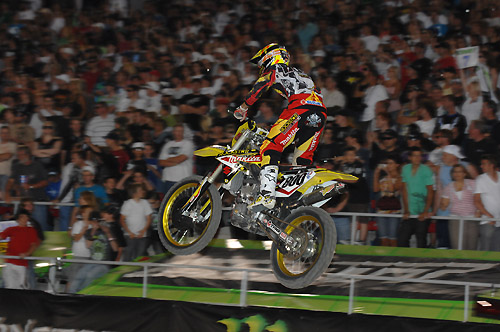 There's things that I know about riders and their, ahem, desire to be the best in motorcycle racing that makes me believe they will not be champions. They will make lots of money and maybe have a few wins here or there but it's virtually impossible for them to win a title. They don't want to put the work in that it requires. That's fine, that's a personal choice that they've made and there's nothing wrong with that. You just have to always file that in the back of your head and know that another old saying, a leopard doesn't change its spots, applies here.
But there's nothing really out there that suggests what is holding Mike Alessi himself back or why he only has two colors to ride for (and the green one won't have anything to do with him while his rival, Ryan Villopoto rides there.) I think you have to look at the peripheral around the man (yup, he's 21 now folks) and wonder what is holding him back from reaching the clearly attainable goal of winning a championship. After all, the definition of insanity is doing the exact same thing over and over and expecting different results.
When Mike was coming out of the pros, he had ridden red since getting off the YZ80 and it was thought that he would step into the factory truck and right onto the box. The family even took to the road to ride the amateur days at the nationals to get used to the tracks and conditions that they would experience that next year. When Mike hit the box in only his second national, it was precursor to great things. Honda and Mike Alessi would be a great marriage.
But that didn't work out, when rebuffed by Honda the family went and signed with upstart KTM in shocking move. The whispers around the Honda tent were that they didn't like the reception they received from the family when they extended an olive branch to help out. The family knew how to win in the amateur ranks so they were going to continue to do things their way. When I was at Yamaha, I knew things weren't going well with Team Alessi and Honda when the guys were upset at one of our bikes breaking at Steel City which gave Mike that final podium position.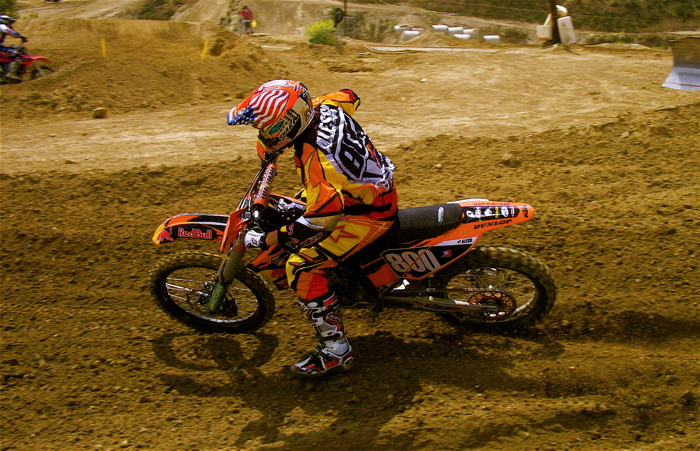 Mike's three years at KTM were nothing but a success from the outside, he took a brand that hadn't had the greatest results and put it on the box consistently. He rode a 450 that most would say wasn't the best bike out there and won motos with it. Mike hauled ass outdoors on the pumpkins and for that, KTM owes him some thanks. Three straight years of second in the standings and some decent supercross results should have resulted in both sides being reasonably happy with each other right?
Then how come the KTM guys had a piñata of the dad in the shop and couldn't wait until the final national to wail on it? Why were people on the team told to not address Mike directly but to always go through the dad? Why was Mike not allowed to have a factory bike at his house to practice on? The family couldn't get away from KTM fast enough as that summer there was enough poop thrown by both parties to make me wonder what the hell happened?
A new start and beginning at Suzuki beckoned and Mike went into the agreement saying nothing but the right things. The law was laid down according to insiders at Suzuki. There would be no shenanigans going on under the watchful eye of Roger DeCoster. The supercross series was going alright until an injury halted the progression of Mike. A broken collarbone was the culprit and it would be the longest recovery time ever in the history of broken collarbones. Some say that Suzuki was getting frustrated with the decision to stay home and wait for the outdoors. You could see though, in a tough 450 class, he was figuring it out. He was fighting and staying closer to the leader every race until getting hurt. And he always has the starts, when you have those you're like a pure puncher in boxing- there's always a chance.
The 2008 outdoors came and Mike grabbed the holeshots at Glen Helen a usual. That summer he would chase after James Stewart every second until they waved the checkers. Mike never stopped fighting, he never accepted defeat and was always trying to get closer to the unbelievable speed machine named James Stewart. Then that horrible crash at Redbud happened and the summer was over for the 800. It seemed that nothing Mike could do could stop one from thinking that he had crossed under a ladder or something.
2009 supercross season came and Mike's motto was "Stay safe." All he needed was McGruff the crime dog painted on his helmet and it would be complete. Mike raced every round and ended up a decent ninth place in the points. Throughout the series, Mike repeated his 'Stay safe' mantra. He just needed to get to the outdoors. With no Stewart to get in the mix, surely the title would be his. The highlight of the indoor season was a great ride in Indianapolis to get third in a night that, not coincidentally if you ask me, his dad didn't come to. The reason his dad didn't show was never for certain but again, Suzuki people say that it was right around that time that Mike almost got fired from the yellow team. What was the crime? Well, the family, was not believing that Suzuki was giving them the best suspension so the works Showa shock was taken over to a dealer in Florida and taken apart. Which is the sort of thing that is a big no-no and the same reason KTM refused to give him a works bike after the engine of the 250SXF was torn into. I've heard some other crazy stories about some things that have happened behind the scenes but I'm going to stick to only motocross related things here.
That was it, there was no going back with Suzuki. They laid out the conditions of the deal and the family just couldn't stay away from creating drama behind the scenes. There was a public firing of Mike's trainer in the tunnel at Anaheim along with the usual rabble-rousing. Again the rumors and things that I heard from under the yellow tent was, outdoor championship or not, Mike was not coming back to the Suzuki team. Right near the end of supercross I was speaking with Mike at Salt Lake City during track walk and he expressed anger and frustration that Suzuki was not allowing him to have a factory bike in Florida where he lives. He said he was just going to run his old settings because he didn't want to have to go to California and disrupt his program. I thought about hashing up shock-gate with him but he said good-bye and off he went.
We know how the 2009 outdoors went, it's fresh in our minds. So is the fact that this year, like so many others, there were to be no titles for Mike and Suzuki. It looked like 2009 was going to be the year but the moto gods stepped in yet again.
So now here we are, two colors left and one that has a zero chance of happening. Mike released a cryptic letter stating that his 2010 program will be quite different and that makes me think he's probably skipping supercross and racing some GP's or something like that. Factory Yamaha is the only team left for Mike and although I don't think so, they might not even be racing next year. No matter what, this is a twenty-one year old top level racers last factory team. There's no going back from here, the trail of bridges is burning so bright that you could probably see it from the space shuttle.
Perhaps a Team Alessi is in the works, I know there have been some calls placed and some people spoken to about it. Maybe that way, the family can control everything in and around the team. Like they did in the amateur days. When Mike was a winning machine.
I like Mike, I really do. He's a pretty funny kid when you talk to him and he's a real fan of the sport. He's a definite groomed-from-birth moto-monkey that maybe doesn't have the social skills that you or I may have but that's the case for a lot of these Loretta's kids. Mike takes his training very, very serious and is a great ambassador for the sport. I just think he needs to take a look around and change things up.
Because whatever he's been doing just isn't working.
I was telling a top level racer that maybe Mike can't be blamed, maybe the dad just has a svengali-type hold on Mike and you can't blame the kid. There's no accounting for what goes on in a child's mind during the formative years of their life and certainly Mike's dad is no different from any other dad in the world. He loves his kids and wants nothing but the best for them, it's the means that he goes about it that are up for debate. Anyways, back to my conversation with this rider. Know what he said? He said that he had the same problem and that's a bullshit excuse, Mike's now a man and can do what he wants. He needs to grow up and take control.
After hearing some more crazy-ass stories from someone on the team, I brought that same reasoning up again and surprisingly enough, I got the same answer. Time to grow up and take control of your life.
There comes a time when the father has to just let go and enjoy what he's created and helped out. Let the kid keep the money that HE's earned, let him decide what he wants to do. Let the experienced team of technicians standing around do what THEY want to do. Sit in the hospitality and enjoy the scene, the hard work is over and now it's time to kick back. That is what needs to happen but sadly, it won't.
I don't know how Mike's 2010 season is going to go but I do know one thing, he needs to stop doing the same thing over and over and expecting different results.
I hope he figures that out soon.