The champ speaks after the race and amazingly enough, he doesn't tell me to get lost.
The champ speaks after the race and amazingly enough, he doesn't tell me to get lost.
Me: Here are some words I never thought I'd say…Chad Reed is the 2009 450 motocross champion. Did you think I'd ever say that?
Chad Reed: No to be honest, I thought I'd gave up on that…
Dude, you used to hate the outdoors.
No, I didn't hate it, I hated RC, he was too damm strong outdoors! I always felt like I gave it my all, I gave it everything I could but something was missing. I felt like I was in good shape and this year we have the bike set-up. I think this is the best outdoor bike I've ever had in the US. I just tried to be strong and be there every week. And like you just said, we're the outdoor national champs and it feels great.
A lot of times when you did the outdoors, you would be out front and charging hard and trying to make it happen but without fail, RC would hunt you down. Sometimes KW also.
Yeah, even KW for sure. I felt like I had some great rides and some great seasons. I was always the second best guy, at times the third best. Even your guy Red Dog would sneak in there sometimes, I just felt like something was always missing y'know?
What if we had a time machine and put the Chad Reed of 2009 into it and went to 2004. Would you be better?
I think this year…it's hard to say because I haven't been healthy this year. I've had things going on and if I was to race Ricky Carmichael…I couldn't even beat Mike Alessi because I had nothing to give. I know I wouldn't be able to beat RC. You gotta race who's there and you have to be there week in and week out and I felt that I've gotten stronger and riding well. I'm also in better shape. I'm still working on things, still progressing on the bike and working during the week. The goal right now is to continue this and try to be strong at the MXDN. I always feel like I could be better and there are things that I could improve on and that's the boxes that I want to tick off. When I set my goals of what I wanted to achieve in racing the nationals, I'm not where I want to be but I'm working on ticking off those boxes. And that's just me being critical of myself.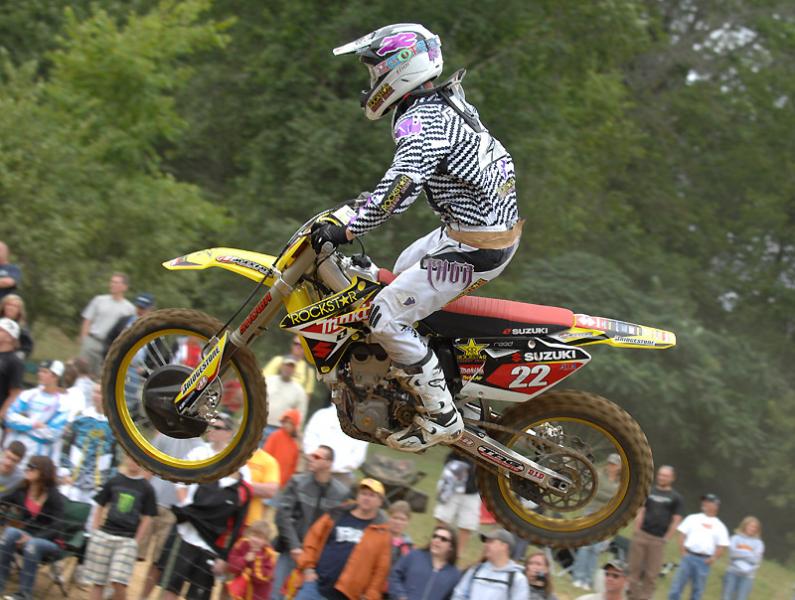 When you podium sixteen out of twenty motos, something tells me that no one can not say you're the best. A CStone shot.
What is the deal with you taking so long to get going in these motos? That first one you were going backwards…
Well, it's still a little difficult for me but today, in that first moto, I was going forward but I went off the track by the old finish line. You make that gnarly off-camber and I was in the fence there. I actually had a pretty reasonable first lap for me, I went from fifth to tenth but when I went off the track, I gave up four or five spots right there. Windham, Short all passed me and I had to come back.
But generally speaking, it has taken you a bit to get going in these motos.
Yeah, it has. Some of it is the situation that I've been working on. Some of it is knowing that it's a thirty-minute race and that you're in good shape and I know that I can finish it off.
And today, in that moto, you had to know that Davi would soon tire right?
Yeah, I knew that. I saw the lap times and saw how much I was catching up. I knew it would be tough to pass him as well. Budds has always been a favorite track but it's tough to pass on. Especially when it's a bit wet, you get off that one line and it's pretty wet. I had a great run on him on the last lap but I kind of threw it away there.
Ok, why is JT not doing that good? He tells me he's killing it during the week but then on the weekend, he's in the back.
I don't know about JT, I'm not sure if I'm beating up on him during the week or what.
He's been riding well at your house during the week right?
Yeah, yeah he's been riding good. There's things that I try to give him pointers on and get him to work on-it's that old saying, slow down to go fast y'know? JT tries to go out and kill it and then he tries to come on in there. The turn goes left and he puts his head right, it's an ongoing thing with him and with every rider. There are things that you want and try to progress better as a rider but starts are everything. The class has progressed in the last six months even since supercross from now. It's changed, the pace is changed, the riders have changed and that makes it difficult for a guy like JT. Even Red Dog y'know…
It's these damm kids…
Yeah the kids are coming in and there's a lot of Lites guys. The way that the tracks have progressed in the years, the way it develops. It's very short, choppy and has shitty turns. When RC was racing, there would be nice flowing berms and the veteran guys would make good lines. Now they are all nasty and Lites lines you would call them. It's changed a lot and you want to adapt and keep with the transition. I think he's struggling with that.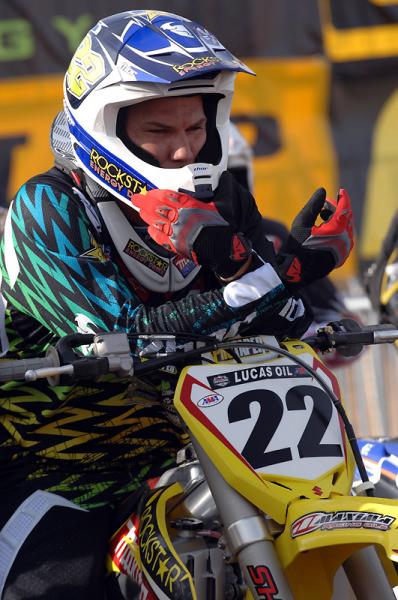 Reed ponders what he's going to do with that money and number one plate. The decision to race this year was the best decision that anyone has made since Jon left Kate. A Stone shot
Not slamming any of your old mechanics, but what's it like to work with Goose?
Oh man, he's amazing. Goose is the man, it's not a slam on my other guys and I've had some great mechanics. It helps a bunch, on so many levels he's different. He's a real guy and has a family. They are all here and it's fun. It's fun to talk to him and we talk everyday and the conversation is different than ever before. His past history speaks loud and clear and he's had two perfect seasons. That takes a lot, not only from a riders point of view but from a mechanics point of view, you know that.
I just think there's that that you can cross off and not even think about it, if we have anything wrong, it's a freak thing and never is his fault.
I don't imagine that he's a rah-rah type of guy…
No, he gets into it. He has a lot of great things to say and he's been around for so long. It helps to have that guy that's been around for so long and I have so much respect for him.
So this championship, is it worth over or under two million to you?
Over…
Three million?
(Smiles)
Thanks Chad and congratulations to you.
Thanks, see you next week.