Inspired by the Swedish dude Magnus's Euro rider 1980's column right HERE, I decided to do my own figuring of who would be the greatest American supercross riders of the 80's.
Inspired by the Swedish dude Magnus's Euro rider 1980's column right HERE, I decided to do my own figuring of who would be the greatest American supercross riders of the 80's.
What I did was assign a number value to each championship placing in the top ten for each year of the 1980's.
I differed in my scoring than Magnus as I went with the 3-point difference between first and second as a championship should be worth more than only one point over a runner-up. Second to third was two points and then a one point run down to tenth. Tenth and ninth were both scored as one point because really, what's the difference between them anyways (Yeah, I can hear you guys now, "Matthes, if there's no difference between ninth and tenth in your world, then why is eighth worth one more point than ninth. What's so good about eighth? And to that I say, it's my formula-screw off.)
Here are the point values I gave each position-
1st– 12 points
2nd-9 points
3rd-7 points
4th-6 points
5th-5 points
6th-4 points
7th-3 points
8th-2 points
9th-1 point
10th-1 point.
So there we go and without any further adieu, here are the top 15 riders of supercross in the 80's. Also take note that in 1985 there were two championships with one of them, the actual AMA championship, only being two races. I didn't count that one as Johnny O'Mara won the Insport Championship and is generally considered the sx champ that year. So the Insport title standings count.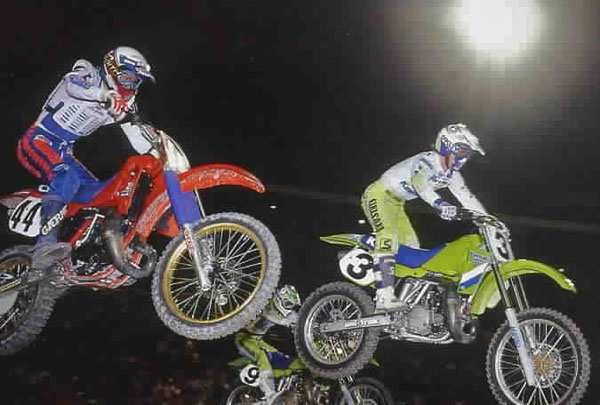 Ward in '87 battling with "Fast" Fred Andrews and The Dogger in the back. Wardy is the top supercross rider from the '80's.
1st Place- Jeff Ward- Kawasaki-56 points
It wasn't a surprise to see Wardy top this list, as you have to figure that he would be first or second because of the two titles ('85 & '87) and was a consistent top five finisher the other years. In '88 he would've finished second if it wasn't for an ankle injury. When you consider that Wardy is still racing today at 50 years old, well that makes him even more amazing. Like I've said before, I'm twice Wardys size but half the man he is. He is motocross. All told, the Flying Freckle finished top ten in the supercross series eight times in the decade only missing out in 1980 and '81.
RJ was a good rider but then got on Honda's in 1986 and became really, really good. Photo courtesy of Moto Verte
2nd Place-Rick Johnson-Yamaha, Honda-49 points
Too Hip ends up second and not far back of his arch-enemy Ward. Only six top ten championship finishes for RJ but that includes two titles and two runner-up finishes. Johnson finished runner-up to O'Mara in '84 on his Yamaha but when he switched to Honda for 1986, well that was when he really took off. I don't know about you but when I think about 1980's supercross, RJ was the mother-effing MAN. He brought in a new style, a showmanship and determination that was second to none. His 1989 finish of tenth was achieved in only six races with five of those being wins. Then Danny Storbeck struck and it was all downhill.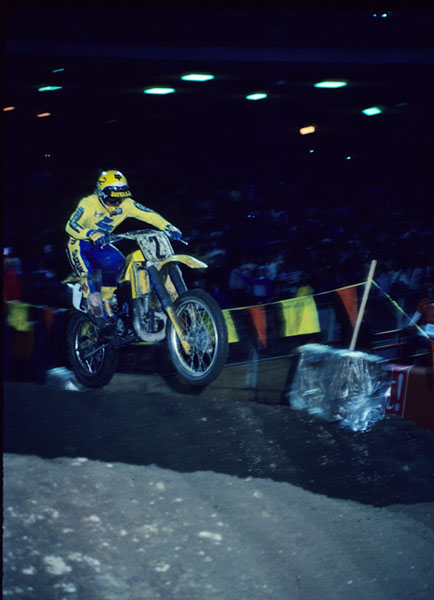 My favorite rider when I was a kid, The Bomber was oh so close to being a 3-time SX champion. Stupid Hansen and Bailey. Photo courtesy of RXI Archives.
3rd Place-Mark Barnett-Suzuki, Kawasaki-43 points
This might be a bit of a surprise to you as The Bomber only raced half the decade before retiring but as my favorite rider growing up (which I wrote all about HERE) I'm not surprised he's in third. Barnett only won one title but scored two runner-up finishes the next two years. All told he only missed out on being a 3X SX champion by a handful of points. As it is, he had to settle for just one title but his season ending championship scores of 4th, 1st, 2nd, 2nd, 7th and 6th were good for 43 points and third in the "Matthes Awards for Best 80's Supercrosser." Also I must mention that Barnett won a supercross (Atlanta '85) in his last season and not too many riders can claim that. He retired when he was 26 and as he told me in our podcast it was because "No one called me for a ride."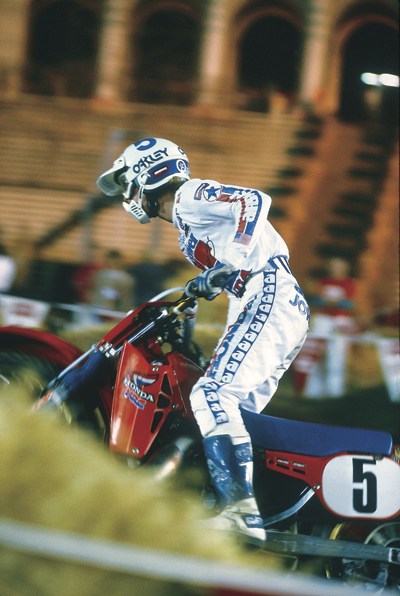 This is a good look for the decade's fourth best SX rider. O'Show might have had a few more wins had he stayed at Honda. Photo courtesy of Moto Verte
4th Place-Johnny O'Mara- Honda, Suzuki-43 points
The O'Show tied the Bomber in overall points but I gave the edge to Mark for his runner-up finishes. Johnny was remarkably consistent just like Wardy as he won one title but finished in the top ten seven years out of ten. He switched to Suzuki in '87 and had a disastrous year with injuries and the bike sucking ass. He did rebound with the all-new RM250 in '88 with two more years in the top ten to round out the decade. Weird stat-out of O'Mara's seven career supercross wins, only two came in the season that he was champ.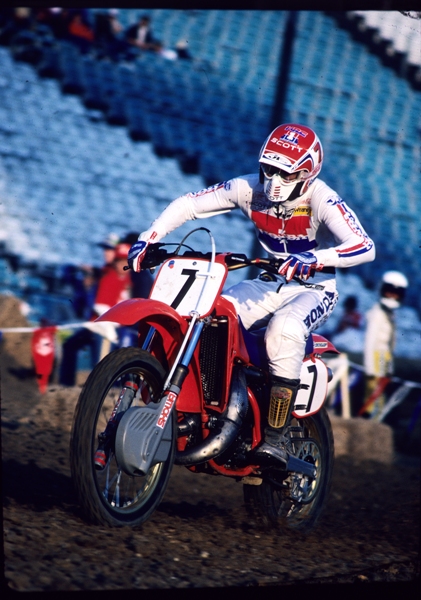 Lechien in '84. His eight wins was the tied with Hannah as the most wins by a guy who didn't get a SX title. Why no Hall of Fame for The Dogger? Photo courtesy of RXI Archives
5th Place-Ron Lechien-Yamaha, Honda, Kawasaki-40 points
The Dogger (I just love the 80's nicknames and one of my biggest pet peeves with today's riders is the fact that they hate nicknames, they don't embrace them. Weege asked Dan Reardon about the "Dandy" Dan nickname and he hates it. Apparently their initials followed by their number is cool) never won a title but did score a couple of runner-up positions. He scored a top ten finish six years and two were 2nd's and two were 3rd's. Lechien's career was remarkable for the fact that he started in 1983 and was completely out of the sport six years later. He was only 21 when he broke his femur in 1989. Oh what could have been…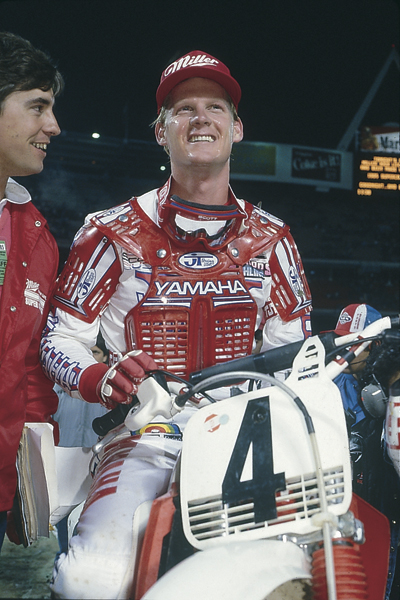 Glover finished 6th in my rankings and you have to be amazed at his eight years of scoring top ten supercross finishes. Photo courtesy of Moto Verte
6th Place-Broc Glover-Yamaha-40 points
The model of consistency, the Golden Boy scored a top ten finish in eight years. He went to Europe in '89 and had wrist problems in '87 so if he was in the country and not hurt-he was in the top ten in points. His ten career sx wins were achieved over eight years and he was a runner-up for the title in 1985. Remember that was when Wardy rode backwards after a crash and if you listen to our podcast, Broc lays out some pretty good reasons why he got screwed. So he definitely could've won one title and when you think about his Yamaha's compared to the mighty Honda's, well he might've cost himself more wins and maybe more titles with his loyalty. I gave the tie-break to Dogger for his two runner-up finishes but now that I think about it, shouldn't year-in and year-out consistency count for something? Maybe putting him ahead of Lechien will help him like me more as he's a little cheesed at me for writing something about Dunlops yet again.
Bailey in 1984 wearing the Wrangler number one plate. How weird was it seeing him and Glover going at in the 500 nationals both wearing number 1's? Photo courtesy of Moto Verte
7th Place-David Bailey-Honda-32 points
His ranking was only achieved with five years of being in the top ten in points. The Little Professor's best scores were one title ('83), one runner-up and one third place and in the points. Looking back, I think it's safe to say that DB probably under-performed in 1985 when he finished seventh on the sweet works Hondas. That's the year that they ran the goofy two twelve lap main events and combined the scores together, maybe Bailey needed the full twenty? I tend to think not and just chalk up '85 to a bad year altogether because he also somehow, amazingly got beat by Glover when he rode a YZ490 against the works Honda 500. Bailey only trails the legendary JMB as the guys who won the most supercross races without winning multiple titles. And of course, let's not forget what might have happened if he hadn't gotten hurt before the '87 season. He was a shoe-in for at least top three finishes in the next couple of years, if not titles.
8th Place-Mike Bell-Yamaha-23 points
A little bit of a surprise (beating out Hannah?) is the 1980 champion. Too Tall (there's another awesome nickname!) wasn't much of a factor if you look at the entire decade as he only recorded three top ten finishes in the points and one of those was a ninth. So basically his score is from his title and his runner-up placing in '81. The total of 9 points from Bailey to Bell represents the biggest drop-off in the standings and I would think that you could take the eight guys above Mike and call them all Hall-of-famers (there actually is an AMA Hall of Fame right HERE and every one of my top eight sx riders of the '80's is in EXCEPT for Lechien. Which is a complete travesty as Ronnie outscores Bell by six career wins and they each have one national title. That's it, I'm starting a letter writing campaign to get Ronnie into the AMA Hall of Fame. Click HERE and you can fill one out with me. If nothing else, The Dogger is in my personal Hall of Fame and the all-time best off-track stories Hall of Fame. Come to think of it, that may be the reason he's out.) Anyways, back to Bell, he also won a supercross in his last year ('83) and again, a surprise that he's here with really only two years of finishes.
9th Place-Donnie Hansen-Honda, Yamaha-18 points
Another career that was cut short by injury, "Holeshot" Hansen was on top of the world when struck down while practicing for the 1982 MXDN. He had just won the 250 MX and SX title and was looking to be a top dog for a long, long time. His scores were achieved, like Bell, with only three top ten results. He won the title in 1982, got sixth in 1981 and eighth in 1980. He was clearly on the way up and we'll never know what could have been if it wasn't for that accident that ended his career. I listed him on a Yamaha because I believe he tried to come back in 1984 on a Yamaha for a couple of races and it didn't go well.
10th Place-Kent Howerton-Suzuki, Kawasaki-16 points
The Rhinestone Cowboy (don't even get me started on how incredibly awesome THIS nickname is) also got his top ten finish with a 2nd in '80 and a 3rd in '81. I seem to remember him doing pretty decent on a Kawasaki in '84 but maybe that was only in the nationals. Kent was more of a motocross specialist scored most of his 32 career wins when the sun was shining. He did manage to win five races and make the top ten in the "Matthes Awards for Best 80's Supercrosser" which I'm sure is the capper on his great career.
Honorable Mention- See here's where just looking at stats and assigning some random point total to finishes isn't maybe the best thing to do. When you speak to any of the old-timers out there about Bob Hannah and his 80's career, they will tell you that NO ONE was faster when Bob switched to Honda. Hannah missed all of 1980 recovering from a water skiing accident and then came back on Yamaha but struggled with the bike. He switched to Honda in '83 and I've spoken at length to Bailey, Lechien and Bob Oliver at Yamaha and they all assure me that nobody had nothing for Hannah in '83. The only reason he's not on this list (he's thirteenth with eleven points scoring just three finishes- two 5th's and a 9th) is because he kept getting hurt. So his eight sx wins in the 80's are the same as Lechien and more than Hansen don't get him on the list. He won the most races in '83 as well. So Hurricane's not on the list but he probably should be when you're talking about the greatest supercross racers of the 80's.
Other scores were:
11th place-Jeff Stanton 14 points
12th place-George Holland 12 points
13th place Bob Hannah 11 points
14th place Guy Cooper 11 points
15th place Keith Bowen 7 points.
Look for a 90's and Y2K rankings later this week…