He seemed rather busy at the time but still took the time to talk, what a swell guy.
He seemed rather busy at the time but still took the time to talk, what a swell guy.
Me: Ryan, no one talked much about you after the US Open, do you feel like you went in under the radar?
Ryan Villopoto:Yeah, I didn't know until Wednesday night that I was racing so no one knew, I just showed up.
You were probably the 2nd fastest guy there, were you happy with that?
What do you mean probably? I was or I wasn't?
Well, I think you were. You bent a shifter when you weren't in 2nd place. Sp some people could argue that. I wouldn't though, I think you were the 2nd best guy, calm down.
I would have won that second night if I didn't get tired, then what? BAM, then what?
That would have been gnarly.
I had like a 7 second lead.
I know, he knew you were gonna get tired I'm sure.
Yeah.
Basically you were 2nd best guy there and no one wanted to talk to you, do you feel like that?
I don't care. I had only been riding 8 days.
How does the knee feel? How is your recovery coming along?
The recovery part was all good, but I had only ridden for 8 days so it wasn't much riding time, I wasn't in riding shape or anything. I just wanted to go there so I could race at least once before Anaheim 1. I could go to Bercy or Genoa but those are big ventures to go out there.
When you holeshot and got into the lead the 2nd night did you think you could win or did you feel like you didn't have the stamina yet? What was your mindset?
I just wanted to get in and ride and see where I'm at.
You weren't really bummed when he caught you?
No, what could I expect after that many days of riding? It would have been nice to win but my goal wasn't to win it was just to go and get some gate time.
What about running back in on him, how was that?
I figured there wasn't much of a show the first night and the 2nd night didn't have much of a show until that point. I had the lead and he caught me so I figured since all those people came that I would maybe put on a little show for a little bit longer.
Was he pissed? Did he say anything?
No he didn't say anything. One interview he said I did the same thing to Reardon and another one he said "Oh he's been hanging out with so and so." So I dunno.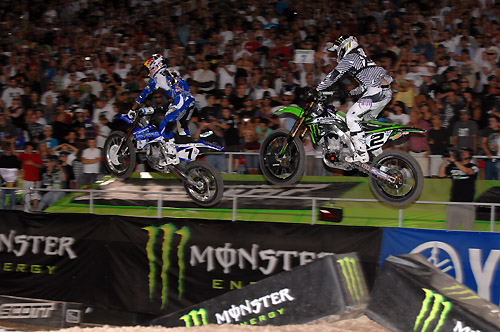 Look for alot of this this year in supercross. Ryan likes to joke around with me and sometimes I wish he would just give me a real interview.
Yeah who really knows, I'm sure a lot of people were pissed, for me it was more like a love tap, like here I am, I'm here. If you wanted to put him down in a dirty way you could have gone right at his front wheel. So, speaking of so and so, he's your teammate, that's kinda crazy both of you guys in the truck. How's that gonna work?
I don't think he's signed yet.
He's gonna right?
I would assume, everyone does. But we'll find out, I guess.

So if he is your teammate how will that be, what's your relationship like with him? I'm sure it's good since you're both Thor guys, right?
It's alright I guess, I don't know. It could be good it could be bad. I get to ride with someone fast. Timmy was out in Florida a lot so I couldn't ride with him, so I'll be able to ride with someone who races James and is able to race him.
I see both sides of it, if some shit goes down in the semi it could be sketchy, You're bound to come together.
Yeah.
What are you switching up for your training program? Or are you keeping it the same as last year.
Same program as last year, that's the plan for right now.
What's going on with Red Dog's house?
It's still not done yet.
Inspections, or what?
No, he had a piece of paper from the county that said he could ride as long as he owns it and I want that piece of paper for me that says I can do whatever I want. So we're waiting on that.
That's probably a smart move because if you didn't have it they could say "Oh, we just told the old owner that" Good move on your part. Well, that will be good because I can come and hang out just like old times.
Yeah, you can come hang out.
Really?!
Yeah.
Hey, you gotta be a little bummed losing Red Dog as your teammate.
Yeah, it sucks, we're pretty good friends and as of right now he's gone.
How's the new bike?
The new bike is good.
Is it much different?

Nah, not much, little stuff with the frame but nothing major.