Here's my day 2 Bercy Blog. I'm 24 hours behind with this. This was all on Friday…
Here's my day 2 Bercy Blog. I'm 24 hours behind with this. This was all on Friday…
Well it's 3AM here in Paris and I just got done writing my race report for the night. As you already know, James Stewart won everything there was to win, including the hearts of the fans. Even though the French MX2 World Champion Marvin Musquin was in the house, the Haines City Florida native was the bell of the ball tonight. He was the man, plain and simple.
Read the RXI race report for the full scoop on that. Here's an account of my day, what the kids call a blog.
First thing this morning, I had to get back to that pastry shop across the street to pick me up another one of those delicious bear claws that are the size of Matt Boni's head. Yesterday I purchased one with chocolate inside but today I switched it up to apple. This was a lovely start to my day and the only thing that could make it better would've been a Starbucks but surely there wasn't such a little slice of America here in Bercy was there? Read on for more on that…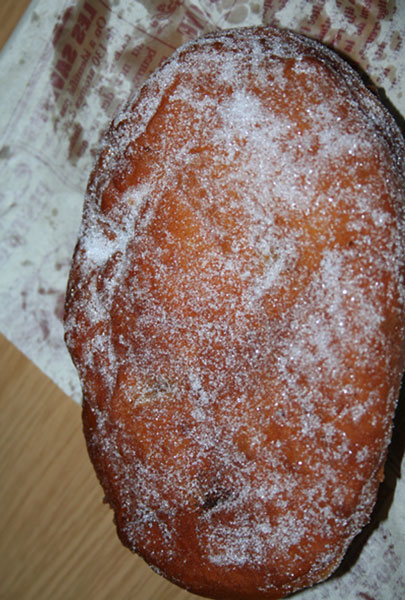 Here's the bearclaw and it's debatable if it's the size of Matt Boni's head…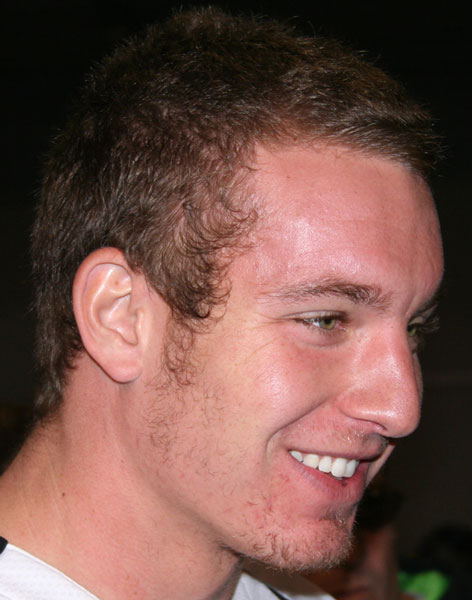 But here's a shot of Boni's head. You decide.
So then it was to the track and more hanging out by me. I went on the track walk and immediately noticed the whoops. They are big and spaced apart enough that there wasn't going to be any blitzing across the tops of them. Looking at these suckers make me realize that I'm lucky to be watching the racing. I wouldn't want to have to commit to these things.
Nick Wey wants to document this trip for a possible Pulpmx.com film (it couldn't possibly make the cut on RXI films. It's that shaky and out of focus, which come to think about it-is just like my site) so we busted out the Sony and started shooting whatever and whoever we can. Some real behind the scenes stuff and NYK even took it out onto the floor with him for opening ceremonies! He passed it off to JT for his little interview and we could all laugh as he told the announcer that even if his throttle sticks, he's giving it his all and happy to be here. There's quite a bit more that happened but you'll have to wait for the movie.
Including the part where Wey almost got arrested.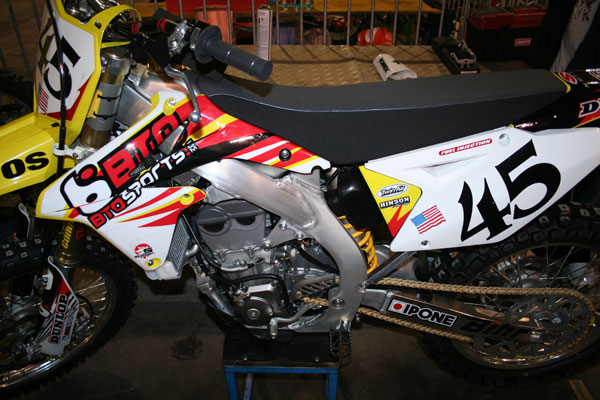 JT's BTO Sports.com/BBMX/Palmetto Suzuki ride. Nice numbers…
I spoke with super agent Jimmy Button who is here to help his new rider, Josh Hill, adjust to Europe and the L&M team. Jimmy hadn't been back to Bercy since the last time he rode the race in 1998! He mentioned that I should write nice things about Josh and Wey quickly chimed in with "Yeah you should after all the mad shit you talked about him." Thanks for that Nick.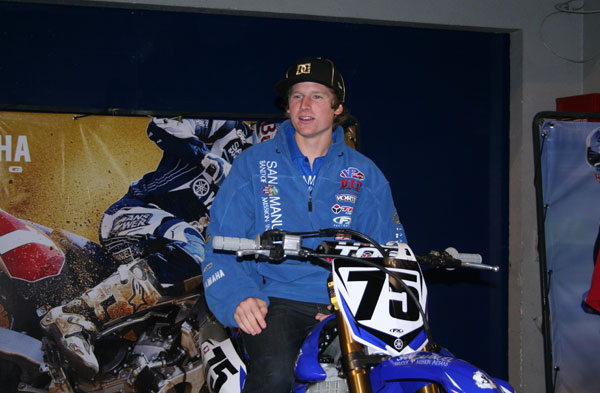 Josh Hill on th new team and new bike. Still blue though, he told me he had to go and buy some Thor gear because no one there was taking his calls.
But really, Josh is a good kid, he has a hell of an opportunity riding for Larry Brooks at L&M and I think he's going to do really well this year. So consider this the first nice thing Button-fly.
You don't often see top riders like Hill riding stock bikes but that's exactly what Hill is doing here in France. There aren't too many 2010 YZ450F's around so Hill gets a French magazine test bike. It's got works forks, stock clamps that are milled to accept the dimensions of said forks, stock but re-valved shock, stock exhaust for most of the night. The L&M team ended up putting an Akrapovic pipe on for the night show but really, Hill is on as much of a stock bike as you can possibly get!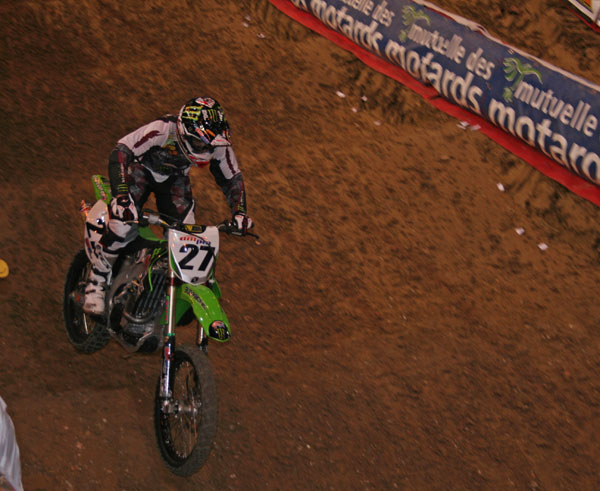 THE NYK in action on the Kawasaki. He may be going back to J-Law Racing, he may not. For now, it's an SPR Kawasaki.
Hung out with Larry Brooks and somehow, incredibly, I worked Ross "Rollerball" Pederson into the conversation which made Larry tell us all the story (me for the 4th or 5th time but I can never get enough of the old stories) about how he did the radical jump in his underwear in Winnipeg Canada.
Matt Boni got pulled aside by the promoters as they had heard about his aggressive US Open performance and mentioned that the fans and other riders in France don't like it when you slam your way to the front of the pack. He was told to just back it down a bit to which Boni acted like he never did anything in Vegas and was innocent. Oh these riders and their skewed visions of themselves…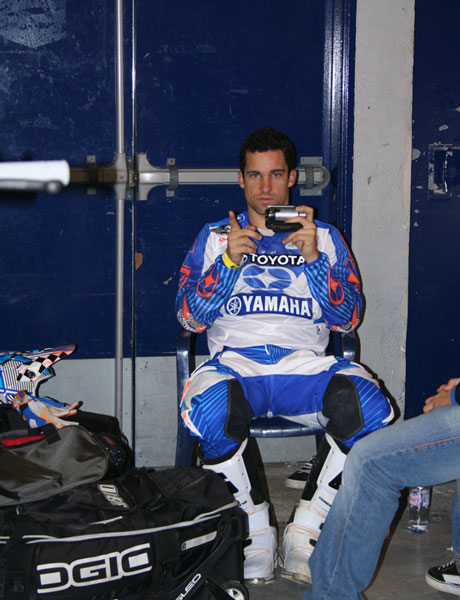 Brayton trying to get better. He's been real good this weekend.

Watching practice it's clear that there is James Stewart and then there are the humans. He's looking good on that bike and there was no doubt he was going to be the man. I never really saw or spoke to Stewie at all in the two days I've been here. I did run into him when we both in the sale de bain (look it up) but that is not the time, nor the place, to exchange anything more than pleasantries.
After practice it was back to the hotel and some spaghetti bolognaise with Thomas and his mechanic Dan Truman. Then there was some more crap talking to which Wey and his mechanic Rich joined in. The time flew by and we had to get back to the stadium for the night show. Except I heard whispers that James' trainer Aldon Baker had scoped out a Starbucks. I got some directions from JGR's Tim Dixon and set off with my little buddy JT. Except we got lost and turned around. Thomas was stressing about getting back in time but we made one last grasp at finding the green lady and there it was. BAM! A little slice of heaven in France.. A little slice of home and we were on our way. (By the way, moto-journalist Matt Allard dropped me some directions on Twitter but was about 4 hours too late. Thanks Matt but maybe you can get on it a little quicker next time?)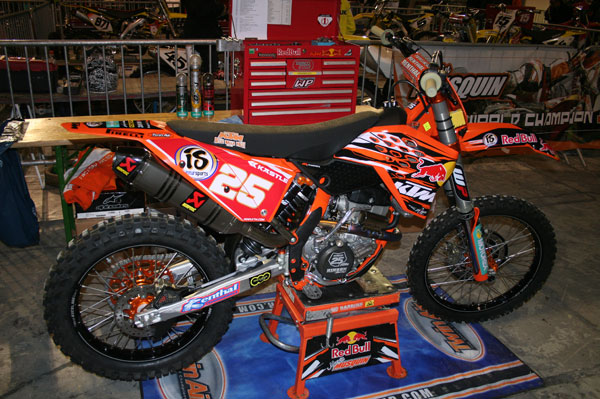 This is probably the trickest bike in the pits. Musquins KTM 250F.
Then it was more hanging out in the pits waiting for the races to start, the way all the Americans were mingling round and going from pit to pit made me think about how cool if all these dudes would be like that in January. Uh yeah, that would be nice and so would world peace. It's just something about those races that make them fun, lots of down-time in a strange country add up to tons of stories, rumors and even more outlandish claims.
It's been fun!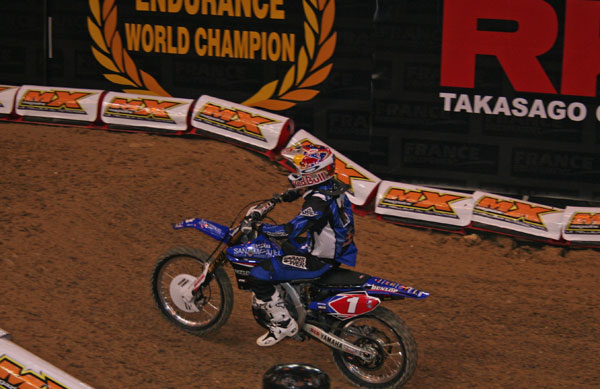 Stewie's the man in Bercy, here's a crappy shot of him with the AStars neck brace.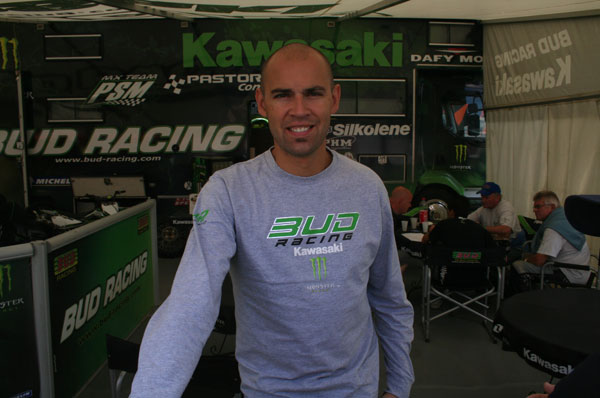 What would a Bercy be without DV there? Le Cobra is getting a tribute every night.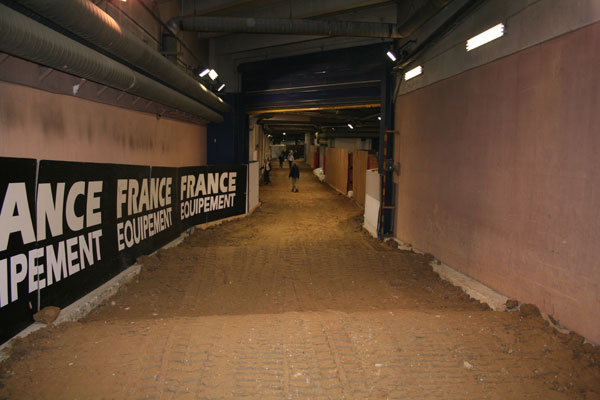 The Bercy tunnels are scary. Very fast, not a lot of padding and pretty narrow. This wouldn't fly in America.