Well, we've done the 80's, the 90's and now, with the close of the decade, we can figure out the best supercross racer of the Y2K decade. All the incredibly sharp and in focus photos by Carl Stone.
Well, we've done the 80's, the 90's and now, with the close of the decade, we can figure out the best supercross racer of the Y2K decade. All the incredibly sharp and in focus photos by Carl Stone.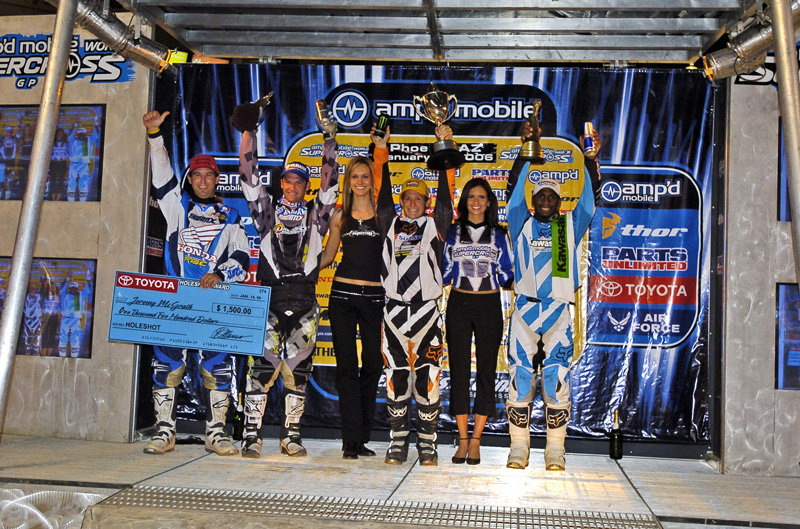 This pretty much sums up the greatest sx racers of all time. Lotta race wins right there.
Remember when we came into 2000 (after we all survived the PC's and bank systems making the switch to the year 2000) the top supercrossers were MC, Lusk and some weirdo Frenchman who slithered all over the bike. We left the decade with an Aussie and a black dude from Florida who does things on a motorcycle that no one had ever seen before. In between the there was the reign of one Richard Carmichael who skipped one year completely with injury and raced another year part-time. Who would be crowned the decades best? Read on…
Wait, first my super-secret, major, gnarly points system for the riders. Here is the breakdown of how I scored them for championship places. Ninth and tenth are the same because I didn't want to put a .5 in there.
1st– 12 points
2nd-9 points
3rd-7 points
4th-6 points
5th-5 points
6th-4 points
7th-3 points
8th-2 points
9th-1 point
10th-1 point.
1st-Ricky Carmichael- Kawasaki, Honda, Suzuki- 67 points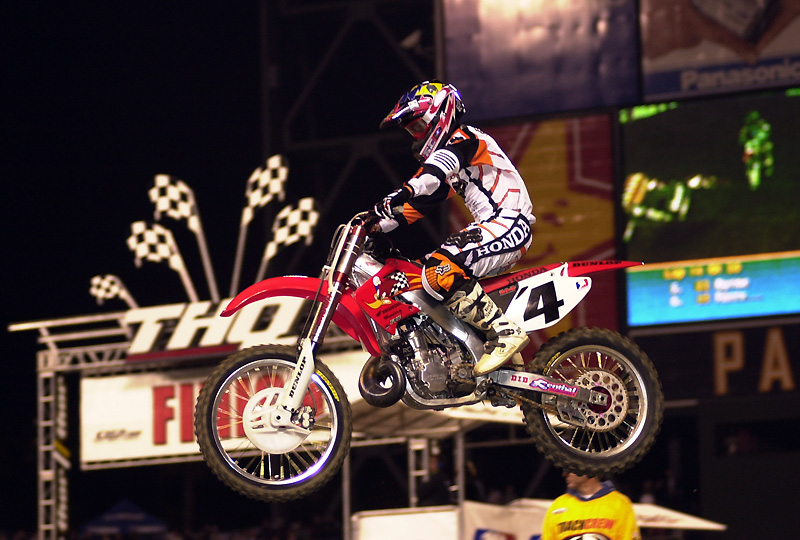 Yep, just like the greatest sx racers of the 90's, it was no surprise to see RC on the top of this list.
The voting process was closer than I thought it would be and RC actually tied with Chad Reed for the 00's best supercrosser but we'll give him the tie-break based on his five titles to Reeds two. As a matter of fact RC won the title every year that he competed in the series full-time but two ('99 and 2000.) But of course you knew that already if you're reading this right? It's remarkable that Ricky won that many indoor titles as timing and jumping were never considered his strengths back when he first started. Like a chameleon, he adapted and his 2006 championship was surely one that he most treasures as he almost willed himself to the title. RC's solution to figuring a section out or going as fast as the guy in front of him was simple, just grab more throttle. Not always the best thing to do in supercross but he made it work for him. My personal opinion is that MC was the better supercrosser based on more wins and titles but if you disagree, I would understand.
2nd-Chad Reed-Yamaha, Suzuki-67 points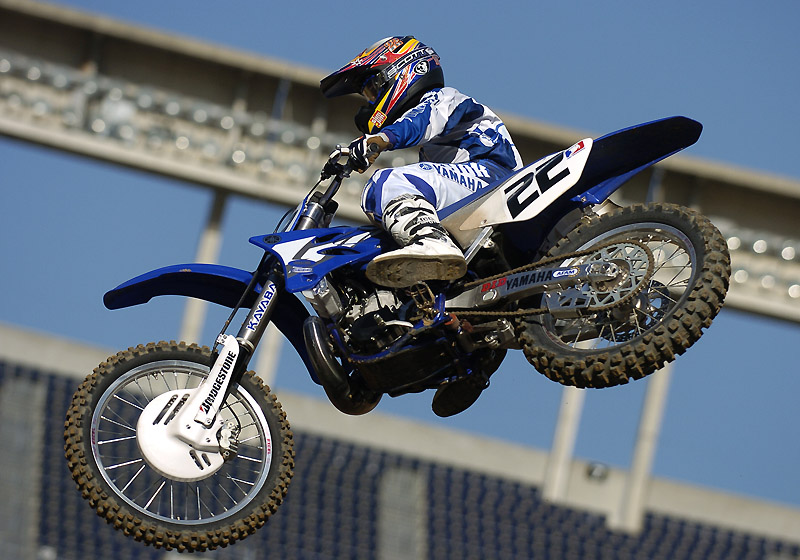 Reed in 2004 was almost unbeatable. He was on a roll this season. I have one of his helmets that look just like this one.
Perhaps one of the most underrated riders if that is possible, when Reed's all done here he will rank amongst the greatest riders that has ever raced supercross. Or motocross for that matter. He's third in the all-time win list (holding off Stewart) and is only ten back of RC with one less year racing the series. Pretty remarkable eh? His two titles, four runner-up's and one third put him in a tie with RC for the decade's best supercrosser. Chad is without a doubt one of the best supercrossers ever and when he goes back to Australia, we'll all sit back in our rocking chairs and say "We should 'a treated that guy a little nicer on our message boards."
3rd- Kevin Windham- Honda-48 points
Windham fits in at third and that's a fitting spot for KW. He's won 16 supercrosses in his career (second most ever for a rider who hasn't won a sx title-behind Bradshaw) and it's funny that, of those 16, 9 have come in years that RC or Stewart didn't compete in. It's as if Kevin has convinced himself that he can't win the title when either of those two line up but when Chad Reed is on the line, well a whole new KW comes out. He's finished second in the series twice and both times behind Reed. Seven times in the decade, KW has finished inside the top ten in points and that's a remarkable record. There are many people out there that have wanted more from Windham, more heart, more speed, more desire but at this point in his career, he is what he is. A fan favorite who is a good dude and if everything aligns right, can win a race here and there.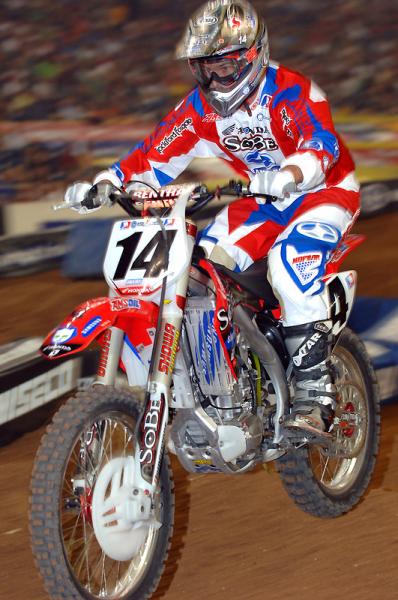 KW makes it look pretty easy out there on the track. He's one of the guys that will go down as one of the greatest to never win a sx title.
4th- David Vuillemin- Yamaha, Honda, Suzuki- 41 points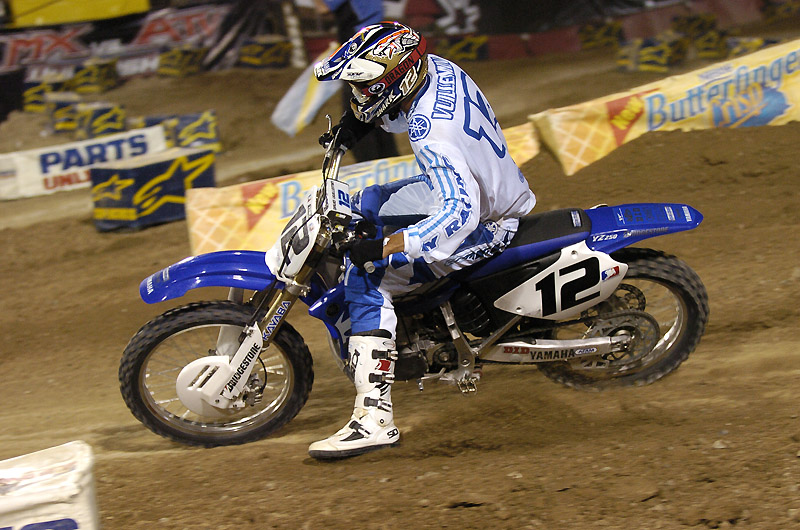 DV12.com attacked the US scene like, well, like a cobra. His best chance for a title was 2002 no doubt about it. He loved those Sidi boots also.
The Flying Frenchman came into the decade with a bang and then exited with a whimper. A real revelation when he came into supercross, DV can look back at his seven career wins and know that they came against the best. His technique was one that was never copied by anyone. He beat the best in the world (RC and MC) straight-up and took the AMA series by storm early this decade. Eight times he finished inside the top ten and twice was a runner-up in the series ('00 and '02.) Le Cobra has his own "What could've been?" when he was leading the 2002 series half-way through and injured his shoulder in a practice crash. He had a good lead and probably could've just finished second the rest of the way and been fine. I was on his team for three years and the best memories of DV that I have all involved off track stuff where he made all of us laugh. Sometimes it was even intentional.
5th- James Stewart- Kawasaki, Yamaha- 34 points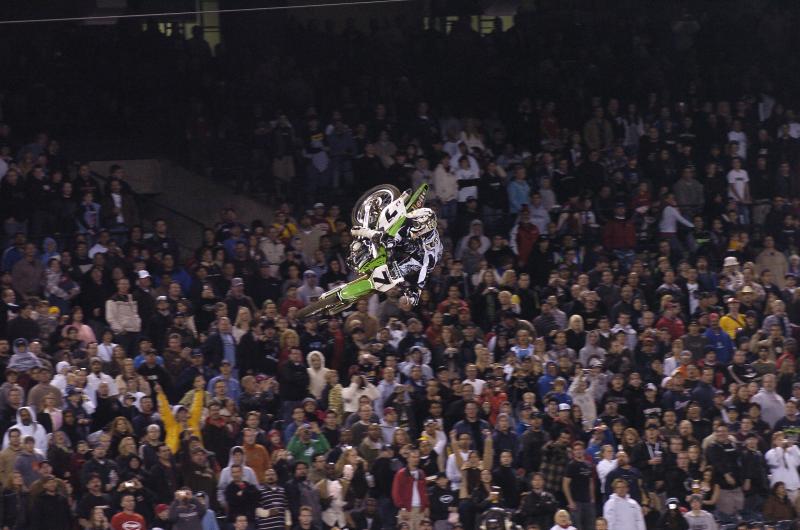 Stewie revolutionized the sport of supercross and showed everyone the Bubba scrub.
Stewart makes this list despite being only racing three complete supercross years. He's won two titles and finished second behind RC in the other one. Something tells me that he's going to be a force in the next decade as well. James is blowing all the laws of gravity away and making us rethink what is possible on a motorcycle. That's not hyperbole or me wearing some JS7 glasses, that's the real facts. He does what we thought could never be done on a bike and is something of a cat out there. When he gets in sketchy situations, he just gases it and jumps out of trouble. The only person that can stop James Stewart is himself. It's that simple. I think MC's 72 wins is going to be in danger here shortly.What's scary is that you know how each generation is better than the last? Well, I wonder that kids of 2020 are going to be doing on a bike?
6th- Jeremy McGrath- Yamaha, KTM- 28 points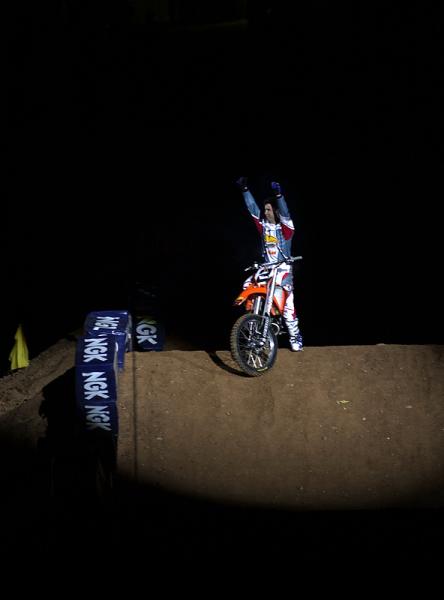 This was all the US fans saw of MC on a KTM. He packed it in and did a bunch of retirement laps.
Just like Stewart, MC makes the list with just three scoring years in the decade. They were a 1st, 2nd and a 3rd. Then there was the switch to KTM for the 2003 season that never came to be. MC raced the world supercross rounds, crashed 18 times and packed it in before Anaheim. In 1999 MC could see the future and its name was Ricky Carmichael. The next year he staved off the red head for his last title and then the 2001 season came and the two heroes split the first four races. RC won the fifth (a duel at Anaheim) and it was on from there. I don't believe Jeremy ever won another race as the 2002 season saw MC struggle (although a lot of riders would love to struggle to a third place finish in the points.) The move to KTM was not a good one and it was over. Not too many of our heroes can be like Jim Brown or Barry Sanders and walk away at the peak, so it was refreshing to me to see Jeremy come back as a part-time racer to holeshot races and finish top five against the kids. That seemed about right.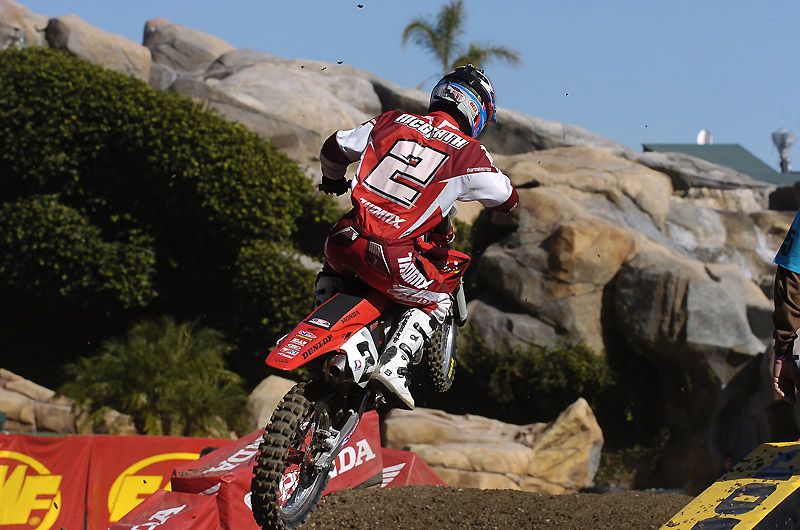 But Showtime came back strong as Part-time and made his exit ok. When he holeshot Phoenix and did a nac-nac on the first lap, I thought the dome was going to explode.
7th- Mike LaRocco- Honda-27 points
With five top ten finishes in the decade, The Rock makes it into the top ten for the second decade. Mike was a steady force almost every year with three 3rd place finishes early in the 2000's and although he wasn't in any championship battles, will always be remembered as a fan favorite and a hard charger. His starts almost always sucked and he was forced to put in twenty laps at the same speed. It wasn't that he got faster as the race went on, it was that he stayed the same and the others got tired. Trust me, I've looked at enough lap charts after races while wondering how in the hell Mike could round the turn in 19th and still beat my guy. He was always someone that you had to factor in as being capable of winning a race.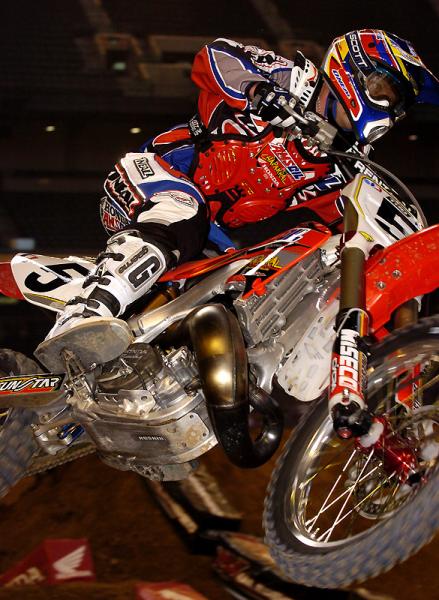 The Rock was a steady rider that took no prisoners.
8th- Tim Ferry- Yamaha, Honda, Kawasaki-20 points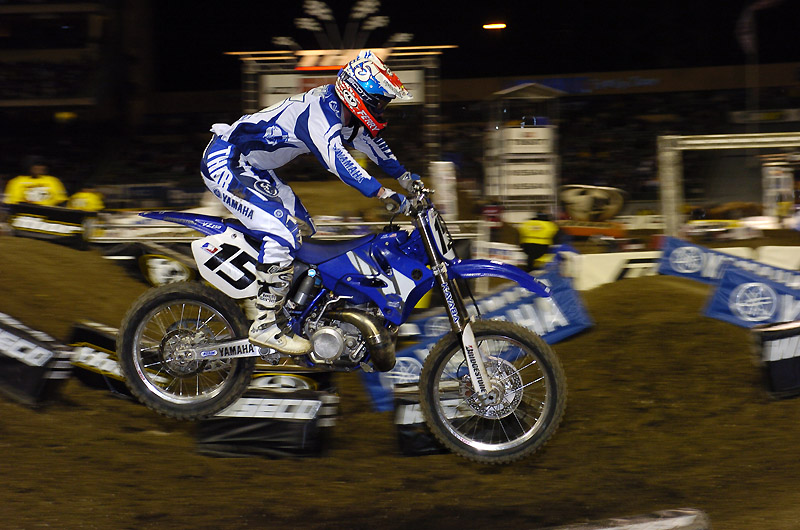 Red Dog in '04 on the 250 two-stroke, that was a really good bike. They jacked it up with the aluminum frame the next year. At least for these types of guys.
Well I have to be a little pleased that Ol'Red Dog made the list as most of you know, I was his mechanic for four years, three of them in the Y2K years. Unfortunately for me and my records, as a team we only finished in the top ten one time ('03) but Ferry did make the top ten four times total. His 3rd place in '07 was a career high for him. With me he finished on the podium six times but missed some races with Epstein-Barr syndrome and finished 5th in the points. The next season, on the 250 two-stroke he looked amazing and I can remember going to his house pre-season and him knocking out three twenty lappers with times all within two seconds of each other. A1 was the all Yamaha sweep where he finished third. The next week he was fifth (despite having the fastest practice times in all sessions) and then the next week's practice, disaster struck. He fell and hurt his wrist which made for a frustrating three years. For more on the Tim Ferry story click HERE.
9th- Nick Wey- Yamaha, Suzuki, Honda, KTM-19 points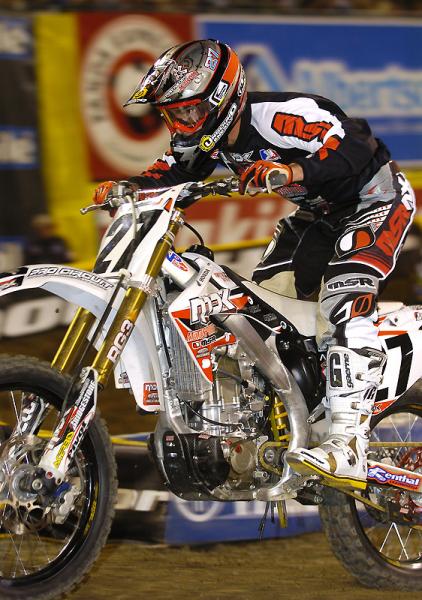 Nick Wey on the MDK Honda. He's got good form and is looking to get back to his 2006 level in 2010.
In what might be a surprise, Wey makes the ten best supercrosers of the 00's with a solid five years of top ten finishes including a 8th in 2002 with me as a mechanic. Top privateer that year as well, in case you're wondering. Anyways, after that it was onto a Mach 1 Yamaha ride and a 5th place finish for the two-seven. Onto factory Suzuki and another 5th. Then MDK Honda and Wey started to shine here, getting his first podium finishes on the CRF 450. He was definitely on pace to do better than ever but broke his thumb one year. From there it was a KTM and a drop in the points for Wey but a frustrating 2009 had him searching to get his form back. Anyways, a good decade for a guy that other riders watch and admire.
10th- Ernesto Fonseca- Honda- 15 points
Ernie's career was tragically ended early with a crash otherwise he'd be higher on this list. An underrated supercross racer, he achieves this tenth best marking with only four top ten finishes. Fonseca was always a good starter and a very technical rider who seemed to be one of the first guys to figure out sections and lead the way. His best finish was a 3rd in 2003 and his other finishes were solid.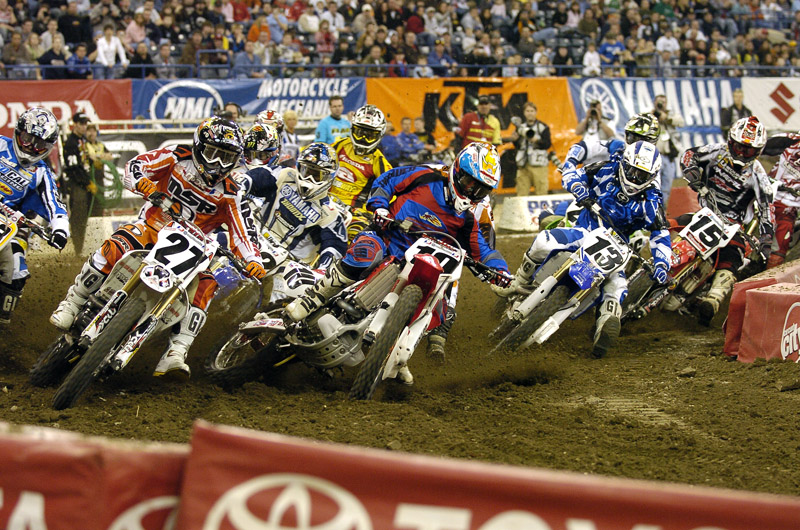 Fonseca's last race, Indianapolis '06. He holeshot and led for a little while before getting, I think, a fifth.
Here are the guys that almost made the top ten:
11th- Ivan Tedesco-15 points– Injuries have hurt him big time but he was close. His first year on the 450 remains his best season yet.
12th- Andrew Short-14 points-Moved up to early to make it on the list, he's on his way with two 3rd place finishes in two years racing 450 sx.
13th- Michael Byrne-12 points-Another rider that would be higher but injuries have caused him to miss the last two sx seasons.
14th- Ezra Lusk- 12 points-He won a race in '03 and scored three top ten finishes this decade.
15th- Heath Voss- 12 points-Underrated for sure. Heath is a guy that flies under the radar. Like, literally he flies his plane under the radar.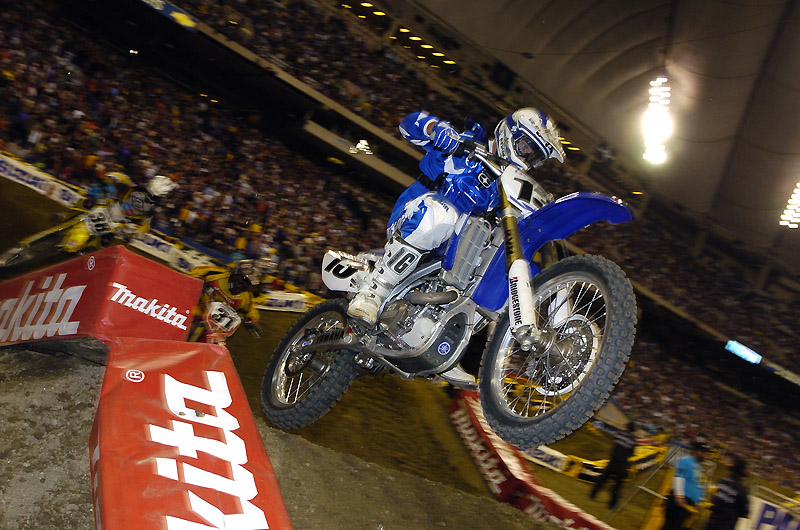 Heath Voss did almost all his damage on a privateer bike. In fact when he got on the factory bike, he got worse.