Check it out plus "Memories of Rollerball" and "Old-ass Pictures of You" have been updated.
Check it out plus "Memories of Rollerball" and "Old-ass Pictures of You" have been updated.
I was going through some old photos and came across these beauties. That's right, I was a freestyle pioneer along with the lower radiator movement (another story for another day) as you can plainly see. That's me on my '84 YZ80 and I'm getting radical for the camera with what I believe is a one-legger and then a one hander.
The one-hander pic was taken in our backyard when I was around 11 or 12 years old. We moved from the city out to the country and at first it sucked because it was an hour or so from my friends. I soon developed an affinity for the land because it was 5 acres and allowed us to have a moto track around the outside of the property. It wound in and out of the trees and was pretty decent really for an 80 or 125. The old owners had a bee farm kinda in the far back of the property so when we moved in, all the bees were gassed and I remember there just being piles and piles of bees. We rode over them with the riding lawnmower and mulched them up. Then we routed the track back there and it was Unadilla-loamy and rough! Now that I think about it, it was because of all the bee guts and stuff as to why it was so fertile and nice to ride. Gross. Anyways, then we had a section that crossed over the driveway and it was like ABC Superbikers right there. The lip to the driveway was a good six, eight inches above the dirt and hitting that and getting kicked at speed was one of the scariest parts of the track. This track is where I really learned how to ride and as you can see, I'm on my way to greatness.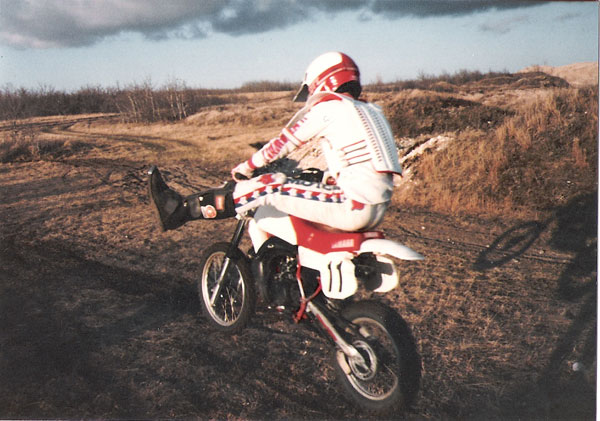 I ran number 11 for a little bit before switching to 17 in honor of my favorite hockey player, Wendel Clark. Although that looks like a JT V-2000, it's not. It was some copy that we bought, yep even back then rip-offs were in full effect. These boots were nylon or something and were like tennis shoes. That's a Bell Moto-4 that my dad painted to look like RJ's '85 helmet. Pretty sweet get-up I must say. If you were blinded by the one legger and never noticed the gear, I don't blame you.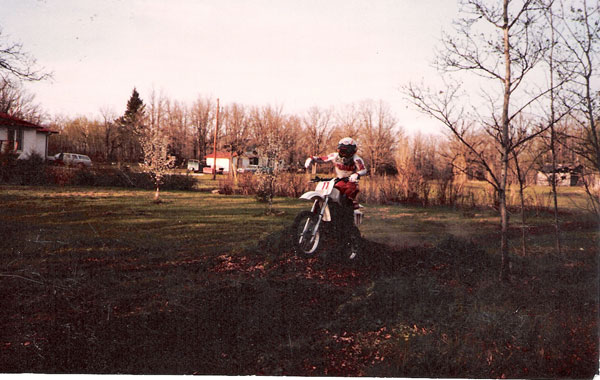 This is our backyard back in the day and the shutterbug obviously pushed the button too early and didn't capture the full extention of the one-hander. Too bad for you guys. This was probably a couple years before the above picture as I'm smaller and have the stock graphics on the old Bell. I rode an '84 YZ80 for 3 years. My brother got all new crap every year until he quit and then pops got me all new stuff! This was the only jump we had and we got the dirt for it the old fashioned way, we dug the ground up in front of it! So you had to clear a hole. It took me a long time to do the four-foot jump, let me tell you that. For more on this story, click on the "Old-Ass Photos of Me" sticky.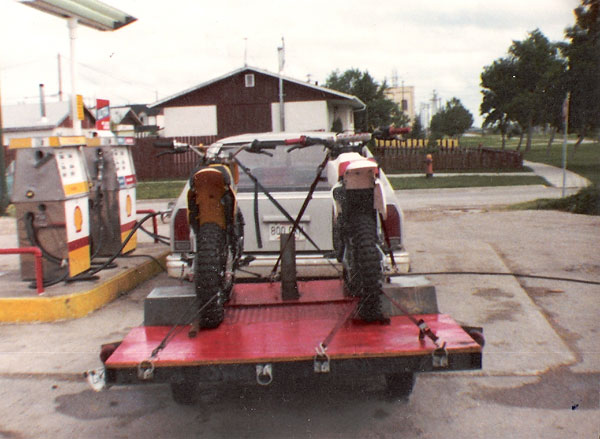 Here's the race transporter. A Ford LTD wagon with a three-rail. Later on my dad tricked it out with a box on the front for tools and stuff. This was take at the families gas station that my mom and dad owned. I pumped gas starting at about ten years old and I can still remember vividly pouring oil into a dudes radiator 'cause I was ten and was probably thinking of Star Wars. I'm sure, without a doubt, there was some sort of child working laws broken back then. My dad got my brother and I for cheap, I was rewarded for a Saturday day of work with a Star Wars figure. I'm dead serious. Anyways, my therapy has gone well and I'd rather forget those days. I have no clue who's bikes these are. Maybe my brother could sign up and comment below if he knows?