Got a couple of different things from two-time 125 national champion turned manager Steve Lamson. First a "Tell Us Another Story with Steve (and the guy he's riding over) and then a "Seventeen Minute, Thirty-Eight Second" Interview with Steve.
Got a couple of different things from two-time 125 national champion turned manager Steve Lamson. First a "Tell Us Another Story with Steve (and the guy he's riding over) and then a "Seventeen Minute, Thirty-Eight Second" Interview with Steve.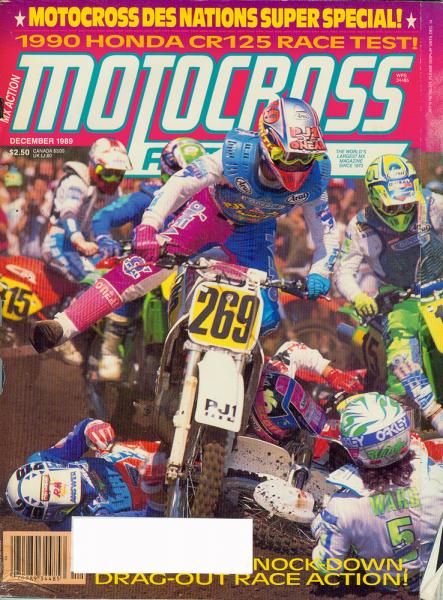 What a way to make a cover huh?

"I remember this cover and this bike.I finished Loretta's and it was my dad and I on the road in a box van. I think there were four or five nationals left in the year. The bike was a YZ360 and I remember it was pretty good really. Most of the nationals I was fourth to sixth place and to me that was unbelievable for me as I was coming straight out of the amateurs. That was the series where I earned all my points and almost pointed out into the 250 supercross series. I was riding on a Pro-Am license and even though I was in fifth or sixth, I was getting first place Pro-Am points and I had to actually stop racing or I would be in the 250 class. I needed to stay in 125 supercross as I had never even ridden supercross and here I was going to have to jump into the 250's. I earned number 29 for the next year and all the points were from the 500 nationals. And it was funny that the next year I earned 29 again when I went to ride for Mitch at Peak Honda.
It wasn't down on power to the other 500's really because it was so light. Ohlins made the cylinder, Noleen did a pipe for it, they imported the kit and my dad did the motor and balanced the crank. He built it from head to toe really. If you had them done right, those bikes were good. All the Yamaha guys I was racing against had these, it was just the Kawasaki and Honda guys on 500's back then.
I remember this crash well, it was at Washougal and that's Jeff Ward, Doug Dubach and a Canadian guy named Al Dyck on the ground right there. It's funny because my dad has this cover on the wall at his house. Every time I go over there, I see and it and laugh. I remember that I came up to this crash and there was no place for me to go so I had to go right over these guys. My leg was sticking out, I made it over everyone and kept going. I remember the footpeg came really close to hitting Dr D in the head.
You can't see it here but I was wearing an aqua-blue boot on the other side so I was complete matching those pants. Check out my gloves also! I wasn't missing around back then. I was so stoked to get on a cover back then, it was my first year and I was like 'Wow.' Hell yeah I was happy! Yeah sure it's rolling over a bunch of people but it's still on the cover.
I think back to those days and man, it was something. It was me and my dad in a box van just living on the road. Not rockstars at all. We went from place to place, eating sandwiches in the van because we couldn't afford to eat in restaurants. It was fine with me and brings me to reality how my career was really. Two years from this picture I had won a national and supercrosses in the 125 class. It was my early years and my teaching from my parents that shaped me into the guy that I was, even when I was at Honda and winning everything. I trained my ass off back then as well. I can remember that at Honda I would be testing with Cliff White, Mike Hooker and the guys and they would be making some major changes to the bike. They'd tell me it was going to be an hour or so and I would whip on my tennis shoes and go for a run while they worked. This was '95 up at Mockingbird canyon in Riverside and I can literally remember running in the hills waiting for them to make the changes. I'd run up and down hills in these shitty-ass trails. It would be 110 and full of smog in San Bernandino county but I would want to get my training done as soon as I can. I don't want to sound like Bob Hannah here but some of these guys are ridiculous nowadays. Sorry to get off the subject there (laughs.)"
So that was Lamson's account of this cover and that time in his life. Let's get the guy he's riding over top of, Al Dyck to comment as well. You can't say I didn't dig hard for this story!
Al Dyck- "I remember this well, it was at Washougal and I think Jeff Ward slid out and I couldn't go anywhere and nailed him. I think Lamson had to like, rock his bike back and forth over me to make it finally (laughs). This race I rode pretty well, I remember the morning qualifier I went out and felt really slow but ended up winning the race pretty easily. This crash was the first moto and ruined the rest of the day for me. I remember seeing this cover and being pretty happy about it even though I was laying on the ground. There was a calendar also that came out this year and for April it said April showers and was a picture from a muddy Golden State series race that I won. I was number 122 and myself and AJ Whiting on a Cagiva were the only guys visible in the photo.
I rode a 360 the next year and it was really cool. I remember Washougal with the new uphill start I came around the first turn in fourth or something like that. Those bikes were actually pretty good."
And now the interview with Steve about this coming year as manager of the Motoconcepts Yamaha team:
Me: Lammy, how's it going and talk about the switch from Honda to Yamaha's for you guys?
Steve Lamson: It's going well to be honest, it was a big change for sure. We had a ton of Honda stuff in our shop and we had to change everything over. Yamaha's been great to us and the support has been there. The transition after the last national was huge, get the bikes back, build fifteen for-sale bikes and we just finished that about two weeks ago. We were pretty fortunate in that we didn't have to keep everything in our shop, Mike Genova (owner) had the semi come to the shop and take the bikes, parts and everything else up to Portland where he's going to sell them up there. Our shop isn't huge where we can keep ten Honda's lying around.
Otherwise the last three weeks we had Ryan Sipes out for testing, we did it right in the fact that we built the bikes up with motors and suspension done before the guys got on them. Basically we're committed to Frenchie (Luc Caouette) to do our motor work and we've been talking to him since Steel City to get us the best stuff. I had some riders that wanted to get a bike right away but I told them that their bike is in a crate and we have to go through it and get the motor done, get Enzo to do the suspension and do it right. When you ride the bike, it'll be close to right and we have a plan. (Matt) Georke was out for a few weeks, Sipes was out, (Jeff) Alessi is on the bike, (Vince)Friese is riding and they are all impressed. We utilized Sipes for testing reasons and he helped a lot. Everything is falling into place right now and once (Dan) Reardon comes over it will be great.
And you probably heard that I got Michael Young helping me out as a team manager. Which is a good thing. Honestly I struggled last year dealing with everything on my plate. I stepped in after Anaheim 1 and things were crazy. So Michael's here and he's been working for two weeks now and has taken a huge load off my shoulders in regards to the business end of things. It's been good.
Yeah, you have a massive team with six riders…
Four Lites riders out of the six and they take a lot of time for sure. Now is the crazy time really, just getting everyone up to speed, get everyone on the bike and all the work done. We both have a good background in knowing what needs to be done and stuffs falling into place.
When did you get your YZ450F's?
We've had two 450's since the Vet National and we did one up for Georke and gave it to him and the other one we let FMF have to get a pipe made for us. Got that back, we got the motor open and we're scheduled to get four more here real soon for race bike parts.
What kind of support are you guys getting from Yamaha?
We have the option to have, on the 450 end of things, works parts from Yamaha. But for them to do motors and whatnot, we'd have to pay for it. We're committed to Frenchie right now and he's got a bike that he's taking apart and looking at right now. We made a choice to go with Enzo for the suspension and that's been well. They'll be kit and close to factory on that end. Yamaha is totally behind us and realistically we have to prove ourselves first, we had a decent year last year but we need to step up.
We have the Yamaha track that we can use which is great. To me every rider, as you know, would be questionable to sign with us if we didn't have a track. That's huge and they don't have to go to Comp Edge and Milestone and end up paying. Obviously we have to schedule around things like when Stewart's in town but we work with Valli Yamaha and Star Yamaha to make sure that not everyone is out there at once. Michael's been communicating with Yamaha on that end to make sure it's done right. It's all working out and coming together which is a relief. Once we get to the races, it will calm down but right now we're just figuring everything out.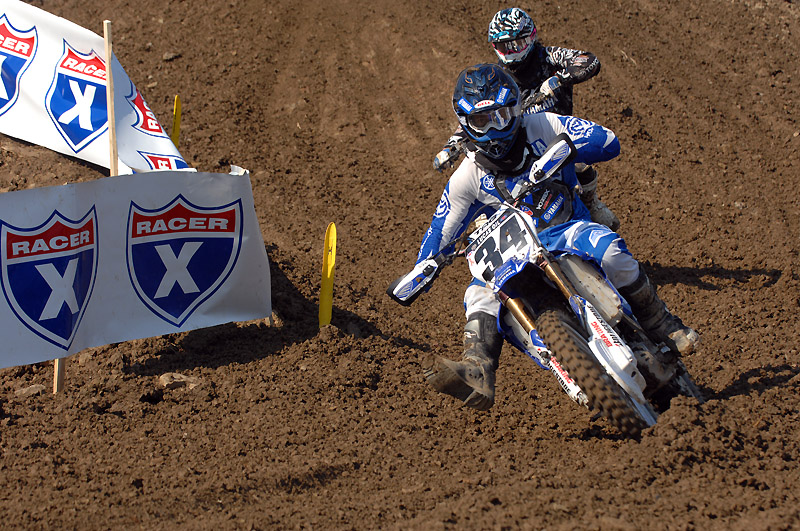 Matt Georke is staying on blue next with Motoconcepts. Photo by Stone

What a crazy off-season this has been huh? I'm guessing you've never seen this before.
No I haven't. This is my fourth year of managing and I've never seen anything like this. At one time right here in the shop, I had four mechanics come in here and ask for a job within minutes of each other. Riders calling me constantly and they're still calling even though we're set in that department. Yeah, it's crazy.
People think it's just the riders but there are all the workers out there that are looking for jobs as well. Our shop is literally 150 yards from where MDK was and because I was there managing before, I'm friends with all those guys and they've all come in here at one point or another looking for something. MDK haven't completely shut their doors but they've had to let some guys go. To be honest with you we only had three of the same guys from last year, myself, Derek Dwyer, who was Jeff Alessi's mechanic and the truck driver. We've gone through a bunch of drivers but we found one now. Otherwise the three of us were the only ones left standing. Scott Atkins came in to wrench, Brent Myron came along with Georke as his mechanic and we've hired an almost all new crew.
We outsourced all of our suspension and motor work out so we didn't need to hire guys for that. We're going to pay for our parts anyways so why pay a guy 55 or 65 thousand to just put things together? If they could design the stuff and come up with new concepts then sure, but if not we'll save money just out-sourcing that part of the team.
You have to be pumped on Reardon and how well he's reportedly riding in Australia.
Oh yeah, it's crazy that I was talking to him and his agent for a long time. Literally it was probably two or three months ago and we had interest in him. They were shopping around and kept coming back to us and then leaving. We had Georke and Bowers as our 450 guys and that was going to be our 450 program. We wanted Dan to ride 250's and he wasn't interested in that. I spoke to him and he was real cool and nice but just told me that he's riding a 450 next year no matter what. He appreciated the offer and all that. Once we let Bowers go, there was a spot open and we were talking to other guys. Ivan Tedesco came by the shop once to check things out, we spoke to him and we got back with Reardon and went back and forth with him and his dad. We made him an offer with the bonuses and then his dad called and said that they signed it and the contract was on its way back. I was pumped.
I think we may have something there and I think he's still skeptical that we're going to give him good equipment. I spoke to him the other day and assured him that we're here to give him the best stuff and will do whatever it takes it help him. We've hired his old mechanic from Factory Connection, Charlie, and are trying to make it good for him. That's the guy he wanted and we're good there. When he comes back he can hit the ground running
Lammy, I have to ask this. What's the deal with you guys letting so many guys go from the team, it's a little strange.
Well there are lots of different situations behind each guy getting let go so it's not easy to say that there's one reason or another why guys leave. Let's just put it this way, nothing against anyone that we've had but we're trying to get to a point with our guys where we don't have to do that.
What else is new with Motoconcepts Yamaha for 2010?
We're stepping up and I don't know if you want to hear this kind of stuff but we're trying to make it good for our industry as well next year. Mike went to the MXDN and saw some stuff there that he liked and when he gets something in his mind, he goes for it. We're going to have two hospitalities and take one and promote Motoconcepts. That's what we're there for obviously but we're also going to help out those sponsors that have supported us and believe in our program. We're going to take some of our space and promote those guys as well. So fans can walk in and take a little tour of one hospitality area and see the products that we use on the bikes and maybe that will help our sponsors out as well. They can come in and look at FMF and companies like that. We just are so appreciative of our sponsors and want to give back in whatever way we can.