The 2003 Budds Creek national was an interesting one for me as a mechanic. Certainly it was one of the more drama-filled days that I've ever had. It was also an emotional day that started with a bang and ended in flames.
The 2003 Budds Creek national was an interesting one for me as a mechanic. Certainly it was one of the more drama-filled days that I've ever had. It was also an emotional day that started with a bang and ended in flames.
Let me back up a bit here and try to give this story some context. In 2002, Tim Ferry and Chad Reed shared an agent (Bob Moore) and he thought it was a good idea for Reed and Ferry to get together and ride and train. Soon, they shared a trainer as well (Jeff Spencer) and they were fast friends on and off the track. Reedy was riding for Yamaha of Troy and really starting to come on. Ferry was a veteran that could watch the speed and aggression that Reed attacked the track with and could maybe pick up his game a little bit. Reed could see what an established vet did and how he handled the ebb and flow of being a professional motocrosser. Everyone could see that Reed was going to make the step to Factory Yamaha the following year and become teammates with Ferry. It was really a win/win situation for everyone. Chad and his wife Ellie even parked their motorhome on Timmy's property and all seemed to be well in the world.
The 2003 season came around and soon the pupil became the master as Reed took the supercross world by storm and started reeling off wins in the second half of the season. His late season charge showed that he had the great Ricky Carmichael covered and would be a formidable factor in the 2004 sx series and going into the 2003 outdoor season. Ferry started the year off with a podium and was a consistent top five rider at the races he was at but everyone could see that Reed was the better indoor rider. There was a little controversy at the Salt Lake City Supercross between RC, myself and Ferry but that's another story for another time. What was funny was that in SLC, RC accused Ferry of team tactics to help out Reed but that couldn't have been further from the truth. The foundation joining Reed and Ferry had begun to split long ago.
With each win Reed grew more and more confident and he began to figure out what he had to do to excel at supercross. What he had been doing was training with Ferry, riding at Ferry's house and basically perfecting Ferry's program and beating him with it. That had to start a slow burn somewhere deep inside Timmy and when Reed started, in Ferry's eyes, disrespecting the very gifts that he had been given, the hard feelings began.
The supercross series ended and we as a team travelled out to Florida for some outdoor testing. Yamaha brought the semi out and the whole staff spent some time at Reed's and Ferry's trying to nail down a setting that would work on Reed's YZ250 and Ferry's YZ450F. We had a problem with Reed's bike that year in that the transmissions gears (I can't remember which ones) and the shift forks weren't working in unison. What would happen was, upon reaching high revs while the bike was in neutral, the forks would engage with the drive shaft and the bike would lurch forward and lock up. It was an embarrassing problem that happened a few times while we the mechanics were revving the bike up in front of a crowd of people.
So in one test session Reed wasn't happy with something on the motorcycle, rolled in from the track and revved the shit out of his bike in a garage while in neutral and promptly locked the bike up. This was irritating to all of us in the garage for a few reasons, one is that someone had to immediately split the cases and fix the problem, two is that we might never hear the same again and the third thing was mostly a problem for Tim Ferry.
Red Dog had a nice garage, full counter-tops, vices, solvent tank, pull-out lista drawers and piped in air everywhere you looked. He also had a nice finished floor. That sort of marbled sealant that gave it a nice look and made you say 'Wow, this dude really spent some money on this place.'
But now there was a 5-inch rubber mark where the bike had locked up and left some Bridgestone rubber for all of us to look at. Reed, unimpressed that his bike had broken yet again, handed his steed off and walked off without saying a word. Ferry was fuming, this was the last step in a long line of things that had pissed him off. On top of all the aggravations that he had to face with Reed off the track, I think it was also the fact that he couldn't go Reed's speed that might have aggravated him the most. These types of things never work, see Lusk, Ezra and Carmichael, Ricky for more on the two-fast-guys-can't-hang-together-without-something-bad-eventually-happening theory.
So the outdoors started and Ferry was more at home with the sun shining early on in the season. RC and Kevin Windham had a bit of a leg up on the 15 but Reed was a little behind Ferry. At the opener in Glen Helen, Ferry placed third, I'm not sure what happened at Hangtown but going into round three at Mt Morris, there was no doubt that there was some things going on back in Florida that weren't good for the former friends Reed and Ferry. I never really got a sense that they were buddies any more, Ferry had split from Spencer (the last straw being Jeff wearing a number 22 Thor hat at the final round in Las Vegas while Ferry was signing some pretty large checks over his way) and although I'm no Sherlock Holmes, I knew things weren't good.
At Mt Morris Chad had passed Ferry late in the race for third and as the photos below illustrate, it was a little bit of an FU pass. There wasn't much said between motos but I remember that Timmy was not happy. The second time out, the positions were reversed with Ferry block-passing his way past Reed with three laps remaining. It was in the back section and Reed was saying afterwards that Ferry pulled a dirty move. I asked Yamaha's Bob Oliver about it as he was standing right there and he commented that there was nothing wrong with the pass which I relayed to Chad but him and his mechanic (Dave Dye- who I'm friends with to this day) said that if Ferry wanted to play like that, then there would be hell to pay. The pass by Timmy did allow him to secure third OA on the day with a 4-3 to Reed's 3-4.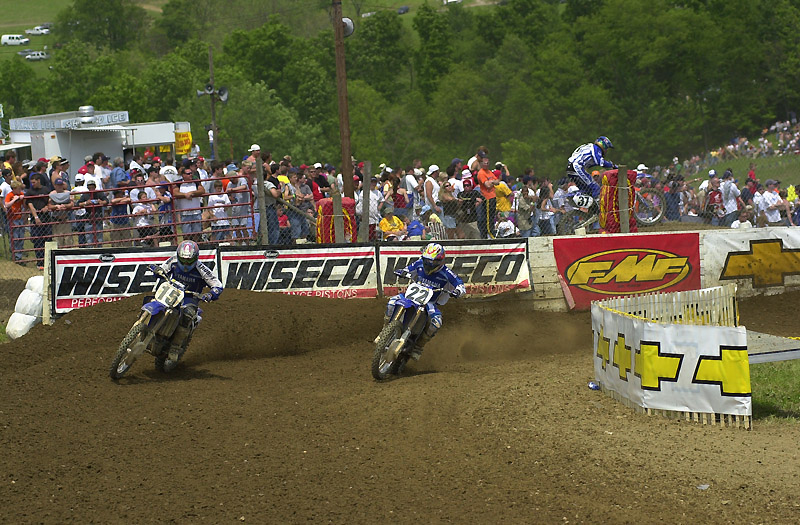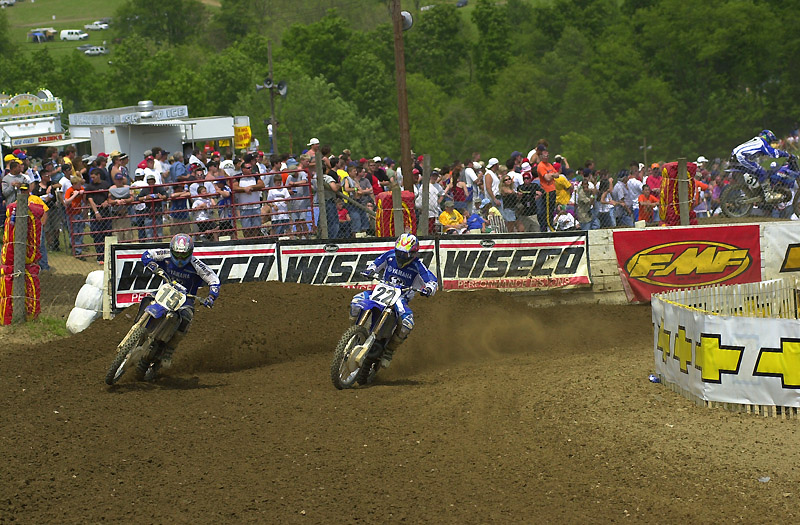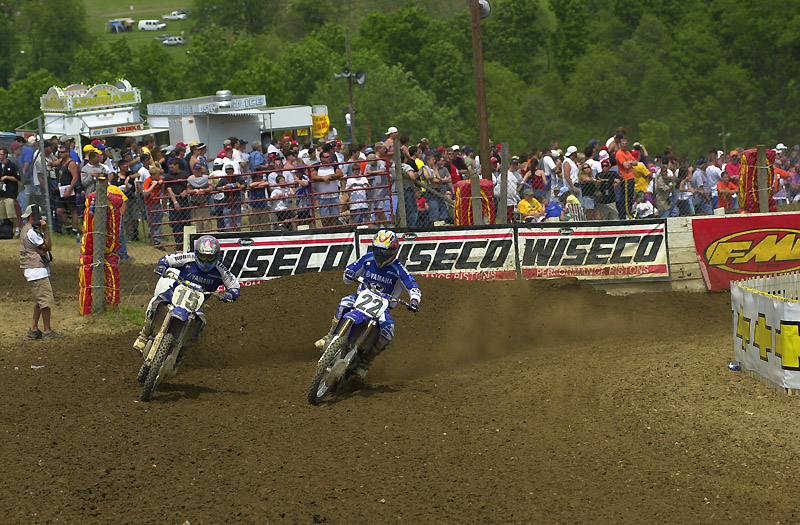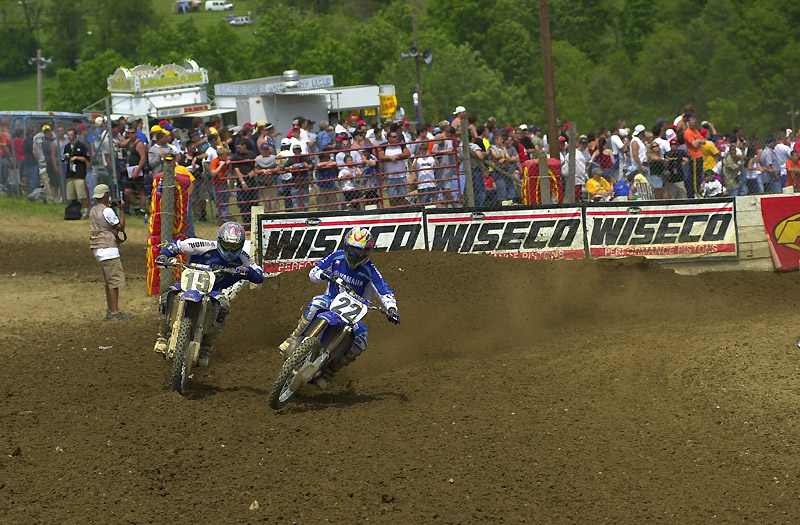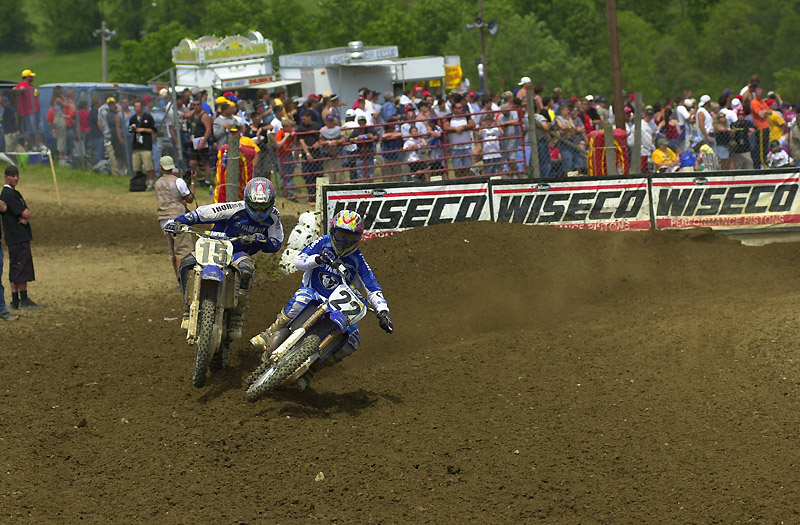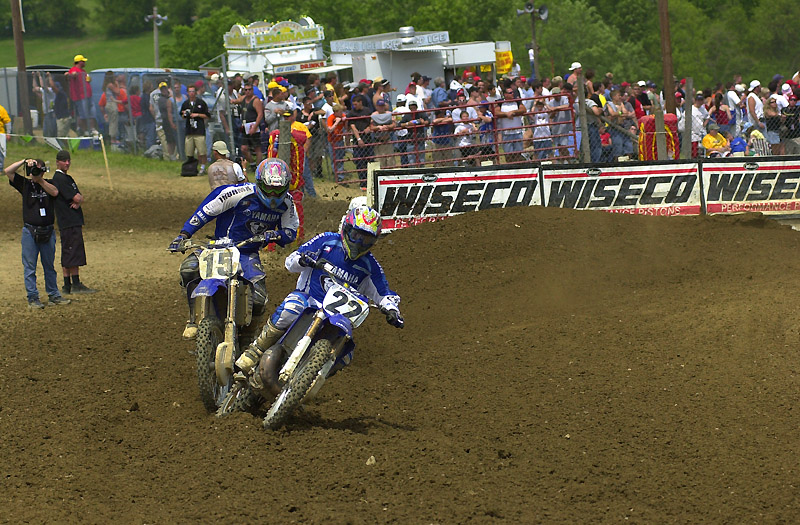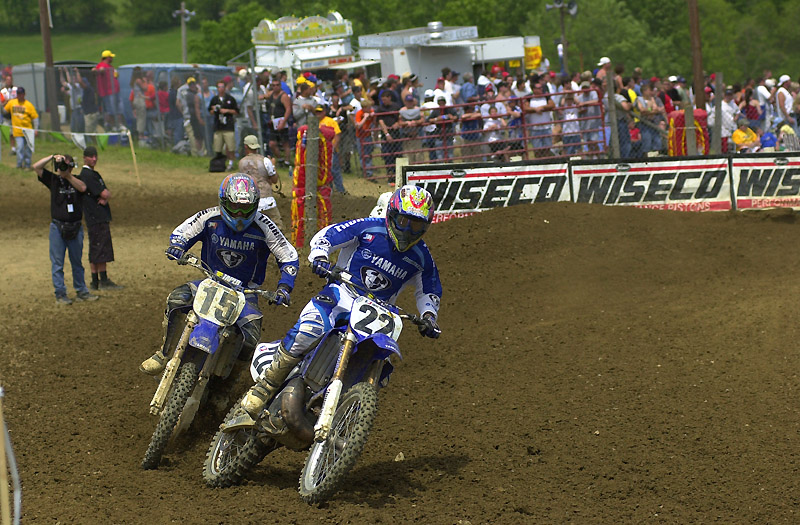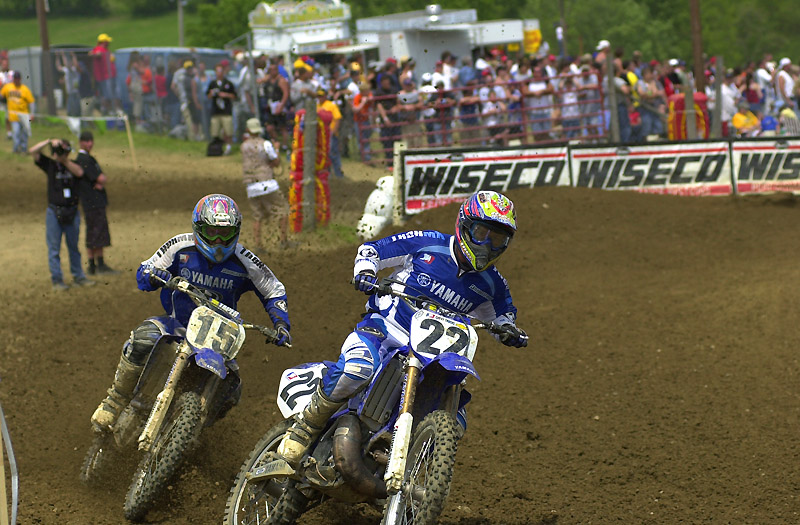 Thanks to Carl Stone, we have an eight-shot sequence of the first moto pass that Reed put on Ferry at Mt Morris. Not that bad but there was a little bit of sass put into it.
The next round was Budds Creek, Maryland and in between races, the third rider on the team, David Vuillemin showed up at the practice track with a black eye. It seems that DV had ventured to a house party and had been a little rowdy which resulted in someone putting him in his place. Things got even weirder when Chad told us that he had done it. So now we didn't have a motocross team but instead had a team of MMA fighters. It was awesome for sure, everyone was walking on egg-shells and even us mechanics got into it a few times. It turns out that in the end, I don't believe Reed punched DV but I can't be sure. Again, another story for another time.
Practice had just ended at Budds and Reed and Ferry had passed each other back a few times. Ferry said that he was going for a fast lap and Chad was jacking with him. I can't be sure what happened during that last lap but I do know that after crossing the finish, Reed waited at the top of a jump for the #15 Yamaha to come up. Just as Ferry was at the base of the jump, Chad revved his bike up (luckily we had figured out the fix for our earlier problem), dumped the clutch and roosted the shit out of Timmy! He just covered him with mud and then took off back to the truck. By the time I had gotten back there (it was on the other side of the pits) they were nose to nose in the truck screaming that they were both going to kill each other. It was at this point that we all got in between them and separated them. It was a low point in their relationship as not six months before, everything was peachy and they were buddies. Now they were bitter enemies out to get each other and to Ferry, Reed had once again disrespected him.
I don't think I had ever seen my friend Timmy that mad before or since in the ten years that I have known him. Our manager Jim Perry hauled them into a meeting immediately after practice but I don't think that helped much as I could hear expletives through the door. It wasn't any way to start the day that's for sure.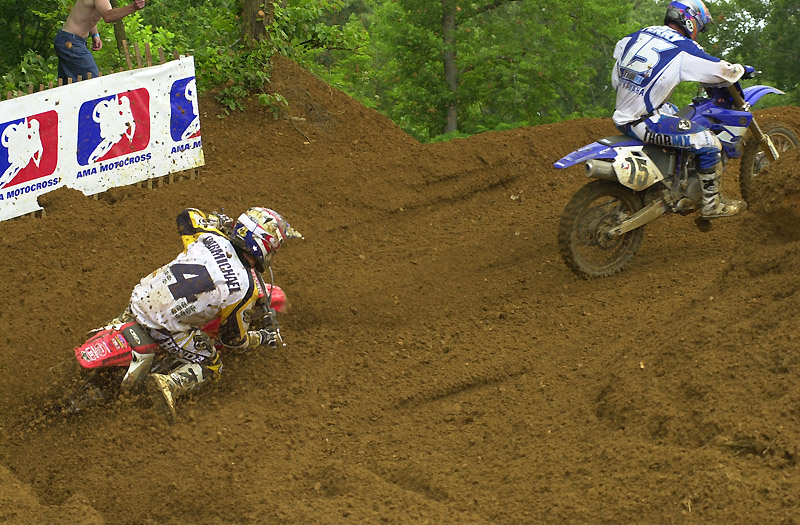 Timmy leading RC at Budds '03. Who knew he just needed to get really, really mad. Stone shot

The gate dropped on the first moto and Ferry was fourth or so on the first lap. He got by a few guys and into second quickly and all over Windham. Right before the mechanics area, Ferry dove to the inside and took away the line from KW and into the lead Red Dog went. But, like a shark circling, there was still the number four to deal with. RC caught Ferry and tried every trick in the book to get by him but Ferry held strong and shut the door. When Carmichael fell around the three-quarter mark, it was a little bit of breathing room and allowed Timmy to relax and take it home for the win. But not without RC working back up and pressuring him yet again. With RC around, there were no easy wins.
It was an amazing ride and one that I never would have imagined ever happening, given the events that transpired just a few hours before. It started me thinking that I needed to get Ferry blistering mad before every moto but really, to duplicate the mental state he was in, I would need to poop inside his Escalade or something like that. He was THAT mad.
The second moto came and we all lined up on the gate and all of us mechanics managed to get to the end of the start straight before the board turned sideways indicating there was five to ten seconds before the gate dropped. As God is my witness, I watched the pack roar towards me and I saw the #22 Yamaha get the jump on the guys and make a drastic swerve to his left. It was a little strange until I realized that the rider that was two to his left was my guy. That was it, Ferry tumbled to the ground and his dream of an overall dashed. He got up dead last, charged up to around thirteenth and then crashed again and again. He was so far back that he eventually pulled out. But not before he flooded his bike in one of his crashes and produced fire out the back of his GYTR exhaust as noted in the photo below.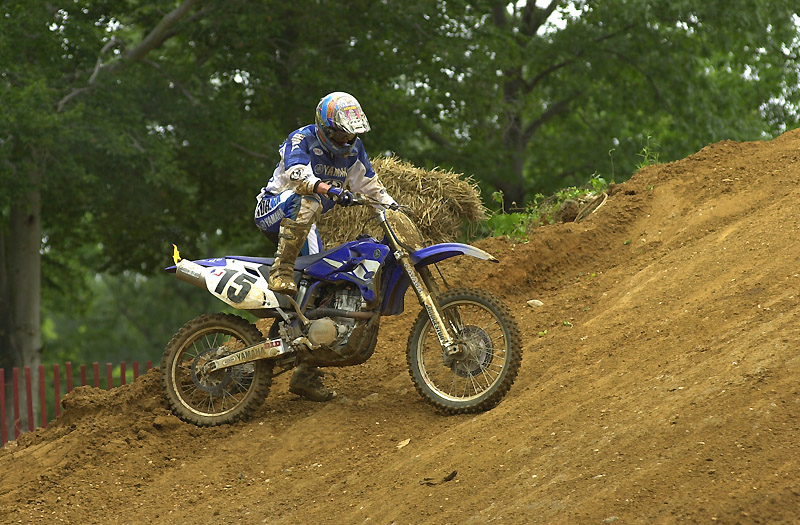 Ferry making fire. Stone shot

What a crushing way to end the day and it made me now steaming mad at Reed. He endangered Timmy and himself. I confronted Reed after the race and he mentioned that he was just setting up for the first turn but I found that hard to believe. It was just an emotional ending to a day that I'll always remember.
Reed and Ferry eventually made up and found common ground somewhere. Time heals all wounds and I know that they are friends to this day and laugh about those tension filled days in 2003. As far as me, I at one time really didn't like Chad but we have repaired our friendship as well and I now appreciate his honesty and he's a pretty good guy that deserves everything he's earned in his stellar career.
I didn't write this for anyone to judge one guy or make up ones mind on how one of these guys are today on a day that was over six years ago. We have all done something at one time or another that we're not proud of and both of these guys were at fault at one time or another.
I just thought you guys might enjoy this little story about what really happened one day in Maryland.