Another flashback!
Another flashback!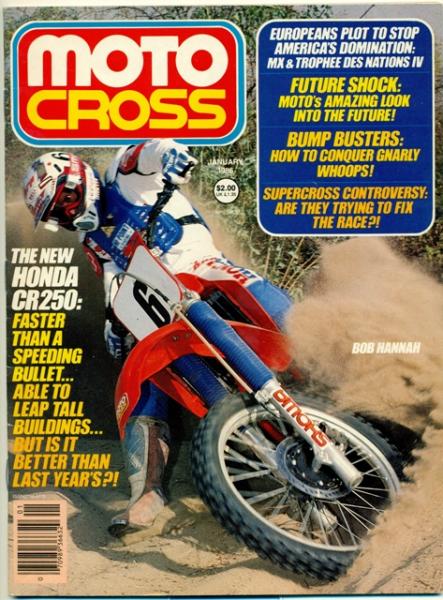 The new CR250 was pretty good, seems like the 85 was good, the 86 was great and the 87 was amazing. Once again, the magazine gets a top factory rider to test ride the bike. That just doesn't happen anymore.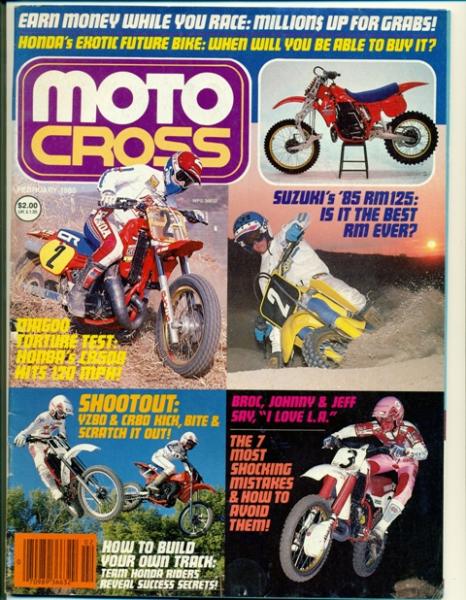 The '85 Suzuki RM125 was most definitely NOT one of the best RM 125's ever. 80's on the cover are always a cool thing as is Broc's pink gear. Did anyone actually own this stuff? I never saw it live and in person. I also thought that Broc only wore this stuff at the Millers Master's event but he was on a yellow bike there. Hmmm….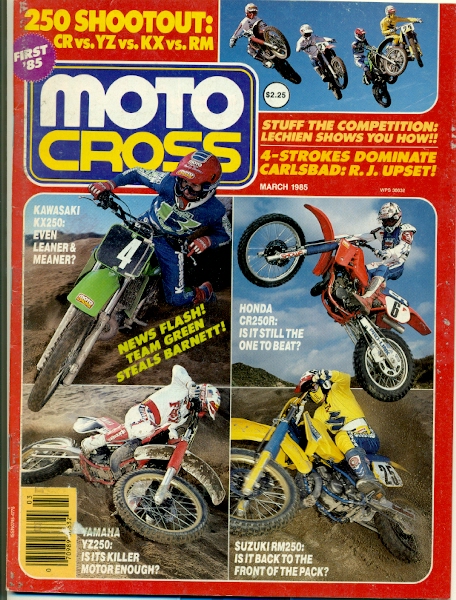 Team Green did not steal Mark Barnett as this cover claims. I'm sure they were looking for a headline but when I did a podcast with Mark, he said that Suzuki never offered him another deal after '84. The 250 shoot-out is in here and it's a foregone conclusion that Honda is going to win. The Yamaha was pretty good this year though.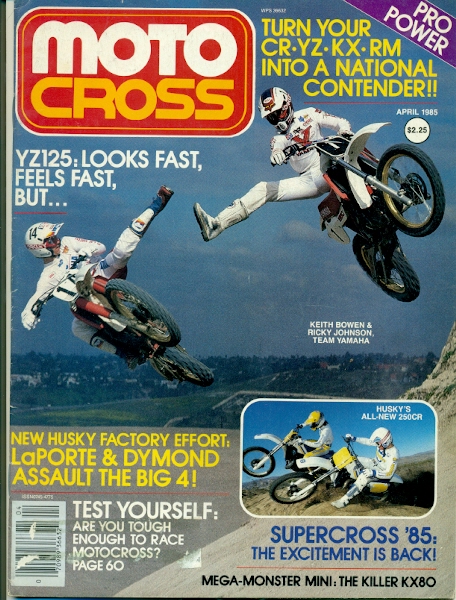 I love this. Right on the cover they are basically saying that the '85 YZ125 is slow. And it was. The test just bags on the bike the whole time for how it can't get out of its own way. The Yamaha PR department probably just jumped out of the window when this issue came out. Inset photo of Team Husky and their assault on the AMA circuit. They hired Danny LaPorte and teamed him up with Micky Dymond which kind of worked out as The Mick did pretty well. Rich Taylor just told me a story of hanging with Hannah and Laporte this year and Danny sometimes blowing the doors off Hannah while practicing.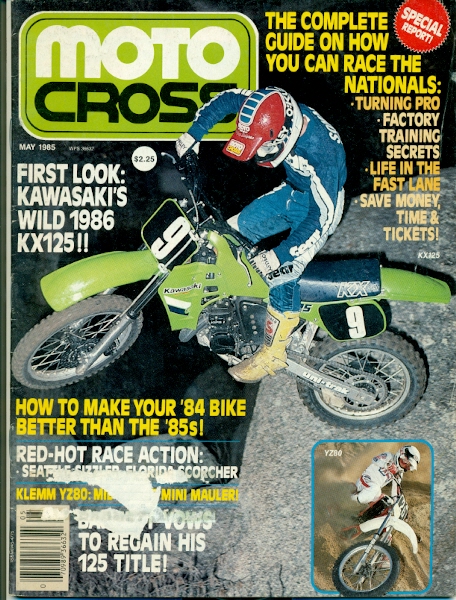 The 1985 Kawasaki 125 on the cover and in '84 and '85, Kawasaki really came on with their 125's. They were pretty fast and challenged Honda for tiddler supremacy. Then 1986 happened and they lost their way a bit. They did keep the one-sided radiator shroud for another four years after this. They were the last ones to give up on this as well as the rear-fender/number plate combo. Also the last OEM to give up on conventional forks as well.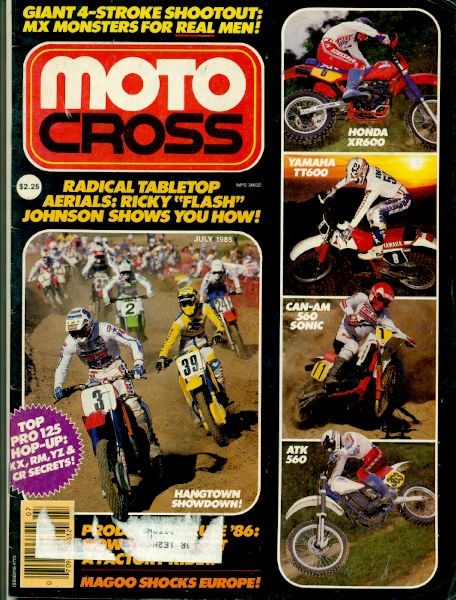 Who's #241 in this start shot? #39 is Scott Burnworth and Motocross Mag shows how ahead of the times it is with a monster four-stroke shootout.Is the Yamaha TT600 even in the same league as these other bikes?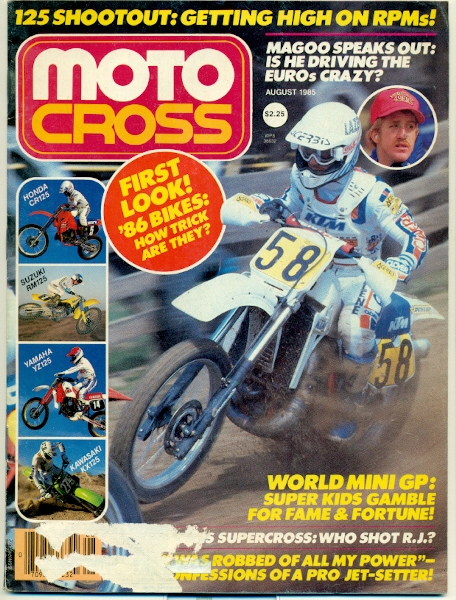 An '85 125 shootout and a cover shot of Magoo is on the August '85 cover. Magoo didn't do much in the 500 GP's but he did win a GP at one point. Remember when he was going to first ride for Kawasaki's but then was told that he had to pull over for Jobe? He declared this unacceptable and switched over to KTM. Nice Lazer helmet Danny. Chandler's 1982 MXDN ride is top five in the greatest races ever in my mind, maybe even top one.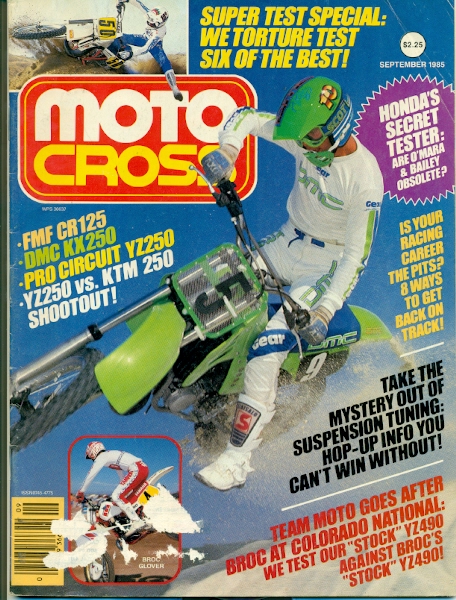 I drooled over this bike for a while. It was an '85 DMC Kawi that was super trick and was major fast. I loved this helmet also, it looks sweet. Editor Ed Arnet rode the 500 national on a basically stock 490 and then the gang profiled Broc Glover's 'works' 490. Which is laughable.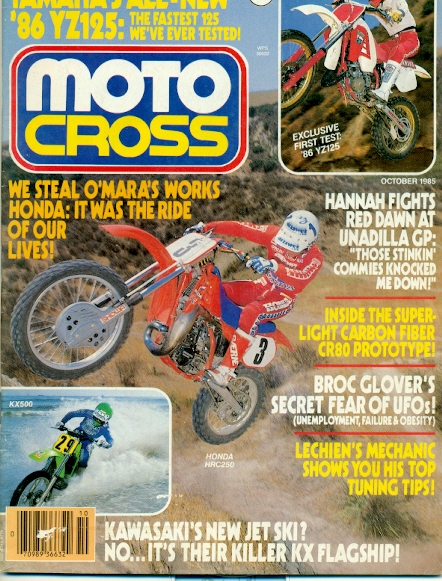 What a cool shot of the Kawi 500 blasting through the ocean! The crew gets to ride O'Show's works Honda and I suppose, with the production rule coming into effect the next year, Honda just said eff it and let them ride it. The guys are obviously impressed with the bike but they are really pumped on the brakes. The mag has a sneak preview of the 1986 YZ125 and it was a sweet looking bike for it's time. The tank was all lowered which we thought was the coolest thing ever.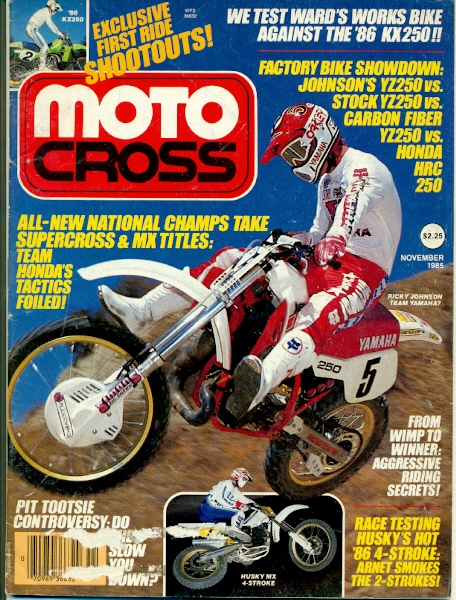 When the gang talks about Honda's team tatic failing, it means that they stocked the 250 class in order to help Johnny O'Mara win the title. Bailey moved down and Lechien moved up but it was for naught as Wardy won the 250 title. Who won the 125 and 500 classes on this day? Pit Tootsie controversy is a good read as it's determined that having girls at the race track can help you out. If you wrote this story nowadays, you'd have trouble on your hands.