A top privateer in '84 tells all.
A top privateer in '84 tells all.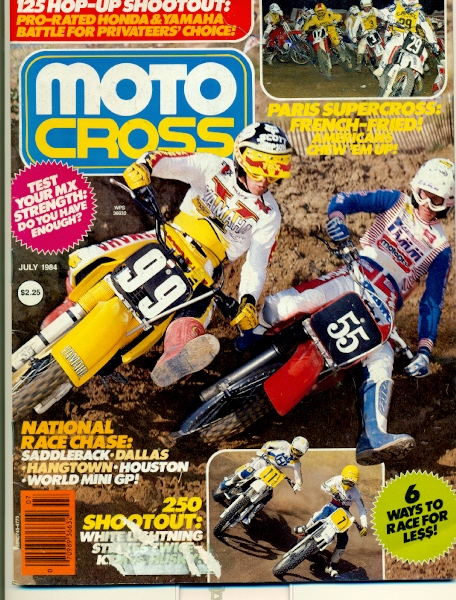 That's Mike (#99) and AJ Whiting in 1984.

"This was the 1984 season and Yamaha called me to ride for them in '84. I had national number 99 and was already testing for them in-house. I knew we had a challenge because the bike was slow. The bike was going to be an issue, I knew that. So we did the Golden State Series on the bike but before that started, I was winning races at Saddleback. I knew that I was close and needed to work on my endurance. I had a mechanic by the name of Ted Cabrel and he and Paul Thede, who owns Race Tech, really worked on that bike and tried to make it the best it could be. That was cool. I ended up finishing third in the Golden State Series behind Jeff Ward and George Holland which was good but again, the bike was really slow. We had to get it up to another level.
Going into the first national at Gainesville, myself Ted and Paul spent countless hours testing new motors, old motors whatever we could. I kind of lost a bit of conditioning because I didn't do motos, we just tested. Yamaha also helped out with different things as well and we got the bike working pretty well. Doug Dubach was a good friend of mine and we were both privateers so we decided to team up and head on out to Florida for the first race. He didn't have a mechanic so we just shared Ted. Doug was on Suzuki's back then and on a side note, when I was injured I recommended to Ed Scheidler that maybe they should help him out. He worked hard, didn't have much support and I thought he would do a good job. So he got the job and is still there today.
Anyways the three of us jumped into the van and headed out to Florida and we practiced before the race and then went to the first national. We had ok speed and I did pretty well in the first moto, like fourth or fifth. Doug finished twelfth so our mechanic was able to handle both of us pretty well. In the second moto, I was in third and started to fade a bit. Turns out that Doug was coming up and catching me and there was a portion of the track that was really fast but had a cheater line. This line kept you relaly low off a single jump because if you hit the jump, you flew into the air big-time. I kept seeing Doug coming and sure enough, we were side by side on this straightaway. I made the pass by staying on the cheater line and he had to hit the jump which shot him straight up into the air. Funny story being that we were teammates and all that, if he had beat me I don't think I would've driven him home.
Coming into the next round at Saddleback, I knew that I would be ready and the bike would be better as well. Anyways, Jeff Ward and Johnny O'Mara were the best guys in the class but AJ Whiting and myself were real consistently in the that third spot. We'd each get third and then blow a moto or whatever; it seemed that we would just mirror each other. I almost got second one time in Binghamton when Wardy fell and I was all alone with O'Show but then I got a flat tire and faded to the back. AJ and I had a great year together and we were friends. We rode a bit together and trained a bit together when we were on the road.
I made a great living off Yamaha contingency that year. In the meetings we had that year, Yamaha told all of us privateers that they would help us out with whatever they could but that we could make money on contingency. We were bummed at the time but ended up doing really well with that.
I remember this magazine cover, Dennis Cox was the editor of the magazine and he helped me out a lot. I think I had like five cover shots that year. I would help them test the bikes, I lived close to Saddleback and we go meet them. Then I was doing well in the nationals so it all added up. So this cover shot was at Saddleback and we were just goofing off and trying new things out. He rode for Team Tamm and I rode for Yamaha support. After the year, I finished third in the nationals but there wasn't anything for me. Yamaha had Ricky Johnson, Broc Glover and Keith Bowen and there wasn't much room for me over there. I tried to get a deal with Suzuki but it fell apart at the last minute. I really didn't have anything. Bob Tamm approached me and offered me a deal to ride Kawasaki's which was pretty good, it was a satellite team deal and everything was good. I earned national number 11 and felt good in the off-season, I felt like I was going faster than ever before but I crashed before the season and hurt my knee. That whole year I struggled and wasn't really able to get anything going."