Here we go again…
Here we go again…
I'm not exactly sure what it is that I did to RV. Maybe he likes me so he knows that he can eff with me. He never gives me a great interview and sometimes I feel like Ashton Kutcher is around the corner watching me. Anyways, after his great race to get second, I caught up to RV in the Kawi truck when he was making (and eating) a real good looking sandwich. Anyways, here is the angry RV once again with me. I did forget to ask him about his split with trainer Jeff Spencer, probably a good thing I didn't ask.
How was the race RV?
You seen it didn't you? That means it was good.
I'm going to transcribe this exactly as it goes down.
Yeah, whatever.
Alright, let's start at the heat race, great ride to win it.
You seen it right? That was good also. No, it was good I got a decent start and it went pretty good. There was a big pile-up there, the champ was in it. Lots of good drama here after the main.
Yeah there was. In the main you were creeping up on Dungey and then something happened and you lost some time. What was up with that?
Well, it's like this. I did make a pretty big mistake in the rhythm after the start straight, I overshot the first three. The race pace is tough and I have to figure it back out. I got to get back into race shape, I haven't raced in awhile really.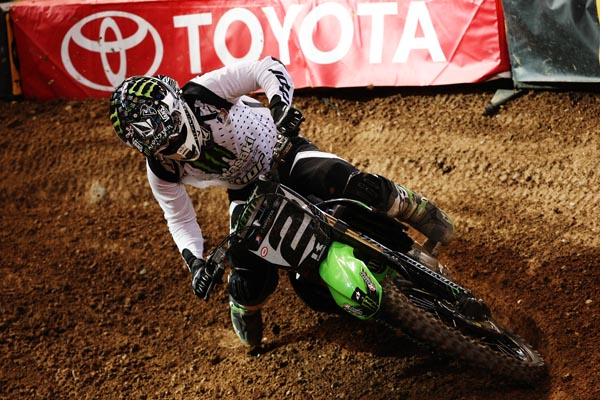 RV in Phoenix shredding a berm. Photo courtesy of TWMX/Lutes

Are you happy with your ride?
I'm getting happier.
What about the drama after the race?
I wasn't here, I heard it was bitching.
So you're getting to where you want to be, you're not there bike-wise or body-wise?
The bike is better than last year, no doubt about it. We've been working hard and Kaipo (suspension guy) has been working hard on it. I know that I've set it up better also. Racing-wise, I've made some steps since Anaheim but there's still a ways to go.
Talk about Anaheim 1, I heard you hurt your wrist, I heard you got tired and that you also made some big mistakes when you got into third. What was it?
Yeah, Ricky (Carmichael) called that out on TV. That was great, he said "Hey Jeff, RV looks to be getting a little tired" and Jeff (Emig) said " Well, he hasn't raced in eight months."
Emig had your back.
Yeah he did. The deal was it was the first race, I got a little nervous and tightened up. The track was gnarly and the race pace is high. I got a bit tired, sure.
Is Ryan Dungey surprising you?
Yeah a bit. He's riding good and I knew he would be good but I thought that maybe he wouldn't be this good, this quick. I mean, he rode 450's a couple of years ago and made a podium. He's legit. Not that much of a shocker.
Looks like you're going to be solo rider for a while?
Yeah, holding down the fort I guess.
What about your brother and Canada? Are we going to try and make that happen?
Yeah, this summer. Let's do it. He's pretty fast, he hasn't raced in a while. I know he's been riding.
What kind of sandwich is that? Looks pretty good…
It is, it's on a real thin hamburger bun and that's the key.