Just click on that banner above at 6pm PST for all the action.
Just click on that banner above at 6pm PST for all the action.
Ti-Lube/Brown Motorsports (now Monster Energy Kawasaki fill-in rider) Nick Wey has been having a good start to his supercross season. The long-time pro is one of the nicest riders to watch ride and also one of the funniest guys in the sport.
He'll be on the MotoworldRacing.com Moto Show tonight and hosts Paul Lindsey and Steve Matthes will grill the NYK on how the new bike is, his season, the Mandingo Pickles phenomenon and so much more. You the listener can call in to (702) 586-7857 (PULP) and ask Wey that burning question that's always been on your mind.
What you'll want to do is visit pulpmx.com tonight at 6PM PST/9PM EST and click on the Motoworldracing.com Moto Show banner. That will take you to the live stream of the show and that's where you can also text-chat with other listeners or download the Ventrilo program, plug in your headset and you can voice-chat with others.
There will also be tons of giveaways tonight and throughout the season as we reward our loyal listeners with a discount on a purchase at Motoworldracing.com, Rockwell watches and gift certificates, EKS(X) Brand Goggles and much more!
You can access the show archives on ITunes as well as the archive should be up the next day on pulpmx.com. Also check out sportstalknetwork.com for a re-airing of the show on Wednesdays.
Motoworldracing.com is one of the country's leading on-line retailers since 1999. You can trust the guys down there to outfit everything you need for your bike, ATV, UTV or body. Check them out at motoworldracing.com and stay tuned to the show for a special discount code for 10% off your order.
So be in front of your computer tonight at 6PST/9EST for an entirely new way to get your moto information. See you there!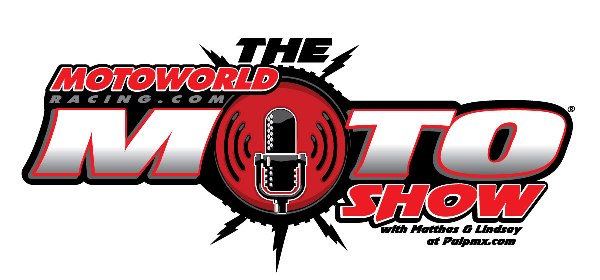 Nick Wey on the big show tonight!