How is Mike Alessi and the all new KTM 350 going to fare this summer? I'm not sure so I asked some people that are smarter than me.
How is Mike Alessi and the all new KTM 350 going to fare this summer? I'm not sure so I asked some people that are smarter than me.
As you read this, the United States motorcycle racing community is in the throes of its annual indoor supercross season and the drama is high. The two pre-season favorites, Chad Reed and James Stewart have been knocked out of the points race with injuries and will just be coming back around half-way. Their departure left the field wide open and the youngsters have seized the opportunity. Riders like Ryan Dungey, Ryan Villopoto and Josh Hill have risen up and all become contenders for their very first supercross title.
But there are some exciting things happening away from the bright lights and fireworks of the domes.Thosands of miles away even. One of those youngsters that may very well have been in the mix for the title but for a slight career detour is Mike Alessi. Once the golden child of American motocross, Alessi has, through a combination of self-inflicted wounds and bad luck, been unable to ascend to the upper echelon of motocross. Mike has been in position many times to be there but can't seem to close the deal. Supercross has never come easy for Mike (although a few years he was appearing to get better and better before breaking his collarbone) and when he was dropped from his Team Suzuki contract after last season, Mike and his family signed with KTM for the second time.
The only thing with that is that it came with a caveat. No supercross and he would be the point man in America in developing the Austrian company's newest idea-a linkage-based 350cc four-stroke. It's a risky move on a few different levels. One is the fact that a majority of sponsorship dollars and contracts are based on what a rider does in supercross not the nationals, two is the fact that it's an all-new machine with a cc disadvantage from his competitors. And lastly, KTM has, for whatever reason, never been able to be a dominant player in the big bike class. It's certainly going to be very interesting to see if Alessi can recapture the form that saw him taking off from the pack last summer before suffering a devastating knee injury. It's an experiment that is worth watching and fascinating to myself and many others.
How is it going to work? I polled some people in the pits at a recent supercross to get their thoughts on the new machine and how Mike is going to adapt to it.
Jimmy Button, former factory rider now rider agent- I don't know for sure, it's hard to say really. I know that Carioli went out there and killed the other weekend. But it was a 450 style track, I know it looks cool and it has a linkage. I definitely think the linkage is the way to go. I'm sure Mike Alessi will still holeshot on the thing. I also think that with a fully operational, Dungey and Villopoto, that bike won't be able to compete. I could be wrong but I know that Carioli won last year's title on a 390 or whatever. He killed them. He didn't always get great starts but he still came through the pack pretty good. Who knows? We'll see and I'm looking forward to it.
Mitch Payton, owner-Pro Circuit- It's probably not a bad idea, it's something that everybody talked about a while ago and I guess they followed through with it. However, I just don't' see the Japanese going down that path because, for example, Yamaha just built an all-new 450 and so they're committed to that, the other OEM's have brought in all new versions of their machines recently so they're committed to the 450. Also, you can't forget that that the 450's share parts with the dual-sport versions and UTV's as well. Everything with the Japanese is cost right now, they're not going to put a lot of resources into a very specific bike.
If the 450 was too much for people to ride, then the amateur events would remove them from the races. That's not the case though, you can be 16 years old and ride one. You don't need to modify them for sure, maybe throw a pipe on it or something like that because for 90% of the people that buy them, they are fine. They last longer than a 250 for sure.
I don't think it matters how he's (Mike) going to do. I think it matters how Carioli is going to do and I think he'll do fine on it. No one ever knows about Mike, I really don't know what to say. I think his starts will be fine, unless the starts are ripped really deep and super long. The bike can get out of the gate better than a 450 because it won't spin.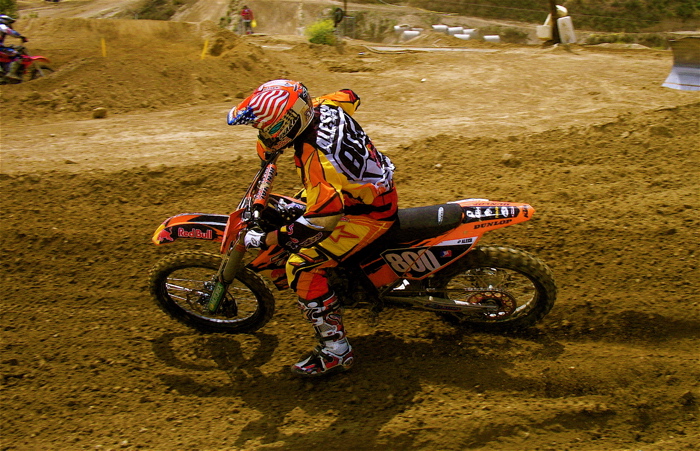 Mike in his earlier KTM days.

Jason Weigandt, journalist, Racer X Magazine- I think that for the average guy, it's a great bike and a great situation. For a lot of guys, the 250 isn't enough and it costs a ton for maintenance on a fully built one. Then the 450 is too much for a lot of riders. I think KTM's issue is that, at the very upper level and where they are going to promote this bike. Races like the AMA nationals and the GP's- you might see the 450 as being the better bike and the bike you need to win. The biggest problem they're going to have is finding a way to market the bike. How are they going to race it to sell it?
We'll find out if their pre-season success is an indicator of how the bike is going to do. The European pre-season races are typically pretty erratic. It's hard to say but I think there's going to be a time where they say that for 99.9% of the world, the bike is awesome but for that .1% that are the best racers in the world, that's what they need the bike to work for.
As far as Mike Alessi, I think that last year was his great opportunity. Now he's got some things stacked up against him like the fact that he's going to be the only rider racing one down here, it's an all-new bike that he has to figure out and he's going about it on a program that no one else has ever done. He's coming off a bad injury and there area lot of question marks with him. It's going to be a big job for him to come back to where he was last year and even then, that might not be enough because Ryan Villopoto will be there. It's going to be awfully tough.
Eric Kehoe, former factory rider and manager, Honda Red Bull racing- I think it's pretty interesting but for us, the 450 is the number one selling bike. That's what we're marketing and focused on right now. We're also looking forward to improving that bike down the line. I'm not sure what they're production run is or what kind of numbers that they're looking to turn out.
There are no plans for Honda to make a 350 or anything like that, we're looking forward to improving our bike. With Mike racing it, it's going to be interesting. The starts might prove to be a disadvantage for him as they water them, disc them up and some of them are pretty long. His greatest strength is the start so we'll see how that turns out.
Jimmy Perry, factory Yamaha manager- As long as they go through all the proper homologations and all that, it will be in dealerships. Then I say bring it on. The best guys usually win the races no matter what bike they're on. I don't see it being really an advantage in any areas. But I also don't see it being a disadvantage either. I think the disadvantages come from not being in shape, not having tunability in your bike and not being able to put it together as a rider. I also think it will be fine on the start.
Andrew Short, factory rider, Honda Red Bull Racing- I don't think I'm educated enough about that bike to make a judgment on it to be honest. I would think it would be a disadvantage on the starts and on the professional level, it's too hard to come from the back all the time. I think Mike Alessi needs the start for success and that bike might take away from his advantage so who knows? Who also knows if it is indeed a 350, 380 or 390?
Kenny Watson, manager Hart & Huntington Honda- I think it's going to be ok, I think if you have the right guy on it the thing will be fine. Antonio Carioli has been killing it over in Europe on the bike, it's been great for him. I think at some tracks it might be at a slight disadvantage, the ones with the transitions up and down hills. I think a smaller guy like Mike Alessi will be fine on it but I also don't see the other OEM's building 350's anytime soon. But then again, I never thought I'd ever see the OEM's build good four-strokes!