JB11 talks about his 1998 season. If you're new to the site, search 'Tell Us a Story' and you can read all of these that I've done.
JB11 talks about his 1998 season. If you're new to the site, search 'Tell Us a Story' and you can read all of these that I've done.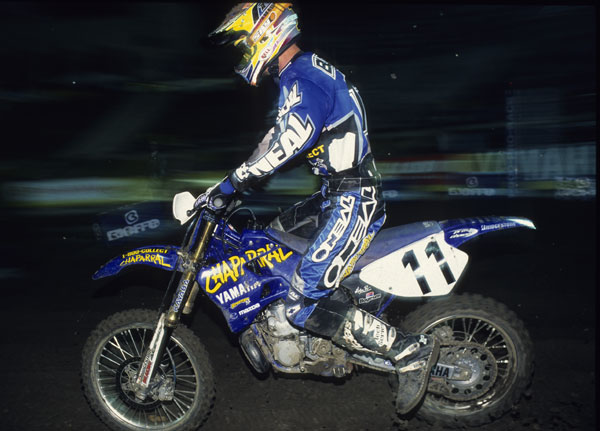 Photo by Chris Hultner.

"This is early 1998 and I can tell because of my helmet, it's one of the ones that Troy (Lee) did for me at the start of the season. This is probably the LA Coliseum. The race that Sebastian Tortelli won on a Kawasaki.
I rode for Chapparral in the 1997 season and the whole deal was that Larry (Brooks) came to me and said that, and this is no disrespect to any of the guys that were on the team the previous year-because we had some good riders, but I was the guy that was putting in some decent results. I made a couple of podiums and was top ten indoors and out. And considering the equipment we were on, that was pretty good. Remember back then, there was much more of a spread from the top guys stuff to what privateers were forced to run.
Anyways, Brooks came to me and asked me if I thought that Jeremy McGrath would ride Yamaha's and ride for the Chapparral team. I was living with MC at the time and said. I don't know, let me go home and ask him!" So I asked him and he was asking if he was going to get the same bike as Windham and all that. So it was going to be me and Jeremy all along on the team. We both thought it would be good because we were working so well together at the time, he was riding for Suzuki at the time and doing pretty well all things considered. The only thing was that we didn't know what I was going to ride outdoors, a 125 or a 250. I actually had a contract real early on from Chapparral but that didn't really make a difference because I never got paid a cent on my contract. Oh well, it was so long ago that it doesn't make a difference.
MC had a full factory bike and my bike was a "If you can buy it a Chapparral, it was on my bike!" (Laughs) To my knowledge, I didn't have any special parts at all. I also didn't get any bonuses at the time either. I just got paid Yamaha contingency. With all the podiums I got that year, had I been on Jeremy's bonus structure, I would have killed it. My four second places or whatever I got that year was like $4000.00 or something like that. Enzo did my suspension this year and I'm fairly certain that, even though the fork and shock was just kit stuff, the work that Ross (Maeda) did to them was 1999 works stuff. He knew what was coming down the line for the next year and he put it in mine. I would bet my suspension worked better than the factory stuff. It was so good. It was amazing indoors and outdoors. Ross was, and still is, the man when it comes to that stuff.
In '96 and '97, I had a lot of personal issues that I was dealing with and it took my brain away from motocross and got me all off-track. Then when I moved in with MC, I was focused on motocross all the time, we were training and having a good time. Sometimes not in the right order but nevertheless we were working hard and I was a threat that 1998 season to win a race each time I went out on the track. I had a bunch of mistakes that kept me off the podium or prevented me from winning but I was never counted out as a guy that couldn't make the box. At San Diego, I came from last to second, that wasn't a fluke.
I think I was tied with KW for second in the championship going into Tampa, which was round ten or eleven and I had a bike problem that night. It was a clutch basket problem, it totally broke. I had like three races where I scored no points. The next race Larry Ward and I touched bars and I went down, which broke the handlebar mount bolts. Then I crashed again, I went from tied for second to eighth or ninth and I think I finished sixth or something like that.
My bike was good this year also, I think we still had that 1994 cylinder on it and maybe a Noleen pipe with a Pro Circuit silencer. I don't think we had a special ignition or anything. I'm not absolutely sure but there was a roadrace guy by the name of Kel Carruthers that was there and he might've done some work on the 250 but my 125, that was all him. That thing was fast, you can ask Ryan Morais that because the next year at Loretta Lynn's, he used that motor there. Kel built me a great motor, I was 170lbs and he got my ass up and down the hills at Glen Helen with no problem. You had to keep it in the sweet spot though!
Not much bottom at all, it was like a roadrace bike! If you kept it within 300RPM of where you needed it to be at, it was a rocket. It was great, when you ride a 125 at that level, you never ever shut the throttle off. You're basically wide-open the whole time and you ride it above the ability of the bike. It was a blast to ride and when I got on my four-stroke, I had Yamaha get me a 125 so that I could go ride it and have some fun. I remembered the year before how much fun they were.
To be completely honest with you, I think I felt like I could win the title in the 125 nationals and that's why we decided to put me on a 125. I didn't think I could run with Emig or Jeremy in the 250's and that's who you had to go through if you wanted to win the motocross title back then. I rode really good at the first race, I crashed in the first turn in both motos and ended up on the podium. At the second race, I seized my bike in the first moto and then finished second in the second moto so I was right there y'know? After that I just had some problems that held me back and I think I ended up fourth or fifth in the title. Even with the DNF's and all that, I won the top privateer award every weekend.
I had a lot of fun in 1998. It got a little boring after MC broke his wrist and I was the only guy in the truck. The money I made was pretty good, I was on the podium so much and won the privateer awards each and every week. I ended up making quite a bit of money that year. The only salary I got paid was 30K from O'Neal that year. I had no problem with it, I was on the box and earned my money. It was a little weird, I was on the same team as MC and doing so well but yet, the disparity of salaries made between him and I was a little crazy!"