This is also known as the "Steve's not feeling creative this week" column. So check these out…
This is also known as the "Steve's not feeling creative this week" column. So check these out…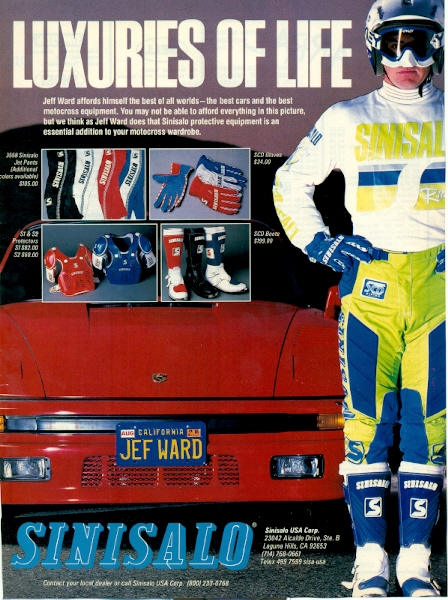 I'm not sure why a rider would run the half nose guard and not a mouth guard. It would seem to me that your chicklets are more important than your nose right? Anyways, Wardy shows off his Ferrari in this ad. I loved those pants and years later, I would get some of the biofoam Sinisalos and they fit so good.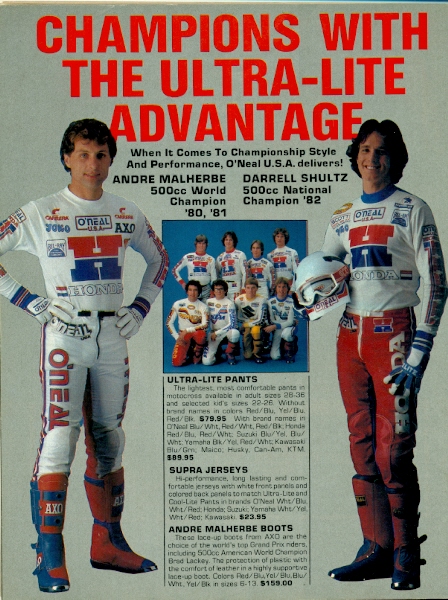 O'Neal used to put Andre Malherbre in its ads all the time. He was always portrayed as a real prick in the magazines but yet he'd always be smiling in these ads. Who knows? Maybe the checks always cashed. In regards to Darrell Schultz, I don't think there has been a national champion that we knew less about than him.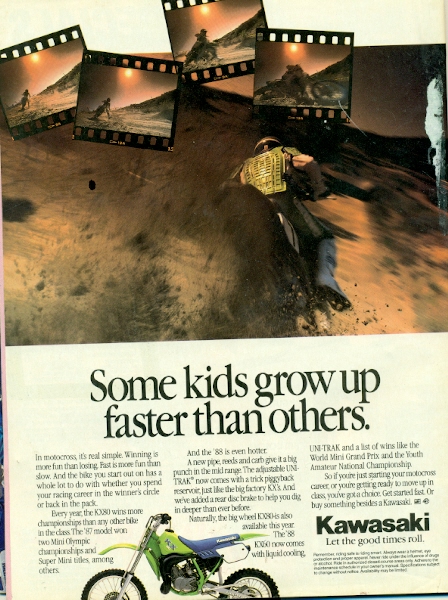 I was so bummed when this ad came out because I had this bike and I can tell you that the bike looked one million times better from the other side! Why they would run this look is beyond me. Also, in Canada the side panels were green, not blue. This bike was bad-ass, it had a rear disc and was prettyt fast. My dad bought a 105cc kit for my practice bike and I couldn't keep the front end down. Anyways, I ended up losing the provincial 80cc Expert title by, like, 2 points or something. Heartbreak I know.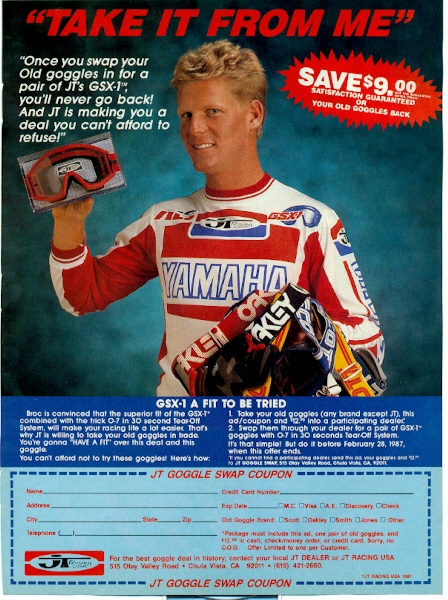 This was pretty cool, you sent your old goggles in and for $13 bucks, you got a brand new pair of JT GSX-1 goggles. Pretty sweet promotion and JT threw enough money at Glover that he left long-time sponsor Scott for them. Recently I was thumbing through this magazine under the Kawi truck when, lo and behold, The Golden Boy came by. I showed him this ad, asked him how much JT paid him to run the GSX-1's (which by the way, were pretty sweet goggles) and he shook his head, laughed and said "Why do you guys all care about this old stuff" and then walked away. He probably went to Wey's pits and upon seeing Nick had to stand there and listen to Wey do the whole "Winner's Take All" scene that Broc was in.