You'll see what I mean here.
You'll see what I mean here.
I just read this article on MXA.com (otherwise known as the Glen Helen PR machine. "We Hate the GP's-Oops! No We Don't!) about the USGP and had a laugh or two at it. In fact, I thought I'd have some fun with it and tell you guys what I think about some of these points. Can't wait for the MXA story on how Rollerball sucked.
Before anyone gets their panties in a knot, I like the GP's and have been to a couple on my own dime. I've been to the MXDN three times (once as a mechanic for Team USA-we lost.), I've spent my own dime to call England in the middle of the day to do a podcast with David Thorpe because I found his story interesting, I've had Josh Coppins on the show a few times, jumped through hoops to get a podcast with Stefan Everts and I'll be at Glen Helen to check it out. I'm just calling it like it is and this summer, when Mx Sports does something dumb, I'll mention that too.
With that being said, here we go!
WHO NEEDS TO RIDE THE USGP AND WHO DOESN'T
This Race Has Already Gotten More Publicity Than Any Other Race This Year; Who Can't Afford To Miss It (The race has only gotten
more publicity on MXA.com. The guys there don't realize
that their browsers can go to other places
besides Glenhelen.com and REM.com)
No American rider is bound by his factory contract to race the United States Grand Prix, and even Roger DeCoster, who waves the American flag every year about the pride of representing your country, probably will keep quiet since he only has one rider left for the AMA 450 Nationals. (Even if RD had 238 riders on his team, Ryan Dungey wouldn't be racing. He's got an AMERICAN series to win for his AMERICAN sponsors.)
But this is a once-in-a lifetime opportunity for many riders since it was over 18 years ago that a 500 GP was held in the USA—and it was at Glen Helen and promoted by Roger DeCoster. (Although they're right, they forget the fact that there's a five year contract for a GP at GH. So for many riders, this is just the first year of five consecutive "lifetime opportunities" to race.) For every pro racer who ever wished that he could race a Grand Prix (which number 0)—this is as close as they have ever come. The odds of any Americans racing the GPs in Europe, at least while they are at the top of their game, is nil. Glen Helen will be a special opportunity.
It should be noted that most factory contracts have a clause that allows the factory to tell its riders what races to go to typically the factory is able to elect two or three races that aren't in the Supercross or National series as being important to them. (Uhhh, I've seen factory contracts and worked for two of them. They tell the racers where to go and when. They cannot just designate two or three extra races the guys have to go to unless they can all agree on the financial end of it. "Hey Reedy, we need you at REM this Saturday. I know it's not in your deal but see you there!" How well is that going to work?)
SO, WHO SHOULD AND SHOULDN'T RACE THE USGP
First and foremost, this race generates worldwide publicity. It is already the biggest subject of talk in France, England, Italy, Sweden and Germany. We mean, all around the globe! (And yes, MXA knows this because for the past ten years, they have definitely probed all corners of the world to see what everyone is talking about. Face it, if it's not in America or at REM on Saturday-it simply didn't happen.) For sponsors like Monster, Rockstar and Red Bull, who want to sell on the world stage (not just the USA), the Glen Helen USGP is a major opportunity to play to the biggest audience in motocross. Even Giuseppe Luongo admits that no race has ever generated as much sponsor interest as the 2010 USGP.(Luongo says that? Really? Wow-imagine that. Let me just repeat something someone VERY high up with an OEM told me last summer when I was at the German GP "Giuseppe is so full of shit that these teams have no belief in him anymore. He's broken every promise." So allow me to temper my enthusiasm about this comment. Besides, there's no effing way he called MXA to let them know how the PR campaign is going in Germany. Not after they reprinted an article from a GP team manager eviscerating the GP's)
ENERGY DRINK SPONSORS: Red Bull will be at Glen Helen in force…they will bring their giant arches, balloons and banners because they are the Grand Prix sponsor. Are Monster and Rockstar going to sit on the sidelines while their main competitor wins a major coup? (The words "major coup" are to be taken lightly here.) Most likely Monster will try to fight back. After all, they own American motocross (Yes, they certainly do. What with the 2010 nationals called the "Rockstar Energy Drink Nationals" and all.) and won't want to give up the biggest publicity bonanza without a fight. They have powerhouse racers who could steal Red Bull's thunder. Monster will want to have a podium full of riders holding up Monster Energy cans. It would be the ultimate comeuppance to Red Bull.
Rockstar is the weak sister to Red Bull and Monster, and most people don't think they, as a corporation, have the wherewithal to move their star riders in the direction that would get them the most publicity. (What this should really say is "We don't want to get our buddy Roger DeCoster who doesn't want Dungey to ride in trouble so we'll blame it on the drink company who, according to the LA Times, had $48 million dollars in sales, is the fastest growing energy drink and are the title sponsor of two teams but somehow, they don't have the "wherewithal.")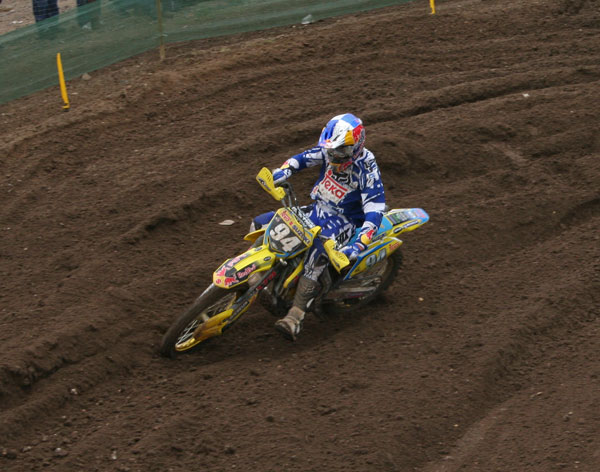 Run for the hills, The Roczen is coming!

MANUFACTURERS: Grand Prix motocross belongs lock, stock and barrel to the KTM European team. When you add in the news that KTM will double the size of its American team for 2011, has won the vast majority of 450 Shootouts in 2010 (there's only two magazine shootouts that matter for pure motocross reasons and KTM won the MXA one. Transworld MX said it was Kawasaki but anyways…) and is the only player in the Big Five that is going to release all-new bikes for 2011 (because Yamaha released an all new one in 2010 and Honda did in 2009 so being a year or two behind KTM isn't exactly being stagnant)—Yamaha, Suzuki, Kawasaki and Honda have to see that the tide is shifting orange for the future. (Something tells me that the Honda, Kawasaki and Yamaha are not worried about KTM. Call me crazy, I know.) Can they afford to have the KTM 350SXF look unbeatable on USA soil? (Yeah, they can. As MXA has told us many, many times, racing victories do not equal market share.) Every factory has European-based teams, but they aren't beating the orange men. It would take the American Honda, Kawasaki, Yamaha or Suzuki teams to get some respect.
PRIVATEER TEAMS: Every support team would do itself a major favor by racing the USGP. Valli, Star, Moto Concepts, Canidae, (Uh Jody? This team is now called Rockstar Suzuki. Thanks for coming out.) Troy Lee, Geico and others would instantly be considered American heroes if they lined-up at the USGP. (Yes because Sean Hamblin and Kyle Lewis have absolutely milked their American Hero status to the bank when they lined up for the World Cup after RC and Larocco bowed out. Their lasting legacies are amazing.) This is in stark contrast to the way they are viewed at most U.S. races (where they play second fiddle to the factory teams). (Guess what? At a GP full of works bikes and weird riders, they'll be second fiddle there again.)
JAMES STEWART: The USGP is tailor-made for James Stewart. Why? (1) Glen Helen is just across the freeway from the San Manuel Casino, which would be good for sponsor relations. (2) Stewart claims he wants to be put on the 2010 MXDN team…what better way to insure his spot than to the beat the European stars at Glen Helen. (3) Stewart could race this one race and then claim his spot on the MXDN (and, something that interests him, not race any more until the Lakewood MXDN). (4) Stewart has some grudges to settle with the Euro GP stars. (He does? I don't think there is any sane person that wouldn't claim a healthy James Stewart is the fastest rider in the world.) Waxing them at Glen Helen would be sweet revenge. (5) Red Bull is Stewart's major sponsor…wouldn't they want their highest profile American rider to support their effort.
TEAM HONDA: Team Honda doesn't look like a USGP contender. Andrew Short, although he could use more outdoor time, is just coming off an injury and probably should stay away from Glen Helen. On the other hand, Davi Millsaps should be standing by the front gate of Glen Helen with a sign that says, "Will race for food." Davi needs an emotional boost and winning the USGP would be the best thing that every happened to him. Do we think Davi will race at Glen Helen? No. (I agree with them on this point but it's really not Davi's call. It's American Honda and him coming together on a deal to race the USGP.)
TEAM YAMAHA: In truth, there isn't a Team Yamaha anymore. Yamaha needs to rally all of its ancillary race teams and get them to any place that they can get some publicity. Not winning the Nationals, not winning the Supercross series and not even racing the USGP isn't what the bean counters imagined when they farmed out the old Team Yamaha to private efforts. (I don't think a USGP is going to cause the bean counters at Yamaha to all of a sudden reverse their 2010 racing plans. According to Jim Perry, the rigs will be there but it will be to lend help to the Euro teams. Trust me, he didn't make it sound like any Star or Valli Yamaha rider would be there.) It's easier to win a one-day event than a 12-race series.
TEAM KAWASAKI: Team Kawasaki and Team Pro Circuit will do what Monster Energy wants. Thus, you will know who gets the credit when Reed, Pourcel, Rattray, Weimer and Villopoto show or don't show. (This is exactly what Mitch Payton told me as well. I haven't spoken to Mike Fisher yet but RV's out and Reed has stated publicly that supporting this race would be a slap in the face of the regular GP riders so I wouldn't be looking for him here.)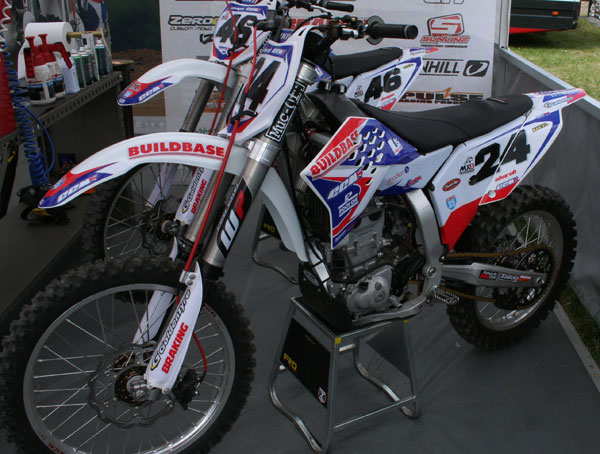 Get ready to see some weird bikes!

TEAM SUZUKI: Roger DeCoster has beat the bushes trying to get riders to attend the USGP's that he promoted at Glen Helen and to be a part of the MXDN teams that he has managed—so it must be painful to go against your own natural inclination and stiff the new version of the USGP. We don't expect Roger's star rider, Ryan Dungey, to be there…and really Roger shouldn't show up either because he will be embarrassed to finally get a United States Grand Prix and not be a part of it. (I would guarantee you 100% that Roger DeCoster will show up and be there to work with Sylvain Geobers and the Teka Suzuki team. And I don't think embarrassment will be an emotion he feels at all at any point in the day.)
AMERICAN PRIVATEERS: You get sponsors and good rides by doing something. You don't do yourself any favors by sitting at home. Exposure is where you find it…and for most AMA privateers, they can't find it no matter how hard they try (I've got a good way for an American privateer to get exposure. Do well in the AMA nationals, you know where all the best riders in the world (save three or four) are. That's a good way to get exposure also!) No where will it be easier for an American to get some love than in front of an American crowd racing against the evil Europeans. This race is custom made for Kevin Windham (who was the last American to win a USGP back in 1999 at Budds Creek) (He's a privateer? When did that happen?), Josh Grant, Nick Wey, Michael Byrne, Kyle Regal and Jason Lawrence.
WHO DOESN'T HAVE TO BE THERE? Face it, the USGP is a special race. It isn't on any American teams budget (although they have to be there to lend their trucks and equipment to the European teams). Any rider who chooses not to race the USGP cannot be criticized. The riders have to do what is best for their careers…and in many cases the choice is at the mercy of the decision made by their team managers. (Wait a minute, I thought that the energy drinks can make the teams go? I'm so confused…)