After the press conference this weekend in Vegas, I asked KW about his thoughts on the riders safety committe and the St Louis track.
After the press conference this weekend in Vegas, I asked KW about his thoughts on the riders safety committe and the St Louis track.
Me: You touched on it a bit in the press conference, but how did that conversation with Grant Langston go about setting up some sort of riders committee?
Kevin Windham: I think the conversation was good, it's in the preliminary stages right now and riders have tried to do this before. It's obviously inspired by these recent tragedies that we've had in our sport and I think it rises a little above the crash that Villopoto and Tedesco had over that one jump in St Louis. It hasn't been a good year in our sport. My points were that if we get a voice in our sport, that's fine but we don't need voices. I think that safety is something that is tough and nothing you can guarantee. There have been people seriously hurt on the simplest obstacles. This is supercross, we're leaving the ground and pushing the limit. Injuries are going to happen, it's unfortunate and is the nature of the beast.
As far as the championship goes, it's a shame to see the series go down the way that it has. Everyone would rather see it come down to here and obviously Villopoto had some steam going behind him. At the same time, you can't make the tracks do easy because the show and the reason that people come out to see the very best guys do the things that we do is gone. But yet no one wants to see people get hurt. I'm all ears and I don't have a political stance on it one way or another right now. I'm definitely open to talk and do what's right for the sport. I think you can be rest assured that everyone involved wants what's best, it's just matter of getting around to it. Like I said, I'm all ears.
You know, nobody ever really did get your take on that particular jump section in St Louis and what you thought of that and the whole fall-out from Reed talking about it?
I talked to the Dirt Wurx guys about and I'd say that I am friends with those guys. I discussed it with them and I rode press day there. There was a Lites guy there as well and, I'm sorry I forgot his name right now but he wasn't one of the top guys, he jumped it no problem. And we did it and it was easy. The thing that made the jump really hard was the deterioration of the track. Yes, the landing was too steep and it was a jump that you didn't downside. My front end was slapping down. For the show and for what was going on, making a nicer landing would have been fine. In talking to the Dirt Wurx guys, they didn't even think that we were going to jump that thing in the way that we did it. It's tough because you always say that you didn't have to jump it but that's not right because we all need to jump it and when we don't, well that's when we're on our way out of the sport.
And also, the bikes are capable of so much nowadays.
Yep, it's tough. Only the strong survive out here. It was a difficult jump for sure and I'm bummed that it took out two guys-well, it took out more than two guys but those two were focused on- because we were coming down to a great title fight. I don't know if it was handled properly or not, I did it for twenty laps and I didn't say anything about it. It's a shame that people crashed on it but I think it was the track going away more than anything that caused it to be tougher.
I did a podcast with Chad Reed last week and he expressed a little disappointment that you didn't step up and say something about the track. I guess it's the fact that as the respected veteran rider of the circuit, he felt like you could get really get things done and people would listen to you. Thoughts on that?
Well, Chad's called me out a lot and I don't know what he says one time or another.
Yeah but that's when you guys were battling for the title and that shit always happens…
Yeah but still. I don't mind it, I think it's great and I'm glad I'm at the point in my career where people think that I have all this respect. I know the Dirt Wurx guys fixed the backside of the jump. Let me put it to you this way, have you ever seen a time where a top guy like Chad or James Stewart dictated a whoop section and how it was going to be based on how they went through them or their bike worked?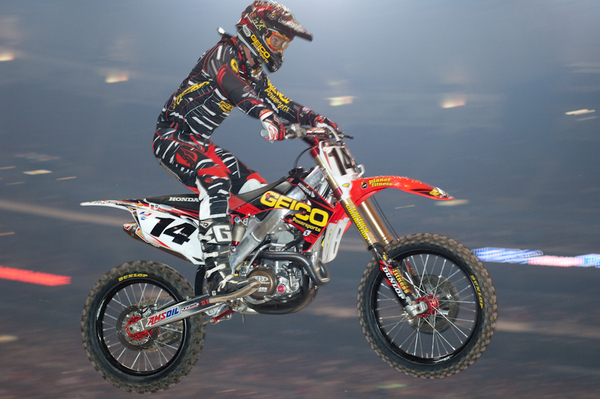 Windham's going for three in a row this weekend in Vegas. Photo by James Lissimore

Well, I don't know about those two but I know for a fact that when RC couldn't get through the whoops and Chad could, the Dirt Wurx guys flattened the whoops a few times…
Exactly. Was it a safety issue or a performance issue? I had heard that Chad requested the whoops bigger and bigger when he was getting through them better than anyone. You have to be careful if it's a safety issue or it's to help a guy out on the track. I'm leery to go out there and cast stones at anyone because of that. Should I have said something about the jump? I don't know, I didn't have a problem with it and I saw a mid-pack Lites guy jump it. And I rode press day and I thought the landing was a little steep but we could do it.
As a rider, if I say something about changing the track and I've ridden it on press day, I walked it and then before the main I ask them to change it, they're going to wonder why I never said anything the past six or seven times I rode it! So yeah, you know…
But I think there's the respect factor there and people would know that Kevin Windham isn't going to go out there and try to help himself, or maybe you would!
I would certainly not do it for an advantage and I'm not saying that Chad is doing that either but as we've just talked about, riders in the past have done just that. And also, like I said earlier, we need a voice. Hypothetically speaking what if RC was going to them and saying the whoops are too tough and Reed's going over there and saying that they're too easy? These guys would be so confused, they're dammed if they do and dammed if they don't! You can't listen to everyone, we need a voice, we can't have a ton of voices.
As you said earlier, this riders getting together thing has been tried a few times now. What do you remember from the 1995 race here and then James Eickel's little deal after that?
Well this thing needs to be safety only in my opinion, but as far as '95 goes I was out with a broken collarbone then so I wasn't here and didn't have the decision to make as far as riding or not. I remember that it was a big deal. It was a really big deal and where we're at right now is that we need one person talking or we'll just have confusion. Like we did back then. There needs to be a process of communication between all of us riders and there needs to be an individual that goes in and talks for us. Then there's going to be guys that are three-digit guys that think a section is tough but they don't want to say anything because they think that they're not that important or whatever. That can't happen either. It's a tough deal they're trying to achieve. I'm all ears and willing to help however I can.