Check out Swizcore's SX preview! It's better than anything I can do…

Check out Swizcore's SX preview! It's better than anything I can do…
By Kevin Husted
Photos by James Lissimore
THE STRUGGLES WITHIN-
Could it be? The season of parity in the 450 class we dream of?
Looking forward to the '11 SX season, we are faced with a similar theoretical race prospect as years past. Multiple contenders who possess the skill needed to compete for the win. As is often the case though, confidence seems to be a light switch in racing, indoors and out and we we typically see an individuals confidence soar as they separate from the pack and the others settle into their bridesmaids role's. Granted, the talent pool in the 450 class heading into '11 is more stacked than any in history and it would seem the elusive "wide-open" theory has more legs now than ever.
History tends to repeat itself however and until we are gifted with that parity we always hope for, Im gonna expect another single rider domination and look more specifically at the battles within the war. Lets start at the top.
FOUR HORSE RACE Ryan Dungey, James Stewart, Chad Reed, Ryan Villopoto-
What does the '10 series Champ have to prove? Plenty. With Reed, Stewart and RV boogering themselves during the '10 series, there is more than a grumbling of people questioning whether RD had this title placed in his lap. RD earned it, no doubt about it. He didn't cause CR and JS to come together in Phoenix, nor did he cause RV2's horrific crash in St.Louis. All he did was prepare, focus, persevere and deliver. He may have the title but he's still got motivation, the motivation to continue to improve and deliver a healthy dose of STFU to all the doubters. Do not under estimate this kids resolve or heart.
James is about to embark on his most important year ever as a racer. He's coming off a discouraging SX season due to an injury which has ended more than a few careers and a hardly worth mentioning MX appearance. Add to that his TV show which his detractors cite as evidence to his lack of focus and non commitment to his racing career and you've got a guy with much to prove and a lot of pressure. James unquestionably has the skills and you can bet his focus is purely on serving up some of the same STFU as RD5. James Stewart is a bad dude and a motivated James who realizes the magnitude of the coming season is bad news for the competition. But can he keep it on two wheels? We saw in Vegas '09 that James can indeed keep the big picture in mind but it remains to be seen if he can accept a few off nights over the course of a season. The claim is that James has never lost a race he hasn't crashed in, it may serve him well to not crash and not win in a race or two with the deep field '11 is bringing.
I expect Reedy to come into the '11 season on his fourth manufacturer in four years. It may not prove to be of much consequence but it certainly isn't a benefit to start fresh development with new personnel each year. Chad's fan savvy, he gets that he has detractors and has fun with it. Whereas other riders may get discouraged by the smack talk, Chad thrives on it, smiles and keeps on being himself. He doesn't need money, he has titles, he's not looking to shut anybody up, he's in this for his own pride and desire to finish his unfinished business from last season. @CRtwotwo is the talk of the off season, his open-ness on Twitter with his job search has grown his fan base dramatically. The fans are pulling for Reedy to secure a good ride to come out in '11 to show his heart is still in it proving last season was the anomaly.
RV is coming off a terrible leg injury which saw him miss his second 450 outdoor season in a row and it absolutely killed him to watch Dungey decimate the field outside in '10. The biggest test I see for RV in '11 is relative to James', ride the smart race and keep it on two wheels. I see RV trying to put an exclamation point on wins removing any doubt of his superiority to last years champ. Reeling it in a touch may get him to the full outdoor season he's missed two years straight. It's the deuce's third year in the premiere class and you'd be a fool to not expect him to click off multiple SX wins this season.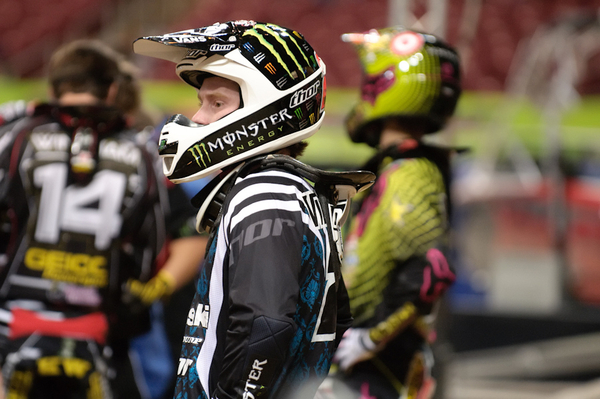 Will RV pick up where he left off before getting injured next year?
THE GRADUATES
Jake Weimer, Trey Canard, Brett Metcalfe, Christophe Pourcel, Austin Stroupe-
Jake's deal got done late but luckily it was with green, where he has been the last two years and is very comfortable. Don't think for a second that his Kawie factory ride has pacified him in the slightest. Pings very public callout of Jake's focus is one thing but Jake has another objective which is certain to drive him. Beat Trey Canard. Jake won the west coast Lites SX title last season over Trey but Trey's staggering performance in a temporary position on Honda's 450 all but sealed him up for a 450 ride even before the SX season ended. Compound Trey's stellar 450 SX finishes with his Lites MX title and Jake's delayed signing, and you have some serious motivation for Jake to show everyone he's the guy they wanted.
Conversely, Trey is coming off a Lites MX title, MXoN win and lets not forget, after a dismal start to his '10 SX Lites series, he made a run at it and actually had a long-shot at the title. We've seen what trey can do with no pressure on a 450, it'll be very interesting to see what he can do when the finishes actually count. I'm betting there will be some growing pains but he'll settle into it and have a strong rookie year on the 450.
Brett Metcalfe the lifetime Lites rider has made the jump and looking at his maiden voyage on the big bike outdoors, the future is looking good for Metty. Brett just works his ass off and consistently finishes strong, he's done it forever so theres no reason to expect any different from the polite Aussie. Don't be surprised if Brett resembles the new Andrew Short of the SX class.
If Christophe Pourcel hadn't… ah whats the point, he did. Christophe crashing at Pala and injuring his shoulder has left him thus far unsigned for '11 and even if he does sign, he will have only 1 month to attempt to prepare for A1. Imagine, if not for the Pala crash, he would have that MX Lites title as well as being a serious threat for the top spot on the podium in the 450 class in SX. As it stands, '11 is one big question mark for the talented Frenchman.
Austin Stroupe is a talented son of gun, the sky is the limit for Stroupe-a-loop. One thing is certain, that shoulder is healed. He's gone from PC Kawie, to the Makita Suzuki team where he opened eyes as a 450 temp to open the '10 season. He's moved to the Valli team for '11 who of course are on the bike which has shown to have a line of demarcation where riders either make it work, or they just don't like it. Austin strikes me as a guy who could ride an air cooled YZ490 fast and make it work for him; or at least make it appear to work for him.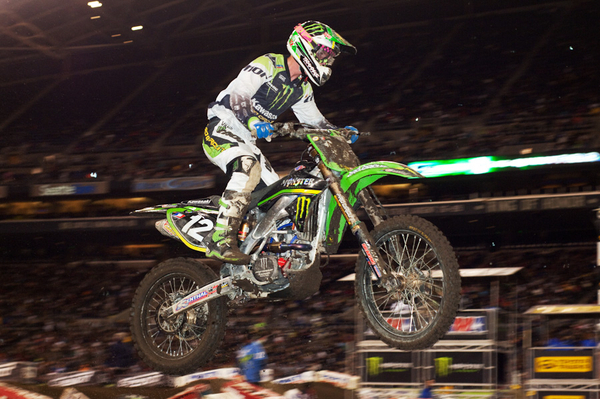 Diffferent bike, same color for Jake in 2011.
THE PODIUM PACK
Kevin Windham, Andrew Short, Josh Grant, Davi Millsaps
K-Dub is what we thought he was, a podium threat on any given night. Who knows what it is that adds up to those ideal rides where he looks like he couldn't lose but they seem to happen at some point each season. Kevin is more comfortable with who he is as a racer than ever before and that can only be a good thing; besides who wants The Rock yelling at you all the time.
I still cant wrap my head around what Honda was thinking when they offered Shorty a pat on the back and then signed Josh Grant. Andrew exemplifies everything Honda. Grant? Not-so-much. Prior to Andrew's ankle injury in '10 SX, he finished on the podium in 6 out of 8 series for Honda on the 450. Apparently, potential speaks louder than results. Like I said, I don't get it. Short is now on KTM and no doubt wanting to stick it to the team which inexplicably gave him the boot. Im betting at season's end 29 is higher in the points than 33.
Shorty is out at Honda and Grant is in. Grant doesn't seem to crash a whole lot but when he does crash he ends up missing a lot of races. Josh has winning speed without question, hopefully he can corral the injuries and find some consistency.
The '10-'11 Yamaha 450 is a different breed. It's caught a lot of riders off guard and had them not feeling confident on it. Im intrigued to see if the move to JGR from Honda is motivating for Davi but even more-so, Im interested in seeing how he gels with the new Yamaha. Remember, IT9 switched from Honda to the '10 Yamaha last season and before he crashed out of the SX series he looked better than he had ever looked on the Honda 450. So maybe it's the same formula for Davi. I debated putting Davi in the podium pack but much like K-Dub, Davi has those nights where he just makes it look so easy; that makes the nights where he looks like he's completely preoccupied all the more puzzling.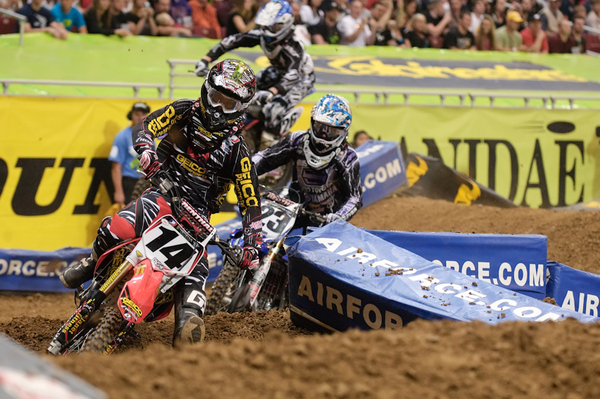 Windham may not win any races next year but he's going to win all the popularity polls.
THE BRAWLERS
Kyle Regal, Nick Wey, Michael Byrne, Justin Brayton, Ivan tedesco, Kyle Chisolm, Tommy Hahn, Chris Blose, Jason Thomas
Can you believe this list of names?
It seriously hurts to not put some of these guys in the podium pack but compared to those above it feels justified. The talent in this group just shows how ridiculous the 450 class is this year.
Kyle Regal is a question mark to me. Its no secret that the kid works his ass off and has a lot of skill but its hard to disregard his troubles last season in SX on the Valli team. Somewhere along the way the relationship broke down and instead of forging through, drama ensued and Kyle found himself switching classes and leaving the team before seasons end. I would expect with LB guiding Kyle, this season will be a giant step forward; don't be surprised if Kyle hits the podium a time or two this season.
Nyk showed last year that his Ti-Lube bike was damn capable. Pulling more than one hole-shot, he actually averaged better starts on it than his Factory Kawie. He's still working hard, expects a lot from himself and never quits. It's just how we do it in Michigan folks.
Michael Byrne is looking for a big rebound in '11. He's back on Suzuki's where he's comfortable and on a good team with his buddy JT$. Byrner started '10 with a pretty serious injury and just never got right. Don't be surprised to see a drastically different 26 this season. Like night and day.
Brayton is coming back on his second year with the JGR team and seems to enjoy the new Yamaha. He's a big guy who isn't afraid to be aggressive and finished a quiet 5th in points last year, his first year on the 450 by the way. With the talent pool in the class this year, I would be impressed to see Justin match last years season finish. He's got a great attitude and works his ass off and that can only help.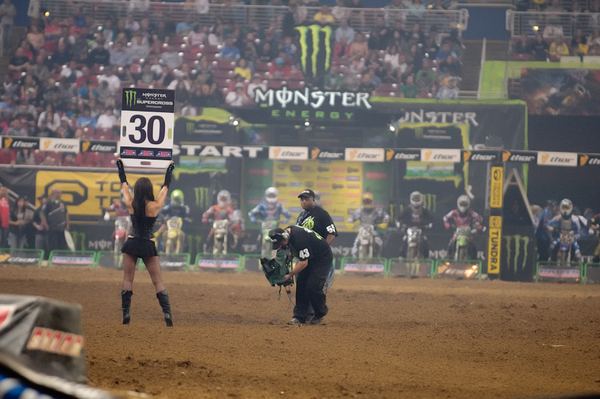 Who will step it up in 2011?
Ivan looked great on the Yamaha last year, unfortunately a poorly constructed obstacle in St.Louis ended two seasons, Ivan being one of them. For '11 Ivan is joining the Hart & Huntington Team on their new Kawasaki deal. Ivan looked great on the Pro Circuit 250 Kawie so I expect he'll feel right at home on green(or whatever color H&H makes them). Ivan races with a chip on his shoulder and I expect him to be strong this year. A podium will be very hard but it won't be for lack of preparation or effort.
The Chizz. Kyle has come a long way since the unknown teammate of JS7. He's developed a well earned reputation as a hard charging kid with a big heart. Kyle gets along well with the Yamaha, he finished 10th OA last season in SX and I wouldn't be surprised to see him better that this year. Chizz got skilzz.
Tommy Hahn has moved from the Rockstar Suzuki team to Motoconcepts team alongside Chisholm. Much like Millsaps moving from Honda to Yamaha, Im interested to see how Hahn negotiates the Suzuki to Yamaha switch. Tommy has a ton of ability and I hope to see him show some more consistency this year.
Chris "The Brick Shithouse" Blose is coming back to H&H for '11. He'll be all healed up finally and looking to show everyone what a healthy Blose can do on the big bike. I wouldn't be surprised to see Blose mixing it up in 10th regularly.
JT$. The MVP of the LCQ. I would say that with Byrner as a teammate JT is certain to find some more speed but they have been riding together the last few years already. No, you know what will help JT$ this year? His repositioned training schedule. No more peaking in the first quarter of the season then finishing with his tongue hanging out. Maybe with Boni absent from the H&H team, JT can mix it up with someone his own height, Chris Blose. That would actually be a pretty even match… in a height fight.
BUT WHY
Initially I was inspired to write about the matchup I felt was sure to form between Jake Weimer and Trey Canard due to the quick signing of Trey and very late signing of Jake even though Jake had beat Trey in the SX Lites title. Looking deeper into the players it was obvious that the depth in the field exceeds any other year so I wanted to touch on the field and place them in groups I expect them to race in regularly in '11.
Whether the season of parity at the front comes to fruition or not, the months and weeks leading up to A1 will make for epic bench-racing predictions. Lets just hope everybody shows up at A1 healthy and they stay that way through Vegas and beyond.