Remember when I asked for your questions a while back? Well here are the best ones and what I think are the best answers.

Remember when I asked for your questions a while back? Well here are the best ones and what I think are the best answers.
Send in your questions to steve@pulpmx.com and we'll do another one of these.
Dear Steven,
Any word on Stewie announcement you mentioned awhile back? Where is the Tommy Hahn podcast? What do you think of Lady Gaga? I fell asleep listening to your recent Glover podcast and had a dream about you. You brought me a sausage biscuit with egg sandwich. What do you think about that? Don't worry I went back and finished the podcast. Will Josh "Sh%t" Hansen win the OZ SX title? Thanks!
Sean
No announcement yet in that and I'm not sure I want to be the one to break it. It's not that big of a deal and the only reason I Tweeted it was because I was told that a PR was coming out any day now. I did ask James for an interview/podcast a week ago or so and he declined in a nice manner saying that he's getting ready for Anaheim and he has nothing to say. Which I find funny because he's always so good in the interviews and to me, he's always got something to say. He's James Stewart bitch!
Anyways, Tommy Hahn podcast should be coming real soon, I have no plans to do one but you reminded me that I need to get plans.
I like Lady GaGa, I love the song "Telephone" and get my groove on to it when my wife blasts it while we drive. Although I hear WAY too much ABBA and Ace of Base in her stuff to make me think she's some sort of "musical genius" like she tells me.
Your dream sounds like it's very possible, I do like Egg McMuffins and that seems to be the sandwich that you're speaking of. Thanks for listening and writing in, I appreciate it. As far as Hanny is concerned, I f**king think he'll win the f**cking shitty SX title down there.
Does this look like someone that is a musical genius?
On another note, pretty lame for Hanny to blame RXI for that interview. Eric Johnson (who works at Monster and is a great guy and better writer than me by about a 1000% by the way) is his buddy and I don't get how Josh didn't know it was an interview. There is no way Eric would write that out and bury Josh so they must have agreed on the questions and answers. To turn around and sort of blame RXI on Twitter is, like I said, lame. I know that DC and Hanny had a nice conversation where Josh let him have it (I've been on that end of that phone before) but I fail to see how any of this is Davey Coombs' fault. He didn't type it out, he didn't answer the questions and he didn't ask the questions.
Hi Steve,
Love your work and I am one of your daily fans. (Pulpmx and twitter)
My question is simple, what is the most illegal bike used by a factory.
I am interested in credible rumors too known facts. In the interest of juicy information, the brand can be omitted but the year appreciated.
Thanks,
Sanford
Thanks Sanford for the love, appreciate it. Anyways, there are always small things that the teams try to get away with and with the incredible, awesome job the AMA does at teardowns and such (although they seem to be trying and getting better) the teams have a very good chance of getting away with pretty much anything they want to short of showing up with a nitrus tank strapped to the fender. I don't know about the "most illegal" bike that any team out there has used because to be honest, I wasn't in those shops. I have heard that when an OEM first came out with an aluminum frame (let's call them Smonda) they were trying different frames all the time to try and remove some of the harshness. The AMA had no idea back then how to look at it and compare it to the one they have (on another note, the AMA gets the OEM's to submit the cases, frames, swingarms, motor stuff to them for the year. They don't have the budget to go out and buy a production bike so they ask the wolves to send them the chickens. Who's to say that the OEM's don't give them a works part that looks like a production item?) so Smonda kept on experimenting with different welds, braces, thicker and thinner materials to try and make the bike work .
This info came to me from a guy that rode for them for many years. Anyways, more recently when Langston won the 2007 450 title and struggled with the handling of the new aluminum framed bike (remember he ended up using production forks which were smaller and flexed more and stock clamps?) there was a noticeable amount of material taken away from the area around his footpegs (to make the bike flex better) and I wondered who it was that took the belt sander to the frame because they would probably have aluminum chips still in their ear canals, it was so much material.
Do you know how little you have to do to an aluminum frame to make a difference in the way it works? I do.
So anyways, for the first time all year, the AMA decided to check frames at Southwick and I was wondering when the shit was going to hit the fan with Yamaha and GL once the AMA compared the frame to an OEM one but nothing happened. I was refreshing the computer with every 20 seconds looking for the "AMA penalizes Yamaha for frame at Southwick" PR but it never came. Of course the AMA rulebook says it's illegal to remove material from a frame (technically making it illegal to scotchbrite or polish your frame) and with this frame, no measuring was needed. You could see it with the naked eye. Anyways, the announcement never came and I asked the AMA guy the next weekend if he saw anything funny with the frames and he said "Nope, everything was great…".
Keep in mind this is the year that Timmy Ferry had the points lead until late in the season when he was overtaken by GL and that bastard illegal Yamaha of his so rightfully, the 2007 450 mx title is Ferry's and all is right with the world.
Sigh.
Steve,
I have wondered about this for a while, but why can't riders have radios in their helmets? In a "tell me a story" bit on your site I believe Ron Lechien mentioned that they had them for a period of time. It could be very useful in safety matters, lapped traffic and even as added revenue for rider purses. I believe in nascar, fans can purchase or rent a receiver that is designated to one teams channel, they can then listen to the driver and team throughout the race, which would be pretty interesting in mx/sx. If a portion of the money went from the radio sales or rentals back to the purse it would ad to each rider's overall pay. And in this day and age that would help everyone and maybe make the racing a little more exciting. So tell me Steve why doesn't the AMA do this, or Feld or MX Sports, or whoever the hell is in charge?
Thanks,
Dusty Davis
Dusty, good points for sure and radios would make it pretty cool for the riders and entertaining for the fans at the same time. I think "pretty cool and entertaining" would be something the fans would be into in our sport and who knows, maybe it helps it out a bit in gaining some new fans but sadly, the teams would shut this down quicker than me showing up at J-Law's house warming party. If you listen to the Pulpmx Show this past Monday, Coy Gibbs is a big proponent of this because of his NASCAR background. Take a listen to his interview where he talks about it. Anyways, I passed your email on to a very important person like Davey Coombs to get his take from an outdoor motocross perspective and this is what he had to say:
Dear Dusty,
Thanks for the question on radios, which my esteemed colleague Steve Matthes forwarded to me. Right now there is no rule in place to allow the use of two-radio radio transmissions between riders and mechanics or their teams, but it's something I personally would be open to. I am not sure how it would work but Coy Gibbs has been working on a program concept and I am likely going to go visit him this week or next. Stay tuned (no pun intended).
DC
Steve,
If you could start your own team what 4 riders would you pick. 2 – 250 riders and 2 – 450 riders from the free agents of this year?
Who is the most under rated mechanic?
Who will Hill ride for next year?
How will 26 do on the BB suzuki?
Best bike that you ever rode?
Thanks Troy
Troy, thanks for the question. Let me take your questions one at a time here.
Good first one and if you're limiting it to just guys that needed deals this year then that eliminates guys like Ryan Dungey and James Stewart who were locked up early. So with that in mind, I'd go with Ryan Villopoto and Chad Reed for my 450 guys. Obvious I know but hey, I could've picked Pourcel or Weimer. As far as the 250 guys, well again I think this is obvious but I would go with Dean Wilson and Tyla Rattray. All four guys are winners, driven and are good guys off the track. They would get it done for me.
Most underrated mechanic? All of them but allow me to go on a rant here for a bit. It used to bug me how they would give away a new Toyota truck to the championship winning mechanic or a brand new box of Snap-On tools . It's like, those guys are already making the most money out of anyone with bonuses and they have a ton of help at the factory level. Why not reward some privateer guy that was out there all year busting his ass? Washing the van, buying the groceries, scrounging parts and making things last on the bike? I don't get it but I suppose the rich get richer right? Anyways, all mechanics are underrated and I fear that in the last ten years, the role of the mechanic has been pushed into the background as riders get man-friends, trainers, coaches and dads hang around more and more.
I don't know who Hill is going to ride for. I saw his Tweet the other day that he went riding and that's pretty cool. I know that behind the scenes his agent Jimmy Button is trying to get Josh on a team and telling people that he'll be ready sometime soon but I'm just not sure. Also, if you don't think that Button told Hill to get on a bike ASAP and Twitter the hell out of it, then you're nuts. That's what any good agent would do.
I hope that Michael Byrne finds whatever magic he had last time he was on a Suzuki. Not too many guy dropped as fast or as hard as The Byrner did this past year and that's too bad. He's a good dude and someone to cheer for. I did a podcast with him last week or so and he sounded very happy to be back on yellow and that's half the battle right there.
I rode this bike a few times and it was really, really fast.
Best bike I ever rode? I don't know really. I really loved my 1991 CR125 that Pro Circuit did up for me back in the day. I loved my '94 KX 250 but it broke all the time and stripped out bolts. More recently, I had an '07 YZF450 and a '09 KXF450 and the Kawi blew the Yamaha out of the water to be honest. Of course I'm a pretty big dude so more power is always good which the Kawi had in spades over the blue bike. Pretty much every pro's bike I've ridden hasn't been set-up for me and hits wayyyy too hard and too soon. Any of the YZ250 two-strokes that the guys raced in SX were pretty much ridiculous. They were gnarly.
Steve,
Has the FIM taken control of the AMA Supercross? I thought the FIM has no sanctioning authority in the Supercross/Motocross series in the good o'l USA?
Chris in Federal Way, Washington
Yeah me too. I have no idea who is running anything anymore in our sport and I also think that's pretty sad. When all that riders union stuff was going on last supercross season, the guys I spoke to echoed that same sentiment. Who's in charge here? Is it John Gallagher, the FIM referee at the track? What about Kevin Crowher the AMA guy that's there? Feld Entertainment, the series promoters? No one could get a straight answer from anyone and I hear things behind the scenes that make me think Feld is pretty much pulling all the strings with everything and I'm not so sure that's the best thing. To have a promoter who's interest is selling tickets to be making rulings on equipment, rough riding, etc etc seems ripe for a conflict of interest.
John Gallagher is a good guy (he's taken some hits on the Pulpmx Show) and I enjoy talking to him but he's got a real job during the week and then heads out on the weekends to referee the race. Something tells me that when the head guy has a real job that maybe takes him away from ruling on things, talking to the teams and riders and generally managing the series, that's not good.
"Who here knows who controls what?"
Dear Matthes
I have theory that Pourcel had injured his shoulder jet skiing before the championship??? Any buzz to that effect?? He just seemed so calm about losing like he was OK with it mentally very quickly. It may have been the pain killers I don't know. Interesting to consider on a slow fall day .
That is my best shot at a interesting question
thanks Mark( ktm321 )
Haven't heard about that to be honest. I know that Pourcel loves jet-sking, he does it quite a bit and is into it for training. But then so was Ron Lechien and we all know how that turned out.
Steve,
Have u ever thought of doing some bike test? I would really like your prospective on how bikes handle the power and setup, what parts work and what don't. Someone with your mechanical skillz, u also where fast once upon a time, I feel your input would be great. Also your size, there are not many faster riders (our size) 6ft+ 200+lbs range. I dunno maybe I'm just babbling and you don't have the want or drive to do any riding, but I really would like your point of view on the riding side of things. Anyways love all the stuff u do.
Thanks, Matt
Nope haven't thought about it. I don't think my location (Las Vegas), my obesity (not the target weight for the OEM's) add up to me being good at it. Besides, think about all the riders that get butt-hurt at some honest comments that I make about them, I don't need the OEM guys (who are my friends) getting pissed at me writing that their bike is no good. I am starting to get the itch to start riding again so hopefully I'll be able to get something here soon.
This is what I look like on a bike.
Steve, I will try and offer you up an intelligent question. It seems that most of the successful Team Managers have been greatly mechanically inclined over the years, Dave Arnold, Roger Decoster, Mitch Payton,…..etc. What I was wanting to know is what have guys like Mike Laracoo, done to get the success out of Geico Honda Team? Is he mechanically inclined or does he just intimidate the shit out of K-Dub and make him go fast? (We all know Canard's success is due to the mentoring of Timmy Ferry) Do you think riders for Decoster and Payton put in the extra effort when they see their managers getting their hands dirty helping make adjustments to the bikes?
Best Regards, Nate
I think you have to do what you know best. In Mitch's case (and others) you are a mechanical guy that can help with the set-up off the bikes. With "Iron" Mike, he (like most pro riders of the last 20 years) probably doesn't know the mechanical end of things as well as he knows what it's like to be a pro rider, go fast and be a bad ass. So I have no doubt that Mike is working with the riders in the mental end of things and how to go faster and be better riders. He has definitely worked well with Kevin Windham by all accounts getting out there yelling at KW to keep pushing and keep the intensity up. He's got a friend of his named Darren Borch-I can't spell his last name-ish helping him in the shop to keep the mechanics and motor guys on schedule so that he can work with the riders. I know that Trey Canard has Ferry and Blake Wharton has Sebastian Tortelli working with him so that's just something extra there that those guys can lean on. I believe that Mitch has a great team because of Mitch AND the people around him that have been there for a while, guys like Bones Bacon, Zach White and Aaron Johnson. They have Mitch's mentality and what these teams do for riders is take away any excuse that a rider may want to reach for. And believe me, riders will reach for whatever they can. But when you provide them an awesome bike, make whatever changes they want, work hard, get them testing sessions, well the rider pretty much has to look in the mirror and blame themselves when things aren't happening the way they want to.
I also believe that GEICO with Josh Grant, Canard, Justin Barcia, Eli Tomac etc, etc is starting to come on and be a real challenge to the Pro Circuit goliath. They are pumping out fast kids and the bikes are very equal on the track, if not better. The team is gelling and they are becoming a big rival to Mitch. But then again, I think they have to get away from using Pro Circuit motor stuff to truly be rivals in a Celtics/Lakers kind of way. I believe that the GEICO guys have talked about this as well.
Steve,
In your opinion, what is the "chancibility" that KW will be on the show next year?
Thanks,
Chris
Chris, thanks for writing in. I believe that the "chancibility" of Watson coming back is pretty high but with him, I guess you never know. I don't know why he keeps saying that on the air because when he first said it, I had no idea it was coming or why he said it. But then I just went with it because it's Kenny and it's comedy. The show is catching on, he's liking it and we're working on bringing some money in so that we can actually make something for our trouble because honestly, it's a decent amount of work for me to do this thing. As far as Kenny, his biggest prep for the show is trying to show up on time and sometimes, he fails.
Does this guy look like someone who cares about much?
I wrote him a check for $600 because he's been doing a great job on the show and had never asked for a dime. I figured it would be cool for me to give him some money for his effort. He took the check and never cashed it. For like, four months. Then he calls me and says the check was in his shorts pocket, he washed his shorts and can he get some cash instead? This is the same guy that once had 184 unchecked voice mails/emails/texts on his phone.
Dear Steve,
You and Weege often talk "what if's". What if Bradshaw doesn't retire does McGrath dominate, etc. I too like to discuss these hypothetical's.
-If Emig doesn't get hurt in 2000 during his comeback on the Strategic 3 Yamama, how does he do? He claims he was riding the best in supercross he ever had.
-If "le Cobra" doesn't crash while doing the Transworld photo shoot in 2002 (I think) does he win the SX title over Carmichael?
-If Ron Lechien doesn't party with Motley Crue and water ski all day on his new boat rather than test and ride would he still be considered as cool as he is today?
-If Carmichael doesn't sit out SX with a knee injury in 2004 and Stewart isn't out in 2008 does Reed win those titles?
-If I was 10 years younger and infinitely faster would I be the champ?
Thanks for your vast MX knowledge
DJ
DJ, let me take these one at a time;
1- What if Emig doesn't get hurt and races the 2000 series on a Yamaha for The Edge Yamaha team? Well I don't think he does all that much to be honest. It had been a couple of years of Jeff stinking it up (for him) on a works Kawasaki. I just don't think that he comes out and does any better than a fifth or whatever which is fine but nowhere near a championship or race winning pace. Of course he says he was riding sx better than ever back then but that's what people tell themselves in these types of things. I like Fro, he's a good dude but let's face it-this sport is cruel and quick to dispose of you and not too many people get "it" back once they lose "it". For more on this see, Bradshaw, Damon or Kiedrowski, Mike or the other hundred guys that made comebacks and not had it work out.
2- I believe that if Le Cobra doesn't get hurt then yes, he does win the '02 SX title. RC was coming on for sure and faster but you have to remember that the series was halfway over and DV12 had a 25-point lead on the redhead kid. And he had made pretty much every podium up to that point. Of course the wonderful AMA has all sorts of dead links to past results when I tried to break this down for you (pet peeve # 6,723 about our sport) but look at it this way, DV was very consistent and on top of his game then. RC was trying superhard and probably would've corckscrewed himself into the ground at some point trying to win. This would've allowed DV to gain a few more points along the way. Also, RC's post Daytona record for races won is not very high. Check it out sometime, his M.O was to grab the lead early and hold everyone off.
I asked Le Cobra himself on Twitter for you and this is what he had to say: "do you really think I will tell you I would have beat the Goat? I had a chance but doubtful. Depends how I'd done in Daytona." So there you have it, straight from the horse's mouth and he says no way which goes to show you what an idiot I am.
Is this your 2003 SX champ if he stays healthy? I say yes but he says no. He's probably right.
3- No, Lechien isn't half as cool if he plays it by the straight and narrow. It seems that pretty much everyone that was around back then has a Dogger story that is more unbelievable than the last one. He was truly a natural talent but the one thing you get in talking to all the old-timers is that Ronnie was a really nice kid who kept screwing up. People were pulling for him all the time whereas some of the troubled kids we have nowadays are kind of jerks. Which makes it hard to hope they pull it together.
4- Yes, Reed wins those titles going away. He was coming on big-time the second half of the '03 season and would've taken advantage of the injuries to win those titles. And then he would be a 4-time sx champion.
5- Yes, DJ- you would be champion. Whatever helps you sleep at night.
Steve,
During the Classic Commentary of Budds Creek '95,Rich Taylor makes a claim that the '95 CR250 motor was a monster and that it would hang with the 450's today. Do you believe that to be possible or did Rich biff it one time to many ?
Thanks,
Zenithtron
p.s. Dave Arnold pt.3, Rich Taylor pt 2 please !!!!
Thanks for listening Zenithron, say hi to Dweezel and Moon Unit for me while you're at it. I didn't know how to answer that question so I took it right to the source and sent your email to Rich himself. This is what he had to say about you questioning his comment:
The "WORKS" Honda CR250 that year was soooo incredible! It had power everywhere and more importantly it was easy to ride. The power delivery was so smooth and controllable and so broad. It just had power everywhere! Bottom to top, it was smooth and really, REALLY fast!
Could it holeshot a National today against Short's Honda 450? NO! But, I bet Alessi on his KTM 350 would be looking at the back of whoever was riding it…. RT
Thanks RT and thanks to everyone who watches those Classic Commentaries. I have no idea why they don't get better numbers than what they do because it's pretty much the greatest idea ever in the history of the world but I'll keep plugging away on them.
Here's Rich Taylor in action. You going to argue with him?
Steve, Why was Reed so much faster than RC the second half of 2003? Also a classic commentary request-Glen Helen 99
Thanks
Curtis
Curtis, the two things that you have to remember is that was Reed's first year of 250 supercross and he was battling inconsistency in the beginning like pretty everyone does (except if you're name is Ryan Dungey) and the other thing is the whoops were massive that entire year. So once Reedy figured out how to go 20 laps at his warp speed it was going to be trouble because RC could not get through the whoops with his funky CR250 set-up. It was super low in the back, bars on his lap and rebound control like his shock had 6000 weight oil in it. I'm sure the thing would turn like it was on a rail but he sacrificed that for control in the whoops. Man, we would be back in the Yamaha lounge watching video of RC and he would pretty much just about eat shit each and every lap trying to catch Chad. That of course made him madder and more frustrated, so then he would grab more throttle going into them and then he would get closer to dying each and every time.
These guys had some epic battles in '03 and '04.
Of course there was the usual bullshit in the press about him backing it down and riding for the championship but I was there, I was next to the track and that guy was trying as hard as he ever was. His bike just wasn't working for him and Reed had him covered. But in the end, ifs and buts are candy and nuts. RC goes to bed each and every night as the 2003 SX champ and there's nothing Reed can do about it.
Matthes,
I've been noticing that you've repeated many times that Stewy can "Do things on a bike nobody else can". What the hell are you talking about? Did he finally make that triple backflip?
Also I've noticed that other racers and journalists try to find a way to discount Dungey's legitimacy whether it be outright speed or championship material. Here are some examples:
1. Oh well JS got hurt
2. Oh well Reed got hurt
3. Oh well RV got hurt
4. Oh well he has Decoster and Goose helping him
5. Oh well he has really good luck… all the time…. for two years straight
6. Oh well he won't give me an interview
Listen I wasn't the biggest fan of his either last year, especially after he told the remaining 50 spectators at the 09 Bud's Creek awards ceremony that he thought "Daytona was probably worse conditions than this" (c'mon Ryan play to the crowd a bit you're killing me!). Since then this kid has proved himself many times over. Everybody says they should be able to beat him but nobody does! Has anybody realized that he's probably riding at 90% the whole moto while most guys have to hang it out at 101% just to keep him close?
I'd like to hear your opinion but that's what it looks like to me.
Love the show, site, tweets, and Kenny.
Eric
Thanks Eric for the question and funny you write in because I was just talking about that with another journalist that works for another company. Let's call him Smeege shall we? Smeege's point was that we (public and press) probably don't give Ryan Dungey the credit he deserves because of injuries to the "supposed" championship contenders and we won't know how good The Dunge is until he races the top guys straight up. Now there are many people who say that he would've beat Jesus on the bike this year but we just don't know. We could be here in 2014 looking at a four-time sx champion named Ryan Dungey and saying "Wow, 2010 was the start of the Dungey era and we just didn't know it at the time" because if you think about it, I'm sure that MC had to put up with the same shit in 1993. "Yeah but Bradshaw had an off year, he'll kill him in '94" and "Yeah but JMB quit otherwise he would have been the king again" and "It's too bad that Jeff Stanton went from looking like a football linebacker to a 14 year old ballerina otherwise he would've kicked that Jeremy's guy ass" only there was no internet or anything like that. Just Super Hunky and Jody pecking away at a keyboard.
So we're not able to judge Ryan quite yet in my opinion but yes, he kicked everyone's ass in 2010 for sure. Without a doubt he was the man. I stand by my belief that James Stewart is more talented on a motorcycle than anyone else in the world but there are many things besides talent that make you a champion. Which we all know.
Steve,
1-Will Watson leave the show?
2-Who gets the ride at Valli or TLD if 22 turns it down?
3-When will Regal's stepfather be on the show again?(Love that guy)
4-Will Canard win a supercross this year?
5-You're doing a great job keep up the good work
Thanks Troy
Troy
1- See above.
2- I don't know for sure but I think Wey's in the running for the Valli spot.
3- We'll get him on again but he let me down last time he was on. It was like he was on valium or something like that. I'm sure he got some flack from the first time he was on and so he calmed down a little bit. Marc is a good guy I think. Maybe the second call he had a gun to his head the whole time and had to play it cool?
4- Yes, Canard will win a race this year. With Timmy Ferry in your corner, there's nothing that's impossible.
5- Thank you. I try.
With Suzuki reportedly not that well stacked with cash at the moment is it a worthwhile investment keeping RC on the paybooks as a rider advisor. Now let's be realistic here, what is he really going to bring to the table to Metty and Dungarees and don't give me that championship winning jargon
advice.
RE: Mike Genova podcast.
Do you really think that the US nationals should have a serious look @ the way Luongo does things?
Steven
P.S. Keep up the excellent work. (Steve Matthes the powerhouse for motocross
journalism without the punctuality)
Thanks no-name for this question. I think having RC around can't hurt that's for sure and I have no clue as to what Suzuki has for a budget really. Ricky can help those guys out and besides, look what he's done for The Dunge. You think Ryan just woke up one day and knew what to do to win races? I'm sure RC opened up Momma C's training logs and riding logs, pointed to it and said "Do this son, it seems to work". So he's already been a big help to Ryan and now Metty will see what RD does for riding but with Metty lining up as Dungey's competitor each week, I highly doubt RD's going to let him see everything that he does.
And no, I definitely do not think that the US nationals should look at Youthstream's way of doing things and copy it. Maybe a few things like I do think they should copy the wash bay idea as well as the smoothie machines in the pits.
Hi Steve
With most of the lites guys moving up, would you say Josh Hansen is an odds on favorite at a lites title? He is doing the Australian SX and leading the series, he seems very focused and determined this off season. Follow up question; could he be the king of the "Shitty" interview, not only did he say shit many times but used it in just about as many variations as one can.
Thank You, Michael
Thanks Michael and I left your signature in there as well. All classy and stuff. I do think Hanny's got the speed, the bike and the team to win the title. It's all between his ears to make it happen and so far, we haven't seen him put it together into a championship contender. This year he grabbed holeshots, won heat races and set the fasted lap times so he's clearly got it in him. We just have to see I guess. Any guy that has been in the 250F class as long as he has (and I'm looking at you to Morais) needs to make it happen sooner rather than later.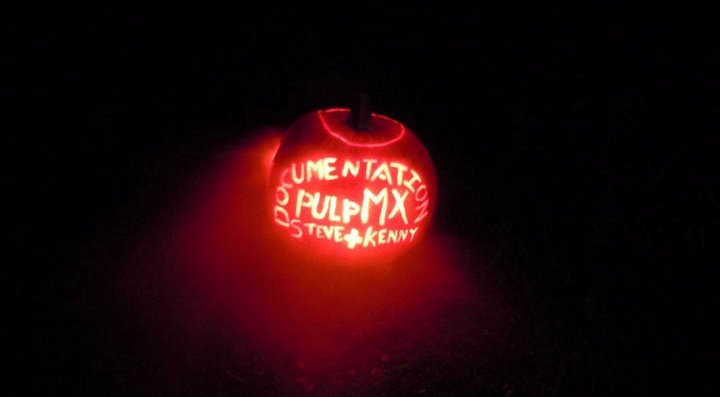 The Pulpmx Pumpkin!