I get the World and National champion to tell us all a story about this photo that I found.

I get the World and National champion to tell us all a story about this photo that I found.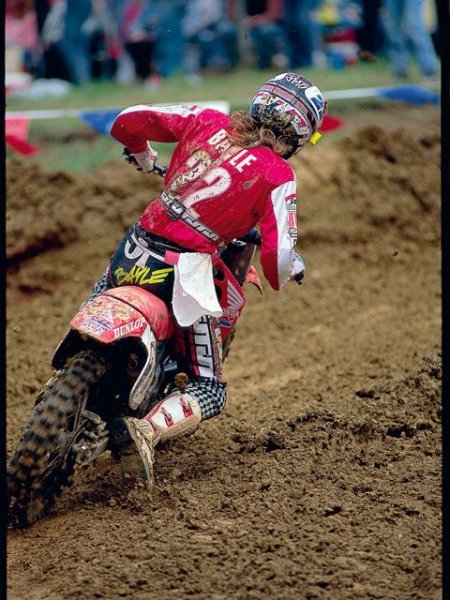 JMB on a 125 in the mud circa 1990.
"This photo is from 1990 and I'm on a CR125 here. I didn't want to ride the 125's, I was 125 and 250 World Champion and my goal was to go to America and win the 250 supercross championship and not the 125 nationals. But there was no room for me on the team in the 250 nationals and the only way I could ride 250 supercross was if I agreed to ride the 125 nationals so I said, "Ok fine".
I think this race is Mt Morris, I'm pretty sure of it. I was the first guy to put a towel in my pants like that in America but in Europe we all had to ride in the mud so much that we all did it. If you fall, you don't want to put your hand on the grip when it's all muddy so you wipe your hands on the towel first and it's better. I remember some American's asking me what I was doing but it was normal for us. It's easy to
I think I won this day, it was muddy and normally I was pretty good at riding in the mud. Definitely a regret of mine was not winning the title this year (Bayle crashed at Washougal while in the points lead and broke his arm) because you race to win no matter what class you are in. I made a mistake, a small mistake and crashed. Sometimes you crash, get up and it's no big deal but in this one, I didn't get up. It wasn't a big crash.
I was second place in the supercross title this year, missing two races and fighting with Jeff (Stanton) the whole way and for sure, not winning this title made it bad but it still wasn't a bad year for me.
I remember this bike was good. Cliff White was my mechanic and it was my first year with him and I didn't speak any English at all. He used to ask me how the bike was and all I could say was "Ok, it's perfect" while smiling. So then Cliff would tell Roger (DeCoster) that I was an easy guy to work with but Roger told him "Just wait until he learns English! When he learns it (English), it will get complicated." (Laughs)
But compared to my '88 GP bike, this bike was pretty slow. It was a production bike and my GP bike is a works machine. It was full-factory. For Honda, 1988 was a first full-factory bike for them and it was a full HRC bike. You know, Greg Primm has a replica bike of my '88 built out of spare parts. It's not a full race bike but it's pretty close. I went to the museum and checked it out, it has the good stuff on it.
My teammates were Mike Keidrowski and we were competitive for sure, it wasn't the greatest situation. He tried to make a fight between me and the American people by getting "All American" on the back of his pants and things like that. It's racing, he was doing what he had to do.
I liked this gear, it was my signature "JMB" gear and for myself, it was cool to have JT use me in all the ads and promote my gear. I was French and America was not my country so it was good to have their support."