I check in with the new number 15. I will now go and slam my head in a door.

I check in with the new number 15. I will now go and slam my head in a door.
Scottish-born, Canadian-raised, American-livng, Monster Energy Pro Circuit Kawasaki's (whew!) Dean Wilson certainly has a tough act to follow going into his second year as a professional motocrosser. Wilson won a couple of nationals and finished third in the outdoor points, probably should've been top three in supercross and then represented Great Britain at the MXDN in Lakewood, Colorado. In short, it was a fantastic first year for the kid that Canadian fans knew all along would be great.
Now though, the expectations are raised up for Ol'Dean-O going into his second season. Armed with a new contract on one of the best teams in the pits, Wilson's future seems bright to be sure and I thought a call was in order to check in with him and see how everything is going in his 2001 pre-season prep.
Me: Dean, great job on 2010 and talk about how your 2011 supercross preparation is going?
Dean Wilson: Thanks man and yeah, everything is going well and I'm pretty happy with everything. The Monster Energy, Pro Circuit Kawasaki 2011 Kawasaki KX250F Thor, Scott goggles bike is running ..
Ah, c'mon man…
(Laughs) I know, I know but no, really the new bike is great. It's a better bike than last year and I know that people say their first year of supercross is an experience and they need to get used to it but in my case it's true because this year, when I got on a supercross track for the first time, I felt pretty good right away. Last year I was just learning and this year I'm taking what I learned from last year and adapting it to my game for this year. It's going to pay off for me this year.
I know from being a mechanic that the EFI on the 2011's are a great improvement on the carburetor that you had to deal with last year, especially on the on/off sections.
Yeah for sure, there are no bogs at all with the EFI. My bike ran great last year but there is a difference with the EFI. It's running great and I really like it, we do miss out a little bit on the bottom end but other than that, I'm really happy.
Yeah the EFI does produce a bit more of an electric feel than a carb.
Yeah a little bit just coming out of the corners it could use some more and it's not quite like the carb bike but I'm sure we'll get there eventually and get it as good.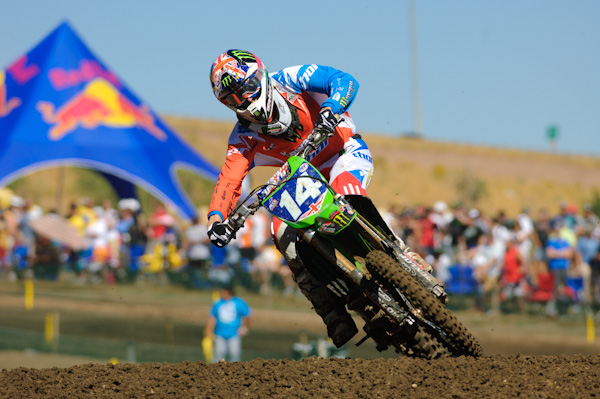 Here's Dean racing for the Union Jack at the MXDN. Photo by James Lissimore
What a 2010 year you had, have you had time to sit back and think about how good it was or are you just looking towards the future?
My rookie year was good, it's a shame what happened in supercross (Dean had some work visa issues after Toronto and was forced to miss a couple of races) because I think I would've been top three in points for sure. That was whatever and I did the best I could and then for outdoors I got to start fresh again. There were a couple of races that sucked and a couple that was really good. Texas was one of my best races and even though I gave it away, it showed that I could win and I could go the speed. That first moto might have been one of the best rides that I have ever had, it was really hot and I probably came from about 13th off the start and passed almost every fast guy in the class and was closing in on second at the end.
I came through the pack really good and I was proud of myself for that. The season was good but Steel City really put me down, I crashed really hard in the first moto and got 18th in the first moto and something like sixth in the second moto. That dropped me from second to third in the points and that wasn't cool. So that race sucked.
So you're looking forward then? You're not happy with what you accomplished?
It was good, don't get me wrong but it was a lot of learning that I had to do. I was really happy to go 1-1 at Pala and end the year on a great note but I feel like there should've been some more overalls in there. It was a good rookie year and I learned more for this year and most importantly, I stayed safe.
As per Mitch Payton's rules, you have no idea what coast you're riding in SX?
Yeah, exactly I don't really know for sure. Mitch usually makes his mind up a couple of days before the series starts.
Does that make it hard on you to peak and get ready for a start of a series?
Nah, it's alright because I think it's pretty smart because he wants all his riders ready and if he did commit one way or another and a guy gets hurt, then that rider has to ramp everything up and try to get ready. I really wanted to race the west last year but I ended up doing east and enjoyed it. West or east doesn't matter to me. The west looks to be a bit more challenging to me with the weather factored in.
I spoke to your mom and dad at the MXDN and I stressed that I hoped you didn't get some big earrings, a Porsche and start partying. Please tell me you stayed the same guy as you were this year.
(Laughs) None of that really, I did get sponsored by Toyota of Escondido this year so I went down and got a new truck. I had to get a nice new Tundra but that's the only half-rockstar thing that went on over here.
I wanted to ask you about the MXDN and riding for the UK…are you happy you did it? What kind of experience did you have with any Canadians at the race? Any hard feelings with anyone?
The race was good, we had some problems and the race did not start on the right foot for us. We got last gate pick and I was on the far outside for my race. I got a good start but was on the far outside and got pushed into the green fencing around the second turn. I got that stuff all wrapped around my rear wheel and both wheels were seized up. The funny thing about that is that fans were helping me with getting in untangled and they all had knifes in their pockets and helping me cut it out. I was thinking, "Man, you don't want to get in a fight here in Colorado-everyone has knives!"
I was really happy with my race, I didn't ride great but we got fourth and everyone chilled out on the whole Canadian/Scotland thing. I had some Canadian fans there that supported me at the race and I'm happy about that. Team Canada manager Carl Bastedo actually brought me a Scottish flag which was cool, it was all good in the end and I'm happy that Canadian fans were ok with it.
Did you know that your buddy Kyle Beaton signed with Leading Edge Kawasaki for the Canadian series?
Yeah, yeah I saw that Beets did that. I went on a holiday after the season to Scotland and there was the Belfast SX that weekend. It was a three hour drive for us and a little ship ride so we went to go check it out. He had just gotten the bikes and hadn't sorted them out so he didn't do all that great but he'll get some time on them and get it handled.
How was your vacation after the season?
It was fun man, I got to do stuff that I don't get to do when I'm racing. Went downtown a few times and went to some clubs. Went snowboarding, went to the skate park pretty much every day and hung out. It was fun and recharged me up a bit for racing.
How's your buddy Jake Weimer look on that 450? I heard he's on it.
Yeah, he looks great. He's riding well and working hard. Every time I see him, he's working on something with his trainer Aldon Baker. He's definitely putting in the work to be good this year.