The former World Champion takes time out at the Bercy SX to tell us all a story about a remarkable bike.

The former World Champion takes time out at the Bercy SX to tell us all a story about a remarkable bike.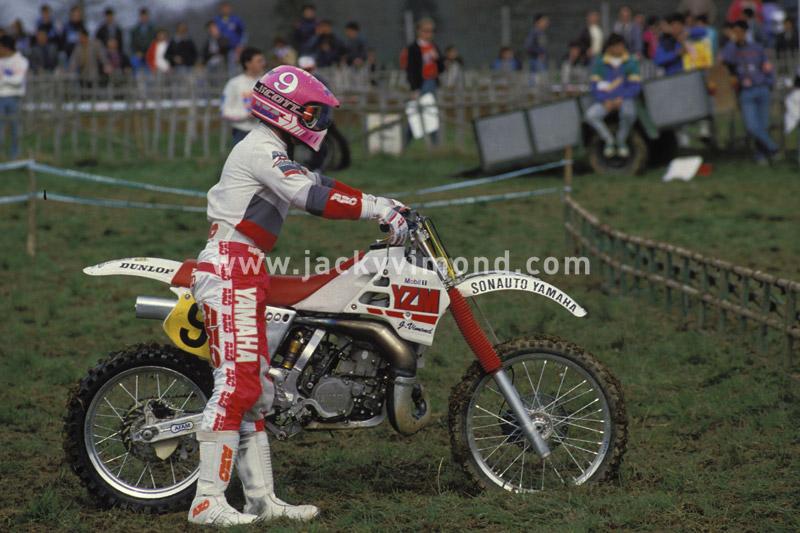 Quite a comeback to racing for the Fench hero and quite a bike as well.
"This is from 1988 and this is the works Yamaha YZM500. This picture brings back good memories because that bike is a full factory bike, 100% handmade. I think the only thing that was production was the front fender, I'm serious. Everything is factory on this bike. This is after my accident (Vimond won the 250 World Championship and at a party celebrating his title he was being lowered from the ceiling when the cables broke and he fell to the ground, breaking his back. Many people thought his career was over after that but Vimond came back) and many people said I wouldn't race again so to come back, ride this bike and even win the Swedish Grand Prix this year was very satisfying. This bike only won one GP and it was with me. My teammate was Peter Lunqvist and this is a good memory. I worked so hard on my recovery and the physical rehabilitation; it was in the United States-somewhere around San Francisco.
Anyways, my comeback was good and I finished fifth overall in the 500cc class that year. The bike had 60 horsepower but yet was easy to ride for at that time. It was a dream for me to be 100% factory rider and even though I won the '86 title, the bike wasn't a full-factory bike. It wasn't special like this bike. I think there were only eight of these bikes ever made and we worked hard on this bike before the season started, in September of the previous year, you know making sure the footpegs were in the right position and things like that. This was a new experience for me because in the past, when you have a bike, you make it suit you but with this bike, it was my bike. It was made for me! The angle of the front fork was all made for me, it was exciting but at the same time a lot of pressure because if I decided on the angle of the steering head was to be a certain angle and then I didn't like it, it was too bad because it was so custom.
The Honda's were really good that year but I think this bike was more than competitive with them.
And really it was the last year for me in my career. I tried to keep the bike but it was impossible for sure. But I did buy a bike three days ago to make a replica of my '86 bike. I bought some upside-down Ohlins forks for it and I'm going to start on that.
I wore JT almost my whole career but with this AXO gear, it was a really good deal and I decided to wear it instead. I had to ride with everything AXO but the soles of the AXO boots weren't very good so I put on an Alpinestars one. I still have all my JT gear from over the years. Yamaha stopped racing 500's that next year and they wanted me to go back to 250's but I had been working really hard to be a 500 rider and the deal was bad to go back down to the 250's so I made my own team on Honda's that next year but it wasn't very good and I stopped riding soon after.
Like I said, this was a very good memory for me-there were only three people in the world that ever got to race this bike so it was special."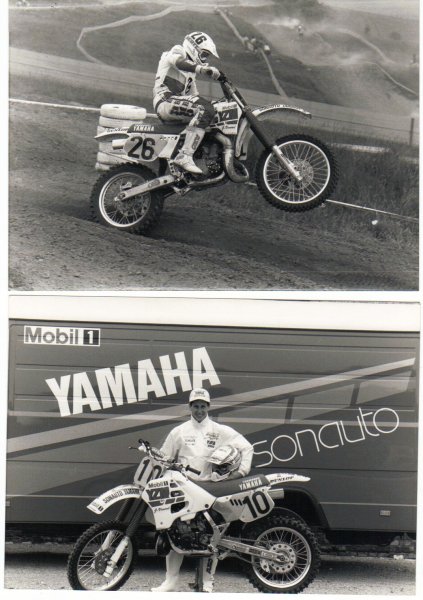 I asked Jacky if he had any more shots from this year and he sent along these via email. Good stuff!