Davi Millsaps has a lot riding on this year but his team may have even more.

Davi Millsaps has a lot riding on this year but his team may have even more.
Joe Gibbs Racing entered the scene a few years ago to much hype and aplomb from the fans of motocross. The NASCAR team owned by legendary NFL coach Joe Gibbs was taking an unconventional approach to building a team for our sport but not unconventional if you really sit back and think about it.
Coy Gibbs, son of Joe, invests a lot of time and money into the team to try and make it the best that it can be. JGR wants wins and titles and wants to be right there next to the mighty Japanese factory teams. They have the equipment, the know-how and the personal to make it happen in many people's eyes. The one thing that the team might be lacking in is the one thing that's the most important and that is the riders that they hire. Going back to dad's football life, Coy believes in structure and discipline day in and day out. In short, he wants his riders to report to "work" every day only their work is jumping triples, exercising and trying to be a better motocrosser. Trust me, this is unconventional compared to most teams SYOS approach. SYOS being short for "See you on Saturday."
The team has won some races in its time with the prodigally talented but sometimes unfocused Josh Grant and certainly has its "steady rider who's a good guy and going to be a podium threat" in Justin Brayton but I would argue that we're going to know at the end of 2011 whether or not JGR is going to take that next step.
The boys in North Carolina have signed former factory Honda rider Davi Millsaps to a one year deal and oftentimes you can question a signing here or there but in this case, I believe that this is going to work because simply put, both sides need each other.
For a rider that scored five podiums and even got a win last year, Millsaps is looked upon by many as still not being able to fulfill his immense talent. Let's be frank here, even after ending up in third in the AMA supercross series (outdoors he got hurt early on and wasn't a factor in the end), there was zero chance Honda was going to pick him up for a fifth year. The red riders had seen enough and I'm not really sure I've ever seen a rider with as good of a resume as Millsaps who had about as much chance of returning to his team as I do winning the Boston Marathon.
Shane Drew, director of chassis development at factory Honda was there for every one of Millsaps years at Honda and had this to say when asked what the deal was with Davi.
"I don't know if it's the Damon Bradshaw syndrome (Bradshaw, an amateur mx prodigy, famously quit racing in the middle of a multi-year deal because he was burnt out) or not. He's a nice kid and has a good heart but he definitely doesn't get the results that he should be getting looking at the talent that he has. When you know the guy can go so fast but some days, it's just not there- you tend to get frustrated as a team."
Drew went on to add "Talent wise, the guy is amazing. At the end of the day, he'd drop a second or a second and a half off his times and then go home. We'd be pretty excited about the weekend but it wouldn't happen for one reason or another."
In 2009 Honda introduced a brand new CRF450 and there were some riders like Ivan Tedesco and Millsaps that just couldn't get along with the bike. Davi definitely let the media know via the old "things happened behind the scenes" routine that he was not happy with the bike. People at Honda acknowledge that the pre-season testing was going fine until they actually got the bike back to Southern California and started working with it day-in and day-out. Compounding the problem for Davi was that according to Drew, his testing skills (which are almost as important as your actual race skills) let him down in getting comfortable on the bike.
"He's definitely a difficult guy to work with. Very fussy about his bike but never really knew how to explain it or talk to us about it" says Drew "It was difficult to pinpoint. I don't think he was the best tester out there and we struggled at times giving him the bike he wanted."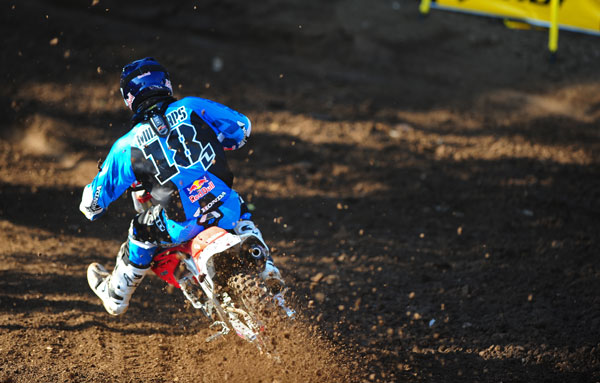 Millsaps with his new ride, the Muscle Milk JGRMX Yamaha team.
Enter 2011 and enter JGRMX for the kid they call "Big Treat." And I say kid because amazingly enough, Millsaps is only 22. He'll be 23 in February and that should tell everyone that he's far from washed up. And at 22, he finds himself on his third team and what he must hope is a fresh start.
When I spoke to JGRMX's team manager Jeremy Albrecht about hiring Davi and what the thought process was he was quick to say that it's really a win-win for the team and the rider. It's a one year deal that is automatically renewed if Davi gets top three in supercross or motocross.
"Honestly, what happened was that we looked at the results from the last couple of years and we made a little scoring chart. Davi was very high up on the list. When we looked at the results, he did better than we thought. The results were better than the perception you might say" said the man known as J-Bone.
"He was near the top of our list and then it goes by who will live here and work with us. That gets rid of some guys. We talked to him before and he didn't want to do it but things changed and he came around to our way of doing things. He also has to use our trainers, do our program and was the fastest guy to accept all the terms. It's that simple."
Many point to the too-much money/too-soon syndrome as to the cause of Millsaps problems and certainly he had made a lot of money in his short career (An educated guess by "someone that knows things" would be that Millsaps has probably grossed somewhere in the neighborhood of seven million bucks over his career) but really, with the lack of riders who can actually win a race, I mean think about it, really win a race- did he make too much money?
Some would still say so as one industry insider told me, when I told him I was in the process of writing this story, that he thinks Davi has more raw talent than Chad Reed or Ryan Dungey but is just afflicted with the same disease that has affected many "can't miss" kids. When I asked him what that was, he laughed and said "Laziness."
Albrecht agrees somewhat "Obviously he can win and everyone knows he has the talent, the only thing is he's not known to be the hardest worker and he seems like he's injured quite a bit. We've had him riding and in the gym to get him in great shape for the first race. It always seemed that he wasn't ready for A1 but by Atlanta, he was on it. From the outside it looked like to me that he raced himself into shape. We're on him and we're pushing him. He doesn't like it but he's doing it."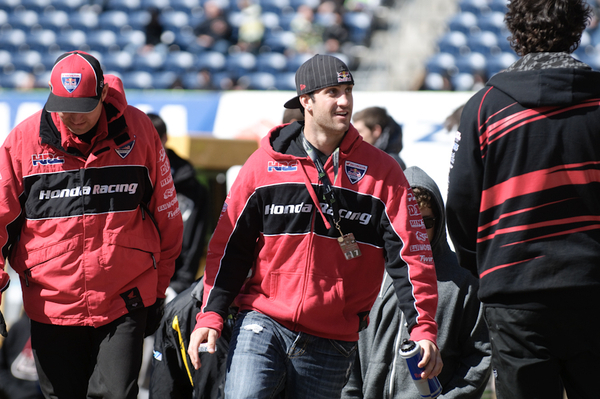 The Big Treat has to get it done this year. Him and the team need it.
When I asked Albrecht how, with Anaheim 1 rapidly approaching, how it was going he said "So far it's been good. It hasn't been great, the Geneva SX wasn't awesome for him. He injured his back a little bit, pinched some nerves and we have to get that going better. It's getting better. I just hope that's not what we're going to see down the road. But so far he's been doing everything that we want him to do."
I asked Drew how he thought Davi was going to do and he said "I really like Davi, he's a great guy no doubt about it and I think the move there is great for him. I hope he gets great results over there. I think they are pretty structured and in my opinion, that's what he needs in his life."
So here we are going into Anaheim 1 with the same pre-season hype we have every year. The short list of possible race winners and title contenders are Ryan Dungey, Chad Reed, Ryan Villopoto and James Stewart. No one is talking about Millsaps as being one of those guys, in fact not many are even talking about him being one of dark horse picks and really that's a shame. Remember, this guy won a race and ended the year on the box in the series points.
I believe that the combination of a team that's proven it can win and a rider that has proven he can win is a deadly one. Also if you're Millsaps, don't you have to figure that this is your last chance on top-notch equipment? The fire needs to be stoked inside the man-child and this change and the shock to the system of having someone there every day pushing you to use that talent you have may be just what the doctor ordered.
Maybe JGR can unlock the mystery that is Davi Millsaps, I'm not really sure to be honest but I do know this is a rider that needs what this team can give him.
He's just got to let it happen.