I thought that we would make this one a big, happy family affair. But it seems all I did was drudge up bad memories.

I thought that we would make this one a big, happy family affair. But it seems all I did was drudge up bad memories.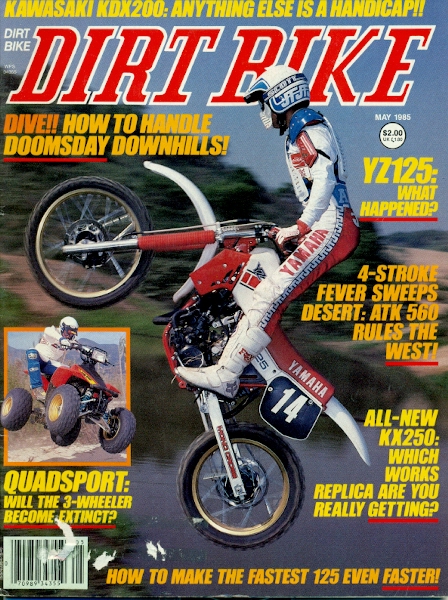 It's never good when the magazine riding your bike says it makes "horsepower noise but delivers mediocre actual horsepower" or "it's hard to justify spending the money on this 125." Ladies and gentlemen, may I present to you, the 1985 YZ 125!
In 1985 I was a wide-eyed 12 year old who lived and breathed motocross. I was a force on my '84 YZ80 in the Manitoba 80cc B class. I had a year old bike because my brother was the superstar of the family at the time. He was making his assault on the Manitoba Junior classes with two new Yamaha's! Another thing that happened that summer was that I learned a whole bunch of swear words as my brother and father worked all year on the 125. Here's the thing, magazines usually try to look on the bright side when it comes to testing the new models. It just behooves them to be as nice as they can for obvious reasons.
So when I was looking through some old magazines recently and saw this bike on the cover with the blurb "What Happened?"I knew that I had to get the story behind the story from a boy and his father who suffered one summer.
First up is my brother Jason and his take on the machine:
"This was the bike I disliked the most out of the 23 MX bikes I have owned. In 1984 I missed winning the local 80 expert title by 2 points, and wanted nothing more than to get rid of my '84 YZ80 and make the step up to the awesome new 1985 CR80.
Well, that didn't happen, and I moved up to the 125 class with a 1985 YZ 125. I remember it was slow, and really difficult to go fast on. It had a very narrow powerband, only made worse by my dad bolting on a 38mm carb! We tried lots of mods, but progress was derailed by it seizing 6 times in the spring. Ultimately we had a bad ignition, and upgraded to a Motoplat and it never seized again. I often dreamed of being back in the 80 class on a Honda when riding this bike. All the guys at the front of the class rode Honda's, and all of us Yamaha guys were in the 6-10th spot.
I remember this bike had the BASS suspension thingy on it. We never used it, just zip tied the cable to the frame!! This was the day of all stock suspension also, and I think we may have added oil to the forks. Isn't horsepower what wins races? It was neat to be on a big bike, but this bike was no fun at all. It made lots of noise but I'm sure the 8occ bikes were faster back then. Another weird thing I remember is that we covered the gas tank with red duct tape to protect it from scratches. Apparently many people thought this was a great idea also, and the Honda guys ran blue or red duct tape on their tanks. After a while I got sick of continuously screwing with this bike and asked my dad to just leave it alone, as it seemed like nothing helped this piece of crap.
That year I finished 6th overall in the 125 class and won the overall championship in the 250 class, so using that logic the 250 must have been awesome! That 250 allowed me to make about $2500 in contingency , while I think I probably pulled in about $200 with the 125. Which paid for one of the 800 top end rebuilds. I don't think I pulled one good start all year on that 125. What I do remember about the powerband was that I just wrung the shit out of it everywhere, and tried to keep some momentum going. Maybe if it would have seized ONE more time Dad would have bought me a CR125.
As a side note, near the end of the season a new guy showed up on a beat down 1984 YZ 125 and smoked everyone in the class. Thank you Dwayne Patterson for making me look like an idiot."
Thanks Jay and now here's Tom Matthes with his lovely memories of the bike:
"Oh man, the '85 YZ125. I remember that when we first bought this bike, we took it out to the local track. It was spring, there was snow on the ground, it wasn't hot at all. And it seized for the first time. Then we let it sit for a while, started kicking it over and the kickstart broke. Back at the dealer they said that we didn't mix the gas right, we were running it too hard, they made all these excuses. They put a piston in it and maybe cleaned it up for us. We took it out and it promptly seized again. Then the kickstarter broke-it would go dead. Just nothing there. So back at the dealer, spending more and more money on it and them telling us we had the wrong jetting in it or whatever. We had a ton of bikes before ad knew what we were doing.
So we got it running again and figured out that the kisckstarter problem was a plastic sleeve on the spring return and it was melting. The second overheating and seizure was caused by the water pump drive gear melting the first time. Once it cooled off, it would run for a bit before locking up again. So we fixed the drive gear, the kickstart gear (again), another piston and rings. The crappy thing was that you had to split the cases to fix the kickstarter sleeve- it wasn't an easy job at all.
The bike was slower than hell, it was not fast at all. And it still seized and the water pump gear would melt all the time, then when you kicked it, the sleeve would break. It was brutal and we tried to figure out what happened first. The over heating? The kickstart gear? That bike was such a pile of shit.
Finally we figured out that it was advancing its timing and then getting hot ad seizing. We were told that it was just our bike, no one else's bike in the world. Yet we would go to races, see guys with three of these bikes and ask if we could get a part. These people would tell us no because they needed the other two bikes for parts! In order to make it live, we had to back the timing up so that it would last. It needed a CDI box and I think it was really expensive, I can't remember. Anyways, the local guy sold us a Motoplat one for, I think, $500.00 or something. At this point, we were dropping so much money into this thing to make it work.
The ignition worked, the bike ran ok. But this was many hours and many dollars later. The dealer was useless and wasn't backing the bike up. I did all the Yamaha Team Tips to make it faster, I bored out the carb and even put a bigger one on at one point. None of this helped, this bike sucked."
Do you have a bike that brings you great memories or horrid nightmares? Write me a story about it and use the contact form on this site to send it to me. I'll dig up the mx mag that corresponds to your story and then the world will see it and feel your joy or maybe your pain.