Ginger Spice and I talk about racing and stuff.

Ginger Spice and I talk about racing and stuff.
Photos by James Lissimore
Honda's Trey Canard has been sort of a revelation in his first full year in the 450 class. The ginger-haired kid from Oklahoma is keeping the momentum going that he got from his 250 MX championship last year. There are lots of people in the industry that are acting surprised that he's doing well but really, we all should have known. With four podiums in five races last year as a fill-in rider for the injured Andrew Short, we saw what the kid can do. I caught up to Trey after his third at Phoenix to talk about stuff.
Me: Hey Trey…
Trey Canard: Dude, you totally ruined my Mad Skills Motocross run!
Yeah sorry man, you said to call. Anyways, talk about your race. Third place is pretty good right?
Yeah, I'm happy with the result, it was good to get a podium in this group of guys. But at the same time I was really disappointed with my ride. Once I got into third I was by myself and it's hard to keep pushing and charging the whole time. I found myself thinking about the other guys in my class. I mean I'm out there racing guys like James Stewart and Chad Reed. They were in the 250 class when I was on 80's. It's weird for me to put myself in that position when you know?
What did you think of the track?
It was technical it was cool, in years past we haven't had super technical tracks and the way it broke down was gnarly, cool that they had some different sections that triple off the table top and the excitebike section by the finish line.
What about the sand?
I like that sand better when they just leave it. It's much better than the man made sand whoops for sure. I believe that it's more raceable.
It got pretty rough near the end.
Yeah it for sure did. I think that it allows for quite a few passes when they leave it alone and let it form the way it should, it turns out better.
What's your take on season so far? Are you where you thought you would be or are you surprising yourself?
I don't want this to sound bad but I'm a little surprised with my — I've never been a practice guy — In the last 2 weeks I've been on the board which is surprising to me. It's going well the past two weeks. I mean so far I have a 4th and a 3rd and I want to keep building, I'd really like to win a race this year.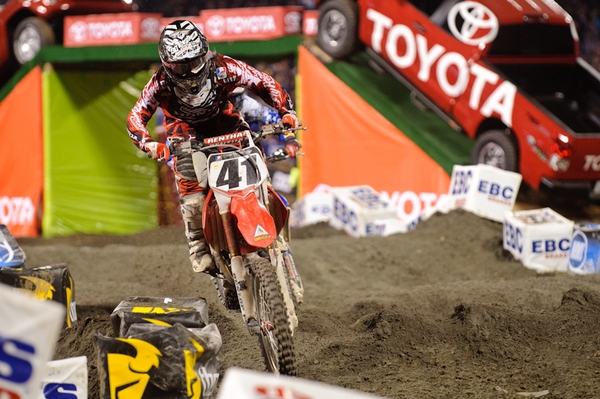 The Ice Trey has been impressive in the races and on the opening ceremonies lap!
I think people were thinking last year that you did good but we didn't have Chad Reed or James Stewart. Do you feel like you're faster this year on the 450?
For sure, I kind of knew there were guys missing and there were also a couple of guys not riding to their full potential. I think it was a good way to approach the off season not getting ahead of myself and keep working. I'm a little surprised but hopefully I can keep building on that and my starts gotta get better that's for sure.
To me that's the one thing you're missing to get into the mix.
To me if I had started with James and Ryan I picked up a few things that they were doing that could help me a lot. I'm kinda bummed because during the week I've practiced so many starts and have done so many different things. I seem to perfect different things and then I get to the race. Then it doesn't happen and this week was the same. It was tough to do though, especially this weekend with the dry conditions. My biggest thing is to get a little more comfortable and that stuff will come.
Hey good job on that opening ceremonies hot lap!
Thanks, yeah a little nac-nac and Air Wheelie. I hope the fans liked it, they didn't make much noise. Maybe they were in shock.
Cool, I'll let you get back to your Mad Skills Motocross.
Thanks man, it's really tough. I'm working at it.