Here are some different and unique images in Toronto caught by the lens of Lissimore.

Here are some different and unique images in Toronto caught by the lens of Lissimore.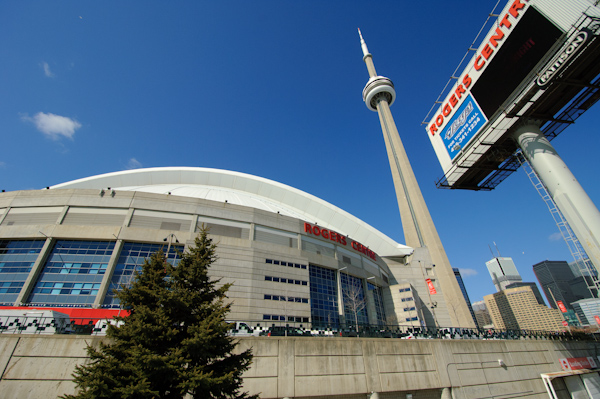 We were in beautiful (to me) Toronto, Ontario Canada for the best race (to me) of the year!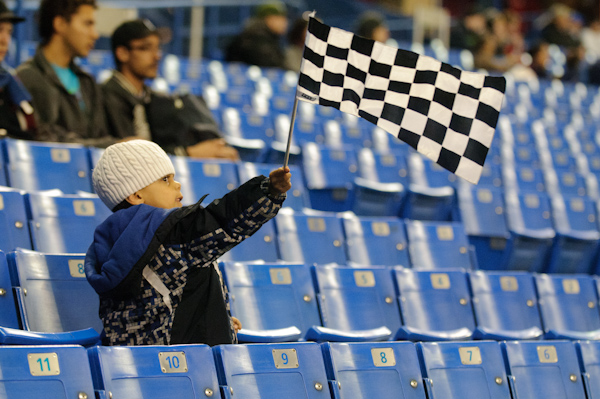 This kid was primed and ready for supercross!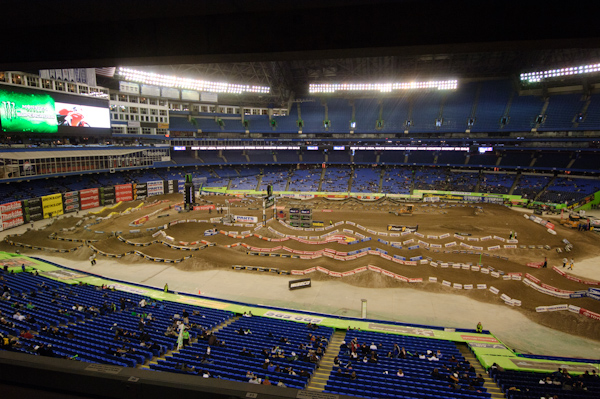 Track was good, very rocky but got very beat up and challenging. Crowd was pretty impressive compared to how it was when supercross first came to Toronto.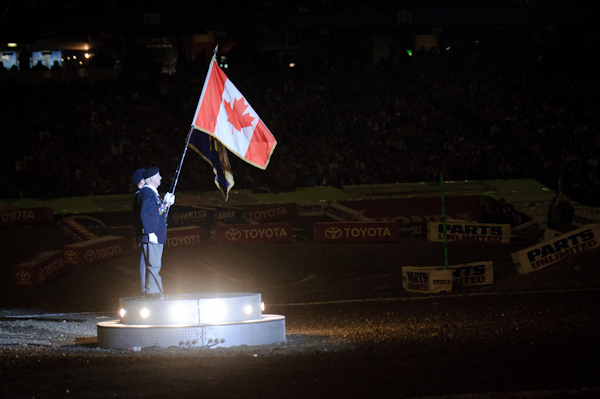 To my surprise, just the Canadian anthem was sung unlike at hockey games when there are two countries involved and both anthems are played.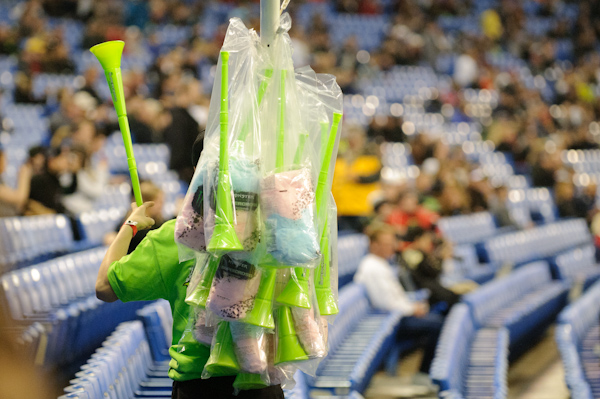 Oh my god, these horns were everywhere and had many Americans asking me "What's up with the horns bro?"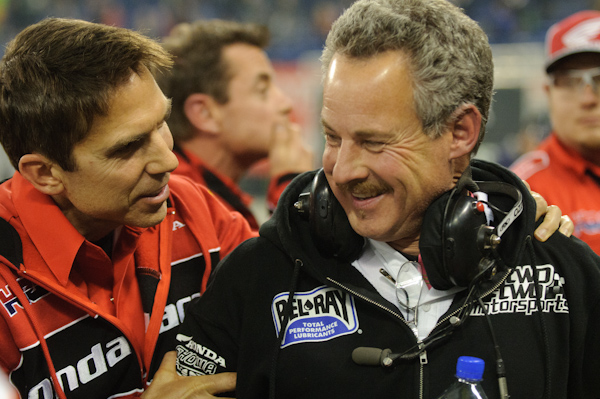 Erik "Peter North" Kehoe and Dave "Magnum PI" Osterman find something funny.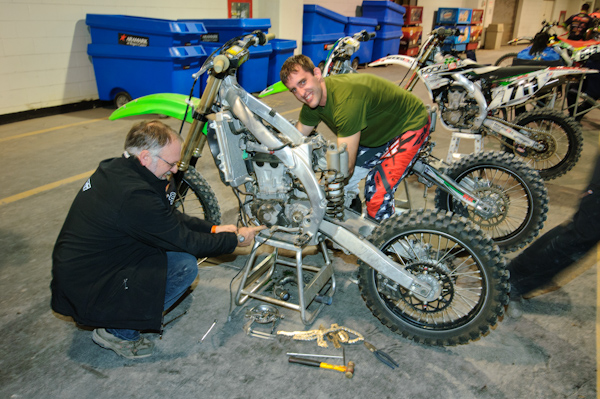 The only Canadian that raced (unless you count Dean Wilson and that's a grey area) was Josh Snider, he didn't have much luck out there and blew a tranny in the first practice.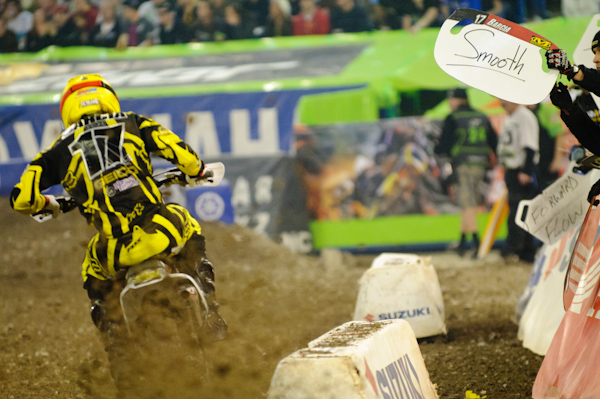 Barcia smooth? Huh? Actually JB17 has to be commended for riding for points and making sure he gets this title. Not a lot of crazy moves.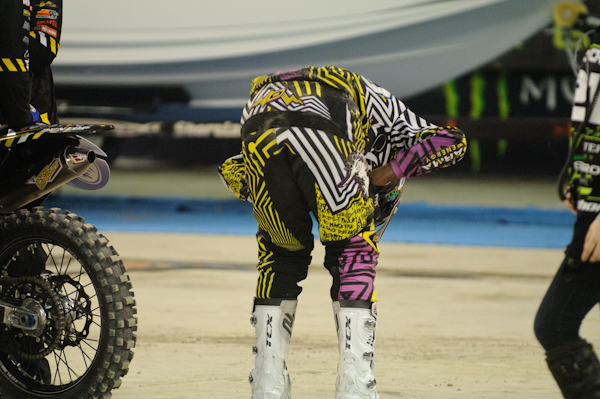 Oh no, Mookie Stewart crashed hard while in third and was forced to DNF for the second week in a row. My Mookie fever is still high though!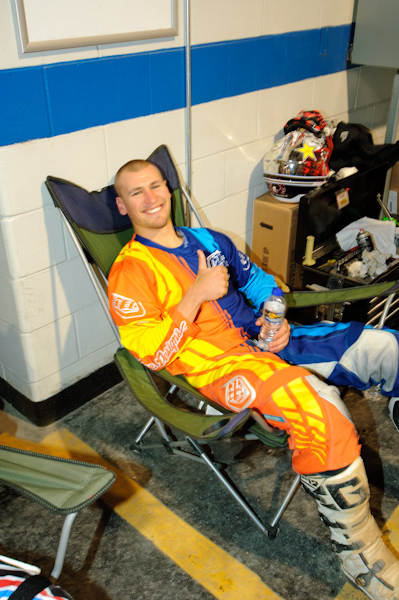 Bobby Kiniry was in the house and was in a qualifying position before crashing.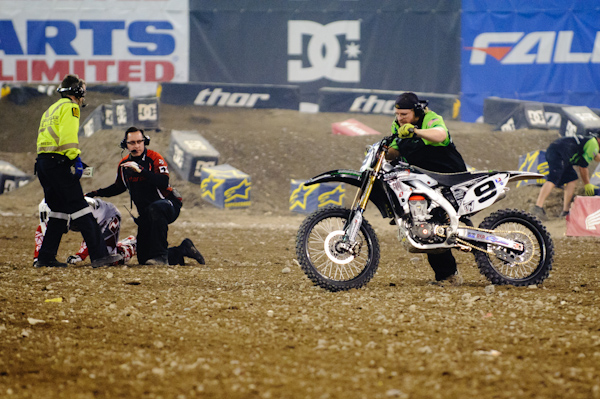 Ivan Tedesco went down hard when he tangled with Davi Millsaps and hurt his knee. Rough season for IT9.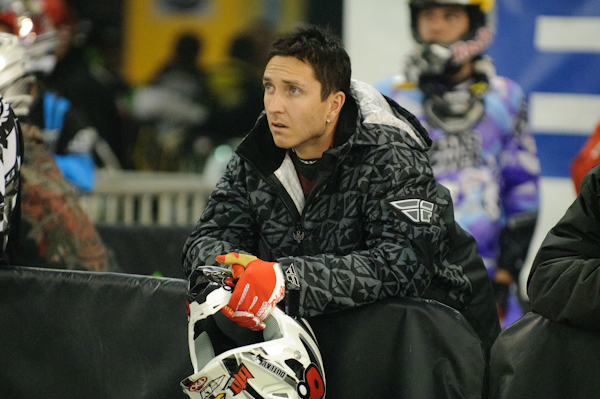 Michael Byrne had probably his best ride of the year last week in Jacksonville. In Toronto Byrner didn't do as well.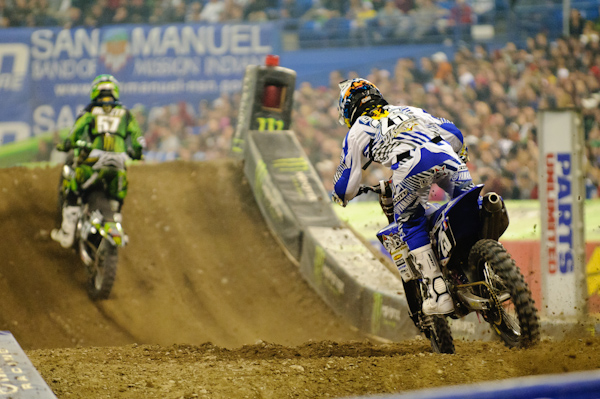 Ryan Sipes was very, very fast and probably should have won but tangled with Blake Wharton and got shot of the track.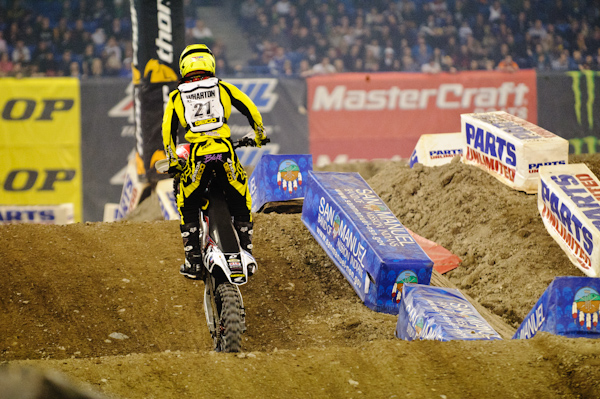 Speaking of Wharton, he may be done for a while with shoulder surgery. He still got third though.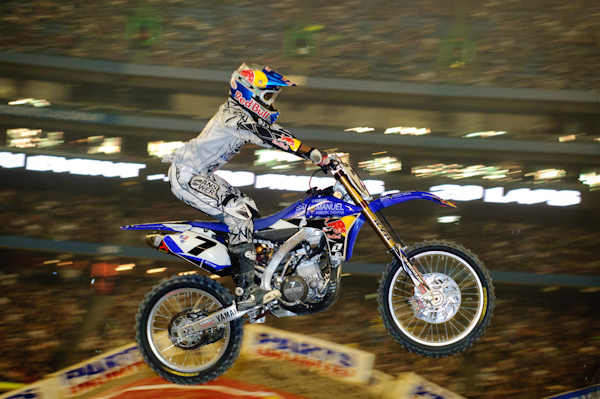 James Stewart ended up with a fourth on the night after crashing with Ryan Villopoto early in the race. Stewie was fast all day once again but he's losing touch with the points leaders with five races left.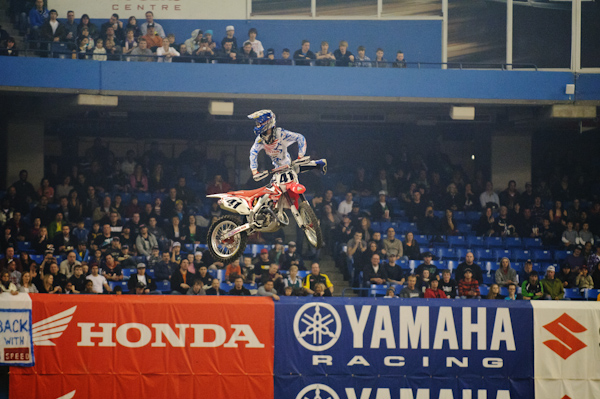 Got to love Trey Canard and his nac-nac's. Canard would go on to get third.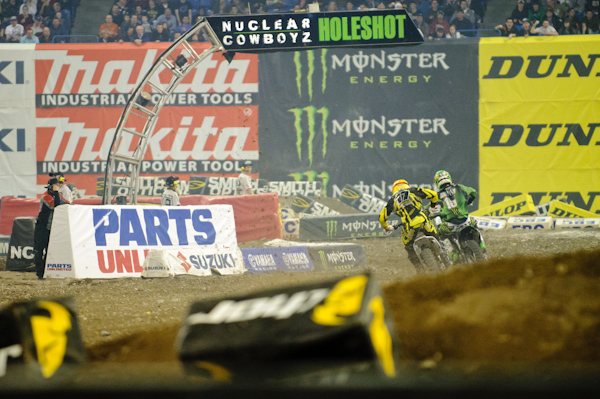 Barcia stalks Wilson.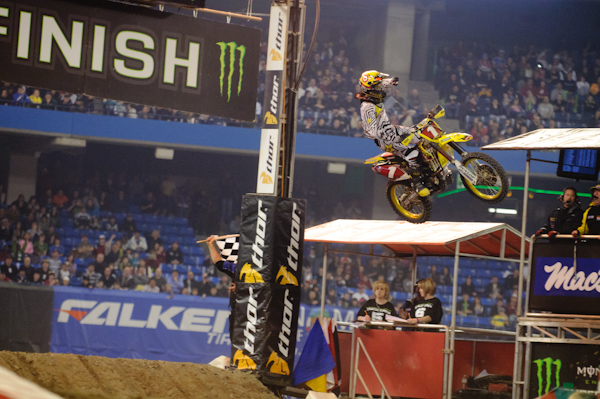 Finally the streak is broken, defending champion Ryan Dungey won his first race of the season with a great ride.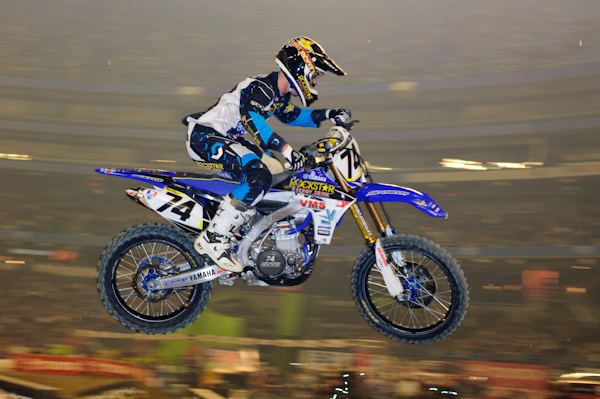 Stroupe was docked a lap for cutting off the first turn but it didn't really matter because he crashed about halfway and racked his nuts. Look for more about it Twitter.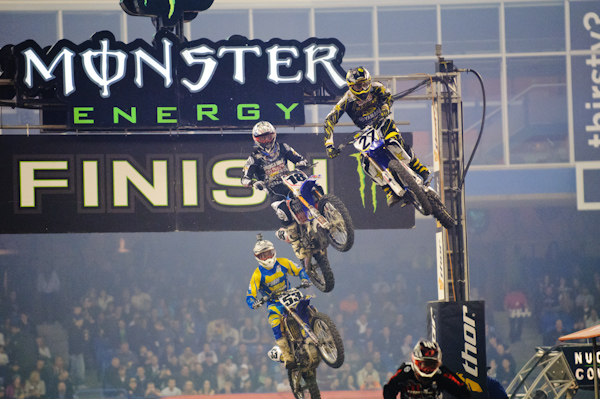 Wey had his best ride of the year to get sixth. His Canadian supercross championship is still within reach for the two-seven.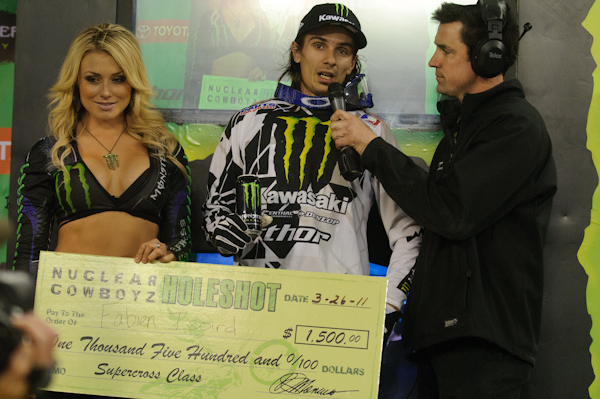 Wasn't a good night for RV but fill-in French rider Fabien Izoird grabbed the holeshot from the very far outside gate and led for a tiny little bit. Or is this Hansen?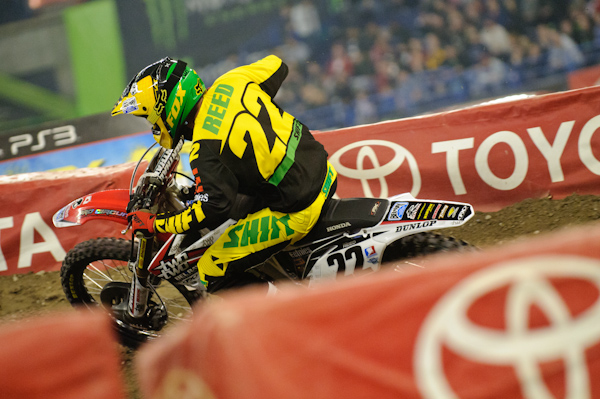 Reed got second and more importantly, got the points lead. Incredible.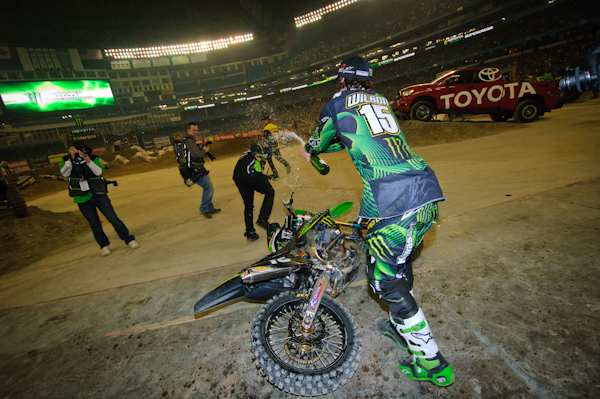 Slump, what slump? Wilson has gone 2-1 in the last two races in an attempt to get this title.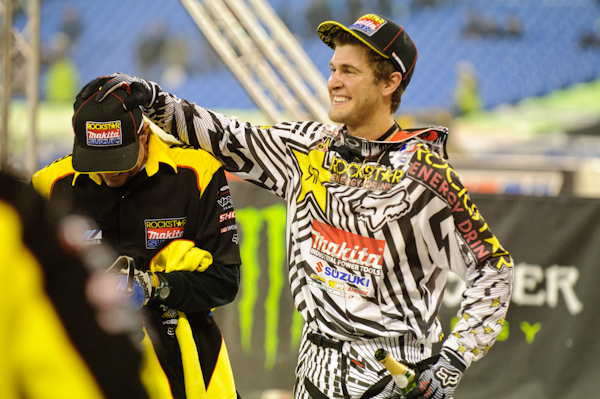 The Dunge was pumped on his win, he did have an incredible save during the main. Read about on Monday conversation on Racer X.