Some random thoughts on a Thursday afternoon.

Some random thoughts on a Thursday afternoon.
Photos by James Lissimore
-How about this supercross season? Things have been great so far with title chases that look like they are going to go down to the very last race in Las Vegas. The biggest deficit we have right now is the thirteen points that Justin Barcia has on Dean Wilson but that's closing up as Wilson has won the last two races. Remember that the east and west 250 championships are going to be decided there Sin City in what I think is going to be a very exciting race.
Think about it, the top twenty racers invited to the race and after practice, they have about three hours to sit there and think about their main events. Because what would normally be the heat races in Vegas is now the main events. I hope the track crew goes easy on the water in Vegas because usually the first heat race is the equivalent to a slip-n-slide race as the riders try to get around the rock hard Vegas soil that now has water just sitting on top.
The way that Josh Hansen rode last year in Vegas and his rides at the very-similar soil X-Games, you have to think that if he comes in with the points lead or only down a few he should be the favorite on the west and on the east, Barcia needs to just maintain. He's made the box at every race so far.
As far as the 450's, I have no idea what's going to happen there. I've given up!
I'm sure Feld Entertainment hopes that the Sam Boyd Stadium in Vegas suddenly gets the urge to build another 20,000 seats because every seat will be sold on this night.
– Both Pro Circuit riders are coming into the next round of the west series a bit banged up. When we last saw Hansen he had some broken bones in his hand and was wearing a cast. His teammate that is right behind him in the points, Broc Tickle recently broke his collarbone and had it plated and is back riding already. Still both riders are going to be a bit rusty and GEICO Honda's Eli Tomac does have some momentum right now.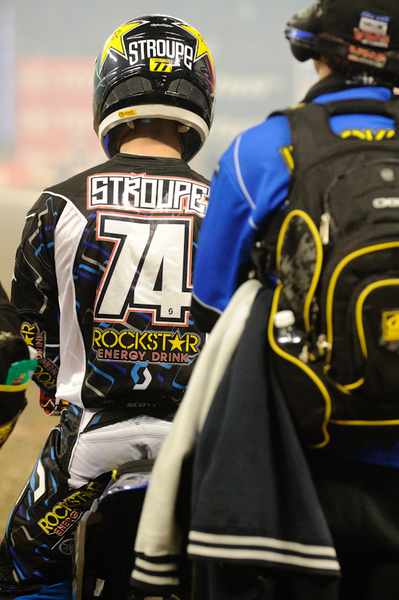 Let's hope that Stroupe keeps on keeping on and working hard.
-I don't think Valli Yamaha's Austin Stroupe knows how close he was to getting let go from the team. After going out to a pre-race party in Atlanta, management was not happy with Stroupe's commitment to racing despite having an ankle injury. The talented but mercurial North Carolina native had all the tools you need to be a fast motocrosser but sometimes, he just can't get the toolbox to open. At times this year Stroupe has been as fast as almost anyone in the class but he's had some crashes and has gotten tired in some races.
All of this came to a head on the Pulpmx Show where team manager John Mitcheff basically sounded like he was out of answers as to how to get Austin to focus on racing and take it like a job. In Daytona, John mentioned to me that it was pretty much the last chance for friendly, funny Stroupe and that his mom had come back into his life to help out. The team also had it's outdoor rider Ricky Dietrich there and I believe that if RD had come out and done well, the Valli crew might have just cut their losses right there with Stroupe. But Dietrich didn't qualify and went back to get ready for the outdoors.
After getting his ankle better, Stroupe showed up at Jacksonville and scored a solid eighth place. The next week it was a good ride going until he crashed out in a pretty good get-off and in Dallas this past weekend Austin scored a ninth. When I was talking to him after the main event, he seemed to indicate that he just wants to keep working hard and get ready for the outdoors. Let's hope that Austin does just that because he's way too talented to not race dirt bikes for a living.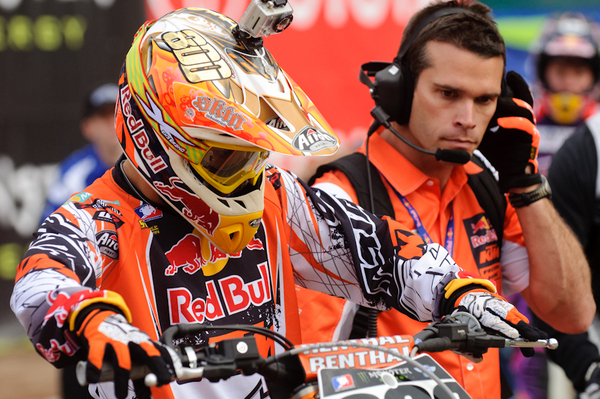 Mike will be on the 450 and Short will be on the 350 which should be interesting to watch this summer.
-Mike Alessi is testing this week in California for the outdoors and just like his teammate Andrew Short, the 800 is going to have a choice between a 350 and a 450 which is something new for the KTM guys. Last year you'll remember that Mike raced the all-new 350 and had his worst professional season of his career. As far as what bike Mike is going to pick, well don't kid yourself that it will be anything but the 450. Even though the 350 is much improved from last year, Alessi made it known to people inside the team that he would be doing much better if he was on the bigger bike and for him to select the 350 wouldn't make some happy inside the orange team. Besides, father Tony bought a stock 450 and Mike has been riding that the last little while to focus on his real strength which is outdoor motocross. Tony told me that he's been purchasing the upgraded SXF parts for the families 450 and that Mike feels great on the bike. Short has already gone on record as saying that the 350 is his choice for the summer.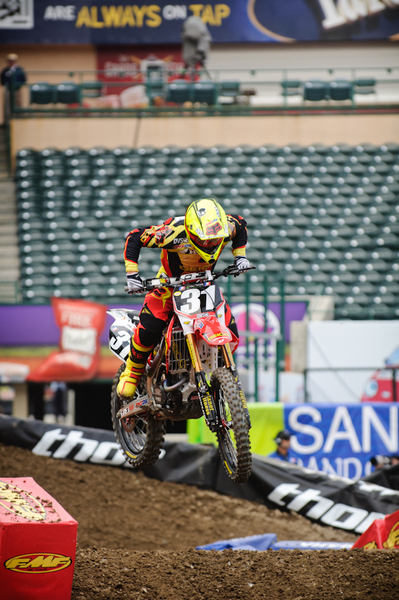 Very rare shot of Wil Hahn on the GEICO Honda at Anaheim 1.
-Tough to be Wil Hahn right now. Think about it, he goes from being out of a ride and this close to being a privateer (remember when he showed up at the US Open on a Kawasaki 450 as a Merge Racing privateer?) when the Troy Lee Designs team picked Wilbur up at the last minute when rider Christian Craig got hurt. He performs very well on the Honda and gets the call up to the GEICO Honda team. Everything was lined up for Hahn as he was sticking on the same bike that he had some success on only now the machine was supercharged.
Unfortunately for Hahn, in first practice at the first race, he went down hard twice and broke a bone in his back. That knocked him out for the indoor season and recently while getting ready for the motocross season, Wil crashed again and hurt his shoulder. He's back on the bike now but I'm afraid he's lost any and all momentum he got from a fantastic 2010 season.
-His brother Tommy got a new ride this year with the Motoconcepts Yamaha team and it's been one thing after another for Tommy. Crashes, crashes and then more crashes have kept him out of well over half the events this season. In Dallas Hahn hit the ground hard in the first practice and limped off. It was a bad sight but to his credit, he lined up for the next one and got a nice seventh on the night. 2011 is not the "The Year of the Hahn's" like some had thought.
-Speaking of Motoconcepts Yamaha, they have had a tough year. New team manager David Vuillemin inherited Kyle Chisholm from last year and early on The Chiz was on it. He had a bunch of top tens and had really turned a corner insofar as posting top five lap times in practice before crashing badly in Houston in the heat race. That knocked him out until the outdoors where the friendly Floridian is hoping to repeat his good finishes last year.
We've documented Hahn's troubles and third team rider Vince Freise was let go early on after it was apparent that he was not going to be a main event fixture. You can debate the merits of whether or not VF should have been on the team in the first place but team owner Mike Genova liked Vince and believed in him. It's commendable in some ways that someone extends a opportunity to a rider because there are many stories of the exact opposite happening. Anyways, Friese was let go and with no riders, DV got nice guy and fast Brazillian Antonio Balbi to fill in. Balbi made the main the first week after literally riding the bike for the first time in practice and then next week in Daytona, he knocked himself silly and that was it for him.
If you're scoring at home, that's two injured riders, a rider who got fired, a fill-in who got injured and there were some races where the team just stayed home. It's no ones fault these things are happening but after a strong 2010, the MCY team hasn't hit its stride yet.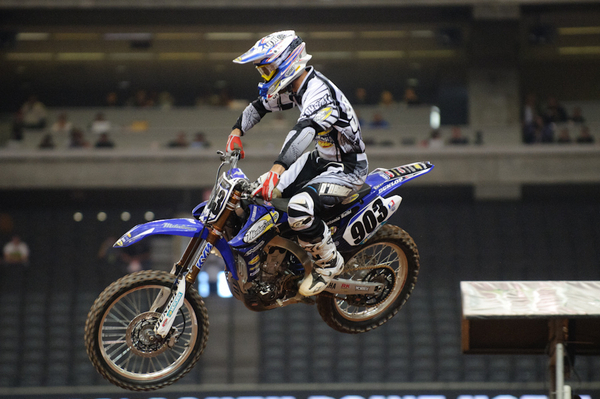 Balbi was one and done at the Motoconcepts team.
-The FIM World Championships open up this weekend in Bulgaria with some riders already installed as the heavy favorites. KTM's Antonio Cairoli has to be the favorite in the MX1 class as the cool Italian has been on some kind of roll the last few years. AC222 has won four world titles in the last six years and the two years he did not win it was because of injuries while he was in the MX2 class. The year that Christophe Pourcel won the title (2006), AC actually won nine motos to CP377's three and the other year he tore his knee up while leading the series.
He's definitely the favorite to win his third straight 450 title but he'll have his troubles with Suzuki's Clement DeSalle, teammate Max Nagl and Yamaha's David Phillippaerts. Unfortunately one rider that many thought could break the streak of AC, Ben Townley, won't be joining the series for a few races while he recovers from yet another injury.
In the MX2 class, German Ken Roczen and Netherland's Jeffrey Herlings seem to be the favorites going in but Kawasaki's Tommy Searle, Max Anstie and Yamaha's Zach Osborne will be right in there fighting for wins.