In the final chapter, Bradshaw talks about this bike, the gear switch, the comeback and much more.

In the final chapter, Bradshaw talks about this bike, the gear switch, the comeback and much more.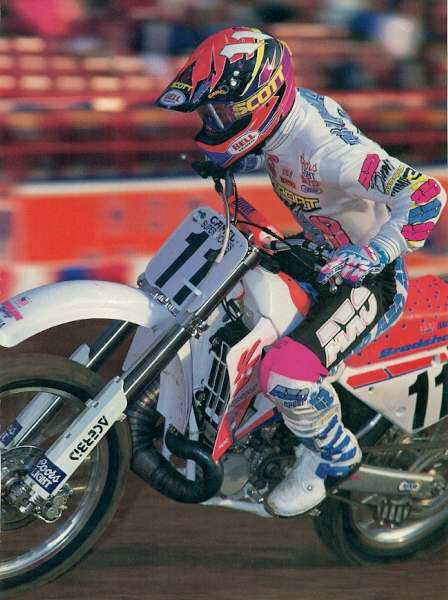 Damon in 1991 with a new look.
"I don't know what year or race this is from but it's from the 1991 season. I switched from Fox to AXO this year and I don't remember what it was but I do remember that it was a money thing. AXO was just offering me a lot more and I had to take it. To work with Jim Hale was just in addition to the whole thing. It's funny because when I went back to Yamaha after retiring, I was forced to go back to Fox. At that particular time, to do that cost me 35K and at that time, that was a substantial amount. At the time, I was pretty pissed about it but Jim understood. That was just the clothing contract. My hands were tied, I was going to ride Yamaha's and Fox pushed forward with it. When I was at Fox the first time, they took great care of me. When I was forced back to Fox, it was a little bit of an awakening to me in terms of gear. The guys at AXO took care of me. There were only a couple of us and they hooked it up.
I hated new gear so all my stuff was pre-washed beforehand. It was just more comfortable for me. They wouldn't just bring two sets of pants and two jerseys. I would have something new every single time I hit the track. So in '96 when they brought stuff for me it would be one pair of pants and two jerseys. They were like "Don't give any of your jerseys away" and I was amazed. With AXO, Jim had told me that I could give everything away every weekend and it wouldn't be a problem. Including my boots, helmets and whatever. It was good for AXO because between me and Jeff (Stanton) they sold a ton of gear that year.
I always tried to be very loyal to my sponsors and if I was going to switch, there had to be a substantial amount of money difference between the two offers to even make me think about it. I was going to jump ship for 15K but now, looking back on it- maybe I should have! There was a year that Oakley wanted me real bad and there was a 40K difference between the offers but I stayed with Scott because of Bevo. At the time, Oakley didn't offer goggle support so I stayed with Scott because if it was raining or something, well here came some new goggles. So I was telling Oakley all about what Scott did for me and they said that they would supply me with everything that I needed but I would have to build it myself. I didn't want to do that, I didn't need anything else to worry about on race day. So I stayed with Scott. Later on when I went to do my arenacross program and every dollar counted, I went to Scott and told them how much I needed, I wanted to ride for three years and turn it into a little team. Maybe make it somewhat of a supercross feeder program. So anyways, they wouldn't do anything for me! Nothing. I was so pissed that I could have driven over to Scott and drove my truck through the front door. Now here I was loyal to those guys and I had turned down a lot of money to leave earlier in my career but they didn't care. So I called Smith and they were happy to do something for me. That was the only company that I kick myself for being loyal to, that I don't have a good relationship with to this day.
As far as what I looked better in, it's really hard to say. I looked good in both companies. The cool thing was that at AXO, anything I wanted – they did it. Remo would make it that way no matter what. If I needed a boot reconstructed before the next race, they would make it happen. They were way ahead of the game. I had special pants, boots, you name it. They knew that it was a big mental game and wanted to have your riders happy. Anything custom, they were on it. However, the Fox insignia is the best of all time. AXO really took care of me.
I think the Fox guys were bummed on me when I switched. I was with those guys on mini bikes and it was nothing but a business decision to switch. That was the way I worked it.
This was the first year with those bars without the crossbars on them and I remember when we tested them. Gainesville national were the first time I rode with them and I didn't like the way they felt. Still to this day, I don't like the bars that don't have a crossbar on them because when you think of a motorcycle, you think of that crossbar being right there. It had nothing to do with Answer or anything like that, just personal preference. They did work though, they were bulletproof but it took a while for them to become that way because I think (Jeff) Emig broke a pair that weekend when he crashed.
I usually knew how much I got when I won the races and if I remember it was somewhere around 25K a win which in those days was huge. This bike I don't remember specifically all that much but they were good bikes. The motors were pretty good and I remember for whatever reason that the year Micky Dymond was there in 1990 the bikes were awesome. I tried to set my bike up with a big hit because I wanted to be able to go inside of guys and still be able to jump stuff. Like in 1990 Johnny O'Mara was racing and I remember that there was a triple coming out of the turn and everyone was going double single but I was able to triple it. My bike was just so good, it didn't take a lot of technique but the bike spooled up so fast, it was able to get over it. I don't remember where it was but I went from fifth to first right away and passed O'Mara for the lead in that section and it was all due to my bike.
Then the bikes stayed pretty good but later on, there were some years where the bike wasn't where it needed to be. In 1996 when I came back, the bike was not good. I had told them that it wasn't that good because I had ridden a stock Honda in Europe in some supercrosses. I think I took suspension, called Pro Circuit and told them what I wanted, went to Europe and bolted on suspension and bars. We clicked the suspension a bit and it was one of the best bikes I had ever ridden. I was doing well over there and remember, I had just come back to racing after being off for a few years.
So I told Yamaha, I said there were so many things they needed to work on. Like where you squeezed the bike, it was hard on your knees. You were squeezing the frame instead of the airbox or whatever and it hurt. The power was in the wrong spot and I remember those guys telling me how much horsepower the bike put out and I remember saying that I didn't give a shit, I know what I feel when I ride the bike out here on the asphalt dirt of our test track. So I finally made Keith McCarty so pissed at me that I got him to test my bike against a 1996 Honda. I said I guarantee you that within one lap I will turn faster lap times on the Honda than I will on this factory bike. Keith was probably wishing I never came out of retirement! He was not happy with me but he had Pro Circuit bring out a bike and I don't even know what suspension it had on, it was some customers. The bike ran so rich, they probably still don't have to fog for mosquitos out at the track. But within two laps, I was running two seconds a lap faster. I was going to the insides on hard pack and jumping stuff that I had to go outside on my Yamaha and roll it on to make.
So then in 1997 I rode Hondas and it was nothing compared to the '96, I would have been better off on the '96 for sure. But no one wanted to ride the bike and that was fuel for me, I wanted to show people what I could do. It wasn't where it needed to be but it was fun to try and make it good and it was cool to work with the Honda guys. They were back dooring me stuff all the time and things were getting better. From a linkage to a motor, the bike got better and it was better outdoors than it was indoors."