Just some stuff that I thought about today in between getting my Racer X Magazine stuff done.

Just some stuff that I thought about today in between getting my Racer X Magazine stuff done.
Motoconcepts Yamaha Tommy Hahn was on fire early on in moto one this past weekend at Budds Creek as he was in fifth and working his way up to Mike Alessi. Hahn's lap times were fast, he was a tick off the leaders and it seemed like a good finish, a top five finish at the least, was on the docket. But then a slow speed crash happened and that was it for Hahn. He took a bar in the stomach, was in pain and forced to DNF both motos.
It was just another example of shit going south for Hahn who has not been having a good year in 2011. A top flight, solid 450 guy- Hahn has been on three different bikes in the last three years (two years with the now-Rockstar Suzuki team, one year there he rode Kawasaki's, the next Suzuki's and now of course Yamaha's) and this year just hasn't been the year of the Hahn.
Originally from Kansas but now living in Texas, Hahn had a hard time adjusting to the different feel of the new style Yamaha YZ450F. Supercross didn't go well as the crashes and injuries mounted up. There were a few good rides or heat races here and there but generally, Hahn didn't show the same flash as in the past. Somewhere around the middle of the indoor series, Hahn started concentrating on the motocross series. It's where he's won a 450 national before and certainly where he has showed a bit more promise.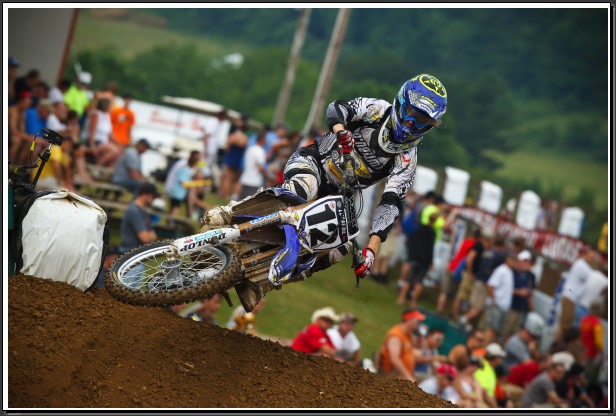 T Hahn's had a rough year. There have been flashes here and there but it's not all coming together like he or the team had hoped for. Cudby shot
Unfortunately, it hasn't gone the way he or the team though it would (and on that note, the teams other ride, Kyle Chisholm, was on it early before crashing hard at Houston SX and spending time in the hospital. It's been a hard road back for Chisholm as he tries to get back to 100%. Last year the Motoconcepts Yamaha team had Chisholm and Sipes battling it out inside the top and now, with Chisholm and Hahn both struggling, it's been a hard road for the team. Motocross Gods, ye are so fickle.) and Hahn is just having some small problems here and there.
Fast and 8-8 at Hangtown, Hahn went into Texas looking for more when he had a mechanical DNF in one moto. The next week at High Point it was one good moto and now, the double DNF's at Budds leaves Tommy in a big hole.
In a contract year, Hahn needs a solid rest of the summer and I'm pulling for him, let's hope he gets back to where he needs to be week-in and week-out.
****
I can't believe that myself or no one else picked up on the guy that went 26-27 in the 450 class at Budds Creek. Normally, that's not cause for any great media coverage but in this case, I wish I had known about Evgeny Mikhaylov who is from Russia and apparently raced. The Russians, after enduring a really, really, long dry spell in motocross racing seem to be on a bit of a rebound lately with Evgeny Bobryshev (maybe you're only allowed to race motocross in Russia if your name is Evgeny) doing so well in the MX1 class.
So I know nothing about Mikhaylov and his trip to Budds (which is close enough to DC that if this were 1985, we'd wonder if he was a spy). Who brought him here? Who gave him a bike? Is he just here for a vacation? Does he race in Russia? And the biggest question I have about him is his sponsor listed on the results sheet. Kraor Meat.
Yep that's right. That is who helped him get to Budds…Kraor Meat. Oh the mind just races with all the possibilities. Anyways, one of the biggest regrets of my journalistic life was not knowing more about this deal. Oh Evgeny and your meat sponsor, we hardly knew ya!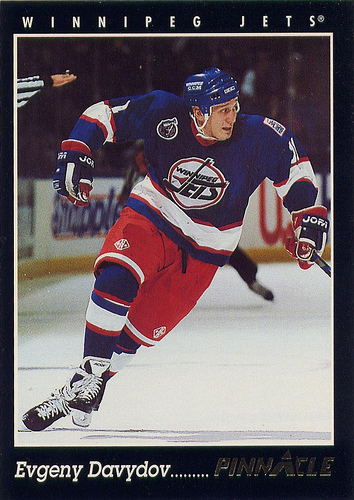 Whenever I hear the name Evgeny, I always think of this guy that played for the Winnipeg Jets in the mid-90's and was a pretty good player but…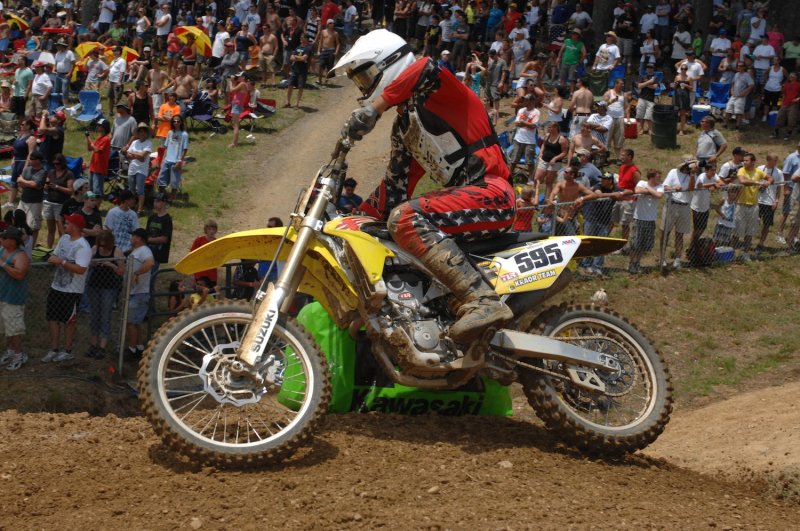 Now we have Evgeny Mikhalov and Evgeny Bobryshev kicking ass and taking names for the hammer and sickle. Here's "Kraor Meats" own Mikhaylev at Budds Creek and doesn't it just suit him to be running an all-white helmet? A Carl Stone shot
BREAKING NEWS!!
Just after I finished typing that whole thing out I was sent the photo above for this column. You can clearly see that on his side panel it says 'Kraor Team' and nowhere does it say 'Kror Meat'- clearly someone in the MX Sports office has dyslexia. Or whatever it is that makes you see words backwards.. Meat spelled backwards is, yep- team. This is very, very funny to me.
***
I've had my fun at the expense of the Rockstar Suzuki team no doubt about it and maybe I've piled on a bit but the fact is, as the official 250 team of factory Suzuki, they have under-performed this year. Last season, when they weren't the official team and getting better suspension and more help from the yellow crew, the team did well with Ryan Morais in SX and Blake Baggett actually won a sx and was hauling ass before getting hurt outdoors. The team was making a lot happen with a little.
Now they got more support but have underachieved. And like I was saying up top in regards to the Motoconcepts Yamaha team, sometimes things go your way and sometimes they don't. I remember talking to Morais at Bercy SX in the fall and he was very excited for the direction of the team. The factories lone 250 rider last year, Austin Stroupe, looked great in supercross. Morais and his mechanic Rene Zapata were pumped to say the least on what laid ahead.
The team kept Morais for this year and hired veteran Martin Davalos and youngsters Ian Trettle and Jason Anderson both highly touted out of the motocross star-making factory that is Loretta Lynn's.
Morais, much more of a sx specialist than outdoors, had his season basically ruined before it started when he knocked himself out cold days before Anaheim 1. It was a serious crash and it was a long time before he could even practice during the week without getting dizzy and light-headed. Davalos is usually good for a great ride here or there but he couldn't get on track either on the west coast. It was left up to the kids on the east side.
The first round was great for Trettle as he got fifth and Anderson ended up ninth. The next round Trettle sat out with an injury and Anderson scored another decent finish. The next race at Daytona changed everything, Trettel crashed in practice hard, went into a coma and that was it, his career was over. A long recovery awaits Ian and I can only hope he gets back to where he once was. Anderson scored an impressive sixth in Daytona but the wheels fell off after that.
And now outdoors, the team picked up Star Racing's Nick Paluzzi a week before the first national to take the spot of Morais and Les Smith is now on the team from Lakewood on out. Those two join Davalos and Anderson who are both underperforming.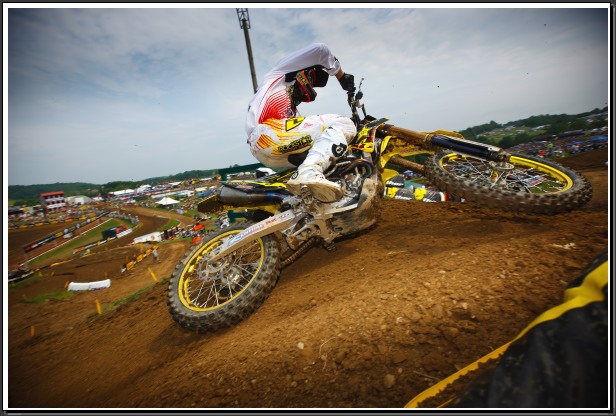 It's been a long season for Davalos and the Rockstar Suzuki team… Cudby Shot
The team started off with long-time manager Bill Keefe running things when he left and team owner Bill Hewitt stepped in and ran things. Derek Sorenson was also in the mix before he left about halfway through the sx season.
Right before the outdoors, Hewitt hired long-time industry man Dave Gowland to manage his team and I think this is a good hire. Dave's a no-nonsense guy who was a race team mechanic, owner and head of Team Green as well. He's good friends with Mitch Payton, he sees how a program should be run and I know from speaking with him, he's working on changing the culture of the program.
The ownership seems to be solid, the bikes are great, the manager knows his stuff and the rest is up to the riders. Here's betting we see a clean sweep over there at the end of this season.
***
Here are some season stats on the season courtesy of MX Sports who actually seem to be taking this stuff seriously. Good for them…now about those old race results…
450 Stats-
Pos.
Name
Season Pts.
Overall Wins
Moto Wins
Avg. Finish
Avg. Start
Laps Led
Holie's
Avg. Qual.
1
2
3
4
5
6
7
8
9
10
Chad Reed
Ryan Villopoto
Ryan Dungey
David Millsaps
Brett Metcalfe
Kevin Windham
Jacob Weimer
Ricky Dietrich
Christian Craig
Andrew Short
183
168
155
130
118
112
93
92
76
75
3
1
0
0
0
0
0
0
0
0
5
2
1
0
0
0
0
0
0
0
1.9
2.6
4.9
5.6
6.5
8.3
9.4
9.6
11.5
13.3
3.6
5.0
3.4
7.8
10.8
6.8
12.1
13.5
11.0
14.1
41
37
26
0
0
0
0
0
0
0
1
1
1
0
1
1
0
0
1
0
2.6
2.5
2.6
5.0
6.6
7.6
11.0
14.8
11.0
10.9
250 Stats-
Pos.
Name
Season Pts.
Overall Wins
Moto Wins
Avg. Finish
Avg. Start
Laps Led
Holie's
Avg. Qual.
1
2
3
4
5
6
7
8
9
10
Tyla Rattray
Dean Wilson
Blake Baggett
Eli Tomac
Justin Barcia
Kyle Cunningham
Broc Tickle
Gareth Swanepoel
Martin Davalos
Cole Seely
174
170
144
136
116
114
99
91
75
72
2
0
2
0
0
0
0
0
0
0
2
3
3
0
0
0
0
0
0
0
2.3
2.8
5.3
4.6
7.3
7.3
11.3
10.8
11.6
12.5
3.8
6.0
9.4
7.9
8.1
8.4
11.8
12.9
19.0
10.3
33
42
19
4
16
0
0
0
0
0
1
1
1
0
3
0
0
0
0
0
4.0
3.9
3.3
5.1
6.1
5.8
12.6
10.4
11.3
12.5