I break down the Top 20 riders in the 250 class from this past season

I break down the Top 20 riders in the 250 class from this past season
Photos by James Lissimore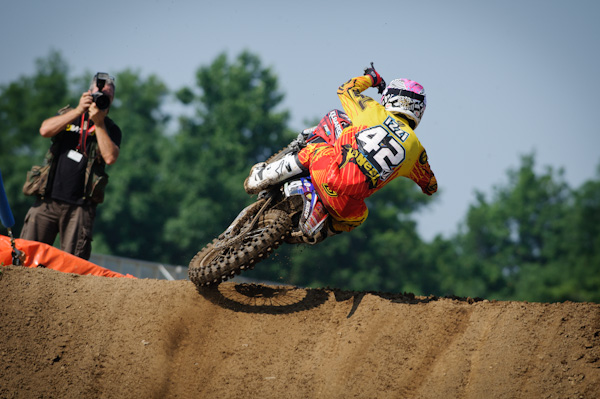 Nico Izzi ended up 20th in the series despite not racing the last five rounds and not scoring any points in five of the other fourteen motos that he did line up for. On a privateer Honda, Izzi is having a hard time recapturing his speed that he once had as a factory Suzuki rider. His crash in Jacksonville which shattered his heel drastically altered his career path and if I had to guess, I would imagine that Izzi would have done things a little different before that crash. A classic case of too much, too soon has probably made his current 2011 state tough to deal with. Izzi had a couple of good motos in the 250 class and was up front quite a bit but his fitness left something to be desired and he usually went backwards. For more proof on this see the fact that Izzi is one of only six guys (Wilson, Baggett, Rattray, Musquin & Barcia) who had an average starting position inside the top ten and his average finish was 18th. The road back is going to be tough for Nico, no doubt about it.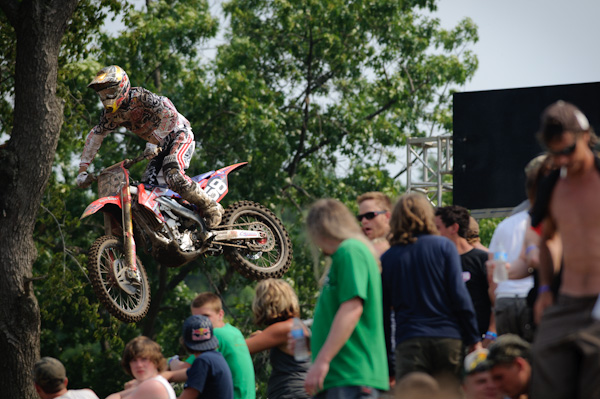 19th is TLD Honda's Travis Baker who definitely did not have the season that he, or the team, thought he would have coming off his rookie year last season with the Motoconcepts Yamaha team. Better bikes and more experience was thought going to propel T-Bakes to a right around top ten level but it didn't work out. Injuries and crashes were to blame and Travis' best race was at Thunder Valley where he ended up with his sole top ten overall finish. Given a two-year deal, he'll be back with the team next year and in talking to some guys around the team, they thought the "I have a two-year deal, I made it" mentality might have gripped Baker a bit. Needless to say, 2012 is a huge year for Travis Baker to show that he's still got promise.
18th is Captain 891, Justin Bogle of the GEICO Honda team and he achieved this position with racing only four races. Bogle came straight from Loretta Lynn's and showed that, like so many others before him, he was ready for the pro ranks. He ran up front quite a bit and had great speed. Now he just needs to realize that he needs to get in a little better shape, keep his head down, stay away from distractions (this could also be advice for about 39 other kids by the way) and realize that if he works his ass off for the next ten years, he won't have to work for the last forty-five. He's got the bike, the team- the rest is up to him.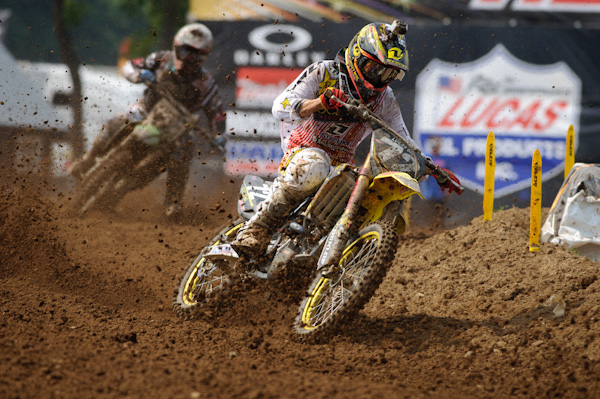 Nick Paluzzi is 17th and much like Baker, he didn't fulfill what some thought he would be. Last season he jumped from the amateurs to a 450 class and put in a really good ride at Steel City. This year he was on the Star Yamaha team for supercross and then for the outdoors, the Rockstar Suzuki team. Nick seemed to be a bit lost out there and I can't remember any rides where I was like "Hey look at Nick Paluzzi!" He was just sort of out there circulating in 13th to 15th and wasn't bad but also wasn't necessarily that good. I don't think he did enough to keep his ride and we'll see where he ends up in 2012.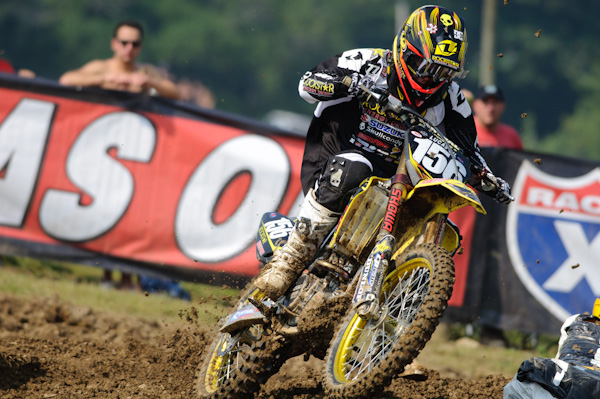 Jason Anderson's season could be broken up into two halves. Pre-benching and post-benching. Anderson, 16th in the points and a highly touted amateur in his first pro season, really struggled to start the motocross season. So much so that team owner Bobby Hewitt and team manager Dave Gowland made the decision to just send him home to work stuff out. Anderson missed two races trying to just relax and get away from the pressure and expectations and when he came back, he was much better. How much better? Average points before benching? Around 5 points per moto. Average points after benching? 8 points per moto which may not seem like that much but he made the top ten three times after benching and zero before. He'll be back there next year and we'll see if he can keep his second half momentum going.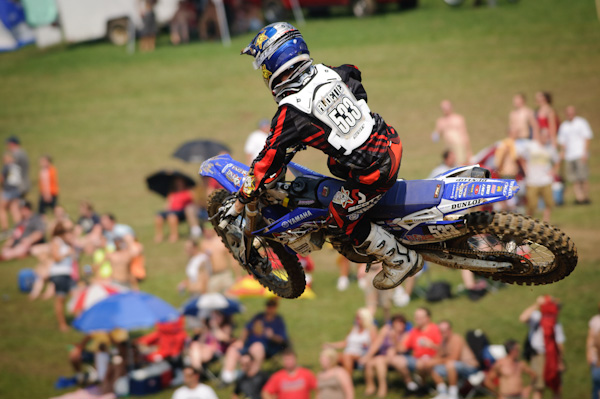 15th is Minnesota's own Gannon Audette who was in his rookie season on the Star Racing Yamaha team. Audette was like a better version of Paluzzi, there wasn't anything really bad about his season but there also wasn't anything good about it either. I suppose for a rookie he did well but as we've seen so many times, there are a lot of rookies who come in and really impress. Unfortunately for Audette his best race was Millville (although a fourth place in one moto at Southwick is pretty impressive) and everyone just said "Oh that's his home track, of course he did well there" and maybe Audette doesn't get the credit he deserves. Three motos out of twenty-four with double-digit points scored is what we have here. I wouldn't give up on him by any means but if he's a stock, he's neutral right now.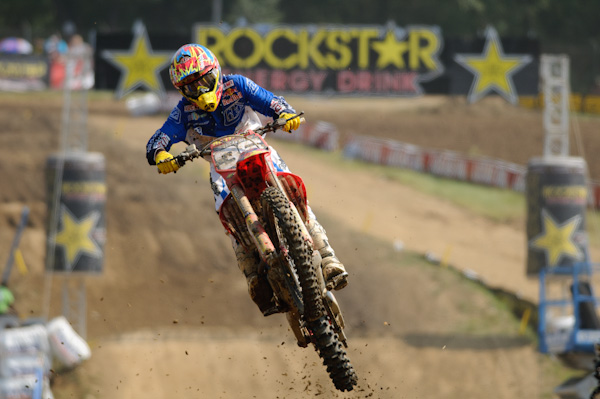 Cole Seely is 14th in the points and considering he ended up two spots worse this year than last (his rookie year) you would think this was a worse season but looking closer at the points would say otherwise. Last season he had seven motos where he scored ten points or more and this year he had ten. He also scored 11 more points this season than last so maybe the class was a bit more consistent. Still, he got one podium last year and none this year and in short, I don't know if he was worse or better. He should have been better this year (same equipment, more familiar with everything) and I'd say it was a wash.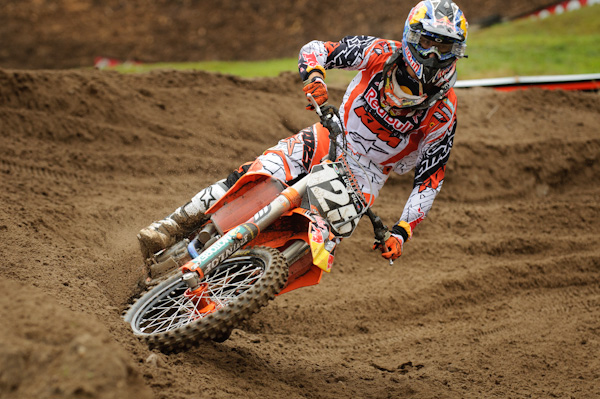 "Moving" Marvin "The Martian" Musquin was 13th in the overall standings and this is with just six races completed so that's pretty good I'd say. Musquin, a two-time World Champion is no joke and has some serious skills that he showed off at Hangtown and then again at Steel City three months later. Musquin was third overall at Steel City and fourth overall at Pala and next year, if he stays injury free, he'll be a podium threat ever race with his buddy Ken Roczen. Watch out world, here comes the Euros!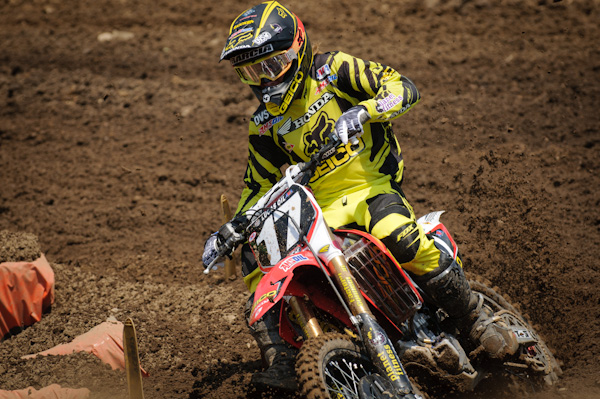 12th overall was Justin Barcia who had a terrible season. The GEICO Honda kid was supposed to be (one of) the guy(s) this year but 12th has to be looked at as a disaster. Wait? What's that? He jumped to the 450's after Washougal, led races and made podiums in that class? Oh well then, his season was a terrific success! To be serious for a moment, when Barcia came out of the 250 class he was sixth in the points and wasn't the same guy we had been used to seeing. A class-high seven holeshots indicate that he should have been better than the sixth. A sickness and a supercross-title hangover all contributed to his early season struggles and sure his 450 results were amazing and awesome, in 2012 he's back in the 250's and needs to be better than he was this year. And I think he will be.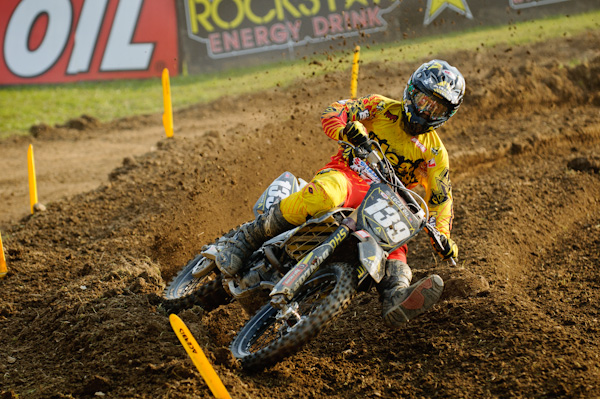 MOOKIE! MOOKIE! MOOKIE! 11th place was Malcolm "Mookie" Stewart in his rookie year and anyone who follows me on Twitter knows that I'm a big Stewart fan. But more so in supercross, I didn't think Stewart's special skills were as evident in motocross as they were indoors but still, almost ending up tenth overall your first year out is no joke. His best moto finish was a sixth and I can definitely remember a few motos where he was up there before suffering a mechanical so his placing could have been better. Probably too big for a 250F and with some people in the pits wondering if his dad would be worth the trouble keeps Malcolm's rides limited somewhat and he was very, very close to inking with Star Yamaha but Stewart wouldn't give up some personal sponsors so he's going to JDR KTM by all reports. I just hope that not giving up some personal sponsors doesn't cost him in the bike department next year because with his size, in this class, motor is everything.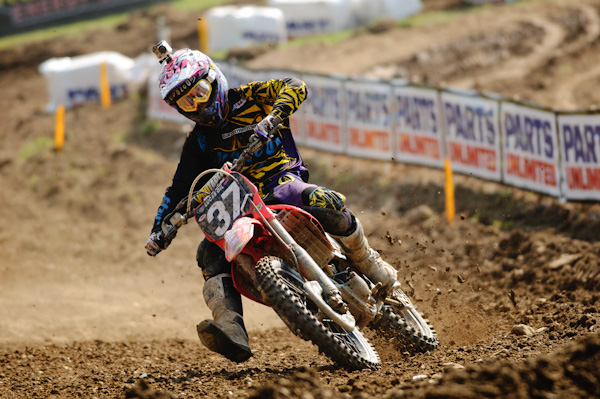 In a surprising 10th place was privateer hero Darryn Durham. If I had told you before the season started that Durham was going to end up top ten in the points, would you have called the cops and reported that there was a crazy person on the loose? Durham was very, very good at times this year and leading a moto for 25 minutes isn't something that you can do with smoke and mirrors. DDT's results sort of tailed off in the second half of the season and he had some mechanicals as well but all in all, a talented rider who seemed to finally "get it" is always good to see. He's rewarded with a Monster Pro Circuit Kawasaki ride for 2012 and now we'll see a quantum leap in his results.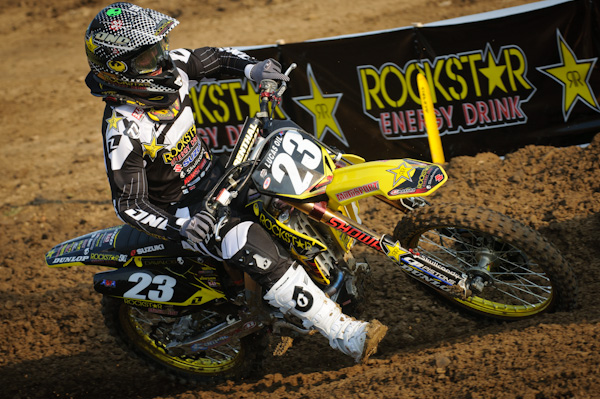 9th place was Rockstar Suzuki's Martin Davalos and if you're saying to yourself "Hey Matthes, it seems like Davalos always gets ninth in the 250 outdoor series" you wouldn't be far off. In fact this season's 9th is the third time that Martin has ended up in that position. His other finishes have been a 27th, 19th and a 17th. Davalos is a veteran in the class and has for the most part pretty good equipment throughout his tenure. He is, in the words of Dennis Green, exactly who we thought he was. Davalos is always going to give you some decent results, he'll go fast at Washougal and then at the end of the year, you'll wonder how he did what he did. The problem people have is they discard a guy like Davalos but then complain and moan when the new kid they replaced him with doesn't do what Davalos did.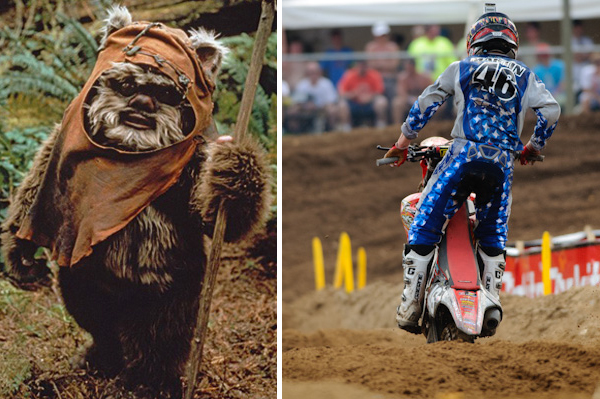 Another privateer (and on the same team as Durham) who did excellent this year is Alex Martin who was 8th in the series. Yes, I'm serious. Alex Martin got eighth overall in the 250 class. Great ride for the diminutive Martin (who doesn't seem to mind me constantly comparing him to an Ewok) and I hope he gets something for 2012 to show himself off. No slam to his team he's on but you know, something better than an all-black primer box van would enable Martin to do a bit better methinks.
Martin's season really took off after Millville (which is the track his dad owns and he lives on the property) and for proof of that, in the twelve motos starting at Millville, Martin failed to score double digits in only two of twelve motos. Before that? Martin only scored ten or more points in two out of twelve motos so clearly Alex got much better as the year went on.
In fact with teammate Durham's second half not as strong and with Martin's incredible, I thought it would be funny to add up DD's first half with Alex's second half points into one Super Eleven-10 Mods rider. Let's call him Darryn Martin or Alex Durahm or even "Darex Murham". If you do that, Murham ends up with 251 points and still 8th in the points. Man, I thought that was going to be much funnier to do.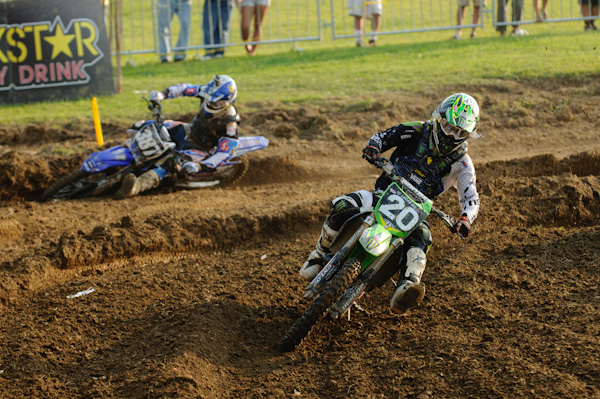 7th is Broc Tickle otherwise known as the "Daddy, who's that Pro Circuit rider NOT on the podium all the time?" The western regional 250 sx champion didn't have the season that he wanted to and actually, he ended up in the same position as he did last year on the Star Racing Yamaha team and scored less points. Still, my money is on the fact that there's no way he wins the indoor title on the Star team. Anyways, Broc pushed his bike off the track three times this year and that (and his gremlins never hit his teammates which is cruel and unusual) hurt him. The total of four motos with zero points scored were killers and his best race was Budds Creek by far where he got his only podium of the year.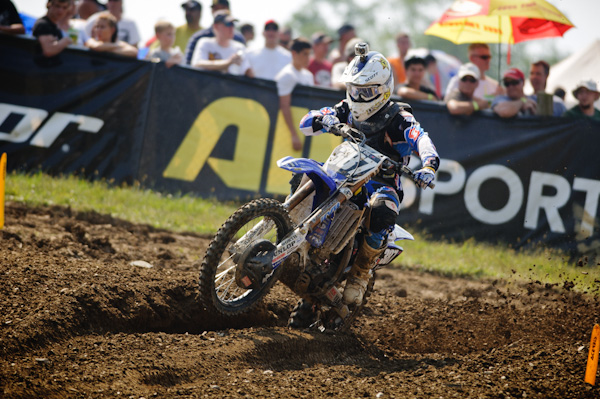 Gareth Swanepoel might have had the quietest 6th place overall in the series points ever. Well, it's either him or Eddie Warren ending the 1985 season 4th place in the 125 national points and then never, ever getting another ride in the United States. Anyways, the South African did better than I (and some others) really thought he would do and his season was highlighted by the moto win at Southwick. Swanepoel was incredibly consistent all season with only two motos with no points and all told, only seven motos with single-digit points earned. Good season for him and he deserves another shot at Star Yamaha and doesn't deserve to be Eddie Warren.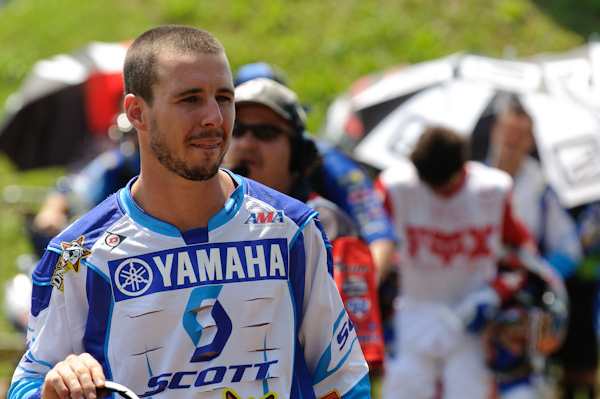 In what might be the biggest surprise of the year, Kyle Cunningham ended up 5th overall in the 250 national points. How much of a surprise is this? Well considering that Kyle's always been fast maybe not that much but I'm a guy that believes a zebra (or leopard or giraffe or any other striped animal you want to think of) doesn't change its stripes and KC's stripes were ones that he crashed too much. For example A: see supercross this year. Anyways, good for Kyle to smooth out and figure out slower is faster sometimes and he scored about 73 fourth overalls to go along with this points position. I think Kyle and Durham are in the same boat, talented riders who you can never give up on because, well, they're talented.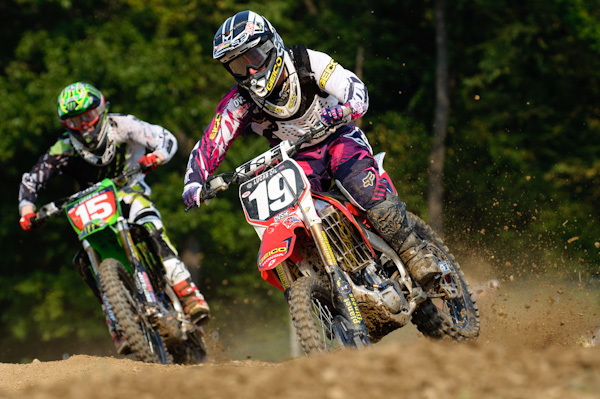 Eli Tomac's 4th overall is one of those that look better on paper than it was when you go to the races. Tomac was expected to make a jump this year in his second season and it just wasn't there. So maybe 4th is good then? The glass can be either half-full or half-empty I suppose with Tomac. A good kid, Eli made the box at Steel City and told me afterwards that he changed all his suspension and chassis settings before Unadilla and it showed. He was better in New York than he'd been since Lakewood and that was the thing with Tomac. Every time you wondered what was up with him, he'd bust out a good finish and you'd be thinking that he was back. With the change in settings making a difference and the smoothness of the Lakewood track, I would lean towards his bike not working the way he would have liked it. But that's on him for choosing the settings. Seven podiums out of twenty-four motos is, umm, alright. Next year is big for Tomac, no doubt about it.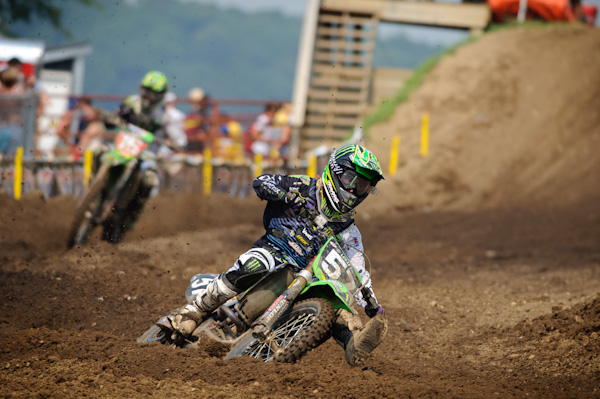 Amazing that Blake Baggett ended up 3rd overall considering he won the most overalls and showed phenomenal speed in the first half of the series but when you dig deeper into the stats, you see that maybe the 3rd is about right. Dean Wilson had more moto wins, led a lot more laps, started 4 spots better and also qualified better than Baggett. Wilson's second half surge combined with Baggett's mini-slump was the story of the summer. Blake only raced three nationals in his rookie year and maybe by the mid-point of the series this season, he got a little run down. Not to mention he had an ugly crash while practicing at some point this year. The proof is there for everyone to see. Baggett's average points scored in each moto in the first half? 20. Second half? 18 and he never won an overall. Still the future is bright for Baggett and he's one of the favorites for the 2012 250 outdoor and indoor title.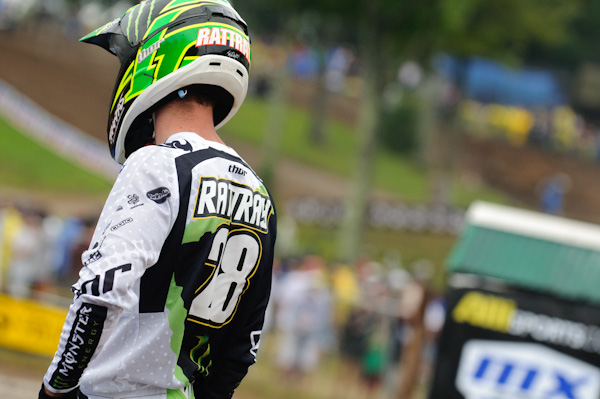 Tyla Rattray is disgusted by his second straight 2nd place in the points finish. At least that's the feeling I get from talking to him. Rattray wants to be the champion and he's so, so close but in my opinion, if he doesn't get the start, he doesn't have the raw speed to get to the front. His game is to wear you down and click off the consistent laps to end up on top of the box at the end of the year. Tyla scored more points than last year and won more races but the end result was the same. He wants to race the 450 outdoors next season and he may just get his wish. A consummate professional who's an asset to any team, Rattray should be more pumped on his season but I suppose that's why he's a former World Champion and I sit here on my couch writing about him.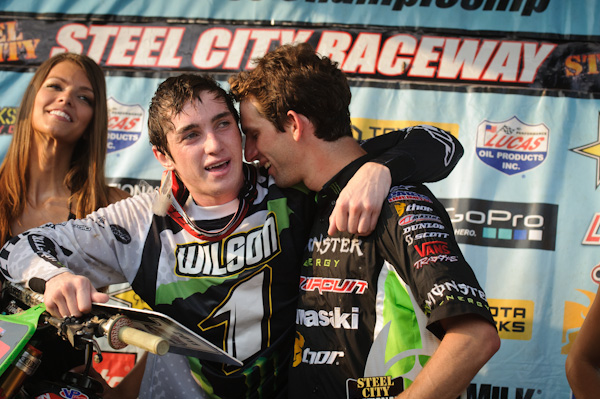 And the winner, 1st overall and the winner of the 250 motocross championship is Dean Wilson. Wilson was incredibly consistent this year with just two motos out of twenty-four off the podium. Yes, that's right. TWO! Wilson didn't win an overall until the second half of the year but after that, it was lights out for everyone else. Dean's decision to go to Chad Reed's for a few weeks was, to me anyways, very crucial in him winning this thing. He went there, had fun, rode hard, switched it up, goofed off and was a different guy the second half. Very fast and with the ability to hang it out with his long legs helping him, Dean's got cool style and now has a number 1 plate on the wall as well. Good for him and I don't think the fame, money, chicks and all that come with a title will get in the way of him working hard to defend the plate.